MORE SLICES OF LIFE...


» NOTES
When I started Residencias Los Jardines, I started writing a weekly news letter —determined to tell all the good, bad, and the ugly. I knew some readers would be interested in the construction process. I expected others might be interested in the lifestyle of two people who had decided to live outside the box. For others, the adventures of Lita, the parrot and the cat took on an entertainment saga all its own.

Residencias Los Jardines is finished. We periodically have resales and rental availability. Some readers may be interested in this information.

More and more, the content will be dominated by events of our new project, "El Dorado" for short. While the future is always uncertain, I again aim to tell it like it happens —the good, the bad, and the ugly, and that is what follows.

In an effort to make the format more interesting and visually appealing and to field inquiries re. El Dorado, the news letter is now being distributed by Jan Kozak, Marketing Manager, Hacienda El Dorado. I will remain the author.

Brian C. Timmons, Author
Residencias Los Jardines/Hacienda El Dorado - Developer
E-mail: brian@eldoradocostarica.com

YOU CAN ALSO VIEW THE COMPLETE VERSION ONLINE AT:

https://www.eldoradocostarica.com/English/Newsletter/index.php

» CONSTRUCTION LOG
Bamboo:
The extension of bamboo plantings from stock which was planted several years ago, is nearly completed. Now it just has to grow--which it will.
» RESIDENCIAS LOS JARDINES
Market Comment:

Not much sales or rental activity this week. We had only one rental looker this week and she opted for Escazu as it was closer to her husband's place of work.

Owner-Manager: One such person is finding it difficult to collect rent and seems to not be able to encourage them to leave. He's experiencing what we have periodically experienced before but we have always been able to encourage people to leave such that we didn't loose rental income. Most -- but not all--people are good tenants. Good tenants are a dream to manage; bad tenants can be a nightmare.
FOR SALE:

Unit 106A: $155,000

See Descriptions and photos below.

Rental Vacancies:

Unit
109 Sep / Oct $1,550 pr month
Unit 113 Available Sep 1 $1,550 pr month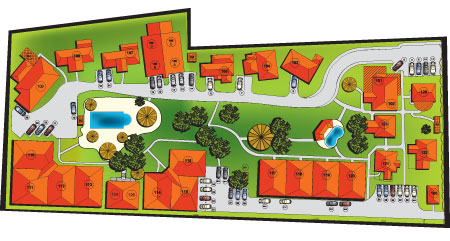 Unit #106A

--
For

Sale

$155,000 - FURNISHED (Leased at $1,000 pr month until January 2011)

Total Area (Sq Ft):

1250


Total area (Sq M):

120


Bedrooms:

2


Bathrooms:

2.5


Floor(s):

Ground Floor


Type:

Apartment


Furnished:

Yes




This is a fully furnished 2-bedroom unit situated in a 2-story building, which has two units on the ground floor and two units on the 2nd. floor. Each unit is the same size (1,250sf) divided into 800 sf of interior space and 450 sf of covered front and back terraces. UnitS 106 A

and B are on the ground floor; Units

106

C and D are on the 2nd. Floor. The solid masonry demising wall (common wall) as well as the 5" concrete slab prevent sound transference.
Read More
Unit #113

--
For

Rent $1,550- FURNISHED (Available Immediately)
Total Area (Sq Ft):1290
Total Area (Sq M):120
Bedrooms:2
Bathrooms:2
Floor(s):1
Type:Attached
Furnished:Yes

This 1,290 sf single floor home includes a 300 sf front terrace plus parking for one car. It is attached on one side by a 6 inch cement demising (common) wall, which prevents sound transfer. The three other sides allow light, ventilation and garden views.

Read More
» NEWS FROM COSTA RICA
September 18, 2010
Government Rushed The Opening Of The San José - Caldera, Report Indicates
The manager of the Obras Públicas de la Contraloría General de la República, Manuel Corrales, revealed on Friday that Autopistas del Sol, the concessionaire of the autopista San José - Caldera, took short cuts to get the road ready for opening day last January, months ahead of schedule.

Read
September 18, 2010
Presidenta Chinchilla Knows First Hand The Violence That Is Gripping Costa Rica
Perhaps the speech by presidenta Laura Chinchilla on Independence Day about the rise in crime and that is everyone's responsibility was inspired by a group of armed men who mocked the security of the residential complex in Santa Ana where the presidenta lives, ransacking one of her neighbours home.

Read
September 18, 2010
Costa Rica Tops List Of Drug Trafficking In Central America
Just when the Constitutional Court banned road blocks, Costa Rica, for the first time in it history, tops the list of countries with high drug trafficking in a US Department of State report on efforts to curb drug trafficking.

Read
September 17, 2010
Interamericana Norte With "Paso Regulado"
Although the Interamericana Norte at the Cambronero is open, it will be under "paso regulado", as traffic through the area will have to deal with ongoing work to complete the installation of sewer drains to prevent further road cave-ins during heavy rain.

Read
September 15, 2010
Turrialba and Poás Volcanoes In Simultaneous Eruptions
The Turrialba and Poás volcanoes put on a simultaneous show early Tuesday morning when, in almost concerted action, both spewed out smoke during an eruption.

Read
September 15, 2010
Air Canada Adds Costa Rica To Its Sun Destinations Vacations
Air Canada and its package tour operator Air Canada Vacations said yesterday they will add seven sun destinations this winter as well as 48 flights a week to Costa Rica, the United States, the Caribbean and Mexico.

Read
September 13, 2010
Website Is Guide To Investing In Costa Rica
A new website by the government of Costa Rica aims to become a step-by-step guide of procedures for investment in Costa Rica.

Read
» OUR LIVES
Weather:

Normal weather; not too much heavy rain--beautiful sunny mornings with cloudy afternoons.

Questionable Landlord Actions: I'm a bystander in a drama which is currently playing out. As a bystander and as a property manager, I'm at a loss to explain "why" this is happening. An owner-manager is claimed by his tenant of unauthorized entry and of removing small items and of forcible entry and assault. The tenant changed the lock. The owner claims the tenant does not have a lease and has ordered him to vacate immediately. There is a lease (I have seen it), the owner knows there is (he received it via e-mail), he has acknowledged the lease and paid the leasing commission to the agent and thanked the agent for having secured a tenant. The owner has been receiving rental income for three months and I have seen copies of receipts of payment in full and on time and the owner has been paying RPM / Doneste Internet and cable TV for that tenant. The other day the owner tried to force his way into the apartment to show it to another prospective renter; a scuffle ensued. The tenant filed a "denucia" against the owner. The owner proceeded to shut off the tenants gas that he, the tenant, had paid for. Doneste and RPM are not liable in any way but when this type of behavior gets around, it becomes more difficult to lease units. As administrators of Doneste, the tenant has been the model resident one hopes for. It's all a mystery to me and right now, I'm saddened by it.



More Slices of Life in CR:


This was a more productive week than last week:

Electricity outages: none
The government supplied potable water is off ALL day Saturday for maintenance.....fortunately, we have our own well so are NOT affected.
Repair to granite; they actually returned as promised and repaired the shower door stile which had separated from it's backing. All is now repaired.
Changes to wall unit to accommodate a flat screen TV; were actually completed on Thursday and all electronics installed and operational.
Finally solved the problem after multiple efforts.... the shower head had clogged with silica and was preventing the free flow of water necessary to keep the boiler operating continuously.
Bought a new fan which would permit the drop-rod to attach. It took the electrician two trips to get everything right....
Police Report--CR: Immigration set a new requirement...a police report from CR saying that you have not been convicted of a crime. I had heard this was very time consuming to get. Lita and I decided to do it and have it added to our files. After finding the place with three inquiries, we were in and out in less than 10 min. The fastest ever for a CR requirement.
Residency File Review: I didn't trust that our lawyer was actually monitoring our file in Immigration. I asked to go myself for review and used the excuse of adding the CR police report to our files. (Actually, Immigration has now dropped that requirement so ..... however, I was advised to keep the documents because they may change their minds to again requirement.) Met a contact there at 10 and out by 11. The file had not been reviewed by them but they said there goal was that 5 mo. after submission it would be--so they stamped our papers and told us to return on October 5 for a "resolution". If a review has not been made at that time, they will process it the same day and issue a resolution. It would be nice to believe this but I suspect they will find some deficiency--some paper not submitted, some signature not secured, some "thing" to NOT approve it at that time. We'll see and now look forward to Oct. 5.
Attended a play at the Little Theater Group's opening night production of "The Bird Cage". Lots of hard work and dedicated effort by the members.
Granada: After 5 months of not going, Lita said she wanted to return. So I made plans and reservations to return next week for a week of eating, drinking, Lita's shopping, etc. It's our wedding anniversary so we decided to treat ourselves a bit. We'll be joining friends.
A Recommendation for Wine Lovers:
We have come across a place in Guachipelin de Escazu called LA BODEGA (Plaza las Palmas, Local 6 - next to Di Bartolo Restaurant, 400 meters north from AMPM in Guachipelin). This small store has been put up by 15 different wine importers so a wide selection of wines from all over the world is guaranteed at wholesale prices. The minimum quantity of bottles that you can buy is 12 but you can mix it up! Right now, they have a special promotion on Bodega del Fin del Mundo Reserva Malbec at 8,980 colones per bottle, Postales del Fin del Mundo Roble Cabernet Sauvignon at 6,890 colones per bottle and Roots 1 Sauvignon Blanc at 5,400 colones per bottle. Check it out! A great place to buy wine particularly when you are planning big events. What you do not consume, you can return!!!
Their website is https://www.vinoselectodelmundo.com
. Tel 2588-2746 / 8845-1478


Brian, Lita, Hugo, irreverent Vicka, the pigeon toed parrot, and the newbies — Chico and Chica.



Brian C. Timmons, Newsletter Author
Residencias Los Jardines/Hacienda El Dorado - Developer
Cell: (506) 8305-3965
E-mail: brian@eldoradocostarica.com



For inquiries about availability of residences at Hacienda El Dorado or Residencias Los Jardines, contact:



Jan Kozak, Marketing Manager
Hacienda El Dorado
Rio Oro, Santa Ana
Costa Rica

Web: www.eldoradocostarica.com
E-mail: info@eldoradocostarica.com
MSN: jan.kozak.jr@hotmail.com
Skype: jan.kozak.jr

Tel (US) (+1) 647-477-5825
Cell: (+506) (+506) 8707-9930 / 8345-8018