A SLICE OF LIFE...


» NOTES
When I started Residencias Los Jardines, I started writing a weekly news letter —determined to tell all the good, bad, and the ugly. I knew some readers would be interested in the construction process. I expected others might be interested in the lifestyle of two people who had decided to live outside the box. For others, the adventures of Lita, the parrot and the cat took on an entertainment saga all its own.

Residencias Los Jardines is finished. We periodically have resales and rental availability. Some readers may be interested in this information.

More and more, the content will be dominated by events of our new project, "El Dorado" for short. While the future is always uncertain, I again aim to tell it like it happens —the good, the bad, and the ugly, and that is what follows.

In an effort to make the format more interesting and visually appealing and to field inquiries re. El Dorado, the news letter is now being distributed by Jan Kozak, Marketing Manager, Hacienda El Dorado. I will remain the author.

Brian C. Timmons, Author
Residencias Los Jardines/Hacienda El Dorado - Developer
E-mail: brian@eldoradocostarica.com

YOU CAN ALSO VIEW THE COMPLETE VERSION ONLINE AT:

https://www.eldoradocostarica.com/English/Newsletter/index.php

» CONSTRUCTION LOG
Bamboo:
We're taking advantage of the rainy season to extend our bamboo plantings. The result will hide perimeter walls and in some areas, will block out unwanted neighbor's buildings. It seems to take bamboo about a year to get established and then it grows fast. We have another year to go before we really begin seeing the desired results.
Buying Thru Retirement Savings Plans:
Americans:
At Los Jardines we have three units purchased through 401Ks / Pensco Trust Company in the US. It has been fairly simple actually working with Pensco. The key is that the units cannot be occupied by the owner; they have to be leased...... and they are in all cases.
Canadians:
The RRSP program in Canada is a bit more restrictive. However, Rick Philps, a Canadian and CR lawyer, has interpreted a Rev. Canada bulletin (IT-320R3) which allows RRSP funds to be used indirectly for the purchase of CR property which can be occupied. The key is to use an RRSP qualifying property in Canada as security, put a "mortgage" on it which is administered by a recognized company, and use those funds to purchase in CR. I read the bulletin and had it been on quantum physics I would have understood more than I did on reading this thing. However, for more information, contact Rick directly at: Rick Philps
rphilps@plawcr.com
Other developments:
Two substantial developments and a number of smaller developments have arisen along the west road.
Las Vistas
and
Hacienda Barcelona
are the two substantial developments. Las Vistas is the most recent. Advertisements claim they will be "eco-residences" but I fail to understand the "eco" part and there is very, little information available. These homes will start at $183K. Nothing is built. Hacienda Barcelona is a development of about 50 large homes (3,000 sf) selling for $330K. Phase 1 (approx. 17 homes) is completed and phase II (approximately 24 homes) is underway. Both are "moder architecture"; personally not my favorite. I used to build it and live in it. Now, I prefer neo-colonial...each to what pleases our own eye.
» RESIDENCIAS LOS JARDINES
Market Comment:

Not much sales or rental activity this week. Few agents have clients and fewer have North American clients. Many agents I use to work with, I haven't seen for months. Jan continues to do well on rentals and the odd home sale. He advertises heavily, has a variety of properties, keeps his appointments and does his follow ups.... In a relatively short time, he has established a base of satisfied clients who keep referring new clients to him.

FOR SALE:

Unit 106A: $155,000

See Descriptions and photos below.

Rental Vacancies:

Unit
109 Sep / Oct $1,550 pr month
Unit 113 Available Sep 1 $1,550 pr month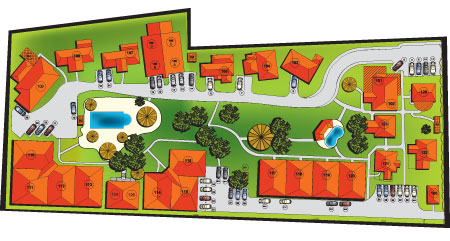 Unit #106A

--
For

Sale

$155,000 - FURNISHED (Leased at $1,000 pr month until January 2011)

Total Area (Sq Ft):

1250


Total area (Sq M):

120


Bedrooms:

2


Bathrooms:

2.5


Floor(s):

Ground Floor


Type:

Apartment


Furnished:

Yes




This is a fully furnished 2-bedroom unit situated in a 2-story building, which has two units on the ground floor and two units on the 2nd. floor. Each unit is the same size (1,250sf) divided into 800 sf of interior space and 450 sf of covered front and back terraces. UnitS 106 A

and B are on the ground floor; Units

106

C and D are on the 2nd. Floor. The solid masonry demising wall (common wall) as well as the 5" concrete slab prevent sound transference.
Read More
Unit #113

--
For

Rent $1,550- FURNISHED (Available Immediately)
Total Area (Sq Ft):1290
Total Area (Sq M):120
Bedrooms:2
Bathrooms:2
Floor(s):1
Type:Attached
Furnished:Yes

This 1,290 sf single floor home includes a 300 sf front terrace plus parking

for

one car. It is attached on two sides by a 6 inch cement demising (common) wall, which prevents sound transfer.

Read More
» NEWS FROM COSTA RICA
September 11, 2010
Costa Ricans Have On Average Sex Nine Times A Month, Study Reveals
According to the study "Better Sex" by the pharmaceutical Pfizer, Costa Ricans have sex nine times a week on average. The study took in the response of 464 people between the ages of 18 and 70 in Costa Rica, Panama and the Dominican Republic.

Read
September 11, 2010
A Costa Rican Corporation In Days???
Imagine setting a Costa Rican corporation in matter of only days? That is the objective of the "Gobierno Digital" program of the Ministerio de Economía as an incentive for companies to set up shop in Costa Rica.

Read
September 10, 2010
Tránsito Now With Its Own "Perreras"
The Policía de Tránsito (traffic police) no longer have to rely on the Fuerza Pública to haul away to jail drunk and reckless drivers, as they now have their own "perreras" or paddy wagons.

Read
September 10, 2010
Costa Rica's Generational and Gender Changes
Costa Rica has always been a progressive beacon on Central America's benighted street: the reliable democracy that makes a point of eschewing a military so it can spend more on schoolteachers. But until the Feb. 7 presidential election, it had yet to select a female head of state, something its two less-developed neighbors, Nicaragua and Panama, did long ago. Now a new President-elect, Laura Chinchilla, has finally struck a blow for Ticas, female Costa Ricans.

Read
September 09, 2010
Tense Moments In Santa Ana Condominium
The quiet neighbourhood of Rio Oro de Santa Ana became the centre of tension and anxiety last night when around 6pm when a man, after arguing with his wife, entrenched himself in one of the condominium of the Avalon development, holding police at bay for several hours.

Read
September 09, 2010
No Miniskirts To Be Worn In Parades
No miniskirts, that is the directive for the participants of the parades for the national holidays on September 15. The directive says that the participants of the bands and cheerleaders must be "consistent with modesty, discretion and moderation".

Read
September 08, 2010
Costa Ricans Criticize Constitutional Court Ruling
Costa Ricans are criticizing the ruling of the Sala Constituticional or Sala IV(Constitutional Court) that prohibits the Fuerza Pública (police) to use checkpoints throughout the country in the efforts to curb crime.

Read
September 08, 2010
Costa Rica Job Prospects Positive, Manpower Poll Reveals
Manpower sees the job situation Costa Rica is positive saying it believes that some new 30.000 jobs will be created in the last quarter of this year in the region. The results are part of a poll by Manpower called "Encuesta de Expectativas de Empleo".

Read
September 07, 2010
Telefonica Confirms It Will Bid To Enter Costa Rica's Cellular Market
Telefonica, Spain's largest telephone company, says it will not let the opportunity to expand into Costa Rica's cellular market pass by, confirming it will be one of the companies bidding for one of the three available licenses.

Read
September 07, 2010
Liberia Airport Expansion To Begin In October
The expansion work of the Liberia airport is expected to begin next month, following several months of delays.

Read
September 06, 2010
Eight Airlines Being Courted By Tourism Ministry To Add Costa Rica To Its List Of Destinations
Getting to and from Costa Rica may soon be much easier as the ministerio de Turismo is currently negotiating with eight airlines to add Costa Rica to their list of destinations.

Read
» OUR LIVES
Weather: Normal weather; not too much heavy rain--beautiful sunny mornings with cloudy afternoons.

Slice of Life in CR: (A few of the things that didn't go right this week)

Electricity -- three outages -- 2 in one day, one for 4 hrs., and again for 1 hr. The next day, for 30 min. Why? Who knows?

Repair to granite; don't have the glue, supposed to return on Monday (maybe)

Changes to wall unit to accommodate a flat screen TV; to be installed on Friday, didn't happen, the key person is off; installation delayed until Wednesday (Wednesday is a holiday so it won't happen then either.)

Replace two tanks of gas; three weeks and three phone calls later it happens.

Repair one gas boiler for hot water: 1pm appointment, no show, promised again for 2:30...didn't happen. Postponed to the next day....repairs not done correctly..still working on getting it right.

Installation of three fans; one fan cannot be connected to a drop rod...must be modified or returned and replaced with a fan which does have the right connection.

Two rental showings, canceled because clients didn't show up..

Restaurant--Kiantis: (Belen) it continues to be an excellent choice. Good service, great food, reasonable prices. Three of us had steaks and all were delicious; one had fish (her normal choice) and it is better than any other fish she has had anywhere.


Brian, Lita, Hugo, irreverent Vicka, the pigeon toed parrot, and the newbies — Chico and Chica.



Brian C. Timmons, Newsletter Author
Residencias Los Jardines/Hacienda El Dorado - Developer
Cell: (506) 8305-3965
E-mail: brian@eldoradocostarica.com



For inquiries about availability of residences at Hacienda El Dorado or Residencias Los Jardines, contact:



Jan Kozak, Marketing Manager
Hacienda El Dorado
Rio Oro, Santa Ana
Costa Rica

Web: www.eldoradocostarica.com
E-mail: info@eldoradocostarica.com
MSN: jan.kozak.jr@hotmail.com
Skype: jan.kozak.jr

Tel (US) (+1) 647-477-5825
Cell: (+506) (+506) 8707-9930 / 8345-8018