RENTAL VACANCIES


» NOTES
When I started Residencias Los Jardines, I started writing a weekly news letter —determined to tell all the good, bad, and the ugly. I knew some readers would be interested in the construction process. I expected others might be interested in the lifestyle of two people who had decided to live outside the box. For others, the adventures of Lita, the parrot and the cat took on an entertainment saga all its own.

Residencias Los Jardines is finished. We periodically have resales and rental availability. Some readers may be interested in this information.

More and more, the content will be dominated by events of our new project, "El Dorado" for short. While the future is always uncertain, I again aim to tell it like it happens —the good, the bad, and the ugly, and that is what follows.

In an effort to make the format more interesting and visually appealing and to field inquiries re. El Dorado, the news letter is now being distributed by Jan Kozak, Marketing Manager, Hacienda El Dorado. I will remain the author.

Brian C. Timmons, Author
Residencias Los Jardines/Hacienda El Dorado - Developer
E-mail: brian@eldoradocostarica.com

YOU CAN ALSO VIEW THE COMPLETE VERSION ONLINE AT:

https://www.eldoradocostarica.com/English/Newsletter/index.php

» CONSTRUCTION LOG
Purchaser Survey:
We're missing replies from 4 purchasers. Paul returns in October, we'll complete the analysis then.
» RESIDENCIAS LOS JARDINES
Rentals:

We have two units scheduled to open -- 113 and 121 beginning Sept. 1. Unit 112 was leased.

Time of Use Electrical Meters:

We are

trying to cut costs by

switching to time-of-use electrical meters on the common element. We have two 20amp circuits powering garden and night lighting running 12 hours at the lowest cost hours and we can switch our large pool filtration pump to work at night. Other than that we don't have a lot of flexibility but are hoping that we will benefit from the pricing scheme developed by ICE. We'll see.
FOR SALE:

Unit 106A: $155,000

See Descriptions and photos below.

Rental Vacancies:

Unit 109 Available Sep / Oct $1,550 pr month
Unit 113 Available Sep 1 $1,450 pr month
Unit 114 IMMEDIATELY - Nov 1 $1,800 including weekly maid service
Unit 121 Available Sep 1 $1,650 per month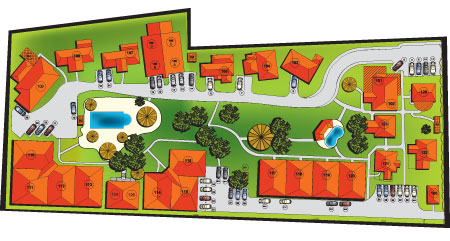 Unit #106A

--
For

Sale

$155,000 - FURNISHED (Leased at $1,000 pr month until January 2011)

Total Area (Sq Ft):

1250


Total area (Sq M):

120


Bedrooms:

2


Bathrooms:

2.5


Floor(s):

Ground Floor


Type:

Apartment


Furnished:

Yes




This is a fully furnished 2-bedroom unit situated in a 2-story building, which has two units on the ground floor and two units on the 2nd. floor. Each unit is the same size (1,250sf) divided into 800 sf of interior space and 450 sf of covered front and back terraces. UnitS 106 A

and B are on the ground floor; Units

106

C and D are on the 2nd. Floor. The solid masonry demising wall (common wall) as well as the 5" concrete slab prevent sound transference.
Read More

Unit 121 - For Rent $1,650 (Available September 1, 2010)
Total Area (Sq Ft):1423
Total area (Sq M):131
Bedrooms:2
Bathrooms:2.5
Floor(s):2 Story
Type:Detached
Furnished:Yes
This two story, detached 1,423 sf home + parking for one car has two bedrooms, 2 ½ bathrooms and a 2nd. floor covered terrace.

The open railed wrought iron cement stair case leads to the 2nd. level where the master bedroom with en-suite master bathroom as well as 2nd. bedroom and en-suite bathroom are located. Also accessed from the 2nd. floor hallway is the covered terrace.

This is a very nicely furnished home with a good floor plan for those wanting two floors.
Unit #113

--
For

Rent $1,450- FURNISHED (Available September 1, 2010)
Total Area (Sq Ft):1290
Total Area (Sq M):120
Bedrooms:2
Bathrooms:2
Floor(s):1
Type:Attached
Furnished:Yes

This 1,290 sf single floor home includes a 300 sf front terrace plus parking

for

one car. It is attached on two sides by a 6 inch cement demising (common) wall, which prevents sound transfer.

Read More
» NEWS FROM COSTA RICA
August 29, 2010
Czech Republic To Close Embassy In Costa Rica
The The Czech government announced on Saturday that it would be closing its embassy in Costa Rica, as well as four other countries, Congo, Venezuela, Kenya and Yemen.

Read
August 27, 2010
Security Minister Criticized For Not Knowing How Many Police Officers Costa Rica Needs
A study by the Contraloría General de la República (Comptroller General's Office) found significant deficiencies in the process of recruitment of police officers by the Ministerio de Seguridad Pública (Ministry of Public Security).

Read
August 27, 2010
Panama Can Be More Expensive Than Costa Rica
Today (Thursday 26 August) was the first day of the monthly ARCR seminar for potential retirees. I always make it a point to chat with other lecturers about current trends in Costa Rica and the rest of Central America.

Read
August 26, 2010
Costa Rica Top Destination For the "Single Traveller"
The magazine "Travel + Leisure" places Costa Rica at the top as the best country in the world for single travel.

Read
August 26, 2010
Tránsitos Ask For Cameras In Patrol Cars
Following the detention of seven traffic officials in Cartago on Tuesday, being investigated for corruption, Tránsitos are asking for the installation of cameras in their patrol cars.

Read
August 25, 2010
32% Of Costa Ricans Are Late To Work Daily
Late, again, is a common occurrence in Costa Rica as one third of workers arrive late at work every morning, partly due to the worsening traffic congestion and partly due to bad habits.

Read
August 24, 2010
San José - Caldera Tolls Drop On Friday
The drop in the dollar exchange means good news for users of the San José - Caldera as the highway concessionaire, Autopistas del Sol, has announced a drop in toll charges.

Read
August 24, 2010
27 Detained In Jacó
The tourist town of Jacó in the central Pacific was the scene of an intense police operation over the weekend, when members of the Fuerza Pública, migración (immigration) and others, swooped on the small town for a spot check.

Read
» OUR LIVES
Weather:
Fairly normal which means daily rains. We had one very hard and sustained downpour which severely stressed our drainage and pumping system. The weather agency is predicting substantially heavier than normal rains for Sept and Oct. My hope is that they are wrong like they normally are however there are many parts of the country which have been heavily hit and the road system in CR is really suffering major and frequent outages due to landslides, washed out bridges, fallen trees, etc.



Riteve: My car is still having problems passing emmisions. It's burning too much oil and the changes we made --- heavier oil and a new catalytic processing unit--were not sufficient. I'll have to have new rings.


Comment:

We've actually seen quite a bit of rental and purchaser activity this week. We must have had 5-7 different showings. In most cases, the purchasers are just beginning to look, to gather information, and some are even at the earlier stage--wondering if the move to CR is right for them. No one has been running around trying to throw money away. In several cases, I think the people have waited too long....I see this situation so many times. Their health has deteriorated and / or they can't walk beyond the middle of the property. Los Jardines is level and is wheel chair accessible- most all the units and most all the property can be easily accessible to people with mobility problems. It's a shame these people have waited so long to follow what has become their dream.



Time out Tavern: We went for lunch along with a small group on Friday. The fish and chips were good but Lita's chicken and pasta were foregetable. It wasn't busy
.



Brian, Lita, Hugo, irreverent Vicka, the pigeon toed parrot, and the newbies — Chico and Chica.



Brian C. Timmons, Newsletter Author
Residencias Los Jardines/Hacienda El Dorado - Developer
Cell: (506) 8305-3965
E-mail: brian@eldoradocostarica.com



For inquiries about availability of residences at Hacienda El Dorado or Residencias Los Jardines, contact:



Jan Kozak, Marketing Manager
Hacienda El Dorado
Rio Oro, Santa Ana
Costa Rica

Web: www.eldoradocostarica.com
E-mail: info@eldoradocostarica.com
MSN: jan.kozak.jr@hotmail.com
Skype: jan.kozak.jr

Tel (US) (+1) 647-477-5825
Cell: (+506) (+506) 8707-9930 / 8345-8018