ICE and Rental!


» NOTES
When I started Residencias Los Jardines, I started writing a weekly news letter —determined to tell all the good, bad, and the ugly. I knew some readers would be interested in the construction process. I expected others might be interested in the lifestyle of two people who had decided to live outside the box. For others, the adventures of Lita, the parrot and the cat took on an entertainment saga all its own.

Residencias Los Jardines is finished. We periodically have resales and rental availability. Some readers may be interested in this information.

More and more, the content will be dominated by events of our new project, "El Dorado" for short. While the future is always uncertain, I again aim to tell it like it happens —the good, the bad, and the ugly, and that is what follows.

In an effort to make the format more interesting and visually appealing and to field inquiries re. El Dorado, the news letter is now being distributed by Jan Kozak, Marketing Manager, Hacienda El Dorado. I will remain the author.

Brian C. Timmons, Author
Residencias Los Jardines/Hacienda El Dorado - Developer
E-mail: brian@eldoradocostarica.com

YOU CAN ALSO VIEW THE COMPLETE VERSION ONLINE AT:

https://www.eldoradocostarica.com/English/Newsletter/index.php

» CONSTRUCTION LOG
Purchaser Survey:
We're missing replies from 6 purchasers, one of whom committed to 15 units. We suspect he was a speculator and will drop out. The probable plan was to re-sell a number of the units and end with 5-6 fully paid for units. That market is not now there. Regardless, we're following up with all before doing any analysis.
» RESIDENCIAS LOS JARDINES
Rentals:

We no sooner had a full house than we received notice from one of our tenants that he will be leaving early. Unit 113 will be available Sept. 1.
Maintenance: We've completed the annual cutting of the ficus hedge. Now we play catch-up on items which have been allowed to slide a bit.
FOR SALE:

Unit 106A: $155,000

See Descriptions and photos below.

Rental Vacancies:

Unit 113 Available Sep 1 $1,450 pr month
Unit 114 IMMEDIATELY - Nov 1 $1,800 including weekly maid service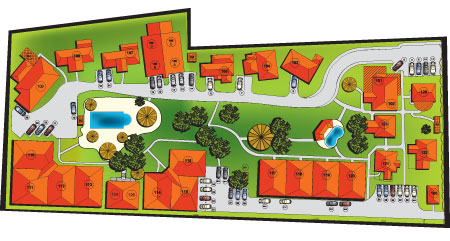 Unit #
106A

--

For

Sale

$155,000 - FURNISHED (Leased at $1,000 pr month until January 2011)

Total Area (Sq Ft):

1250


Total area (Sq M):

120


Bedrooms:

2


Bathrooms:

2.5


Floor(s):

Ground Floor


Type:

Apartment


Furnished:

Yes




This is a fully furnished 2-bedroom unit situated in a 2-story building, which has two units on the ground floor and two units on the 2nd. floor. Each unit is the same size (1,250sf) divided into 800 sf of interior space and 450 sf of covered front and back terraces. UnitS 106 A

and B are on the ground floor; Units

106

C and D are on the 2nd. Floor. The solid masonry demising wall (common wall) as well as the 5" concrete slab prevent sound transference.
Read More

Unit #

113

--
For

Rent $1,450- FURNISHED (Available September 1, 2010)
Total Area (Sq Ft):1290
Total Area (Sq M):120
Bedrooms:2
Bathrooms:2
Floor(s):1
Type:Attached
Furnished:Yes

This 1,290 sf single floor home includes a 300 sf front terrace plus parking

for

one car. It is attached on two sides by a 6 inch cement demising (common) wall, which prevents sound transfer.

Read More
» NEWS FROM COSTA RICA
August 07, 2010
Adventure Race Dashes Through Costa Rica
Costa Rica will be home to the Adventure Race World Series 2010 (ARWS) where more than 20 teams from over 12 different countries will join in the adrenaline-filled race towards the finish line.

Read
August 07, 2010
Miss Costa Rica 2010 Heading For Miss Universe Pageant In Las Vegas
The contestants of the Miss Universe 2010 Pageant, the 59th edition of one of the world most prestigious Beauty Pageants, will be heading their way to the event held at the Mandalay Bay Events Center in the Mandalay Bay Resort and Casino, Las Vegas on August 23 2010.

Read
August 07, 2010
Johnny Makes It Official, Wants To Stay On As Mayor of San José
It's now official, Johnny Araya wants to continue to be mayor of San José and will be heading into the December municipal elections representing the Partido Liberación Nacional (PLN) party.

Read
August 05, 2010
"Puente Platina" To Be Fixed in December, MOPT Announces
It's been more than a year since when the "puente platina" become a daily headache for those using the autopista General Cañas. And a year since the last three attempts to fix the problem.

Read
August 04, 2010
Opening Of Cellular Competition Must Be Ready In 3 Months, Constitutional Court Orders
The Sala Constitucional (Constitutional Court) has ordered the opening process of cellular service competition must be completed and adjuticated within a period not exceeding three months from today.

Read
August 04, 2010
"ICE Needs To Focus On The Needs Of The Customers", Says New ICE Boss
Eduardo Doryan is the new "boss" at the Instituto Costarricense de Electricidad (ICE).

Read
August 03, 2010
The Presidenta And The "Romeria"
Presidenta Laura Chinchilla walked among the faithful to Cartago from Tres Rios on Sunday and then took part in the August 2 traditional ceremonies in front of the Basilica de Cartago, calling for an end to violence in Costa Rica and for families to foster values of respect, affection and solidarity in their children.

Read
August 03, 2010
Costa Rican Government Moves To Streamline Procedures For Erection of Mobile Communications Towers
Mobile telephone operators looking to Costa Rica as a new market just got a boost from the central government who is working with local municipalities to ensure that operators will not face long and tiresome processes in setting up their communications towers.

Read
August 03, 2010
Municipalities In Costa Rica To Cash In On Opening Of Mobile Telecommunications Market
Municipalities in Costa Rica are looking to cash in on the opening of the telecommunications market by charging operators a tax or license fee to erect and maintain radio towers. This would be the first time that municipalities would be allowed some control on the location of the radio base towers and a new source of revenue.

Read
August 02, 2010
Costa Rica Hits Up China For $221 Million Dollars.We Need It More Than They Do.
During the meeting China's Foreign Minister, Yang Jiechi, Costa Rica's president, Laura Chinchilla, is following the steps of her predecessor and mentor, Oscar Arias, sticking out her hand for more money from the Asiatic giant.

Read
» OUR LIVES
Weather:

This week was typical rainy season weather - sunny in the mornings, clouding over early afternoon, heavy downpour for a couple hours, clearing afterwards.

Lita and Budgies:

No babies yet. Hope mom hasn't given up. We'll see.

Vacation: We're heading to Carrillo and Samara for a few nights with some friends. They haven't been there so they are in for a surprise; it's our favorite beach area and while we've been there numerous times, we continue to like it. We were going to go to San Juan del Sur but the logistics and additional travel time just discouraged us.

Driving Hazards: Friends were in San Jose. She got stopped by the traffic police for an expired RTV. On further checking, her driver's license had also expired. The police confiscated her plates, impounded her car, gave her two tickets -- one for each infraction -- and the total amount is a little over $700, a hassle renewing both. One simply has to remain aware of the regulations to avoid these problems. A lesson learned by them and by their friends to make sure your documents are current. I was to have my car taken to RTV while we were in Carrillo but now we'll be taking it so RTV will have to wait until we return -- not a problem since I still have a month yet on the current sticker.



Residency Application: The file continues to languish in the gov't dept. like thousands of others. We wait with periodic inquiries.

Brian, Lita, Hugo, irreverent Vicka, the pigeon toed parrot, and the newbies — Chico and Chica.



Brian C. Timmons, Newsletter Author
Residencias Los Jardines/Hacienda El Dorado - Developer
Cell: (506) 8305-3965
E-mail: brian@eldoradocostarica.com



For inquiries about availability of residences at Hacienda El Dorado or Residencias Los Jardines, contact:



Jan Kozak, Marketing Manager
Hacienda El Dorado
Rio Oro, Santa Ana
Costa Rica

Web: www.eldoradocostarica.com
E-mail: info@eldoradocostarica.com
MSN: jan.kozak.jr@hotmail.com
Skype: jan.kozak.jr

Tel (US) (+1) 647-477-5825
Cell: (+506) (+506) 8707-9930 / 8345-8018