RLJ Is Leased Up!!!


» NOTES
When I started Residencias Los Jardines, I started writing a weekly news letter —determined to tell all the good, bad, and the ugly. I knew some readers would be interested in the construction process. I expected others might be interested in the lifestyle of two people who had decided to live outside the box. For others, the adventures of Lita, the parrot and the cat took on an entertainment saga all its own.

Residencias Los Jardines is finished. We periodically have resales and rental availability. Some readers may be interested in this information.

More and more, the content will be dominated by events of our new project, "El Dorado" for short. While the future is always uncertain, I again aim to tell it like it happens —the good, the bad, and the ugly, and that is what follows.

In an effort to make the format more interesting and visually appealing and to field inquiries re. El Dorado, the news letter is now being distributed by Jan Kozak, Marketing Manager, Hacienda El Dorado. I will remain the author.

DISTRIBUTION METHOD CHANGE: We used to use Yahoo mail but the lists got too long and Yahoo dropped names for reasons we couldn't understand. We went o Google mail and that had is problems as well. We then went to a Google Group system where people had to enlist; some people were intimidated by this and / or it didn't seem to work for them. For a while, we ran two parallel systems but gave that after several months. We are now going to a different method...a non-website affiliated company which says it will distribute the newsletter and where I can update the address easily. We'll see.

Brian C. Timmons, Author
Residencias Los Jardines/Hacienda El Dorado - Developer
E-mail: brian@eldoradocostarica.com

YOU CAN ALSO VIEW THE COMPLETE VERSION ONLINE AT:

https://www.eldoradocostarica.com/English/Newsletter/index.php

» CONSTRUCTION LOG
Purchaser Survey: We've received replies from many but not all purchasers. Preliminary analysis indicates that the financial malstrom was pretty hard on our purchasers and they haven't yet recovered.

» RESIDENCIAS LOS JARDINES
Rentals: Both units 116 and 123 leased this week. A Canadian company spent three weeks trying to make a decision. They viewed the property three times; had 7 people involved and despite a "heads up" that I was showing the unit at 10am, they waited until 45 min. after the deal went down. I would like to have had them as clients as they were looking for a total of 4 houses over time but in this case, you snooze, you loose.

Maintenance: Every year we have to severely trim the west hedge. This is a lot of work and takes about 8 good hard days of work. The gardeners don't like this job but they do it. Fortunately, their government decreed bonus comes at the same time the work is scheduled. That helps but it takes a lot of pushing to get the job done.

FOR SALE:

Unit 106A: $155,000

See Descriptions and photos below.

Rental Vacancies:

Unit 114 IMMEDIATELY - Nov 1 $1,800 including weekly maid service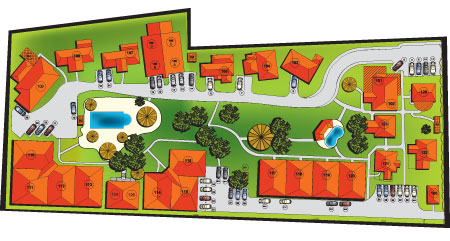 Unit #
106A

--

For

Sale

$155,000 - FURNISHED (Leased at $1,000 pr month until January 2011)

Total Area (Sq Ft):

1250


Total area (Sq M):

120


Bedrooms:

2


Bathrooms:

2.5


Floor(s):

Ground Floor


Type:

Apartment


Furnished:

Yes




This is a fully furnished 2-bedroom unit situated in a 2-story building, which has two units on the ground floor and two units on the 2nd. floor. Each unit is the same size (1,250sf) divided into 800 sf of interior space and 450 sf of covered front and back terraces. UnitS 106 A

and B are on the ground floor; Units

106

C and D are on the 2nd. Floor. The solid masonry demising wall (common wall) as well as the 5" concrete slab prevent sound transference.
Read More
» NEWS FROM COSTA RICA
August 01, 2010
Experts Warn Of More Disasters For Failing Road Network
Although the Ministerio de Obras Públicas y Transportes (MOPT) and the CONAVI recognize the problem faced at many bridges, they say there is not much they can do against the forces of nature.

Read
August 01, 2010
Bright Future For China-Costa Rica Ties: Ambassador
The establishment of diplomatic ties between China and Costa Rica in 2007 and the rapid growth of bilateral ties since then are in the interests of the two countries and peoples, said China's ambassador to the central American nation.

Read
July 31, 2010
Visit Costa Rica By Way Of Facebook
The Instituto Costarricense de Turismo (ICT) - Costa Rica's Tourism Board - has launched its official Visit Costa Rica Facebook, Twitter, and YouTube channels, aimed at catering to the increasing demand for information about this small and peaceful Central American country.

Read
July 30, 2010
Chaos On The Interamericana Norte
The complete closure of the Interamericana Norte at the rio Seco (kilometre 127) will not only affect tourism to Guanacaste, but also the supply of goods, like fresh fruits and vegetables and rice - both to Guanacaste and other provinces in the country.

Read
July 30, 2010
Santa Ana Chosen As Site For Wind Farm
It will cost us$50 million dollars and by August 2012, Santa Ana will be generating wind power electricity for 5.700 homes in the Central Valley.

Read
July 29, 2010
The Ministro de Cultura Can Perform At Concerts And Sell His Records
The ministro de Cultura, Manuel Obregón and his vice-minister, Iván Rodríguez, can perform publicly at concerts - free or paid - and sell records, according to a decision by the Contraloría General de la República (Comptroller's Office).

Read
July 28, 2010
"Wild Bill" And Wife On Their Way Back To Panama
Using Costa Rica as a rest stop, the two foreigners detained in Nicaragua have been clearly identified as the American couple wanted in Panama in the death of at least one U.S. woman and up to six others, Nicaraguan authorities saying on Tuesday that they would hand the couple over to Panamanian authorities.

Read
July 27, 2010
Costa Rica Nears Carbon-Neutral Goal
In its August issue (released this week), International Living magazine reports that Costa Rica is nearing a goal it set for itself in 2007, to be carbon-neutral in time for the country's 200th birthday in 2021.

Read
» OUR LIVES
Weather: This week was typical rainy season weather -- sunny in the mornings, clouding over early afternoon, heavy downpour for a couple hours, clearing afterwards. Other parts of the country continue to get more rain than we do here with consequent problems--roads continue to be washed out and plagued by landslides. Going anywhere out of the Central Valley is problematic in either going or in returning. It seems to be worse this year than at any other time I can remember.

Lita and Budgies: The female is sitting on three eggs in her separately attached nesting area. This is the first time that eggs have actually been in a nest...this is the closest she's come to having eggs hatch. We'll see.

Brian, Lita, Hugo, irreverent Vicka, the pigeon toed parrot, and the newbies — Chico and Chica.



Brian C. Timmons, Newsletter Author
Residencias Los Jardines/Hacienda El Dorado - Developer
Cell: (506) 8305-3965
E-mail: brian@eldoradocostarica.com



For inquiries about availability of residences at Hacienda El Dorado or Residencias Los Jardines, contact:



Jan Kozak, Marketing Manager
Hacienda El Dorado
Rio Oro, Santa Ana
Costa Rica

Web: www.eldoradocostarica.com
E-mail: info@eldoradocostarica.com
MSN: jan.kozak.jr@hotmail.com
Skype: jan.kozak.jr

Tel (US) (+1) 647-477-5825
Cell: (+506) (+506) 8707-9930 / 8345-8018