INVU - SUCCESS!!!!!!!!!


» NOTES
When I started Residencias Los Jardines, I started writing a weekly news letter —determined to tell all the good, bad, and the ugly. I knew some readers would be interested in the construction process. I expected others might be interested in the lifestyle of two people who had decided to live outside the box. For others, the adventures of Lita, the parrot and the cat took on an entertainment saga all its own.

Residencias Los Jardines is finished. We periodically have resales and rental availability. Some readers may be interested in this information.

More and more, the content will be dominated by events of our new project, "El Dorado" for short. While the future is always uncertain, I again aim to tell it like it happens —the good, the bad, and the ugly, and that is what follows.

In an effort to make the format more interesting and visually appealing and to field inquiries re. El Dorado, the news letter is now being distributed by Jan Kozak, Marketing Manager, Hacienda El Dorado. I will remain the author.

DISTRIBUTION METHOD CHANGE: We used to use Yahoo mail but the lists got too long and Yahoo dropped names for reasons we couldn't understand. We went o Google mail and that had is problems as well. We then went to a Google Group system where people had to enlist; some people were intimidated by this and / or it didn't seem to work for them. For a while, we ran two parallel systems but gave that after several months. We are now going to a different method...a non-website affiliated company which says it will distribute the newsletter and where I can update the address easily. We'll see.

Brian C. Timmons, Author
Residencias Los Jardines/Hacienda El Dorado - Developer
E-mail: brian@eldoradocostarica.com

YOU CAN ALSO VIEW THE COMPLETE VERSION ONLINE AT:

https://www.eldoradocostarica.com/English/Newsletter/index.php

» CONSTRUCTION LOG
INVU

-- IT'S OFFICIAL!!!!
We now have both SETENA and INVU approvals which mean we can now proceed with site development construction permits.



Purchaser Survey:

On Friday, I sent out a survey to all purchasers asking 5 basic questions. I asked for returns by this coming Friday. We'll see what the next step is.
» RESIDENCIAS LOS JARDINES
Rentals:

We've
had one looker and a few agent inquiries.
Residents:
We currently seem to have the quietest group of residents that I ever remember in the past 5 years. Some could be due to the time of year but some is certainly do to the people themselves. In many ways it's a pleasant change.
Maintenance:
The security bars on the jallosy windows are now finished and the touch-up stuccoing is as well.
Attention is now turning to varnishing wooden columns and cana brava and to cutting back the trees and hedges around the property. This will result in lots of garden waste having to be carted away.
Hyundai Sale:
Epilogue: The purchaser phone Flavio and wanted her money back saying that it was a real piece of junk. And that is why we have looked at alternatives to replacing it because with a limited budget we could get another hunk of junk. We need a service vehicle and have a limited budget. I've presented three options to the Board and they have endorsed one of them. I'm working on that and when conditions are right, we'll implement it.

FOR SALE:

Unit 106A: $155,000

See Descriptions and photos below.

Rental Vacancies:

Unit 114 IMMEDIATELY - Nov 1 $1,800 including weekly maid service
Unit 116: IMMEDIATELY $1,550
Unit 123: IMMEDIATELY $1,650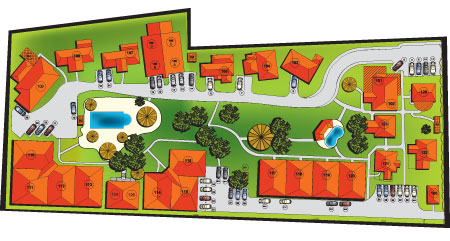 Unit #
106A

--

For

Sale

$155,000 - FURNISHED (Leased at $1,000 pr month until January 2011)

Total Area (Sq Ft):

1250


Total area (Sq M):

120


Bedrooms:

2


Bathrooms:

2.5


Floor(s):

Ground Floor


Type:

Apartment


Furnished:

Yes




This is a fully furnished 2-bedroom unit situated in a 2-story building, which has two units on the ground floor and two units on the 2nd. floor. Each unit is the same size (1,250sf) divided into 800 sf of interior space and 450 sf of covered front and back terraces. UnitS 106 A

and B are on the ground floor; Units

106

C and D are on the 2nd. Floor. The solid masonry demising wall (common wall) as well as the 5" concrete slab prevent sound transference.
Read More
» NEWS FROM COSTA RICA
July 24, 2010
Earthquakes Now A Major Concern On The San José - Caldera
Just when you thought it was safe again to drive the Ruta 27 (San José - Caldera) a new concern has cropped up - earthquakes.

Read
July 23, 2010
Tourism In Costa Rica Grew 3.96% In First Half Of 2010
Instituto Costarricense de Turismo (ICT) - Costa Rica's Tourism Board - has an optimistic outlook for this year, expecting to reach two million visitors for 2010. The optimism is based on the 3.96% increase in tourism the first half of this year as compared to the same period in 2009.

Read
July 23, 2010
US Coast Guard Cutter Aids Costa Rica Arrests
The Maine-based U.S. Coast Guard Cutter Tahoma worked with Costa Rican authorities after two suspected go-fast vessels were interdicted off the coast of Costa Rica Sunday night and Monday morning this week.

Read
July 23, 2010
Rains Affect 150, Take Down Bridges And Homes
More than 150 people in various areas of Costa Rica were affected by the heavy rains of Wednesday afternoon and Tuesday night, according to figures released by the Comisión Nacional de Emergencias (CNE).

Read
July 22, 2010
Buses To Be Target Of Intense Police Action To Combat Rise In Crime In Costa Rica
In an effort to combat rising crime, the Ministro de Seguridad Pública, José María Tijerino, announced an intensive police operation on buses on all routes around the country. Tijerino said that the police action has the support of bus operators and will take effect starting next week.

Read
July 21, 2010
Pre-Columbian Burial Ground Unearthed In Costa Rica
(AFP) An 800-year-old, pre-Columbian burial ground with baskets full of human remains was unearthed at a building site outside San José, National Museum archaeologists said Tuesday. "It's a funeral complex made from river stones and slabs," Maritza Gutierrez, who heads the digs at the Tres Rios district 10 kilometers (six miles) from the capital, told reporters.

Read
July 19, 2010
ICE Opens Up Its Telecommunications Network
Costa Rica's Instituto Costarricense de Electricidad (ICE) has interfaced its network with Ticom and CallMyWay, two telecom companies offering VOIP services.

Read
» OUR LIVES
Weather:

This week was typical rainy season weather -- sunny in the mornings, clouding over early afternoon, heavy downpour for a couple hours, clearing afterwards. Other parts of the country continue to get more rain than we do here with consequent problems.

Pay Back Time:

I expect to meet some people considering CR on a longer term basis. I've offered to discuss our experiences with them..... I'm not selling anything other than CR--to the right people--. I asked a lot of questions of many people before we moved here and most all were kind enough to share their experiences. I figure it is pay back time now.



Note: I had occasion to speak with various people this past week and virtually all have said the same thing...they have never seen the market so slow, so dead in the last 8+ years. An established law firm and real estate companies normally busy are virtually empty with no change in site. Kirebe and Jan seem to be the only developer and agent busy--each catering to a different market but each seems to be either selling or renting.

Brian, Lita, Hugo, irreverent Vicka, the pigeon toed parrot, and the newbies — Chico and Chica.



Brian C. Timmons, Newsletter Author
Residencias Los Jardines/Hacienda El Dorado - Developer
Cell: (506) 8305-3965
E-mail: brian@eldoradocostarica.com



For inquiries about availability of residences at Hacienda El Dorado or Residencias Los Jardines, contact:



Jan Kozak, Marketing Manager
Hacienda El Dorado
Rio Oro, Santa Ana
Costa Rica

Web: www.eldoradocostarica.com
E-mail: info@eldoradocostarica.com
MSN: jan.kozak.jr@hotmail.com
Skype: jan.kozak.jr

Tel (US) (+1) 647-477-5825
Cell: (+506) (+506) 8707-9930 / 8345-8018