INVU - SUCCESS!!!!!!!!!


» NOTES
When I started Residencias Los Jardines, I started writing a weekly news letter —determined to tell all the good, bad, and the ugly. I knew some readers would be interested in the construction process. I expected others might be interested in the lifestyle of two people who had decided to live outside the box. For others, the adventures of Lita, the parrot and the cat took on an entertainment saga all its own.

Residencias Los Jardines is finished. We periodically have resales and rental availability. Some readers may be interested in this information.

More and more, the content will be dominated by events of our new project, "El Dorado" for short. While the future is always uncertain, I again aim to tell it like it happens —the good, the bad, and the ugly, and that is what follows.

In an effort to make the format more interesting and visually appealing and to field inquiries re. El Dorado, the news letter is now being distributed by Jan Kozak, Marketing Manager, Hacienda El Dorado. I will remain the author.

DISTRIBUTION METHOD CHANGE: We used to use Yahoo mail but the lists got too long and Yahoo dropped names for reasons we couldn't understand. We went o Google mail and that had is problems as well. We then went to a Google Group system where people had to enlist; some people were intimidated by this and / or it didn't seem to work for them. For a while, we ran two parallel systems but gave that after several months. We are now going to a different method...a non-website affiliated company which says it will distribute the newsletter and where I can update the address easily. We'll see.

Brian C. Timmons, Author
Residencias Los Jardines/Hacienda El Dorado - Developer
E-mail: brian@eldoradocostarica.com

YOU CAN ALSO VIEW THE COMPLETE VERSION ONLINE AT:

https://www.eldoradocostarica.com/English/Newsletter/index.php

» CONSTRUCTION LOG
INVU:
SUCCESS!!!!
We were advised on Thursday by the AyA reviewer at INVU that he was approving the project. Friday was supposedly devoted to documenting his decision. We expect that by next week's newsletter, we will have the physical document approved in hand. We've put the bottles of champagne on ice!!!
This is the culmination of 3 years of work; it has been a long and tortuous process complicated by CRs confused and inconsistent approach to managing water and stream habitat. While we didn't have the most experienced team in place to work their way through the application process, I'm not sure how much better we would have done with more experienced people since the rules seem to be ill defined, the goal posts are constantly changing and the authoritative body keeps changing as well. It's understandable why few projects choose land we did--with a stream running through it--and land where we need to supply water. We believe that the end result will distinguish this development from others and will make it THE premier development in the Central Valley--especially in our price range / target market.
Purchaser Survey:
When I have the final approval (in hand), I will distribute an announcement of our current status and ask some questions of our purchasers. The results will determine the timing on our next step which will be the creation of the condominium documents and the beginning of the detailed design work on the buildings themselves.
» RESIDENCIAS LOS JARDINES
Rentals:

Despite the three companies who expressed interest last week, nothing has happened. One company hasn't yet shown up, the other company which wants four units is "thinking" and the other???? One existing tenant is extending her stay so that is good news.

Sales: We had one client look us over. They are new to CR but seem intent on buying. I hope they've done their homework.

Maintenance: We are advancing on the winter maintenance work doing touch up stucco and touch up painting. We are having security bars put over many of the lower jallosy windows; that work is nearly finished.

Hyundai Sale: After an electrical fire we lowered the price of the service vehicle we had decided to sell. We sold it and are now looking for a replacement--inexpensive but reliable. Based on my initial search, we're going to have to raise our budget.


FOR SALE:

Unit 106A: $155,000

See Descriptions and photos below.

Rental Vacancies:

Unit 114 IMMEDIATELY - Nov 1 $1,800 including weekly maid service
Unit 116: IMMEDIATELY $1,550
Unit 123: IMMEDIATELY $1,650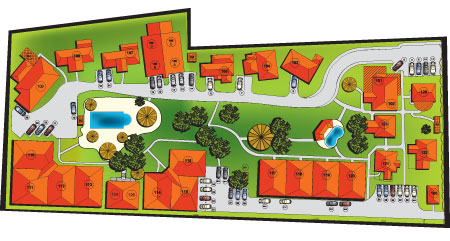 Unit #
106A

--

For

Sale

$155,000 - FURNISHED (Leased at $1,000 pr month until January 2011)

Total Area (Sq Ft):

1250


Total area (Sq M):

120


Bedrooms:

2


Bathrooms:

2.5


Floor(s):

Ground Floor


Type:

Apartment


Furnished:

Yes




This is a fully furnished 2-bedroom unit situated in a 2-story building, which has two units on the ground floor and two units on the 2nd. floor. Each unit is the same size (1,250sf) divided into 800 sf of interior space and 450 sf of covered front and back terraces. UnitS 106 A

and B are on the ground floor; Units

106

C and D are on the 2nd. Floor. The solid masonry demising wall (common wall) as well as the 5" concrete slab prevent sound transference.
Read More
» NEWS FROM COSTA RICA
July 17, 2010
Conavi Promises Better Roads In Costa Rica
If you have lived or visited Costa Rica for some time one thing you will not, the roads are bad. And although they have improved in the last few years, the road situation is still far from acceptable. However, that may soon change if the Consejo Nacional de Vialidad (Conavi) holds true to its promise.

Read
July 17, 2010
Competition Prompts Lower Guaro Prices In Costa Rica
The Fábrica Nacional de Licores (Fanal) - the state owner distillery - is facing a problem it has never seen before, a drop in sales in guaro that it produces and markets under the "Cacique" barn, that will probably lead to a deficit for this year.

Read
July 17, 2010
Costa Rica In the Nude
The Desire Group of Costa Rica has announced an exclusive all nude adult only tour of Costa Rica, where visitors will spend 8 days / 7 nights in three destinations in Costa Rica. The entire vacation is done mostly in the nude, weather permitting, says the press release.

Read
July 16, 2010
GE Sells Its Shares In Costa Rican Bank To Colombians
The Grupo Aval Acciones y Valores SA of Colombia has purchased from General Electric (GE) 75% of the shares it held in BAC-Credomatic.

Read
July 16, 2010
US Military Surge in Costa Rica May Fan Regional Tensions
In a controversial decision that is likely to fan the flames of regional tensions in Latin America, Costa Rica recently granted the US permission to move 7,000 troops and 46 warships (along with their accompanying planes and helicopters) into Costa Rican waters.

Read
July 16, 2010
President Chinchilla Says Costa Ricas Are Right On Insecurity
Presidenta Laura Chinchilla found in favour of Costa Ricans who are calling for greater security in the streets, parks and neighbourhoods.

Read
July 15, 2010
Government Sets August Deadline For Opening of Cellular Communications in Costa Rica
The government has its eyes on August as a goal to get closer to awarding the first licenses to cellular telephone operators in Costa Rica, who will compete with the state operator, the Instituto Costarricense de Electricidad (ICE), now that the co-ordination process is in the hands of the government.

Read
July 14, 2010
U.S. Top Travel Destination For Costa Ricans
More and more Costa Ricans are vacationing in the United States and the main points of entry are Miami, Orlando, New York, Los Angeles and Washington. Panama is the second most important destination for vacationing Ticos.

Read
July 12, 2010
Costa Rica And China In Culture Clash
The culture clash between Costa Rica and the Peoples Republic of China (PRC) is taking on shape and form. It is a picture of assumptions, a sense of privilege and two cultures remotely different. To the Chinese credit, they might have read Costa Rica incorrectly. Our signals have not been all that clear.

Read
» OUR LIVES
Weather:

lots of overcast days and some drizzly days with only one heavy downpour. The rest of the country seems to be getting most of the rain. It's been cool for us-- 66 degrees or so.

Nothing special; mainly putting myself on "ready alert" for INVU application responses should they be needed and on-going mtnc. supervision and ensuring that money owing is, in fact, collected. Now that the pubic school recess is finished, we may find our way to the beach but we have to be convinced that it won't rain all the time.... we'll see. I've identified a condo in San Juan del Sur which looks nice but it requires others to make it affordable and more fun. I'm working on that.

Brian, Lita, Hugo, irreverent Vicka, the pigeon toed parrot, and the newbies — Chico and Chica.



Brian C. Timmons, Newsletter Author
Residencias Los Jardines/Hacienda El Dorado - Developer
Cell: (506) 8305-3965
E-mail: brian@eldoradocostarica.com



For inquiries about availability of residences at Hacienda El Dorado or Residencias Los Jardines, contact:



Jan Kozak, Marketing Manager
Hacienda El Dorado
Rio Oro, Santa Ana
Costa Rica

Web: www.eldoradocostarica.com
E-mail: info@eldoradocostarica.com
MSN: jan.kozak.jr@hotmail.com
Skype: jan.kozak.jr

Tel (US) (+1) 647-477-5825
Cell: (+506) (+506) 8707-9930 / 8345-8018