INVU UPDATE & RENTALS


» NOTES
When I started Residencias Los Jardines, I started writing a weekly news letter —determined to tell all the good, bad, and the ugly. I knew some readers would be interested in the construction process. I expected others might be interested in the lifestyle of two people who had decided to live outside the box. For others, the adventures of Lita, the parrot and the cat took on an entertainment saga all its own.

Residencias Los Jardines is finished. We periodically have resales and rental availability. Some readers may be interested in this information.

More and more, the content will be dominated by events of our new project, "El Dorado" for short. While the future is always uncertain, I again aim to tell it like it happens —the good, the bad, and the ugly, and that is what follows.

In an effort to make the format more interesting and visually appealing and to field inquiries re. El Dorado, the news letter is now being distributed by Jan Kozak, Marketing Manager, Hacienda El Dorado. I will remain the author.

DISTRIBUTION METHOD CHANGE: We used to use Yahoo mail but the lists got too long and Yahoo dropped names for reasons we couldn't understand. We went o Google mail and that had is problems as well. We then went to a Google Group system where people had to enlist; some people were intimidated by this and / or it didn't seem to work for them. For a while, we ran two parallel systems but gave that after several months. We are now going to a different method...a non-website affiliated company which says it will distribute the newsletter and where I can update the address easily. We'll see.

Brian C. Timmons, Author
Residencias Los Jardines/Hacienda El Dorado - Developer
E-mail: brian@eldoradocostarica.com

YOU CAN ALSO VIEW THE COMPLETE VERSION ONLINE AT:

https://www.eldoradocostarica.com/English/Newsletter/index.php

» CONSTRUCTION LOG
INVU:
One missing piece of paper was required; it was quickly supplied--they had a copy of wanted the "original". This should pave the way for the INVU part of the three part approval. Min. of Salud has already approved us. AyA is the remaining part. We are in touch with the reviewer who was consulted prior to the submission for his advice and direction. We complied with what he wanted so we are not expecting any problems. We will follow up with him on Wednesday.
» RESIDENCIAS LOS JARDINES
Rentals:

Something is happening. The last three contacts I've had, are all from companies wanting multiple housing. One is Costa Rican based wanting two houses; one is Canadian based wanting up to 4 houses; and one is Swiss based wanting two. This is a pleasant change of events. We will show ourselves off today to the Canadian company and in a few days to the Swiss company. We don't have that many vacancies now but in some cases, they will move people in over time which works out for everyone. These type clients are likely to provide more stability and fewer problems.

Internet: It's been very slow at times this week.

Maintenance: Curbs and natural stone walkways have been scrubbed down with soap and clorox. We'll seal the stone with a chemical which enhances the natural color as well.



FOR SALE:

Unit 106A: $155,000

See Descriptions and photos below.

Rental Vacancies:

Unit 114 IMMEDIATELY - Nov 1 $1,800 including weekly maid service
Unit 116: IMMEDIATELY $1,550
Unit 123: IMMEDIATELY $1,650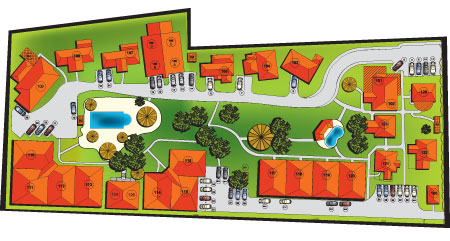 Unit #
106A

--

For

Sale

$155,000 - FURNISHED (Leased at $1,000 pr month until January 2011)

Total Area (Sq Ft):

1250


Total area (Sq M):

120


Bedrooms:

2


Bathrooms:

2.5


Floor(s):

Ground Floor


Type:

Apartment


Furnished:

Yes




This is a fully furnished 2-bedroom unit situated in a 2-story building, which has two units on the ground floor and two units on the 2nd. floor. Each unit is the same size (1,250sf) divided into 800 sf of interior space and 450 sf of covered front and back terraces. UnitS 106 A

and B are on the ground floor; Units

106

C and D are on the 2nd. Floor. The solid masonry demising wall (common wall) as well as the 5" concrete slab prevent sound transference.
Read More
» NEWS FROM COSTA RICA
July 11, 2010
"Twitter To Be Formed and Informed" Says Twitter Co-Founder In Costa Rica
Co-creator of Twitter, Dom Sagolla, told in San José, Costa Rica, at the Cumbre del Futuro en Costa Rica (Summit of the Future), that the microblogging system is today "a way to be formed and informed".

Read
July 11, 2010
Waka Waka (This Time for Africa): Shakira To Rock World Cup
Though Colombia never made it to the World Cup 2010, it is well represented, again, today with the curves and moves of Shakira, the Colombian pop superstar, will be centre stage with he latest song, "Wak Waka" the official song for World Cup 2010, has become the sound that captures the excitement of the most awaited soccer event.

Read
July 10, 2010
San José - Caldera Re-Opened!
The 11 kilometres stretch of Ruta 27 or the San José - Caldera as it is commonly known re-opened this morning following following a decision by the ministro de Obras Publicas y Transportes (MOPT), Francisco Jiménez, Friday afternoon.

Read
July 09, 2010
New ¢20.000 Note Next Month
The new ¢20.000 colones notes will hit the streets on August 11 said the Banco Central de Costa Rica (BCCR), Costa Rica's central bank.

Read
July 09, 2010
Increase In U.S. Tourists Arrivals Expected This Month
Tour operators, hotels and any others in the tourism industry have something to smile for this month following the results of a study by the Cámara Nacional de Turismo (Canatur) that forecasts an increase in U.S. tourtist arrivals this month.

Read
July 09, 2010
Ombudswoman Wants A Review Of the Tolls On The San José - Caldera
The Defensoría de los Habitantes (Office of the Ombudswoman) is questioning the manner in which the toll rates were set for the San José - Caldera and says that drivers may be overpaying.

Read
July 07, 2010
Costa Rica's President Defends Decision On Military
Costa Rica's president, Laura Chinchilla, defended the decision to allow U.S. warships and Marines in Costa Rica's national waters, saying that the authorization is not significantly different than previous authorizations with respect to the cooperation agreement signed a decade ago.

Read
July 06, 2010
Costa Rican Government's Strategy Against Youth Violence
Costa Rica's presidenta, Laura Chinchilla, summoned a group of experts from the ministerio de Seguridad (Security), Justicia (Justice) and Educación Pública (Education) to develop a joint prevention strategy against youth violence.

Read
July 05, 2010
Expansion Of San José Airport To Be Completed In November
Its only five and six months behind schedule, but by November the expansion of the Juan Santamaría (San José) airport will be complete.

Read
» OUR LIVES
Weather:
Normal rainy season weather--beautiful. All around CR seems to be getting normally heavy rains but here in Santa Ana, we haven't experienced many heavy rains and on an overall basis, have probably had a little less than normal.
Our lives remain quiet. I work on winter maintenance, marketing, rent and common element collection, and cleaning, repairing, and replacing items in rental units. Lita has again found the pool and has been spending many hours there. The parrot remains his mean spirited, self centered self.
Brian, Lita, Hugo, irreverent Vicka, the pigeon toed parrot, and the newbies — Chico and Chica.



Brian C. Timmons, Newsletter Author
Residencias Los Jardines/Hacienda El Dorado - Developer
Cell: (506) 8305-3965
E-mail: brian@eldoradocostarica.com



For inquiries about availability of residences at Hacienda El Dorado or Residencias Los Jardines, contact:



Jan Kozak, Marketing Manager
Hacienda El Dorado
Rio Oro, Santa Ana
Costa Rica

Web: www.eldoradocostarica.com
E-mail: info@eldoradocostarica.com
MSN: jan.kozak.jr@hotmail.com
Skype: jan.kozak.jr

Tel (US) (+1) 647-477-5825
Cell: (+506) (+506) 8707-9930 / 8345-8018