INVU UPDATE & SALE


» NOTES
When I started Residencias Los Jardines, I started writing a weekly news letter —determined to tell all the good, bad, and the ugly. I knew some readers would be interested in the construction process. I expected others might be interested in the lifestyle of two people who had decided to live outside the box. For others, the adventures of Lita, the parrot and the cat took on an entertainment saga all its own.

Residencias Los Jardines is finished. We periodically have resales and rental availability. Some readers may be interested in this information.

More and more, the content will be dominated by events of our new project, "El Dorado" for short. While the future is always uncertain, I again aim to tell it like it happens —the good, the bad, and the ugly, and that is what follows.

In an effort to make the format more interesting and visually appealing and to field inquiries re. El Dorado, the news letter is now being distributed by Jan Kozak, Marketing Manager, Hacienda El Dorado. I will remain the author.

DISTRIBUTION METHOD CHANGE: We used to use Yahoo mail but the lists got too long and Yahoo dropped names for reasons we couldn't understand. We went o Google mail and that had is problems as well. We then went to a Google Group system where people had to enlist; some people were intimidated by this and / or it didn't seem to work for them. For a while, we ran two parallel systems but gave that after several months. We are now going to a different method...a non-website affiliated company which says it will distribute the newsletter and where I can update the address easily. We'll see.

Brian C. Timmons, Author
Residencias Los Jardines/Hacienda El Dorado - Developer
E-mail: brian@eldoradocostarica.com

YOU CAN ALSO VIEW THE COMPLETE VERSION ONLINE AT:

https://www.eldoradocostarica.com/English/Newsletter/index.php

» CONSTRUCTION LOG
INVU:
Fortunately, the changes which we had to make to accommodate the well, were deemed "minor" and the application will retain the same number. This means that the review done and approval received by both INVU and Min. of Salud (Health) will stand. AyA is the only department that really needs to review our submission. We will be monitoring their progress.
Sale:
We have one client, a retired airline pilot who has said he wants to buy at El Dorado. I am preparing the paperwork for that to move ahead.
» RESIDENCIAS LOS JARDINES
Maintenance: The exterior washing was completed and the painting of various metal work is progressing. The concrete curbs will be washed this week--weather permitting.

FOR SALE:

Unit 106A: $155,000

See Descriptions and photos below.

Rental Vacancies:

Unit 114 IMMEDIATELY - Nov 1 $1,800 including weekly maid service
Unit 116: IMMEDIATELY $1,550
Unit 123: IMMEDIATELY $1,650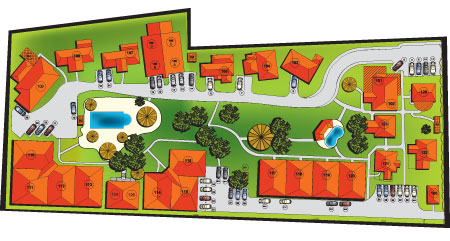 Unit #
106A

--

For

Sale

$155,000 - FURNISHED (Leased at $1,000 pr month until January 2011)

Total Area (Sq Ft):

1250


Total area (Sq M):

120


Bedrooms:

2


Bathrooms:

2.5


Floor(s):

Ground Floor


Type:

Apartment


Furnished:

Yes




This is a fully furnished 2-bedroom unit situated in a 2-story building, which has two units on the ground floor and two units on the 2nd. floor. Each unit is the same size (1,250sf) divided into 800 sf of interior space and 450 sf of covered front and back terraces. UnitS 106 A

and B are on the ground floor; Units

106

C and D are on the 2nd. Floor. The solid masonry demising wall (common wall) as well as the 5" concrete slab prevent sound transference.
Read More
» NEWS FROM COSTA RICA
July 03, 2010
Costa Rica's Opposition Rejects Entry Of US Naval Forces
As is customary, the US asks for authorization of Costa Rica's legislature before entry of any US warship and soldiers in Costa Rican waters. And as customary, the Costa Rica legislature grants its permission, as was the case on Friday.

Read
July 03, 2010
Costa Rica's Tourist Arrivals Up 90.000 For 2010
The tourism industry is beginning to smile again, following a tough 2009, with a forecast of some 90.000 more tourist arrivals in the first five months of 2010 over the same period last year.

Read
July 03, 2010
Autopistas Out Of Pocket For Loss Of Tolls And Repair Work On San José - Caldera
The Autopistas del Sol may be regretting the deal with made with the government of Oscar Arias when it signed on the dotted line to build and manage the San José - Caldera under a concession contract.

Read
July 03, 2010
Pacheco Says Laura Chinchilla Is Honest But Ill-Advised
Former president of Costa Rica, Abel Pacheco, in analyzing the first days of the administration of Laura Chinchilla, says "doña Laura is honest, but she is ill-advised".

Read
June 28, 2010
Presidenta Chinchilla "The Bad Guy" In The Arias Plan For 2014?
In less than two months in office, it is a question if Presidenta, Laura Chinchilla may be losing control and respect by her team as well as her opponents? For sure, she is being challenged from all sides and the public has openly expressed its concern.

Read
» OUR LIVES
Weather:
Normal rainy season weather--beautiful.
Guests: Our guest of last week decided that El Dorado offered him a future lifestyle and opportunity missing in his comfortable US home base. He's picked out a unit; I'm working on the paperwork and giving him a chance to fully absorb his decision; I'm not in to "pushing" -- I want people to feel comfortable and not have second thoughts....

Market Conditions: There continues to be few N. Am. buyers and few renters in the market; we are not the only ones feeling it. Realtors are mostly saying the same and getting the same feedback from other clients. Jan continues to be busy with Venezuelan clients looking to buy expensive homes. Commercial building continues unabated.
Brian, Lita, Hugo, irreverent Vicka, the pigeon toed parrot, and the newbies — Chico and Chica.



Brian C. Timmons, Newsletter Author
Residencias Los Jardines/Hacienda El Dorado - Developer
Cell: (506) 8305-3965
E-mail: brian@eldoradocostarica.com



For inquiries about availability of residences at Hacienda El Dorado or Residencias Los Jardines, contact:



Jan Kozak, Marketing Manager
Hacienda El Dorado
Rio Oro, Santa Ana
Costa Rica

Web: www.eldoradocostarica.com
E-mail: info@eldoradocostarica.com
MSN: jan.kozak.jr@hotmail.com
Skype: jan.kozak.jr

Tel (US) (+1) 647-477-5825
Cell: (+506) (+506) 8707-9930 / 8345-8018