INVU UPDATE & LEASE


» NOTES
When I started Residencias Los Jardines, I started writing a weekly news letter —determined to tell all the good, bad, and the ugly. I knew some readers would be interested in the construction process. I expected others might be interested in the lifestyle of two people who had decided to live outside the box. For others, the adventures of Lita, the parrot and the cat took on an entertainment saga all its own.

Residencias Los Jardines is finished. We periodically have resales and rental availability. Some readers may be interested in this information.

More and more, the content will be dominated by events of our new project, "El Dorado" for short. While the future is always uncertain, I again aim to tell it like it happens —the good, the bad, and the ugly, and that is what follows.

In an effort to make the format more interesting and visually appealing and to field inquiries re. El Dorado, the news letter is now being distributed by Jan Kozak, Marketing Manager, Hacienda El Dorado. I will remain the author.

DISTRIBUTION METHOD CHANGE: We used to use Yahoo mail but the lists got too long and Yahoo dropped names for reasons we couldn't understand. We went o Google mail and that had is problems as well. We then went to a Google Group system where people had to enlist; some people were intimidated by this and / or it didn't seem to work for them. For a while, we ran two parallel systems but gave that after several months. We are now going to a different method...a non-website affiliated company which says it will distribute the newsletter and where I can update the address easily. We'll see.

Brian C. Timmons, Author
Residencias Los Jardines/Hacienda El Dorado - Developer
E-mail: brian@eldoradocostarica.com

YOU CAN ALSO VIEW THE COMPLETE VERSION ONLINE AT:

https://www.eldoradocostarica.com/English/Newsletter/index.php

» CONSTRUCTION LOG
INVU:
As it happened, both engineers printed all their documents only to find errors. One engineer had to reprint all the documents a 2nd. time; the other had to reprint only half his documents. Neither were happy campers but they had only themselves to blame. In one case, it was a simple, but important error. As a result, the package was not submitted last Monday but will be submitted this coming Monday.
Marketing:
Chris Howard showed El Dorado along with Los Jardines to his group of 10 people. I think we will get some business out of it.
» RESIDENCIAS LOS JARDINES
Maintenance: Exterior washing is not yet finished as it took 2nd. place to normal work. We'll work more on that this week. Re-grouting on certain areas on sidewalks and pool area has now been completed and maintenance on wrought iron work is now being done. Cement curbs will be washed down to remove the mold resulting in a move even color of concrete.

Lease: We leased 103 beginning Monday to a company who had looked at Los Jardines twice before but we didn't have anything in their price range. This time we did.

FOR SALE:

Unit 106A: $155,000

See Descriptions and photos below.

Rental Vacancies:

Unit 114 July 1-Nov 1 $1,800 including weekly maid service
Unit 116: June 1 - $1,550
Unit 123: July 1 - $1,650

Note: Last week I wrote: "I thought 103 was rented but in the end, the client didn't show up with the money..." The story behind that seems to be that the girl took the boyfriend's money (about $3,000) which was suppose to be for the lease, told him to bugger off, and vanished..... that's all we know....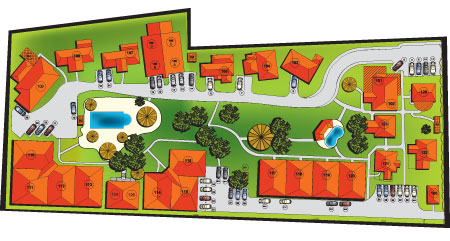 Unit #
106A

--

For

Sale

$155,000 - FURNISHED (Leased at $1,000 pr month until January 2011)

Total Area (Sq Ft):

1250


Total area (Sq M):

120


Bedrooms:

2


Bathrooms:

2.5


Floor(s):

Ground Floor


Type:

Apartment


Furnished:

Yes




This is a fully furnished 2-bedroom unit situated in a 2-story building, which has two units on the ground floor and two units on the 2nd. floor. Each unit is the same size (1,250sf) divided into 800 sf of interior space and 450 sf of covered front and back terraces. UnitS 106 A

and B are on the ground floor; Units

106

C and D are on the 2nd. Floor. The solid masonry demising wall (common wall) as well as the 5" concrete slab prevent sound transference.
Read More
» NEWS FROM COSTA RICA
June 26, 2010
Future Of San José - Caldera To Be Known Tuesday
The re-opening of the Orotina - Atenas section of the San José - Caldera will be made public on Tuesday, said the ministro del MOPT, Francisco Jiménez, on Friday.

Read
June 26, 2010
KFC In Costa Rica To Pay US$2.000 To Woman For Cockroach In Food
Costa Rica's KFC franchisee was ordered by the Tribunal Primero Civil de San José to pay Natalia Carrillo Zamora one million colones for serving her a "cockroach" in her meal.

Read
June 25, 2010
US Insurer Gets OK to Operate in Costa Rica
New Orleans-based Pan-American Life Insurance Group (PALIG), a leading provider of insurance and financial services, announced today that its subsidiary, Pan-American Life Insurance de Costa Rica, S.A. has received final approval from the Superintendencia General de Seguros SUGESE, Costa Rica's Insurance Regulator) to operate in Costa Rica.

Read
June 24, 2010
Imprudent Pedestrians Among The Most Frequent Cause Of Traffic Accidents In Costa Rica
Pedestrians The sign at the toll station east of the airport reads "Costa Rica loves peace, but has a war on its roads". That statement, reminding drivers daily, cannot be more true, especially when it comes to motorcyclists and pedestrians, who suffer the worst of a traffic accident.

Read
June 22, 2010
ICE Ordered To Provide Internet Service In León XIII
If you can't get ICE to move its left foot to provide services, there is always the Sala Constitucional, who has ordered the state telecom to provide a resident of León XIII internet service.

Read
June 21, 2010
ICE Keeping Competition At Bay, Charged With Unfair Competitiveness Practices
It is not surprising that the Instituto Costarricense de Electricidad (ICE) - state telecom - has been holding back competition in the opening of telecommunications, both in cellular services and internet and VoIP (Voice Over Internet Protocol), in the latter charging private operators high fees for an interconnection to the national telephone network operated exclusively by ICE.

Read
» OUR LIVES
Weather:
Quite dry almost to the point of having to irrigate.
Guests:
We've had two guests this week who took the ARCR seminar and found it very useful and good value for their money. In one case, the person is from Florida is looking to market CR; in the other case, the person is considering CR as a future 2nd. home base with Los Jardines or El Dorado being candidates.
Brian, Lita, Hugo, irreverent Vicka, the pigeon toed parrot, and the newbies — Chico and Chica.



Brian C. Timmons, Newsletter Author
Residencias Los Jardines/Hacienda El Dorado - Developer
Cell: (506) 8305-3965
E-mail: brian@eldoradocostarica.com



For inquiries about availability of residences at Hacienda El Dorado or Residencias Los Jardines, contact:



Jan Kozak, Marketing Manager
Hacienda El Dorado
Rio Oro, Santa Ana
Costa Rica

Web: www.eldoradocostarica.com
E-mail: info@eldoradocostarica.com
MSN: jan.kozak.jr@hotmail.com
Skype: jan.kozak.jr

Tel (US) (+1) 647-477-5825
Cell: (+506) (+506) 8707-9930 / 8345-8018