CONTRACT & GETTING READY


» NOTES
When I started Residencias Los Jardines, I started writing a weekly news letter —determined to tell all the good, bad, and the ugly. I knew some readers would be interested in the construction process. I expected others might be interested in the lifestyle of two people who had decided to live outside the box. For others, the adventures of Lita, the parrot and the cat took on an entertainment saga all its own.

Residencias Los Jardines is finished. We periodically have resales and rental availability. Some readers may be interested in this information.

More and more, the content will be dominated by events of our new project, "El Dorado" for short. While the future is always uncertain, I again aim to tell it like it happens —the good, the bad, and the ugly, and that is what follows.

In an effort to make the format more interesting and visually appealing and to field inquiries re. El Dorado, the news letter is now being distributed by Jan Kozak, Marketing Manager, Hacienda El Dorado. I will remain the author.

DISTRIBUTION METHOD CHANGE: We used to use Yahoo mail but the lists got too long and Yahoo dropped names for reasons we couldn't understand. We went o Google mail and that had is problems as well. We then went to a Google Group system where people had to enlist; some people were intimidated by this and / or it didn't seem to work for them. For a while, we ran two parallel systems but gave that after several months. We are now going to a different method...a non-website affiliated company which says it will distribute the newsletter and where I can update the address easily. We'll see.

Brian C. Timmons, Author
Residencias Los Jardines/Hacienda El Dorado - Developer
E-mail: brian@eldoradocostarica.com

YOU CAN ALSO VIEW THE COMPLETE VERSION ONLINE AT:

https://www.eldoradocostarica.com/English/Newsletter/index.php

» CONSTRUCTION LOG
INVU:
"Getting Ready" All 30 engineering drawings times 6 copies are being printed, collated, and packaged along with assorted letters, approvals, documentation, explanations, bound, etc. with an expected submission on Monday. Since most of the drawings have either been approved (Min. of Salud and INVU), and the minor change in the INVU documents to accommodate a pipe relocation has been discussed and not felt (at the time) to present a "change" so not triggering a full review. Changes to the AyA documents have been discussed with the AyA reviewer so there should be no problem there. However, this is CR and I've been totally mystified before so we'll just have to see.
» RESIDENCIAS LOS JARDINES
Maintenance: We continued on our winter maintenance schedule washing down the exteriors of the buildings with brushes, soap and Clorox. This will be followed up with selective stucco maintenance. I hired an additional person to repair cracked concrete and to cover the leech ditch in the east roadway. He'll remain on for a part of the upcoming week to continue some maintenance items.

Internet, phone, computers in general, gate and pumps all working as they are suppose to despite frequent power outages.

Property Management Contract: After substantial urging, the lawyer presented a draft of the Doneste - RPM contract to the Treasurer, Secretary and RPM. It was surprisingly complete and accurate. After a few minor changes which all agreed to, the document was signed by the three parties. Max, the lawyer, did a good job on bringing together existing information and adding some parts that were missing based on experience but articulated in the discussion and approved offer. This process was started in October 2009 and only now concluded with, in my opinion, a lot of unpleasant and unnecessary antics along the way.

FOR SALE:

Unit 106A: $155,000

See Descriptions and photos below.

Rental Vacancies:

Unit 114 July 1-Nov 1 $1,800 including weekly maid service
Unit 116: June 1 - $1,550
Unit 103: June 1 - $1,300
Unit 123: July 1 - $1,650

Note: I thought 103 was rented but in the end, the client didn't show up with the money...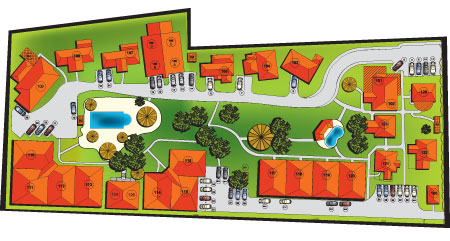 Unit #
106A

--

For

Sale

$155,000 - FURNISHED (Leased at $1,000 pr month until January 2011)

Total Area (Sq Ft):

1250


Total area (Sq M):

120


Bedrooms:

2


Bathrooms:

2.5


Floor(s):

Ground Floor


Type:

Apartment


Furnished:

Yes




This is a fully furnished 2-bedroom unit situated in a 2-story building, which has two units on the ground floor and two units on the 2nd. floor. Each unit is the same size (1,250sf) divided into 800 sf of interior space and 450 sf of covered front and back terraces. UnitS 106 A

and B are on the ground floor; Units

106

C and D are on the 2nd. Floor. The solid masonry demising wall (common wall) as well as the 5" concrete slab prevent sound transference.
Read More
Unit 103 - For Rent $1,300 - FURNISHED (Available Immediately)
Total area (Sq M):93
Bedrooms:2
Bathrooms:2
Floor(s):1
Type:Detached
Furnished:Yes
1000 sf., single story, detached, two bedroom, two bathroom, with a nice covered terrace overlooking a nicely landscaped tropical backyard. Breakfast counter, dinning room table for 4, parking for one car. Vaulted ceilings in master bedroom and kitchen/dining area.
Read More
» NEWS FROM COSTA RICA
June 18, 2010
Costa Rica's Consumer Confidence On The Rise
The sounds of the cash registers spurred by consumer confidence meant an increase of almost four thousand new jobs for the first four months of 2010 in the retail sector.

Read
June 18, 2010
Autopistas Losing ¢9.1 Million Daily In Tolls From Road Closure
The Autopistas del Sol, the concessionare of the San José - Caldera isn't talking but it is estimated that it is losing some ¢9.1 million colones daily only from the tolls on passenger vehicles. When you add the tolls paid by buses, trucks and vans, that number could easily be double or more.

Read
June 17, 2010
High Risk Roads Are All Around Us In Costa Rica
The ministerio de Obras Públicas y Transportes (MOPT) acted on the side of caution by closing down the 11 kilometres of the San José - Caldera between Atenas and orotina, as rock falls and mud slides placed drivers and lives at risk. But, what about all the other "risky" highways like the General Cañas, Ruta 32, the Bernardo Soto, etc??? Shouldn't they all be closed as well?

Read
June 15, 2010
Extortion Calls From La Reforma Prison Continue
Prisoners of La Reforma continue using contraband cellular phones from their cells to extort their victims on the outside, demanding cash payment to bank accounts or associates on the oustise in return for the safety of the victim and their families.

Read
» OUR LIVES
Weather:
A normal rainy season so far.
Traveling:
We like to take a trip for a few days but the new road to the Pacific beach is blocked and the road to the Caribbean is periodically closed and it's raining more at the beach than here so......I've not been able to develop a good reason to do it. The winter mtnc. is taking some time to supervise which continues to allow me to procrastinate on more important personal work.
Commercial Building:
I went to the cheese factory between Belen and Santa Ana....a place I periodically go when I want good cheese and prosciutto. I was amazed an the number of substantial business park type warehouses being built. There must be 6-8 in various stages of construction. This is the type of infrastructure that will attract business and people and provided the San Jose - Caldera highway can remain open, might actually be able to do business. One-off commercial office buildings continue to be put up usually with no thought to parking. Pozos is actually getting a section of it's main road fixed with sidewalk and functioning rainwater drains. The AyA water main staging ground keeps growing.
Rental and Sales Market:
Very, very slow based on conversations with agents and lack of phone calls and Max said he wasn't closing any RE deals.
Brian, Lita, Hugo, irreverent Vicka, the pigeon toed parrot, and the newbies — Chico and Chica.



Brian C. Timmons, Newsletter Author
Residencias Los Jardines/Hacienda El Dorado - Developer
Cell: (506) 8305-3965
E-mail: brian@eldoradocostarica.com



For inquiries about availability of residences at Hacienda El Dorado or Residencias Los Jardines, contact:



Jan Kozak, Marketing Manager
Hacienda El Dorado
Rio Oro, Santa Ana
Costa Rica

Web: www.eldoradocostarica.com
E-mail: info@eldoradocostarica.com
MSN: jan.kozak.jr@hotmail.com
Skype: jan.kozak.jr

Tel (US) (+1) 647-477-5825
Cell: (+506) (+506) 8707-9930 / 8345-8018