DENTAL TOURISM & A CELEBRATION


» NOTES
When I started Residencias Los Jardines, I started writing a weekly news letter —determined to tell all the good, bad, and the ugly. I knew some readers would be interested in the construction process. I expected others might be interested in the lifestyle of two people who had decided to live outside the box. For others, the adventures of Lita, the parrot and the cat took on an entertainment saga all its own.

Residencias Los Jardines is finished. We periodically have resales and rental availability. Some readers may be interested in this information.

More and more, the content will be dominated by events of our new project, "El Dorado" for short. While the future is always uncertain, I again aim to tell it like it happens —the good, the bad, and the ugly, and that is what follows.

In an effort to make the format more interesting and visually appealing and to field inquiries re. El Dorado, the news letter is now being distributed by Jan Kozak, Marketing Manager, Hacienda El Dorado. I will remain the author.

DISTRIBUTION METHOD CHANGE: We used to use Yahoo mail but the lists got too long and Yahoo dropped names for reasons we couldn't understand. We went o Google mail and that had is problems as well. We then went to a Google Group system where people had to enlist; some people were intimidated by this and / or it didn't seem to work for them. For a while, we ran two parallel systems but gave that after several months. We are now going to a different method...a non-website affiliated company which says it will distribute the newsletter and where I can update the address easily. We'll see.

Brian C. Timmons, Author
Residencias Los Jardines/Hacienda El Dorado - Developer
E-mail: brian@eldoradocostarica.com

YOU CAN ALSO VIEW THE COMPLETE VERSION ONLINE AT:

https://www.eldoradocostarica.com/English/Newsletter/index.php

» CONSTRUCTION LOG
INVU:
The engineers are still moving the pipes and determining the implications and discussing with INVU if this affects the favorable decision they already made.
» RESIDENCIAS LOS JARDINES
Water Test Results: Were translated into English and compared to USA water standards. We have great water with no chemicals added and no filtering required.

Pumps and Surge Protection: Installed. Now we wait to see if it works.

Board of Director's Meeting: The first ever....that's right..will be held Wednesday evening. We've asked for agenda items. I have a couple; we'll see if any more develop.


FOR SALE:

Unit 106A: $155,000

See Descriptions and photos below.

Rental Vacancies:

Unit 114 July 1-Nov 1 - $1,800 including weekly maid service
Unit 116: June 1 - $1,550
Unit 103: June 1 - $1,300
Unit 123: July 1 - $1,650
Note: We have had no purchasers or renters looking this week although I have had several inquiries from my web site.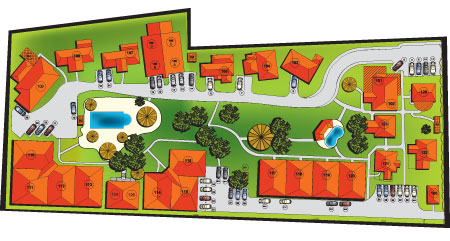 Unit #
106A

--

For

Sale

$155,000 - FURNISHED (Leased at $1,000 pr month until January 2011)

Total Area (Sq Ft):

1250


Total area (Sq M):

120


Bedrooms:

2


Bathrooms:

2.5


Floor(s):

Ground Floor


Type:

Apartment


Furnished:

Yes




This is a fully furnished 2-bedroom unit situated in a 2-story building, which has two units on the ground floor and two units on the 2nd. floor. Each unit is the same size (1,250sf) divided into 800 sf of interior space and 450 sf of covered front and back terraces. UnitS 106 A

and B are on the ground floor; Units

106

C and D are on the 2nd. Floor. The solid masonry demising wall (common wall) as well as the 5" concrete slab prevent sound transference.
Read More
Unit 103 - For Rent $1,300 - FURNISHED (Available Immediately)
Total area (Sq M):93
Bedrooms:2
Bathrooms:2
Floor(s):1
Type:Detached
Furnished:Yes
1000 sf., single story, detached, two bedroom, two bathroom, with a nice covered terrace overlooking a nicely landscaped tropical backyard. Breakfast counter, dinning room table for 4, parking for one car. Vaulted ceilings in master bedroom and kitchen/dining area.
Read More
» NEWS FROM COSTA RICA
June 05, 2010
Autopistas Says Problems On The San José - Caldera Are "Superficial"
The concessionaire Autopistas del Sol that built and manages the San José - Caldera categorizes the rock fall and land slides on the highway as "superficial" in its report to the ministro de Obras Públicas y Transportes (MOPT), Francisco Jiménez.

Read
June 05, 2010
Little Rain Predicted For The Weekend
Although only yesterday the Instituto Meteorológico Nacional (IMN) - national weather service - warned of possible downpours from tropical storms, it is now saying that there will be little rainfall, it at all, this weekend.

Read
June 04, 2010
Costa Rica's Economic Recovery Is Picking Up Speed, IMF Says
The Executive Board of the International Monetary Fund (IMF) completed on May 28, 2010 the third and final review of Costa Rica's economic performance under a program supported by a 15-month Stand-By Arrangement (SBA) approved on April 10, 2009.

Read
June 04, 2010
Ex Foreign Minister Stagno Resigns From UN Post
Avoiding embarrassing the new administration of Laura Chinchilla may have been the motive behind the quick resignation of former Foreign Minister Bruno Stagno after it was learned that he had self-assigned himself the post of Costa Rican Ambassador to the United Nations.

Read
June 04, 2010
Arenal Volcano Has A New Cone
The Arenal volcano has a new cone, according to expers of the Organismo Sismológico y Vulcanológico de Costa Rica (OVSICORI) and thea Universidad Nacional (UNA), after a close inspection of the colossus.

Read
June 03, 2010
Costa Rica Firm On No Open Pit Gold Mining
Costa Rica is one three Central American countries that have called a halt to new open pit mining projects. Fearing environmental and political fallout from mining, Costa Rican president, Laura Chinchilla, signed the decree banning all new open-pit gold mining within minutes of taking office on May 8, 2010.

Read
June 03, 2010
Laura: Firm and Honest
It's a new era for Costa Ricans moving forward. A short while ago, Costa Rica became 1 of 13 countries being led by female leadership. Laura Chinchilla has promised to stick with the Arias directives however improve on them.

Read
June 01, 2010
6.1 Magnitude Earthquake Shakes Costa Rica
An earthquake measuring 6.1 magnitude on the Richter scale hit the Pacific coast of Costa Rica on Monday night, the U.S. Geological Society (USGS) said last night, while the local geological experts, the Observatorio Vulcanológico y Sismológico de Costa Rica (OVSICORI) fumbles with the information.

Read
June 01, 2010
Costa Ricans Urge Ban On Smoking in Public Places
Doctors, health researchers, former smokers and many others are asking for legislators to approve a bill that would ban smoking in public places, for a healthier environment and to reduce the exposure of those with respiratory and cardiac disease to smoke.

Read
June 01, 2010
"Platina" Bridge Sends 15 To Hospital
In an early morning accident between a truck of the Coca Cola company and bus sent 15 people to hospital. The accident occurred on the Virilla or "platina" bridge on the autopista General Cañas.

Read
May 31, 2010
Colombians In Costa Rica Vote In Presidential Elections
While millions in Colombia were taking to the polls, thousands of Colombians living in Costa Rica took part in Colombia's presidential elections, casting their vote at Museo de los Niños in San José to vote, while many more were on hand to see the results and celebrate the day.

Read
» OUR LIVES
Weather:
A few showers, overcast, not much breeze.
Celebration:
A former tenant who moved into a much larger home about a year ago is hosting a party to celebrate his marriage to a girl he met in Costa Rica. Lita had a dress and matching bag, made for her, manicure, pedicure as well as her hair done. I even got new dress pants. Both of these events denotes an important event for us. The party will be held at the Intercontinental in Escazu.
Dental Tourism:
Our guests arrived as planned and had their first assessment meeting for one with the dentist the next morning at 8am. A cleaning followed for both the next day. On Thursday evening the orthopedic surgeon started the first part of the treatment--5 implants and 5 caps.....about $10,000. Price quoted in Canada for almost the same work (what they agreed to in CR was slightly less but still served the same functionality and cosmetic standard)--$75,000. The treatment here will be done in two stages; they will have to return in 6 mo. or so for the second stage.
He had been to Los Jardines about 10 years earlier when it was known as Blue Skies Bungalows--a collection of tin shacks and the area was basically farm land. He's quite impressed with the changes and the rapidity of those changes.
Helping:
Over the past three weeks, I've spent quite a bit of time working with owners to make changes to their units. I've covered the Escazu to Santa Ana areas a number of times for sources of product or discussions with trades. In the end, the client either changed their mind several times or found that they really didn't want to spend the money. I'm spending a lot of time for nothing and am losing credibility with suppliers and trades. I'm re-thinking my strategy because it's not working for me.
Brian, Lita, Hugo, irreverent Vicka, the pigeon toed parrot, and the newbies — Chico and Chica.



Brian C. Timmons, Newsletter Author
Residencias Los Jardines/Hacienda El Dorado - Developer
Cell: (506) 8305-3965
E-mail: brian@eldoradocostarica.com



For inquiries about availability of residences at Hacienda El Dorado or Residencias Los Jardines, contact:



Jan Kozak, Marketing Manager
Hacienda El Dorado
Rio Oro, Santa Ana
Costa Rica

Web: www.eldoradocostarica.com
E-mail: info@eldoradocostarica.com
MSN: jan.kozak.jr@hotmail.com
Skype: jan.kozak.jr

Tel (US) (+1) 647-477-5825
Cell: (+506) 8345-8018 / (+506) 8707-9930