OFFICIAL TWIDDLING & NEW TRESURER


» NOTES
When I started Residencias Los Jardines, I started writing a weekly news letter —determined to tell all the good, bad, and the ugly. I knew some readers would be interested in the construction process. I expected others might be interested in the lifestyle of two people who had decided to live outside the box. For others, the adventures of Lita, the parrot and the cat took on an entertainment saga all its own.

Residencias Los Jardines is finished. We periodically have resales and rental availability. Some readers may be interested in this information.

More and more, the content will be dominated by events of our new project, "El Dorado" for short. While the future is always uncertain, I again aim to tell it like it happens —the good, the bad, and the ugly, and that is what follows.

In an effort to make the format more interesting and visually appealing and to field inquiries re. El Dorado, the news letter is now being distributed by Jan Kozak, Marketing Manager, Hacienda El Dorado. I will remain the author.

DISTRIBUTION METHOD CHANGE: We used to use Yahoo mail but the lists got too long and Yahoo dropped names for reasons we couldn't understand. We went o Google mail and that had is problems as well. We then went to a Google Group system where people had to enlist; some people were intimidated by this and / or it didn't seem to work for them. For a while, we ran two parallel systems but gave that after several months. We are now going to a different method...a non-website affiliated company which says it will distribute the newsletter and where I can update the address easily. We'll see.

Brian C. Timmons, Author
Residencias Los Jardines/Hacienda El Dorado - Developer
E-mail: brian@eldoradocostarica.com

YOU CAN ALSO VIEW THE COMPLETE VERSION ONLINE AT:

https://www.eldoradocostarica.com/English/Newsletter/index.php

» CONSTRUCTION LOG
INVU:
The meeting we had been trying to schedule for the past 5 wks with an official from AyA. finally happened. He had scribbled a note on the previous submission (which was rejecrted) which no one could read or could understand therefore we needed a face-to-face with him. Five weeks later, we find that he wants us to move a pipe in a small area by a meter or so to provide more setback. While the country is struggling, some people cannot see the bigger picture for their myopia. The engineer responsible for making this change has done so and has now completed all his changes. The revised set of engineering drawngs have been forwarded to the civil engineer and the coordinating consultant. We expect by this coming Friday, June 4, we should have all the documents changed, consistent, complete, and repackaged with appropriate explanations, etc.
Note:
I see in a hector sized lot (2.2 acres) near our home, now sports a stockpile of various diameter water pipes--16" down to about 8" lines.... It seems that AyA is finally getting it's act together re. servicing the Santa Ana area and west...they got a $174mil. loan for this work from some international agency; guess they are spending some of it but AyA still has to get the pipe into the ground and connected... these are all future actions which we'll be monitoring.
Website:
This job is still lagging as my focus has been diverted by issues at Los Jardines.
» RESIDENCIAS LOS JARDINES
Administration:
A new Treasurer was elected--
Aaron Battiste
. I'm looking forward to having a functioning Board of Directors.
Water Testing: The test results are in; I'm having them translated into English and to be compared with USA water standards. This info. should be available next week.
Pumps and Lightning: I've let the contract for surge protection on certain critical pumps. At $500 a rewind and being without a critical pump, I felt it a worthwhile investment--provided it actually works.... If nature wants to over ride it or bypass it, Nature will but we can try.


FOR SALE:

Unit 106A: $155,000

See Descriptions and photos below.

Rental Vacancies: We leased 113, but have the following:

Unit 114 July 1-Nov. 1-- $1,800 including weekly maid service
Unit 116: June 1 - $1,550
Unit 103: June 1 - $1,300
Unit 123: July 1 - $1,650
RENTALS:
Unit 103 became available this week--first time in 4 years. It's a favorite of mine. We had to spend over a 100 hrs cleaning and repainting it but it came back beautifully. Some furnishings need to be replaced but it is showable. I'll have new pictures for next week's newsletter.
The display case in one of our nicer units had not been designed for a flat screen TV....that is now a virtual requirement for renting. We had a client who required that. To make the deal, we designed and made a minor alternation in the display case to accommodate a 42"+ flat screen; total cost of cabinet maker - $190.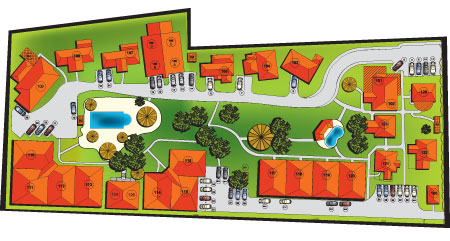 Unit #
106A

--

For

Sale

$155,000 - FURNISHED (Leased at $1,000 pr month until January 2011)

Total Area (Sq Ft):

1250


Total area (Sq M):

120


Bedrooms:

2


Bathrooms:

2.5


Floor(s):

Ground Floor


Type:

Apartment


Furnished:

Yes




This is a fully furnished 2-bedroom unit situated in a 2-story building, which has two units on the ground floor and two units on the 2nd. floor. Each unit is the same size (1,250sf) divided into 800 sf of interior space and 450 sf of covered front and back terraces. UnitS 106 A

and B are on the ground floor; Units

106

C and D are on the 2nd. Floor. The solid masonry demising wall (common wall) as well as the 5" concrete slab prevent sound transference.
Read More
Unit 103 - For Rent $1,300 - FURNISHED (Available Immediately)
Total area (Sq M):93
Bedrooms:2
Bathrooms:2
Floor(s):1
Type:Detached
Furnished:Yes
1000 sf., single story, detached, two bedroom, two bathroom, with a nice covered terrace overlooking a nicely landscaped tropical backyard. Breakfast counter, dinning room table for 4, parking for one car. Vaulted ceilings in master bedroom and kitchen/dining area.
Read More
» NEWS FROM COSTA RICA
May 29, 2010
San José - Caldera Fully Open
The autopista San José - Caldera yesterday afternoon was fully open and free of debris from falling rocks and mudslides occurring during the previous days of heavy rain.

Read
May 28, 2010
Facebook Played An Important Role In Derailment Of Costa Rica's Legislators Pay Hike
Social groups in Costa Rica now don't have to hit the streets to put pressure on politicians and the government. In 2010, Ticos are taking advantage of social media systems like Facebook to express their opposition like the salary hike or "salariazo" legislators had intended on voting themselves.

Read
May 28, 2010
Autopistas Rules Out Opening Tolls When It Closes The San José - Caldera
More than one driver has asked the same question, why does Autopistas del Sol charge tolls when they close the San José - caldera, which in many cases involves paying double tolls when one decides to turn around.

Read
May 27, 2010
San José - Caldera Instills Fear Among Drivers
Driving on the San José - Caldera has become a Russian roulette, as fallen rocks and mudslides play with people's lives. In the four months the highway has been opened there have been numerous problems, which are now intensified with the start of the rainy season.

Read
May 27, 2010
Laura Puts Legislator's In Their Place: Pay Hike Dead and Buried!
Listening to the will or the people or the finding of a collective conscience or perhaps heeding to the stern warning of presidenta Chinchilla, legislators have given up on giving themselves a hefty salary raise even though the bill had already been approved in first vote.

Read
May 27, 2010
Laura Chinchilla, Costa Rica's First Woman President
While in Spain to negotiate the trade agreement with the European Union earlier this month, Costa Rica's first woman president took the time to be interviewed by Spain's El País daily, who is being described as the only woman president in Latin America coming to power without the "aupadas" (the help of her husband).

Read
May 26, 2010
Early Morning 5.1 Earthquake Rocks Costa Rica
A 5.1 on the Richter Scale earthquake rocked Costa Rica's Pacific coast this morning at 6:47am.

Read
May 26, 2010
Autopistas Del Sol Responsible For Accident Damages On San José - Caldera, Says MOPT
The falling rocks this weekend on the San José - Caldera has raised questions of who is responsible for the damage suffered by drivers involved in accidents on the road.

Read
May 26, 2010
Another Tránsito Nabbed For Corruption
Yet another Tránsito (traffic cop) falls to corruption, when yesterday a 30 year veteran of the Policía de Tránsito (traffic police) was detained by agents of the Organismo de Investigación Judicial (OIJ) for taking bribes.

Read
May 25, 2010
Arenal Volcano Erupts
Costa Rica's most famous and visited volcano, the Arenal, put on show for the thousands of visitors to the arrea and locals, as it erupted, spewing geysers of lava, ash and toxic gases from its crater and forcing the evacuation of the national park where it is located.

Read
» OUR LIVES
Weather:
Rain but not every day, fair amount of overcast days.
The roads have shown up the faults in the design and construction of the highways. They are dangerous due to mud and rock slides. While the Central Valley has been spared the heavy rains in Guancaste and Limon, roads to each were hit enough to cause significant outages.
We are preparing for guests for the next two weeks.
Brian, Lita, Hugo, irreverent Vicka, the pigeon toed parrot, and the newbies — Chico and Chica.



Brian C. Timmons, Newsletter Author
Residencias Los Jardines/Hacienda El Dorado - Developer
Cell: (506) 8305-3965
E-mail: brian@eldoradocostarica.com



For inquiries about availability of residences at Hacienda El Dorado or Residencias Los Jardines, contact:



Jan Kozak, Marketing Manager
Hacienda El Dorado
Rio Oro, Santa Ana
Costa Rica

Web: www.eldoradocostarica.com
E-mail: info@eldoradocostarica.com
MSN: jan.kozak.jr@hotmail.com
Skype: jan.kozak.jr

Tel (US) (+1) 647-477-5825
Cell: (+506) 8345-8018 / (+506) 8707-9930