Pumps and Lighting


» NOTES
When I started Residencias Los Jardines, I started writing a weekly news letter —determined to tell all the good, bad, and the ugly. I knew some readers would be interested in the construction process. I expected others might be interested in the lifestyle of two people who had decided to live outside the box. For others, the adventures of Lita, the parrot and the cat took on an entertainment saga all its own.

Residencias Los Jardines is finished. We periodically have resales and rental availability. Some readers may be interested in this information.

More and more, the content will be dominated by events of our new project, "El Dorado" for short. While the future is always uncertain, I again aim to tell it like it happens —the good, the bad, and the ugly, and that is what follows.

In an effort to make the format more interesting and visually appealing and to field inquiries re. El Dorado, the news letter is now being distributed by Jan Kozak, Marketing Manager, Hacienda El Dorado. I will remain the author.

DISTRIBUTION METHOD CHANGE: We used to use Yahoo mail but the lists got too long and Yahoo dropped names for reasons we couldn't understand. We went o Google mail and that had is problems as well. We then went to a Google Group system where people had to enlist; some people were intimidated by this and / or it didn't seem to work for them. For a while, we ran two parallel systems but gave that after several months. We are now going to a different method...a non-website affiliated company which says it will distribute the newsletter and where I can update the address easily. We'll see.

Brian C. Timmons, Author
Residencias Los Jardines/Hacienda El Dorado - Developer
E-mail: brian@eldoradocostarica.com

YOU CAN ALSO VIEW THE COMPLETE VERSION ONLINE AT:

https://www.eldoradocostarica.com/English/Newsletter/index.php

» CONSTRUCTION LOG
INVU:
There was suppose to be a meeting with AyA now that the 2009 Plano Catastro has been registered in the National Registry. I've asked but as of now do not have a confirmation that it happened.
Marketing:
Had a discussion re. re-starting marketing El Dorado. I said I wanted to have the INVU permit in hand and a survey of existing purchasers (probably October / November) before drawing up a new schedule.
Website:
This job is still lagging as my focus has been diverted by issues at Los Jardines.
» RESIDENCIAS LOS JARDINES
Administration:
An agenda and ballot was sent out his week to select a new Treasurer. I suspect there will be less shareholder response to this call than to the previous one. Most people want a rest.
Water Testing:
Some owners want a more thorough chemical analysis done of the water; that is underway and should be completed this coming week.
Pumps and Electricity:
About 18 mo. ago, we completed a rainwater management system. It consists of a number of small collection and directional drainage points leading to a large tank. In the tank we have three pumps which are activated when the water reaches a certain level. We tried it this year in preparation for the rainy season. All worked fine. Two heavy rains later, the largest pump ($2,000) stopped working. Investigation shows that the windings are burnt which was probably caused by a electrical spike due to lightening hitting the power lines during the 2nd. storm. It'll be about $500 to repair. There is just no accounting for bad electricity in CR..it continually ruins motors, electrical appliances, and electronics, etc. All our systems are double grounded and we have a transformer to moderate fluctuations. Spikes still get through. In the mean time, we don't have the use of it and hope we don't have a heavy downpour until it is fixed and reinstalled.
Septic System Modifications:
Over the past week, we made some modifications to a septic tank discharge. When the original tank failed three years ago for unknown reasons, we replaced it with a new design, one that we were told would cleanse the water to 90+% and we could return it to the rainwater discharge system. I think the treatment tank performance was "over billed". The modifications re-routed the discharge into a septic leach bed which we had to make and made some other modifications in the process. This work is virtually (but not yet completely) done.


FOR SALE:

Unit 106A: $155,000

See Descriptions and photos below.

Rental Vacancies: We leased 113, but have the following:


Unit 106C: Immediate -- $1,150 (verbal commitment)
Unit 114 July 1-Nov. 1-- $1,800 including weekly maid service
Unit 116: June 1 - $1,550
Unit 103: June 1 - $1,300
Unit 123: July 1 - $1,700
RENTALS:
We were successful in concluding rental contracts for both 121 and 115 this week and have a verbal commitment for 106C. We've actually had a substantial amount of interest but it is taking more showings and definitely more discussion / negotiations and time for people to commit. In the last several weeks we have leased 113, 121,115, and 106C. We have two units coming available at the end of this month--116 and 103. It would be nice to have those leased ahead of vacancy. The number of last minute cancellations and no-shows to "appointments" continues to be frustrating. Why people feel they can waste other's time, I don't know.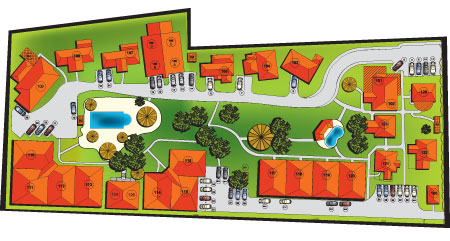 Unit #
106A

--

For

Sale

$155,000 - FURNISHED (Leased at $1,000 pr month until January 2011)

Total Area (Sq Ft):

1250


Total area (Sq M):

120


Bedrooms:

2


Bathrooms:

2.5


Floor(s):

Ground Floor


Type:

Apartment


Furnished:

Yes




This is a fully furnished 2-bedroom unit situated in a 2-story building, which has two units on the ground floor and two units on the 2nd. floor. Each unit is the same size (1,250sf) divided into 800 sf of interior space and 450 sf of covered front and back terraces. UnitS 106 A

and B are on the ground floor; Units

106

C and D are on the 2nd. Floor. The solid masonry demising wall (common wall) as well as the 5" concrete slab prevent sound transference.
Read More
Unit 103 - For Rent $1,700 - FURNISHED (Available June 1, 2010)
Total area (Sq M):93
Bedrooms:2
Bathrooms:2
Floor(s):1
Type:Detached
Furnished:Yes
1000 sf., single story, detached, two bedroom, two bathroom, with a nice covered terrace overlooking a nicely landscaped tropical backyard. Breakfast counter, dinning room table for 4, parking for one car. Vaulted ceilings in master bedroom and kitchen/dining area.
Read More
» NEWS FROM COSTA RICA
May 22, 2010
Cellular Operators Question Conditions Of Opening Of Cellular Market In Costa Rica
The Real Intercontinental hotel in Escazú was the scene yesterday for the three telephone companies interested in setting shop in Costa Rica to compete with the Instituto Costarricense de Electricidad (ICE) in the cellular telephone market.

Read
May 22, 2010
Costa Rica Sets Sights On 2.5 Million Tourist Arrivals By 2014
The world economic crisis did not escape Costa Rica's tourism industry, falling 8% in 2009 over 2008, meaning less tourists and less income for tourist operations.

Read
May 22, 2010
Presidenta Chinchilla Says She Will Limit Her Foreign Trips
Just ending her trip to Spain, Costa Rica's new president, Laura Chinchilla, said in Madrid that she will limit her trips outside of Costa Rica only to those that have a direct impact on national matters. Presidenta Chinchilla noted that she will take only trips on matters of national security or opening new commercial markets.

Read
May 21, 2010
6.1 or 6.2, Costa Rica Shook For A Whole Minute
An earthquake struck Costa Rica at 4:16pm (local time) with the epicentre located 30 kilometres off the coast of Quepos. The quake that lasted almost a minute was felt across the country.

Read
May 20, 2010
ICE To Improve GSM Coverage On The San José - Caldera
Driving along the San José - Caldera can be frustrating for those on the GSM cellular network, as calls are dropped regularly along different sections of the highway.

Read
May 19, 2010
Costa Rica Offer Travel Deals For Those Traveling To Europe
In response to the latest airline crisis caused by the volcano eruption in Iceland, Costa Rica's travel industry is offering travelers a variety of enticing promotional travel packages that will allow them to spend their hard-earned vacation days in an exciting destination.

Read
May 19, 2010
Could Costa Rica's Debi Nova Be The Next Shakira?
Slowly but surely Costa Rica's Debi Nova is making a name for herself and could hit the top of the charts with her new album Luna Nueva released on Tuesday.

Read
May 19, 2010
ICE Offers New Service: "Kölbi Messenger"
For those who ant to connect with your hotmail (live) or yahoo messenger contacts without the cost of an internet connection or wi-fi capabilities of the cell phone, ICE now offers its "Kölbi Messenger".

Read
May 18, 2010
EU And Central America Reach Free Trade Deal
The European Union (UE) and Central America has reached their first free trade deal on Tuesday, as the Eu opens a summit with Latin American leaders focused on expanding economic ties.

Read
» OUR LIVES
Weather:
Rain but not every day, sometimes hard.
A couple who have rented in CR for 8 mo. and have decided it make it there home. They came to Los Jardines and to looked at El Dorado. What they really seem to want is to build a home in the La Garrita area and liked what I had built at Los Jardines. They are thinking.
Brian, Lita, Hugo, irreverent Vicka, the pigeon toed parrot, and the newbies — Chico and Chica.



Brian C. Timmons, Newsletter Author
Residencias Los Jardines/Hacienda El Dorado - Developer
Cell: (506) 8305-3965
E-mail: brian@eldoradocostarica.com



For inquiries about availability of residences at Hacienda El Dorado or Residencias Los Jardines, contact:



Jan Kozak, Marketing Manager
Hacienda El Dorado
Rio Oro, Santa Ana
Costa Rica

Web: www.eldoradocostarica.com
E-mail: info@eldoradocostarica.com
MSN: jan.kozak.jr@hotmail.com
Skype: jan.kozak.jr

Tel (US) (+1) 647-477-5825
Cell: (+506) 8345-8018 / (+506) 8707-9930