WATER @ EL DORADO & TENANTS


» NOTES
When I started Residencias Los Jardines, I started writing a weekly news letter —determined to tell all the good, bad, and the ugly. I knew some readers would be interested in the construction process. I expected others might be interested in the lifestyle of two people who had decided to live outside the box. For others, the adventures of Lita, the parrot and the cat took on an entertainment saga all its own.

Residencias Los Jardines is finished. We periodically have resales and rental availability. Some readers may be interested in this information.

More and more, the content will be dominated by events of our new project, "El Dorado" for short. While the future is always uncertain, I again aim to tell it like it happens —the good, the bad, and the ugly, and that is what follows.

In an effort to make the format more interesting and visually appealing and to field inquiries re. El Dorado, the news letter is now being distributed by Jan Kozak, Marketing Manager, Hacienda El Dorado. I will remain the author.

DISTRIBUTION METHOD CHANGE: We used to use Yahoo mail but the lists got too long and Yahoo dropped names for reasons we couldn't understand. We went o Google mail and that had is problems as well. We then went to a Google Group system where people had to enlist; some people were intimidated by this and / or it didn't seem to work for them. For a while, we ran two parallel systems but gave that after several months. We are now going to a different method...a non-website affiliated company which says it will distribute the newsletter and where I can update the address easily. We'll see.

Brian C. Timmons, Author
Residencias Los Jardines/Hacienda El Dorado - Developer
E-mail: brian@eldoradocostarica.com

YOU CAN ALSO VIEW THE COMPLETE VERSION ONLINE AT:

https://www.eldoradocostarica.com/English/Newsletter/index.php

» CONSTRUCTION LOG
INVU:
We received what we believe to be the FINAL letter re. water availability from our well. This and the registration of the 2009 Plano catastro which is supposed to be registered and show up in the data base this week should allow us to complete the documentation. If so, we can move forward. We'll see.
Website:
This job is still lagging as my focus has been diverted by issues at Los Jardines.
» RESIDENCIAS LOS JARDINES
Administration: As President, I'm still finishing off the files and will now have to proceed with the call for a new "Treasurer" since the previous one resigned.

We're installing a remote hard drive to the computer system in case the computer crashes or is stolen. All data will be backed up automatically. Just a preventive, safety feature.

We are preparing to install sod where needed now that the rains are here. This will be done this next week.
TENANTS: We had two tenants who had each signed 1 year leases and each did a midnight exit leaving behind only their deposits. It's easy to leave when one only has a suitcase. What is harder, is to keep commitments...... To some extent, I think people are finding it difficult to make a living here and their business plan doesn't come together so they take a hike. I don't have a solution for attracting more stable tenants that doesn't have a downside.
Unit 106A: $155,000

Unit 107 has been withdrawn from the market; it is no longer available for sale.

See Descriptions and photos below.
Rental Vacancies:
We leased 113, but have the following:
Unit 121:
Immediate - $1,650
Unit 115: Immediate - $1,450
Unit 106
C
: Immediate - $1,150
Unit 114: July 1 - Nov. 1- $1,800 including weekly maid service
Unit 116: June 1 - $1,550
Unit 103: June 1 - $1,300
Unit 123: July 1 - $1,700
Rental Market: We've had several couples this week but in two cases, their health was such they could not walk to the end of the property; they simply couldn't do it. Our property is flat and there are virtually NO steps. This site the close as possible to being assisted living but not yet assisted living.....some people wait too long to come to Costa Rica....I'm glad we didn't.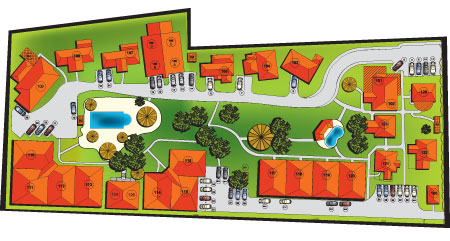 Unit #
106A

--

For

Sale

$155,000 - FURNISHED (Leased at $1,000 pr month until January 2011)

Total Area (Sq Ft):

1250


Total area (Sq M):

120


Bedrooms:

2


Bathrooms:

2.5


Floor(s):

Ground Floor


Type:

Apartment


Furnished:

Yes




This is a fully furnished 2-bedroom unit situated in a 2-story building, which has two units on the ground floor and two units on the 2nd. floor. Each unit is the same size (1,250sf) divided into 800 sf of interior space and 450 sf of covered front and back terraces. UnitS 106 A

and B are on the ground floor; Units

106

C and D are on the 2nd. Floor. The solid masonry demising wall (common wall) as well as the 5" concrete slab prevent sound transference.
Read More
This 1,345 sf single floor home includes a 200 sf private terrace plus parking for one car. It is attached on two sides by a 6" solid concrete block wall which prevents sound transfer. This is an extremely well decorated home with lots of natural wood built ins.

This 1,290 sf single floor home includes a 300 sf front terrace plus parking for one car and a separate, secure storage locker. It is and end unit and therefore attached on only one side by a 6 inch cement demising (common) wall, which prevents sound transfer.
Read More
Unit #

106C

--
For

Rent $1,150 - FURNISHED (Available Immediately)
Total Area (Sq Ft):1250
Total area (Sq M):120
Bedrooms:2
Bathrooms:2.5
Floor(s):Second Floor
Type:Apartment
Furnished:Yes
This is a fully furnished 2-bedroom unit situated in a 2-story building, which has two units on the ground floor and two units on the 2nd. floor. Each unit is the same size (1,250sf) divided into 800 sf of interior space and 450 sf of covered front and back terraces. UnitS 106 A and B are on the ground floor; Units 106 C and D are on the 2nd. Floor. The solid masonry demising wall (common wall) as well as the 5" concrete slab prevent sound transference.




Read More
Unit 121 - For Rent $1,700 (Available IMMEDIATELY)
Total Area (Sq Ft):
1423
Total area (Sq M):
131
Bedrooms:
2
Bathrooms:
2.5
Floor(s):
2 Story
Type:
Detached
Furnished:
Yes
This two story, detached 1,423 sf home + parking for one car has two bedrooms, 2 ½ bathrooms and a 2nd. floor covered terrace.
The open railed wrought iron cement stair case leads to the 2nd. level where the master bedroom with en-suite master bathroom as well as 2nd. bedroom and en-suite bathroom are located. Also accessed from the 2nd. floor hallway is the covered terrace.
This is a very nicely furnished home with a good floor plan for those wanting two floors.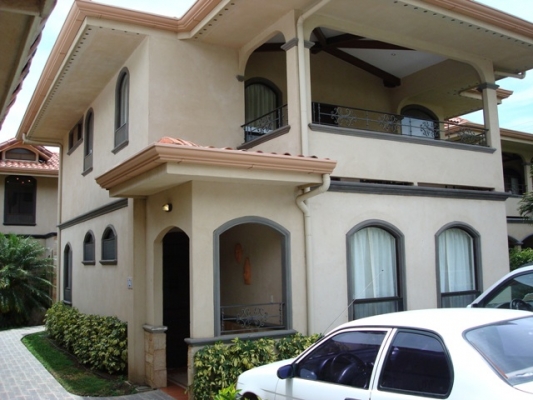 Read More
» NEWS FROM COSTA RICA
May 08, 2010
The BIG PARTY Is On For Today!
Laura Chinchilla, the first woman president in the history of Costa Rica, will be sworn in today at noon, in what can only be described as one big party, as thousands are expected gather in the Sabana park to witness the event, which is followed later in the day with a spectacular show that includes international artists like Ruben Blades and Costa Rica's own, Debi Nova.

Read
May 08, 2010
Chinchilla Faces Tough Challenges: Rise in Crime, Poverty And Keeping Promise To Help Poor And Elderly
President-elect, Laura Chinchilla, who is sworn in today at noon as the country's first female president, faces a number of challenges during the next four years: rising poverty, increased insecurity and fiscal deficit made worse by the world economic crisis.

Read
May 08, 2010
For Arias, Today Is A Dream Come True. Almost. Shakira Won't Be Coming.
The swearing in of Laura Chinchilla, the first female president of Costa Rica, is a dream come true for outgoing president, Oscar Arias.

Read
May 08, 2010
Many See Drug Trafficking Widespread, Rising in Latin America
Gallup surveys suggest illicit drug trafficking is common in communities throughout much of Latin America, including in some of the most well-developed countries such as Chile and Costa Rica.

Read
May 07, 2010
Arias Is Critical Of A Costa Rica That "Seems More Like Italy And Less Like The US"
"This country (Costa Rica) seems more like Italy and less like the United States", were the words spoken by outgoing Costa Rican president, Oscar Arias. At least that is the conclusions of the prez, who ends his term at noon tomorrow.

Read
May 07, 2010
SUTEL Publishes Bidding Rules For Cellular Phone Operators
The opening of the cellular telecommunications market in Costa Rica took another giant step forward in a process that is slower than a turtle's run, as the Superintendencia de Telecomunicaciones (SUTEL) published this week a preliminary request for bids.

Read
May 04, 2010
Irazú Volcano Lagoon Dry
The water lagoon in the Irazú volcano has disappeared according to the reports by the Universidad de Costa Rica (UCR).

Read
May 03, 2010
Costa Rica: Is This A "Degrees R Us" Society Or What?
Has anyone stopped lately to count the number of different universities in our little country of 4.2 million people something the size of West Virginia? As of last count, I came up with 55. That has to be some kind of world's first, right? Perhaps more "U"s than failed beach condo projects.

Read
» OUR LIVES
Weather:
Light rain some afternoons but generally HOT....
Residency Applications:
We now have our acknowledgment (receipt) from the Immigration department. We're happy that this represents "progress" but we know the road to completing the process may take up to two years and may not be without bumps. Now we have to enroll for CAJA (medical insurance).....there are some unknowns yet but we'll get answers to what we don't yet know. At least now, we do not HAVE to leave the country but Lita is already pinning at returning to Granada. Granada is down on our list because of near civil war in Nicaragua and that political discord has reached Granada.
Commercial Building Activity:
About 8 mo. ago a sales pavilion opened along Lindora's "Platinum Mile".... an 18 story mixed use building was proposed--commercial, offices, condos, and apartment hotel--development. All promotional material is now gone and the lot is up for lease. This never made any sense to me and I guess it didn't to others as well.
Exchange Rate:
The rate of exchange of colones from dollars has inexplicably dropped from around a high of 590 to 503. While there have been lots of confused explanations, none of them really explained anything. As of this week, the rate is rebounding from 503 to currently about 532.
Observation:
When I was younger I thought I wouldn't have any problems, that life would be easy, happy, and carefree when I was in my 60s. I concluded this by watching older people (now I'm one of the group I watched). Either my observations were bad, my conclusions wrong, or something has changed. Of the singled and coupled people I know here in CR:
One couple in their late 60s / early 70s has raised their grandkids, returned them at the insistence of their son, and re-received the now 20ish grandson with out status in CR, without skills, and with problems back in the States. They are left to put together a jigsaw puzzle with missing pieces and no reward at the end.
One couple late 60s early 70s bought into what has become a bankrupt condominium. Their unit is completed but the building itself is far from completed. They do not have title to their unit, they have paid almost full agreed to purchase price but not all that money has been credited to their account, the building is still in "commercial" phase, a number of the units are no where near being finished, not all are sold, they can't sell, they have reluctantly picked up the mgt. of this mess and have no way of figuring out how to resolve the many, many issues, "owners" are hesitant to come up with more money even for operating costs, roof is leaking, operating costs are much higher than expected, etc.
One couple (mid 60s) moved to CR and bought a house yet to be built. While the house price was over their budget, they were planning on selling some US real estate. That hasn't happened. They had to get a loan here which proved very difficult. They finally got it, the builder returned to working on the house; the wife has said the marriage of 18 yrs. is over and she's returned to the US....and she was the driving force in coming to CR. They started the residency application process but got hold of two lawyers who didn't know what to do and ended up messing up their window of opportunity.
Two couples each with younger girlfriends. Both had an agreement that children would not be part of the equation. Both women now want children... at 60+ years old, the dad's-to-be have mixed feelings.....but in neither case has a child been conceived regardless of the amount of medical intervention.
One couple late 60s / early 70s lost their son to suicide. The son was their pride and joy. He had followed in his father's foot steps, made a lot of money, retired early, moved with his wife and child to an idyllic life in New Zealand, and all seemed fine. However, all wasn't fine; the son was suffering from depression and committed suicide. They had no inclination and where caught flat footed. They have had to deal with their emotions. No parent expects to outlive their children. Very, very tragic.
Many couples and singles have little contact with their children and what contact they do have, is usually not very satisfying. The parent(s) is/are contacted mostly when the kid has problems or needs money.
Lita and I have recently had problems maintaining my retirement plan / income and we have had more than our expected delays and frustrations with El Dorado. The only good thing about those El Dorado delays, is that we have side stepped the financial crisis which has done in many, many projects. "El Dorado" is still alive and in tact, just delayed. I wasn't looking forward to building this out when I'm 70 yrs old but.......that may be the case--and I don't have a lot of other plans so.......
Note: I feel I should underscore three significant events which have occurred in the past week. All of these events have been based on months and years of work. The three events all came together this past week:

1. Residency: after 8 years of waiting and 5 months of actively working on the documents, our application for CR residency has been acknowledged. There is no reason it should be rejected; we just have to wait out the processing time.

2. Retirement Planning: Property Management of RLJ: this was reaffirmed at the recent shareholder's meeting.

3. Water at El Dorado: this was assured with the letter received on Friday.

These are significant events in our lives. They pave the way for our future--while still not assured because the future is always uncertain, at least we have removed some hurdles.
Brian, Lita, Hugo, irreverent Vicka, the pigeon toed parrot, and the newbies — Chico and Chica.



Brian C. Timmons, Newsletter Author
Residencias Los Jardines/Hacienda El Dorado - Developer
Cell: (506) 8305-3965
E-mail: brian@eldoradocostarica.com



For inquiries about availability of residences at Hacienda El Dorado or Residencias Los Jardines, contact:



Jan Kozak, Marketing Manager
Hacienda El Dorado
Rio Oro, Santa Ana
Costa Rica

Web: www.eldoradocostarica.com
E-mail: info@eldoradocostarica.com
MSN: jan.kozak.jr@hotmail.com
Skype: jan.kozak.jr

Tel (US) (+1) 647-477-5825
Cell: (+506) 8345-8018 / (+506) 8707-9930