SPECIAL SHAREHOLDER'S MEETING, RENTALS, INVU UPDATE


» NOTES
When I started Residencias Los Jardines, I started writing a weekly news letter —determined to tell all the good, bad, and the ugly. I knew some readers would be interested in the construction process. I expected others might be interested in the lifestyle of two people who had decided to live outside the box. For others, the adventures of Lita, the parrot and the cat took on an entertainment saga all its own.

Residencias Los Jardines is finished. We periodically have resales and rental availability. Some readers may be interested in this information.

More and more, the content will be dominated by events of our new project, "El Dorado" for short. While the future is always uncertain, I again aim to tell it like it happens —the good, the bad, and the ugly, and that is what follows.

In an effort to make the format more interesting and visually appealing and to field inquiries re. El Dorado, the news letter is now being distributed by Jan Kozak, Marketing Manager, Hacienda El Dorado. I will remain the author.

DISTRIBUTION METHOD CHANGE: We used to use Yahoo mail but the lists got too long and Yahoo dropped names for reasons we couldn't understand. We went o Google mail and that had is problems as well. We then went to a Google Group system where people had to enlist; some people were intimidated by this and / or it didn't seem to work for them. For a while, we ran two parallel systems but gave that after several months. We are now going to a different method...a non-website affiliated company which says it will distribute the newsletter and where I can update the address easily. We'll see.

Brian C. Timmons, Author
Residencias Los Jardines/Hacienda El Dorado - Developer
E-mail: brian@eldoradocostarica.com

YOU CAN ALSO VIEW THE COMPLETE VERSION ONLINE AT:

https://www.eldoradocostarica.com/English/Newsletter/index.php

» CONSTRUCTION LOG
INVU:
The coordinating consultant started picking up the various bits of drawings, and correspondence from two of the three engineers. He is now reviewing it. We settled a payment issue with one of the consultants for all his extras and signed and made an installment payment with the coordinating INVU consultant. We find now that the 2009 Plano Castaro was not previously registered in the National Registry (why is a good question but we are left to deal with it now.) Hopefully the registration will show up on the national database this week and the three letters we need will then be signed and delivered to us.
Website:
This job is still lagging as my focus has been diverted by issues at Los Jardines.
» RESIDENCIAS LOS JARDINES
Shareholder's Meeting: This was a significant event in the life of the shareholders and in the operation and management of Residencias Los Jardines. The issue was the renewal of the existing management contract with Residencias Property Management or with some un-determined different company. The process established to help make this decision at the annual Dec. 12 shareholders meeting was not followed. Through a series of events, it was decided to have a special shareholders meeting to deal with this, and only this issue. Two "camps" developed; While there was a lot of acrimonious and personalized rhetoric singing through the electronic wires, there were never a real management issues identified. As time drew close for voting, most people had figured out that the issues were basically a personal vendetta driven by three people unhappy with "me". However, they caused all the shareholders to participate in a discussion which they really didn't want to nor did they, for the most part, care about, understand nor be involved in. Regardless, when the vote was taken, the three had convinced one, and only one other shareholder to vote their way. The 66+% of votes (21 of the 25 shareholders) supported the continuation of Residencias Property Management for an additional 3 years with a possible option to renew for an additional 2 years. This issue is now settled and life can begin to return to normal; the social atmosphere hopefully can return to what it was before although I suspect there will be some continuing and lasting wounds which will not heal. That's life in a small community of people.


Internet Mtnc.: seems to be working fine

Market Slows: We've seen two purchasers this week --and two people looking for rentals.....but in all cases the decision is down the road. They are, for the most part, just doing preliminary research.
Unit 106A: $155,000

Unit 107 has been withdrawn from the market; it is no longer available for sale.

See Descriptions and photos below.
Rental Vacancies:
We have two vacancies:
Unit 121: Immediate - $1,650
Unit 115: Immediate - $1,450
Unit 116: June 1----- $1,550
Unit 103: June 1----- $1,150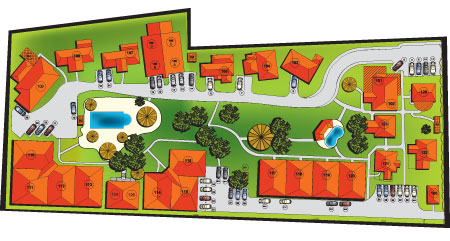 Unit #
106A

--

For

Sale

$155,000 - FURNISHED (Leased at $1,000 pr month until January 2011)

Total Area (Sq Ft):

1250


Total area (Sq M):

120


Bedrooms:

2


Bathrooms:

2.5


Floor(s):

Ground Floor


Type:

Apartment


Furnished:

Yes




This is a fully furnished 2-bedroom unit situated in a 2-story building, which has two units on the ground floor and two units on the 2nd. floor. Each unit is the same size (1,250sf) divided into 800 sf of interior space and 450 sf of covered front and back terraces. UnitS 106 A

and B are on the ground floor; Units

106

C and D are on the 2nd. Floor. The solid masonry demising wall (common wall) as well as the 5" concrete slab prevent sound transference.
Read More
Unit 121 - For Rent $1,700 (Available IMMEDIATELY)
Total Area (Sq Ft):
1423
Total area (Sq M):
131
Bedrooms:
2
Bathrooms:
2.5
Floor(s):
2 Story
Type:
Detached
Furnished:
Yes
This two story, detached 1,423 sf home + parking for one car has two bedrooms, 2 ½ bathrooms and a 2nd. floor covered terrace.
The open railed wrought iron cement stair case leads to the 2nd. level where the master bedroom with en-suite master bathroom as well as 2nd. bedroom and en-suite bathroom are located. Also accessed from the 2nd. floor hallway is the covered terrace.
This is a very nicely furnished home with a good floor plan for those wanting two floors.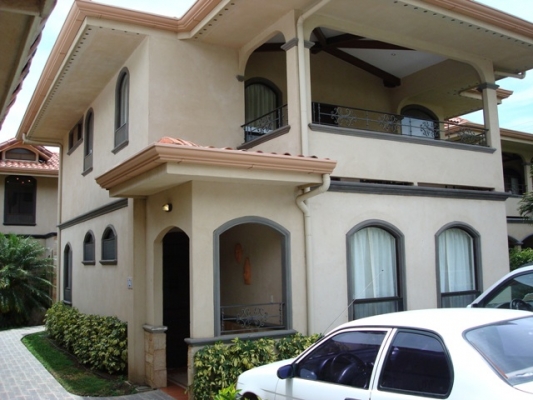 Read More

Unit 113 - For Rent $1,450 (Available IMMEDIATELY)
Total Area (Sq Ft):1290
Total Area (Sq M):120
Bedrooms:2
Bathrooms:2
Floor(s):1
Type:Attached
Furnished:Yes
This 1,290 sf single floor home includes a 300 sf front terrace plus parking for one car. It is attached on two sides by a 6 inch cement demising (common) wall, which prevents sound transfer.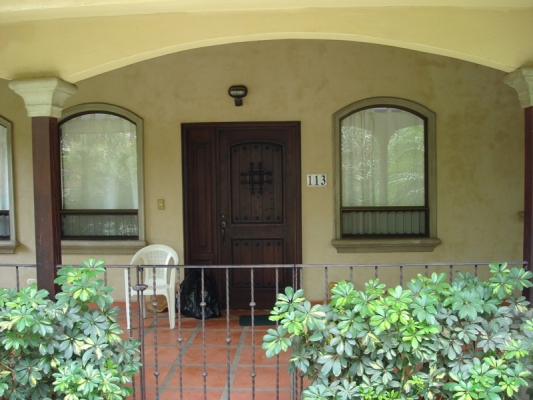 Read More
» NEWS FROM COSTA RICA
May 02, 2010
Arias Extols Achievements And Avoids Self-Criticism In His Last Report To The Nation
May 1 in Costa Rica is a strange day. A holiday for many who head out to the parks and beaches, while many others head to the malls and specialty retail stores to spend their paycheck as payday is the day before. But all gather in front of their television for the annual speech by the president.

Read
May 01, 2010
Costa Rica Leads Central America in Information Technology
Costa Rica leads in Central America in information technology according to the World Economic Forum and Insead Business School, one of the world's leading and largest graduate business schools.

Read
May 01, 2010
US Embassy Donates Equipment To Catch Child Molesters And Pimps
Agents of the sex crime unit of the Poder Judicial have some new modern tools to catch childe molesters and pimps, thanks to a donation by the United States Embassy in San José.

Read
May 01, 2010
Arias Thanks China For The New Stadium
Before the downpour on Friday, Costa Rican president, Oscar Arias, visited the construction site of the new national stadium to thank the Republic of China for the donation of what will be the most modern stadium in Central America, at a cost of us$83 million dollars.

Read
April 30, 2010
It's Official, The Costanera Sur Is Now Complete
On Thursday, Costa Rica's president, Oscar Arias, made official the completion of the Costanera Sur, the 42 kilometre road between Quepos and Playa Dominical.

Read
April 29, 2010
San José Airport Terminal Finally Completed And Delivered!
The long lines to enter Costa Rica at San José international airport are over, the departures and arrivals area is now bigger and with more retail stores and restaurants and the airlines counter is not longer crowded. That was the scenario yesterday as the Ministerio de Obras Públicas y Transportes (MOPT) and Aeris inaugurated the completion of the terminal, following years of delays.

Read
April 29, 2010
Hilton Papagayo Goes "All Inclusive"
Hilton Papagayo Costa Rica Resort & Spa announced the launch of its all-inclusive experience, packed with an eco-focus perfect for the environmentally conscious traveler.

Read
April 29, 2010
San José - Caldera Tolls Coming Down Again
The Autopistas del Sol, the concessionaire of the autopista San José - caldera announced a reduction of tolls beginning Monday, May 3, reducing the cost of the travel from end to end by ¢90 colones, from the current ¢1.830 to ¢1.740.

Read
April 28, 2010
Costa Rica Gets New ¢20.000 Note In July, ¢50.000 To Follow
The Banco Central de Costa Rica - Central Bank - on Tuesday unveiled the new ¢20.000 and ¢50.000 notes that will be in circulation in July 2010.

Read
April 26, 2010
41 Months To Build, Rather to Re-Build, 1.3 Kilometre Road?
How long does it take to build, rather, re-build, a 1.3 kilometer road in Costa Rica? 41 months, it appears, as the time it took the Ministerio de Obra Pública y Transportes (MOPT) from the awarding of the bid to the delivery of the project last week.

Read
» OUR LIVES
Weather:
The rainy season is here. While we do not get rain everyday, (normal) we have had several very heavy and sustained downpours this week. For the most part, the flood control system we put in two years ago, got it's first real work out. It did a great job but even it has it's limitations. So far, so good.
Personal Note:
Lita and I have been under a lot of stress for the past 8 mo. because of what I expected in a campaign by several people to discredit RPM and me personally. Of course I did not want to participate; I / we did not come to CR for this. However, we had no choice if we wanted to continue managing RLJ--and I did (for several reasons) and the alternative being proposed would have been a disaster for RLJ (in my opinion) and for a number of the shareholders who I know personally. We endured some nasty, and targeted personal based rumours, a lot of whisper campaigns, innuendo, etc. My critics worked the phones and engaged in private lobbying campaigns. Only when there was enough information on the table could I begin to counter and put things into perspective and as the personalities of the authors began to emerge, I think they lost credibility. When I was able to focus on what gaseous rumors solidified into some form, I could sort fact from fiction and innuendo. In all cases, I stuck to the issues and, while tempted, did not engage in the personalization of whatever the bone was in the craw of the critic. It seems to have worked; Virtually all the shareholders saw through it and I was pleasantly surprised at the support I received.
We can now relax, laugh a little easier, return to the life we came here for, and I can now focus on other things.
Residency Applications:
I am advised that we have now been assigned case file numbers and will be getting the notarized paper work to support that. We should not have to leave the country every 90 days now but we may still do so but not necessarily on the 90 day basis.
Brian, Lita, Hugo, irreverent Vicka, the pigeon toed parrot, and the newbies — Chico and Chica.



Brian C. Timmons, Newsletter Author
Residencias Los Jardines/Hacienda El Dorado - Developer
Cell: (506) 8305-3965
E-mail: brian@eldoradocostarica.com



For inquiries about availability of residences at Hacienda El Dorado or Residencias Los Jardines, contact:



Jan Kozak, Marketing Manager
Hacienda El Dorado
Rio Oro, Santa Ana
Costa Rica

Web: www.eldoradocostarica.com
E-mail: info@eldoradocostarica.com
MSN: jan.kozak.jr@hotmail.com
Skype: jan.kozak.jr

Tel (US) (+1) 647-477-5825
Cell: (+506) 8345-8018 / (+506) 8707-9930