INTERNET CLEANSING & WINTER MTNC.


» NOTES
When I started Residencias Los Jardines, I started writing a weekly news letter —determined to tell all the good, bad, and the ugly. I knew some readers would be interested in the construction process. I expected others might be interested in the lifestyle of two people who had decided to live outside the box. For others, the adventures of Lita, the parrot and the cat took on an entertainment saga all its own.

Residencias Los Jardines is finished. We periodically have resales and rental availability. Some readers may be interested in this information.

More and more, the content will be dominated by events of our new project, "El Dorado" for short. While the future is always uncertain, I again aim to tell it like it happens —the good, the bad, and the ugly, and that is what follows.

In an effort to make the format more interesting and visually appealing and to field inquiries re. El Dorado, the news letter is now being distributed by Jan Kozak, Marketing Manager, Hacienda El Dorado. I will remain the author.

DISTRIBUTION METHOD CHANGE: We used to use Yahoo mail but the lists got too long and Yahoo dropped names for reasons we couldn't understand. We went o Google mail and that had is problems as well. We then went to a Google Group system where people had to enlist; some people were intimidated by this and / or it didn't seem to work for them. For a while, we ran two parallel systems but gave that after several months. We are now going to a different method...a non-website affiliated company which says it will distribute the newsletter and where I can update the address easily. We'll see.

Brian C. Timmons, Author
Residencias Los Jardines/Hacienda El Dorado - Developer
E-mail: brian@eldoradocostarica.com

YOU CAN ALSO VIEW THE COMPLETE VERSION ONLINE AT:

https://www.eldoradocostarica.com/English/Newsletter/index.php

» CONSTRUCTION LOG
INVU:

We've hired another consultant to review work done to date. He begins this week and will be working with the electromechanical, civil, and structural engineers as well as the environmental consultant. His job is to review all work, all submissions to date, all issues identified and see that the consultants have dealt with them. In addition, he is to determine if we have all the information required, that the presentation is correct, that the numbers line up, etc. This person claims to have substantial experience before INVU packaging the various contributions of each of the engineering disciplines. We'll see.
Website:
This job is still lagging as my focus has been diverted by issues at Los Jardines.
» RESIDENCIAS LOS JARDINES
Shareholder's Meeting: Proxy ballots for those not able to attend are now out. Debate continues. The meeting will be held on May 1.

Internet Mtnc.: We had all the relays, hubs, routers, connections cleaned this week. Dust, spiders, ants and humidity being the biggest culprits.

Winter Mtnc: That involves backing off on the watering and ensuring the rain water paths and related equipment are operational. And again, we find some pumps not wanting to work. It also means removing those plants are aren't doing all that well and replacing with those that will; the rainy season is the time best suited to the plants and our available time. Repairing fencing and ensuring lights and misc. things are fixed. When the rains set it more regularly, we'll do mtnc. in covered areas.


Market Slows: There have been NO purchasers--and only one person looking to rent this past week.
Unit 106A: $155,000
Unit 107: $270,000

See Descriptions and photos below.
Rental Vacancies:
We have two vacancies:
Unit 121: Immediate - $1,700
Unit 113: Immediate - $1,450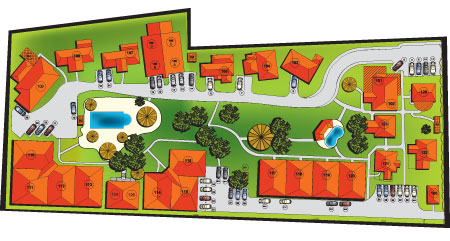 Unit #107 - For Sale $270,000 - FURNISHED

Total Area (Sq Ft): 1716
Total area (Sq M): 158
Bedrooms: 2
Bathrooms: 2.5
Floor(s): 2 Story
Type: Detached
Furnished: Yes

This 1,716 sf. (plus parking for one car) two story, detached house, with three terraces, two bedrooms (one on each floor) and upstairs master suite is a beautiful home. This home consists of two VERY large bedrooms (one on each floor) with en-suite bathrooms and a powder room, each with large closets with extensive built-ins for personal organization. The vaulted living room and ground floor bedroom ceilings as well as the master bedroom on the 2nd floor, provide a feeling of grandeur while allowing the warmer air to rise and exit through the ceiling ventilating system. There are three TVs (one in each bedroom and one in the living room.) This is a beautiful home. There is a rough-in for a dishwasher in the kitchen area.
Read More
Unit #
106A

--

For

Sale

$155,000 - FURNISHED (Leased at $1,000 pr month until January 2011)

Total Area (Sq Ft):

1250


Total area (Sq M):

120


Bedrooms:

2


Bathrooms:

2.5


Floor(s):

Ground Floor


Type:

Apartment


Furnished:

Yes




This is a fully furnished 2-bedroom unit situated in a 2-story building, which has two units on the ground floor and two units on the 2nd. floor. Each unit is the same size (1,250sf) divided into 800 sf of interior space and 450 sf of covered front and back terraces. UnitS 106 A

and B are on the ground floor; Units

106

C and D are on the 2nd. Floor. The solid masonry demising wall (common wall) as well as the 5" concrete slab prevent sound transference.
Read More
Unit 121 - For Rent $1,700 (Available IMMEDIATELY)
Total Area (Sq Ft):
1423
Total area (Sq M):
131
Bedrooms:
2
Bathrooms:
2.5
Floor(s):
2 Story
Type:
Detached
Furnished:
Yes
This two story, detached 1,423 sf home + parking for one car has two bedrooms, 2 ½ bathrooms and a 2nd. floor covered terrace.
The open railed wrought iron cement stair case leads to the 2nd. level where the master bedroom with en-suite master bathroom as well as 2nd. bedroom and en-suite bathroom are located. Also accessed from the 2nd. floor hallway is the covered terrace.
This is a very nicely furnished home with a good floor plan for those wanting two floors.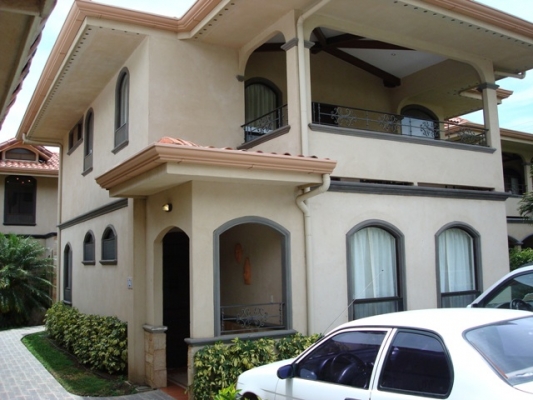 Read More

Unit 113 - For Rent $1,450 (Available IMMEDIATELY)
Total Area (Sq Ft):1290
Total Area (Sq M):120
Bedrooms:2
Bathrooms:2
Floor(s):1
Type:Attached
Furnished:Yes
This 1,290 sf single floor home includes a 300 sf front terrace plus parking for one car. It is attached on two sides by a 6 inch cement demising (common) wall, which prevents sound transfer.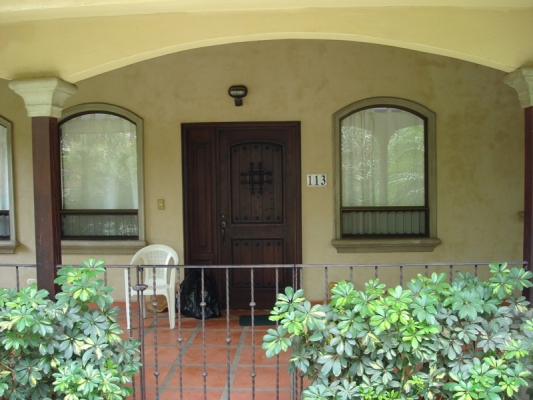 Read More
» NEWS FROM COSTA RICA
April 24, 2010
Immigration Delays Fines For Illegals
The Dirección General de Migración y Extranjería (immigration service) will not be charging the us$100 fine for living illegally in the country for at least another six months, explained the director, Mario Zamora.

Read
April 24, 2010
Laura Sets Tone For Her Administration
"If after defining the priorities, the ministers want to do other things, they are welcome, as long as the collective priorities are clear", were the words of president-elect, Laura Chinchilla, of her designated ministers and institutions heads, in the first meeting of her designated government.

Read
April 23, 2010
PLN To Push For An End To Riteve Monopoly
The vehicular inspection company, Riteve, may have its days of monopoly numbered if the new legislators of the Partido Liberación Nacional (PLN) have their way.

Read
April 23, 2010
Former Costa Rican President Figueres Backs Sustainability
Economic growth does not have to come at the expense of the environment, said José María Figueres, Costa Rica's former president in a speech at Duke University on Thursday.

Read
April 22, 2010
The Mystery Of the Devaluating Dollar in Costa Rica
For months now there has been a Costa Rica mystery gone un-answered and even less; justified. The mystery is: "How come the Dollar has devalued so much in this country while appreciating against so many other world currencies, hard currencies, but not the "off the radar" Colon?"

Read
April 21, 2010
Wind Farm Goes Online In Costa Rica
Costa Rica is one step closer to its goal of getting 100 percent of its energy from renewable generation sources, as this week it inaugurated a wind farm installed in Guanacaste.

Read
April 21, 2010
Cameras To Keep An Eye On Crime In San José
50 cameras will be keeping an eye on San José to vigil criminal activity and its images to be used in court as proof against those who commit offences.

Read
April 20, 2010
IMF: "Economic Recovery In Costa Rica Is Firmly Underway"
A staff team from the International Monetary Fund (IMF) visited Costa Rica during April 7–13, 2010 to conduct the third and final review of the Stand-By Arrangement (SBA) approved in April 2009. The mission met with Finance Minister Jenny Phillips, Central Bank Governor Francisco de Paula Gutiérrez, other senior officials, and representatives of the financial sector.

Read
April 20, 2010
Costa Rican Wins 2010 Goldman Environmental Prize
Costa Rica's Randall Arauz is one of six around the world to be awarded the 2010 Goldman Environmental Prize of and taking home$150.000 each each for their activism.

Read
» OUR LIVES
Weather:
The rain is a welcome relief. We haven't had much rain this past week but enough not to have to water and more overcast than several weeks ago.
Brian, Lita, Hugo, irreverent Vicka, the pigeon toed parrot, and the newbies — Chico and Chica.



Brian C. Timmons, Newsletter Author
Residencias Los Jardines/Hacienda El Dorado - Developer
Cell: (506) 8305-3965
E-mail: brian@eldoradocostarica.com



For inquiries about availability of residences at Hacienda El Dorado or Residencias Los Jardines, contact:



Jan Kozak, Marketing Manager
Hacienda El Dorado
Rio Oro, Santa Ana
Costa Rica

Web: www.eldoradocostarica.com
E-mail: info@eldoradocostarica.com
MSN: jan.kozak.jr@hotmail.com
Skype: jan.kozak.jr

Tel (US) (+1) 647-477-5825
Cell: (+506) 8345-8018 / (+506) 8707-9930