RANCHOS FINISHED & RAIN!!


» NOTES
When I started Residencias Los Jardines, I started writing a weekly news letter —determined to tell all the good, bad, and the ugly. I knew some readers would be interested in the construction process. I expected others might be interested in the lifestyle of two people who had decided to live outside the box. For others, the adventures of Lita, the parrot and the cat took on an entertainment saga all its own.

Residencias Los Jardines is finished. We periodically have resales and rental availability. Some readers may be interested in this information.

More and more, the content will be dominated by events of our new project, "El Dorado" for short. While the future is always uncertain, I again aim to tell it like it happens —the good, the bad, and the ugly, and that is what follows.

In an effort to make the format more interesting and visually appealing and to field inquiries re. El Dorado, the news letter is now being distributed by Jan Kozak, Marketing Manager, Hacienda El Dorado. I will remain the author.

DISTRIBUTION METHOD CHANGE: We used to use Yahoo mail but the lists got too long and Yahoo dropped names for reasons we couldn't understand. We went o Google mail and that had is problems as well. We then went to a Google Group system where people had to enlist; some people were intimidated by this and / or it didn't seem to work for them. For a while, we ran two parallel systems but gave that after several months. We are now going to a different method...a non-website affiliated company which says it will distribute the newsletter and where I can update the address easily. We'll see.

Brian C. Timmons, Author
Residencias Los Jardines/Hacienda El Dorado - Developer
E-mail: brian@eldoradocostarica.com

YOU CAN ALSO VIEW THE COMPLETE VERSION ONLINE AT:

https://www.eldoradocostarica.com/English/Newsletter/index.php

» CONSTRUCTION LOG
INVU--AyA:

The consultants are pulling together the disparate pieces of information for the well concession and the changes in design required by that development. We are considering hiring a review consultant to overview all the documents prior to submission again. We are thinking we need a new person, with a substantial background and experience with INVU to take a fresh look and really role up his sleeves and get down to work to determine that we have made all the changes requires, provided all the information requested, that all the information aligns, that the information requested is formatted properly, that the documents are in the right order and presented the way INVU wants. We have a person in mind for the job and I'm awaiting a proposal from him.
Website:
This job is still lagging as my focus has been diverted by issues at Los Jardines.
» RESIDENCIAS LOS JARDINES
Shareholder's Meeting: The discussion continues to be lively. Five agenda items were received, collated, and distributed to all shareholders. Debate will now begin. Proxy ballots will be sent out to those shareholders who will not attend in person but who want their voice heard.


Rancho Roof Replacements:
All work was completed on Monday. All in all, the contractor did the job expected--he arrived on time, with his crew, they set up camp in a pre-arranged place, looked after their own cooking, stuck to themselves, did the work (sometimes a little rough on the plants) and cleaned up. The only incident was at 6:15 on Sunday night, the foreman came to be with pipe in hand saying that they had broken it off and water was gushing out from what was the main supply to the entire compound. How to fix this at 6:15 Sunday night. I got it done; missed my dinner and was generally in a foul mood for awhile.
It took several days for our staff to clean up and return everything to it's normal place. That is now done and all lights in the ranchos as well as around the property are now functioning. Fortunately, I had ordered in an inventory of lights. Hopefully this supply will last until August when PriceSmart usually brings them in again. Otherwise, I'll resort to mail order out of Wyoming like I did this last time.
Rain and Maintenance!
Now that the rainy season is here--officially or unofficially--the reality is that we have had rain everyday since Wednesday, the nature of maintenance work will change. From time spent watering, the two gardeners will catch up on various things; roof tile replacement, window molding repairs, replacement / relocation of some plants. Two weeks ago we sealed the faux stone accents on a number of the buildings; this material is porous and each year it has to be scrubbed down and resealed with a silicone based sealer which fills the voids and prevents mold growing.
Sales Activity:
The sale of 111 closed as scheduled.

Market Slows: There have been NO purchasers--and only two people looking to rent this past week. I have two more tentative appointments for next week; they may or may not materialize. Speaking with agents, they are finding the same thing; the market is very slow. Speaking with a frequent INVU applicant, he said that even a year ago he had to wait in line at INVU. The other day he was there and went to the head of the line. In talking with the INVU rep, it was confirmed that very few applications are being submitted..
Unit 106A: $155,000
Unit 107: $270,000

See Descriptions and photos below.
Rental Vacancies:
We have two vacancies:
Unit 121: Immediate - $1,700
Unit 113: Immediate - $1,450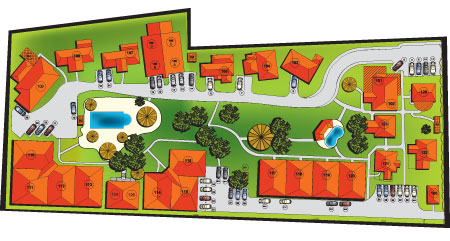 Unit #107 - For Sale $270,000 - FURNISHED

Total Area (Sq Ft): 1716
Total area (Sq M): 158
Bedrooms: 2
Bathrooms: 2.5
Floor(s): 2 Story
Type: Detached
Furnished: Yes

This 1,716 sf. (plus parking for one car) two story, detached house, with three terraces, two bedrooms (one on each floor) and upstairs master suite is a beautiful home. This home consists of two VERY large bedrooms (one on each floor) with en-suite bathrooms and a powder room, each with large closets with extensive built-ins for personal organization. The vaulted living room and ground floor bedroom ceilings as well as the master bedroom on the 2nd floor, provide a feeling of grandeur while allowing the warmer air to rise and exit through the ceiling ventilating system. There are three TVs (one in each bedroom and one in the living room.) This is a beautiful home. There is a rough-in for a dishwasher in the kitchen area.
Read More
Unit #
106A

--

For

Sale

$155,000 - FURNISHED (Leased at $1,000 pr month until January 2011)

Total Area (Sq Ft):

1250


Total area (Sq M):

120


Bedrooms:

2


Bathrooms:

2.5


Floor(s):

Ground Floor


Type:

Apartment


Furnished:

Yes




This is a fully furnished 2-bedroom unit situated in a 2-story building, which has two units on the ground floor and two units on the 2nd. floor. Each unit is the same size (1,250sf) divided into 800 sf of interior space and 450 sf of covered front and back terraces. UnitS 106 A

and B are on the ground floor; Units

106

C and D are on the 2nd. Floor. The solid masonry demising wall (common wall) as well as the 5" concrete slab prevent sound transference.
Read More
Unit 121 - For Rent $1,700 (Available IMMEDIATELY)
Total Area (Sq Ft):
1423
Total area (Sq M):
131
Bedrooms:
2
Bathrooms:
2.5
Floor(s):
2 Story
Type:
Detached
Furnished:
Yes
This two story, detached 1,423 sf home + parking for one car has two bedrooms, 2 ½ bathrooms and a 2nd. floor covered terrace.
The open railed wrought iron cement stair case leads to the 2nd. level where the master bedroom with en-suite master bathroom as well as 2nd. bedroom and en-suite bathroom are located. Also accessed from the 2nd. floor hallway is the covered terrace.
This is a very nicely furnished home with a good floor plan for those wanting two floors.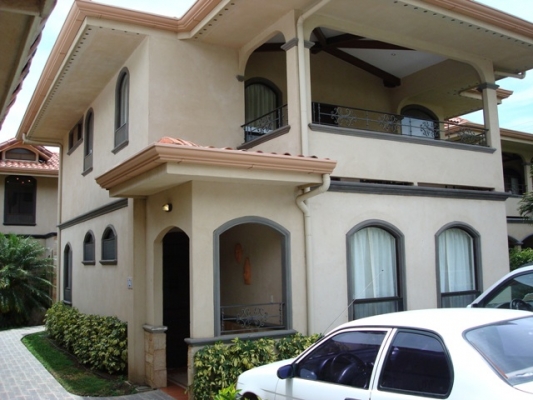 Read More

Unit 113 - For Rent $1,450 (Available IMMEDIATELY)
Total Area (Sq Ft):1290
Total Area (Sq M):120
Bedrooms:2
Bathrooms:2
Floor(s):1
Type:Attached
Furnished:Yes
This 1,290 sf single floor home includes a 300 sf front terrace plus parking for one car. It is attached on two sides by a 6 inch cement demising (common) wall, which prevents sound transfer.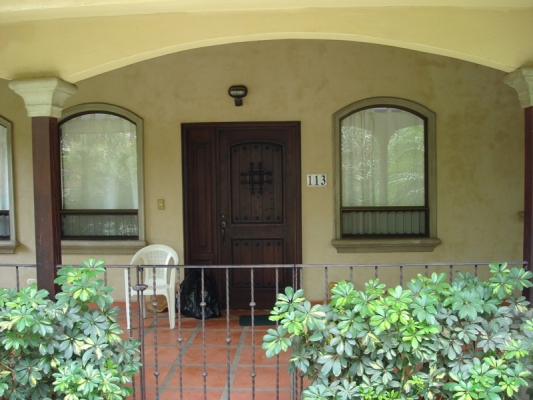 Read More
» NEWS FROM COSTA RICA
April 17, 2010
Costa Rica Constitutional Court Rules To Reopen Gold Mine Project
The Costa Rican Constitutional Court or Sala IV ruled on Friday that a small Canadian mining company can proceed with its open-pit gold mine at Crucitas in San Carlos, striking down complaints from environmental groups that the project was destroying virgin forest.

Read
April 17, 2010
Marva Wright Crowned Miss Costa Rica 2010
Hacienda Pinilla, in Santa Cruz, Guanacaste, was full of beauty last night with the conclusion of the Miss Costa Rica 2010 beauty pageant, that 24 year old Marva Wright taking the crown.

Read
April 16, 2010
Street Vendor Protests In Downtown San José Forces Closure Of Many Retail Stores
Shouting "if we can't sell, they can't either", a group of "vendedores ambulantes" (street vendors) ensured many of the retail stores along the boulevards (Avenida Central) and Avenidas 4 to 8, shut down their stores in fear of being looted.

Read
April 16, 2010
How Owning Costa Rica Property Can Improve Your Life
In today's world, many people are looking to improve their quality of life. In this article we will discuss how owning Costa Rica property can help.

Read
April 15, 2010
EXPO CONSTRUCCION 2010 Kicks Off Today
Expo Construccíon y Vivienda Costa Rica 2010 kicks off today at the San José with more than 200 exhibiting companies taken part, with an expected 15.000 visitors during the five day event.

Read
April 13, 2010
Costa Rica Police Patrol In A Hummer
The Vigilancia Aérea de la Fuerza Pública (Air Surveillance police unit) is showing off its new patrol vehicle, a Hummer.

Read
April 13, 2010
Costa Rica or Puerto Rico?
Samantha Lazzaris asked her travel agent to book a vacation in San José, Costa Rica. She didn't notice a problem until she landed.

Read
April 12, 2010
Traffic Through Cambronero Down Up To 70%, Retailers Say
While most Costa Ricans are taking advantage of the new San José - Caldera highway, another group is absorbing the economic loss of their activity on the old road to Puntarenas, with the drop in traffic between San Ramón and the port city, has led to layoffs and some closures.

Read
» OUR LIVES
Weather:

The rain is a welcome relief. It might get tiresome sometime but for now, we're enjoying it.
Shrimp: Yesterday a truck with fresh seafood--various sizes of shrimp, huge Caribbean lobsters, and corvina came to RLJ. A number of us bought. I bought a kilo (2.2 lbs) of huge, deveined, shelled shrimp for C12,000. Since we were having guests that night and I knew they liked shrimp we had a feast-to my surprise, (and delight) there wasn't much left at the end of the meal. Garlic, butter, red pepper flakes, sweet red pepper and purple onions, few strips of diced bacon, parsley and cilantro, Montreal steak spice and sea salt to taste, a kilo of shrimp, white wine, sherry, and coconut milk rounded out with penne, cilantro, parsley, mixture of French Provincial herbs, capers, butter, Parmesan cheese, cracked pepper, accompanied with French garlic baguette followed with a blueberry cheese cake brought by out guests. Everyone left happy and I now have a new standard to hit again with Lita....
Brian, Lita, Hugo, irreverent Vicka, the pigeon toed parrot, and the newbies — Chico and Chica.



Brian C. Timmons, Newsletter Author
Residencias Los Jardines/Hacienda El Dorado - Developer
Cell: (506) 8305-3965
E-mail: brian@eldoradocostarica.com



For inquiries about availability of residences at Hacienda El Dorado or Residencias Los Jardines, contact:



Jan Kozak, Marketing Manager
Hacienda El Dorado
Rio Oro, Santa Ana
Costa Rica

Web: www.eldoradocostarica.com
E-mail: info@eldoradocostarica.com
MSN: jan.kozak.jr@hotmail.com
Skype: jan.kozak.jr

Tel (US) (+1) 647-477-5825
Cell: (+506) 8345-8018 / (+506) 8707-9930