POWER OUTAGE and RANCHO RE-ROOFING


» NOTES
When I started Residencias Los Jardines, I started writing a weekly news letter —determined to tell all the good, bad, and the ugly. I knew some readers would be interested in the construction process. I expected others might be interested in the lifestyle of two people who had decided to live outside the box. For others, the adventures of Lita, the parrot and the cat took on an entertainment saga all its own.

Residencias Los Jardines is finished. We periodically have resales and rental availability. Some readers may be interested in this information.

More and more, the content will be dominated by events of our new project, "El Dorado" for short. While the future is always uncertain, I again aim to tell it like it happens —the good, the bad, and the ugly, and that is what follows.

In an effort to make the format more interesting and visually appealing and to field inquiries re. El Dorado, the news letter is now being distributed by Jan Kozak, Marketing Manager, Hacienda El Dorado. I will remain the author.

DISTRIBUTION METHOD CHANGE: We used to use Yahoo mail but the lists got too long and Yahoo dropped names for reasons we couldn't understand. We went o Google mail and that had is problems as well. We then went to a Google Group system where people had to enlist; some people were intimidated by this and / or it didn't seem to work for them. For a while, we ran two parallel systems but gave that after several months. We are now going to a different method...a non-website affiliated company which says it will distribute the newsletter and where I can update the address easily. We'll see.

Brian C. Timmons, Author
Residencias Los Jardines/Hacienda El Dorado - Developer
E-mail: brian@eldoradocostarica.com

YOU CAN ALSO VIEW THE COMPLETE VERSION ONLINE AT:

https://www.eldoradocostarica.com/English/Newsletter/index.php

» CONSTRUCTION LOG
INVU--AyA:

The consultants are making the changes required resulting from being granted the well concession. This involves re-drafting a small section of many drawings but it also changes a lot of the calculations which need to be submitted for review. They are now putting the finishing touches on the documents and next week should have all the changed drawings ready for re-packaging and re-presentation to INVU.
Website:
This job is still lagging as my focus has been diverted by issues at Los Jardines.
Note:
I spoke with and reviewed the development with a developer from Little Rock. His stories were similar to mine--different country, same complaints.
» RESIDENCIAS LOS JARDINES
Shareholder's Meeting: The discussion continues to be lively. Agenda items are due April 15.


Rancho Roof Replacements:
The contractor and crew showed up as promised and started working. As of Saturday, all 5 ranchos at the large pool have been redone although there is substantial clean up yet to be finished. The center rancho will be largely finished Saturday evening. All work and clean up is expected to be finished by the end of Sunday and all areas back to normal by the end of Monday.
Electrical Outage:
ICE cut the power as planned. It had been two years since we had used the generator which was intended to be used for the water system. We ensured it worked which involved a couple things--gas and new air filter--. Well, things didn't work out the way it was planned. It appears that two years ago when we realized the generator was not large enough to drive both the gate motors and the water pump, we decided to disconnect the water pump--we had AyA water as a back up. We disconnected from AyA 2 weeks ago because we hadn't used their water for two years and they now wanted $420 mo. standby fee. We had to re-wire the system disconnecting the gate and re-connecting the water pump. We did. The pump would not work. Fortunately, planning ahead payed off; we quickly removed the non-functioning pump, rewired and installed a back up pump. While we don't know exactly what happened to the original pump until we have it repaired, I suspect a power surge when ICE disconnected fried something. However, we now have several ways to supply emergency water by the generator and it should take no more than a 5 min. set up either way.
Midnight exit:
We had one tenant who was having difficulty paying the rent and who claims some family problems he had to deal with. He left unexpectedly; we have his deposits to cover the month and are in the process of cleaning and re-conditioning the unit to put back on the rental market.

Sales Activity:
The sale of 111 is progressing to the closing date--April 15.

There have been NO purchasers--and only one person with a budget of $1,500 mo. for leasing beginning June-- this past week. That little burst of activity didn't have "legs"; whether it is time of year or the continuing problems in N. Am. I don't know.
Unit 106A: $155,000
Unit 107: $270,000

See Descriptions and photos below.
Rental Vacancies:
We have two vacancies:
Unit 121: Immediate - $1,700
Unit 113: Immediate - $1,450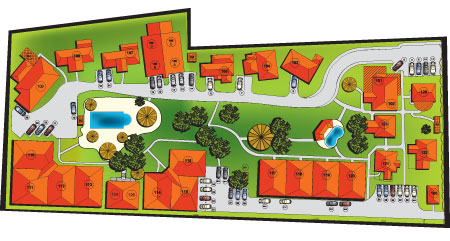 Unit #107 - For Sale $270,000 - FURNISHED

Total Area (Sq Ft): 1716
Total area (Sq M): 158
Bedrooms: 2
Bathrooms: 2.5
Floor(s): 2 Story
Type: Detached
Furnished: Yes

This 1,716 sf. (plus parking for one car) two story, detached house, with three terraces, two bedrooms (one on each floor) and upstairs master suite is a beautiful home. This home consists of two VERY large bedrooms (one on each floor) with en-suite bathrooms and a powder room, each with large closets with extensive built-ins for personal organization. The vaulted living room and ground floor bedroom ceilings as well as the master bedroom on the 2nd floor, provide a feeling of grandeur while allowing the warmer air to rise and exit through the ceiling ventilating system. There are three TVs (one in each bedroom and one in the living room.) This is a beautiful home. There is a rough-in for a dishwasher in the kitchen area.
Read More
Unit #
106A

--

For

Sale

$155,000 - FURNISHED (Leased at $1,000 pr month until January 2011)

Total Area (Sq Ft):

1250


Total area (Sq M):

120


Bedrooms:

2


Bathrooms:

2.5


Floor(s):

Ground Floor


Type:

Apartment


Furnished:

Yes




This is a fully furnished 2-bedroom unit situated in a 2-story building, which has two units on the ground floor and two units on the 2nd. floor. Each unit is the same size (1,250sf) divided into 800 sf of interior space and 450 sf of covered front and back terraces. UnitS 106 A

and B are on the ground floor; Units

106

C and D are on the 2nd. Floor. The solid masonry demising wall (common wall) as well as the 5" concrete slab prevent sound transference.
Read More
Unit 121 - For Rent $1,700 (Available IMMEDIATELY)
Total Area (Sq Ft):
1423
Total area (Sq M):
131
Bedrooms:
2
Bathrooms:
2.5
Floor(s):
2 Story
Type:
Detached
Furnished:
Yes
This two story, detached 1,423 sf home + parking for one car has two bedrooms, 2 ½ bathrooms and a 2nd. floor covered terrace.
The open railed wrought iron cement stair case leads to the 2nd. level where the master bedroom with en-suite master bathroom as well as 2nd. bedroom and en-suite bathroom are located. Also accessed from the 2nd. floor hallway is the covered terrace.
This is a very nicely furnished home with a good floor plan for those wanting two floors.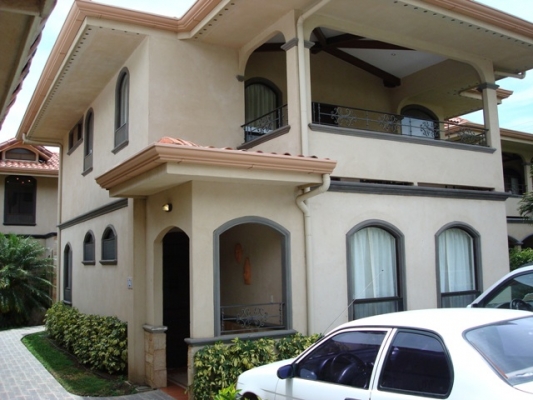 Read More

Unit 113 - For Rent $1,450 (Available IMMEDIATELY)
Total Area (Sq Ft):1290
Total Area (Sq M):120
Bedrooms:2
Bathrooms:2
Floor(s):1
Type:Attached
Furnished:Yes
This 1,290 sf single floor home includes a 300 sf front terrace plus parking for one car. It is attached on two sides by a 6 inch cement demising (common) wall, which prevents sound transfer.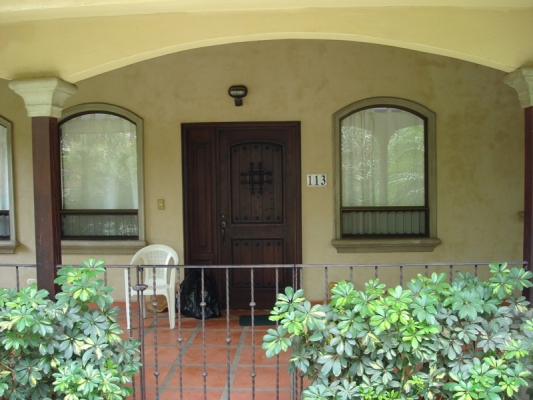 Read More
» NEWS FROM COSTA RICA
April 10, 2010
Guns N' Roses cancel show in Costa Rica following stage collapse
Axl Rose's band's problems continue on South American jaunt

Read
April 10, 2010
President-Elect Chinchilla To Talk to Neighbors on Crime and Drugs
Costa Rica elected president, Laura Chinchilla, will talk to Central American leaders about crime, drug trafficking and organized crime, during a courtesy visit to some neighboring countries beginning next Monday.

Read
April 08, 2010
China, Costa Rica ink free trade agreement
BEIJING, April 8 (Xinhua) -- China and Costa Rica signed a Free Trade Agreement (FTA) here Thursday to remove trade barriers and enhance bilateral ties, the Ministry of Commerce announced in a statement on its website.

Read
April 07, 2010
Sports Gambling Ring Busted In US; Thirty-Eight Suspects Arrested
The Super Bowl and the NCAA college basketball tournament are two of the biggest moneymakers for sports books. Unfortunately, for those running illegal sports books, they are also the two events that bring out the authorities.

Read
April 06, 2010
New Law Prohibits Credit Card Issuers In Costa Rica From Harassing Deadbeats
The new Reglamento de Tarjetas de Crédito that went into effect last week, prohibits banks and financial institutions and any other issuer of credit card not to "acosar" (harass) by telephone their customers and families who are behind on their credit card payments.

Read
April 06, 2010
Singapore and Costa Rica Signs FTA
Singapore and Costa Rica announced to have undergone a broad-based and comprehensive Free Trade Agreement on Tuesday, aimed to reduce and remove trade barriers, strengthening bilateral economic ties.

Read
April 05, 2010
Costa Rica Aims To Be Among Top Of Destinations For Medical Tourism
Costa Rica is fast becoming a main destination for medical tourism, as foreigners seek out professional medical attention at a price lower than in their country of origin. The list of services sought out include elective procedures, as well as specialized surgeries.

Read
April 05, 2010
Transition To Rainy Season In Costa Rica Has Begun
The next few weeks will see the transition of the "dry" season to the "rainy" season throughout the country according to the national weather service, the Instituto Meteorológico Nacional (IMN).

Read
April 05, 2010
"Relationship Coffee": A Crop, not a Commodity
Blue State Coffee has one coffee tree in Providence, R.I.: it may yield a few beans in a few years, enough for one shot of espresso. In other words, in the continental United States, coffee can't be a local product. It passes through many, many hands before reaching the barista, and some knowledge of coffee's origins is lost at each point along a complicated supply chain.

Read
» OUR LIVES
Weather:

It's been beautiful this week. The rainy season is coming; we've had one shower and more than normal cloudy days. We're ready.

Butterfly: I found this little guy when taking pictures of the ranchos.... he's beautiful don't you think?
Brian, Lita, Hugo, irreverent Vicka, the pigeon toed parrot, and the newbies — Chico and Chica.



Brian C. Timmons, Newsletter Author
Residencias Los Jardines/Hacienda El Dorado - Developer
Cell: (506) 8305-3965
E-mail: brian@eldoradocostarica.com



For inquiries about availability of residences at Hacienda El Dorado or Residencias Los Jardines, contact:



Jan Kozak, Marketing Manager
Hacienda El Dorado
Rio Oro, Santa Ana
Costa Rica

Web: www.eldoradocostarica.com
E-mail: info@eldoradocostarica.com
MSN: jan.kozak.jr@hotmail.com
Skype: jan.kozak.jr

Tel (US) (+1) 647-477-5825
Cell: (+506) 8345-8018 / (+506) 8707-9930