Redrawing; Re. Phoning; Rentals


» NOTES
When I started Residencias Los Jardines, I started writing a weekly news letter —determined to tell all the good, bad, and the ugly. I knew some readers would be interested in the construction process. I expected others might be interested in the lifestyle of two people who had decided to live outside the box. For others, the adventures of Lita, the parrot and the cat took on an entertainment saga all its own.

Residencias Los Jardines is finished. We periodically have resales and rental availability. Some readers may be interested in this information.

More and more, the content will be dominated by events of our new project, "El Dorado" for short. While the future is always uncertain, I again aim to tell it like it happens —the good, the bad, and the ugly, and that is what follows.

In an effort to make the format more interesting and visually appealing and to field inquiries re. El Dorado, the news letter is now being distributed by Jan Kozak, Marketing Manager, Hacienda El Dorado. I will remain the author.

Brian C. Timmons, Author
Residencias Los Jardines/Hacienda El Dorado - Developer
E-mail: brian@eldoradocostarica.com

YOU CAN ALSO VIEW THE COMPLETE VERSION ONLINE AT:

https://www.eldoradocostarica.com/English/Newsletter/index.php

» CONSTRUCTION LOG
INVU--AyA:

As a result of having been granted a well concession, we now have to revise a gazillion drawings, write a letter explaining why they are being redrawn, and begin again the three party INVU review. But since this is the only change from what has been approved before, we shouldn't have delays like before. Having said that, this is CR. Paul and I were describing the minutia and games played here in CR who have a "cannot do" attitude.
Website:

I haven't started making the changes but have asked the consultant how he can make it available for me "off line" to make the changes and he upload them when I am satisfied with the changes I've made.. This will still take a backseat to some things I have to do for Los Jardines.
Marketing:

Lot 17 seems unaffected by this change but until we have the approval from INVU, I prefer not to make any commitments.
» RESIDENCIAS LOS JARDINES
Shareholder's Meeting:

A special Shareholder's meeting to deal with business arising out of the General meeting held Dec.12 will be called for Saturday, April 30, at the central rancho. Each shareholder will get the announcement along with supporting documentation. That information should be available early this week.

AyA:

We are now disconnected from AyA.

Rancho Roof Replacements:

This contract has been let with a starting date of Monday, April 5. It will be a bit chaotic for the 10 days they say it will take to replace the roofs. A crew of 10-12 people will live on site. This is a messy job; the new roofs should last for around 7 years.

Mosquitoes:

We had the company back for the "guarantee"; there was, of course, a lot of debate about what was "guaranteed". There were additional charges--surprise, surprise--. We settled on something and they set off doing it. Since I knew I had been lied to the first time, I sent Flavio to stand over them. It took them ALL day to do the job which should have been done the first time... despite by describing what I did want and what I did not want, despite walking them around the property, despite color coding the site plan, they didn't do the job right the first time..... So we held their hand the 2nd. time. In the end, they were proud of what they had done... probably the first time the did a job right.



Sales Activity:

The sale of 111 is progressing to the closing date--April 15. There have been few lookers this past week. That little burst of activity didn't have many "legs".


Unit 106A: $155,000

Unit 107: $270,000

See Descriptions and photos below.




Rental Vacancies:

We have one vacancy coming up:

Unit 121: April 1, 2010 - $1,700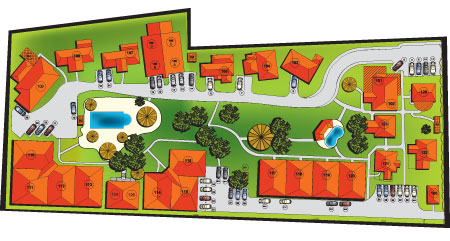 Unit #107 - For Sale $270,000 - FURNISHED

Total Area (Sq Ft): 1716
Total area (Sq M): 158
Bedrooms: 2
Bathrooms: 2.5
Floor(s): 2 Story
Type: Detached
Furnished: Yes

This 1,716 sf. (plus parking for one car) two story, detached house, with three terraces, two bedrooms (one on each floor) and upstairs master suite is a beautiful home. This home consists of two VERY large bedrooms (one on each floor) with en-suite bathrooms and a powder room, each with large closets with extensive built-ins for personal organization. The vaulted living room and ground floor bedroom ceilings as well as the master bedroom on the 2nd floor, provide a feeling of grandeur while allowing the warmer air to rise and exit through the ceiling ventilating system. There are three TVs (one in each bedroom and one in the living room.) This is a beautiful home. There is a rough-in for a dishwasher in the kitchen area.
Read More
Unit #
106A

--

For

Sale

$155,000 - FURNISHED (Leased at $1,000 pr month until January 2011)

Total Area (Sq Ft):

1250


Total area (Sq M):

120


Bedrooms:

2


Bathrooms:

2.5


Floor(s):

Ground Floor


Type:

Apartment


Furnished:

Yes




This is a fully furnished 2-bedroom unit situated in a 2-story building, which has two units on the ground floor and two units on the 2nd. floor. Each unit is the same size (1,250sf) divided into 800 sf of interior space and 450 sf of covered front and back terraces. UnitS 106 A

and B are on the ground floor; Units

106

C and D are on the 2nd. Floor. The solid masonry demising wall (common wall) as well as the 5" concrete slab prevent sound transference.
Read More
Unit 121 - For Rent $1,700 (Available April 1, 2010)
Total Area (Sq Ft):
1423
Total area (Sq M):
131
Bedrooms:
2
Bathrooms:
2.5
Floor(s):
2 Story
Type:
Detached
Furnished:
Yes
This two story, detached 1,423 sf home + parking for one car has two bedrooms, 2 ½ bathrooms and a 2nd. floor covered terrace.
The open railed wrought iron cement stair case leads to the 2nd. level where the master bedroom with en-suite master bathroom as well as 2nd. bedroom and en-suite bathroom are located. Also accessed from the 2nd. floor hallway is the covered terrace.
This is a very nicely furnished home with a good floor plan for those wanting two floors.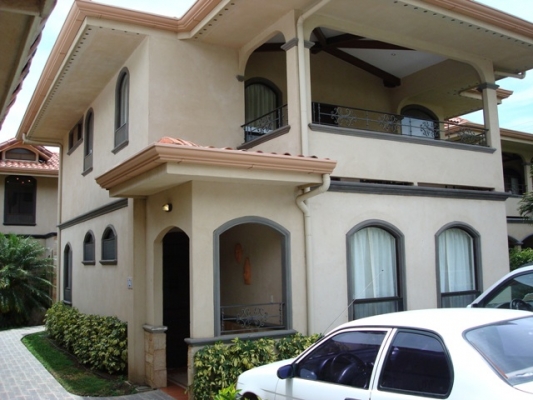 Read More
» NEWS FROM COSTA RICA
March 26, 2010
San José - Caldera Tolls To Go Down
Yes, you are reading it rights, the tolls on the autopistas San José - Caldera will be going down as of April 1, 2010.

Read
March 26, 2010
Hotel Frequented By Foreigners Raided For Prostitution
A 49 year old woman was arrested suspected of managing a group of young women who provided men sexual favours for a fee, the majority of the men being foreigners, as police descended on a Barrio Amón hotel that masked as "prostibulo" (whorehouse).

Read
March 26, 2010
Infrastructure Upgrades In Costa Rica Will Improve Accessibility
In recent years, Costa Rican real estate prices have risen rapidly as more and more foreigners are relocating to the country. Despite the influx of ex-pats, Costa Rica remains a beautiful country with good residency programs and a low cost of living. More importantly, there are still areas of the country which are highly affordable.

Read
March 26, 2010
Costa Rica Tourism Report
After increasing from 2.06 million in 2006 to 2.52 million in 2008, the number of tourism arrivals dipped to an estimated 2.27 million in 2009. Arrival numbers are forecast to increase in 2010 and to grow at an average rate of 8% until the end of our forecast period in 2014.

Read
March 26, 2010
American Airlines Launches Nonstop Service From New York to San José, Costa Rica
American Airlines announced in February that it will launch nonstop service between New York\'s John F. Kennedy International Airport (JFK) and San Jose, Costa Rica (SJO), on April 6.

Read
March 26, 2010
"A Lie" That There Are Barrios In San José That Even Police Will Not Enter
In a show of force to dispel the lie that there are "barrios" in San José that not even the police will enter, as the Organismo de Investigación Judicial (OIJ), backed up by the Fuerza Pública, descended on one of San José's most conflicted areas, the Aguantafilo in Hatillo.

Read
March 26, 2010
1.275 Kg Of Cocaine Seized In Quepos
With the help of the US Drug Enforcement Agency (DEA), Costa Rican police have seized more 1.275 kilograms (more than a tonne) of cocaine from a drug trafficking ring in Quepos.

Read
March 25, 2010
Dollar Drops To ¢518. Ouch!
The exchange rate posted by the Banco Central (Central Bank) this Thursday morning is ¢518.51 colones for each US dollar for the buy and ¢528.78 for the sell, a drop of ¢12.36 and ¢12.52, respectively, from Monday's opening.

Read
March 25, 2010
The Real Deal
Nine ministers and cabinet heads have been named by president-elect Laura Chinchilla. They are pretty much the same recycled group of people that have held the reigns of power whenever a member of the Liberacion Nacional party got elected president.

Read
March 24, 2010
A Ticket For El Rusho To Costa Rica
Talk radio host Rush Limbaugh can move to Costa Rica now if he pleases. A website called ATicketForRush.com has raised enough money for a plane ticket for Limbaugh after he said he\'d move to the South American country if Obamacare passes.

Read
March 23, 2010
Judge Defends His Decision To Let Drunk Driver Free
Drivers caught under the influence of alcohol have a new ally, the criminal court judges that defy the work of the Policía de Tránsito in taking drunk drivers off the roads.

Read
March 23, 2010
What Will Oscar Arias Do After May 8th?
Oscar Arias is getting ready to step down as president on May 8, when he hands over the presidential chair to his protegé, Laura Chinchilla. But what will Arias do once he is without a job?

Read
» OUR LIVES
Weather:

The temperature has backed off to normal. Thankfully. It's been beautiful this week.



Residency:

No info. I've asked but the country is shut down for Semana Santa (Easter Week). Nothing will happen on these files for at least another 10 days....



Re-Phoning:

For years, I've had a TDMA technology phone. ICE has threatened to phase it out, extended the support, and now has finally issued a deadline for termination of support. I had to switch to a GSM phone and in order to keep the same number, to a GSM-3G. But since the number was not in my name, I had to get the person who had the number to agree to transfer the number to the new phone. She did agree...a little quirk here in CR which is a carry over from years before when ICE didn't have many lines....I bought the use of the line from Sylias's wife and have used it ever since. At that time, it cost me about $500 but that was my only option. Now I have to learn a new phone (I really don't want to waste several days doing this and with a 135 page manual, I'm not going to be happy. However, this too will pass and I should be back in the phone business in a few days.... At least I could keep my same number and same simple plan.

Brian, Lita, Hugo, irreverent Vicka, the pigeon toed parrot, and the newbies — Chico and Chica.



Brian C. Timmons, Newsletter Author
Residencias Los Jardines/Hacienda El Dorado - Developer
Cell: (506) 8305-3965
E-mail: brian@eldoradocostarica.com



For inquiries about availability of residences at Hacienda El Dorado or Residencias Los Jardines, contact:



Jan Kozak, Marketing Manager
Hacienda El Dorado
Rio Oro, Santa Ana
Costa Rica

Web: www.eldoradocostarica.com
E-mail: info@eldoradocostarica.com
MSN: jan.kozak.jr@hotmail.com
Skype: jan.kozak.jr

Tel (US) (+1) 647-477-5825
Cell: (+506) 8345-8018 / (+506) 8707-9930