Water Supply; WELL Water Testing; Rentals


» NOTES
When I started Residencias Los Jardines, I started writing a weekly news letter —determined to tell all the good, bad, and the ugly. I knew some readers would be interested in the construction process. I expected others might be interested in the lifestyle of two people who had decided to live outside the box. For others, the adventures of Lita, the parrot and the cat took on an entertainment saga all its own.

Residencias Los Jardines is finished. We periodically have resales and rental availability. Some readers may be interested in this information.

More and more, the content will be dominated by events of our new project, "El Dorado" for short. While the future is always uncertain, I again aim to tell it like it happens —the good, the bad, and the ugly, and that is what follows.

In an effort to make the format more interesting and visually appealing and to field inquiries re. El Dorado, the news letter is now being distributed by Jan Kozak, Marketing Manager, Hacienda El Dorado. I will remain the author.

Brian C. Timmons, Author
Residencias Los Jardines/Hacienda El Dorado - Developer
E-mail: brian@eldoradocostarica.com

YOU CAN ALSO VIEW THE COMPLETE VERSION ONLINE AT:

https://www.eldoradocostarica.com/English/Newsletter/index.php

» CONSTRUCTION LOG
INVU--AyA ....AyA reps that our consultants had been working with were none too pleased when we announced that a different part of the organization had granted the well concession. They felt we were duplicite. Well, We originally started asking for a well concession, then AyA in is self interested greed way, said no, we we could built a system for them, give it to them and then we could buy water from them. We had been working on each method in parallel since we had learned we couldn't trust only one solution. It just took both of the divisions forever to work with us because they kept throwing the presentations to a different person each time (4 times when they are only suppose to have 1 review) and at each new AyA review , the new reviewer would had his only little quirks. The last proposed revision took us back on a number of the issues to that we had originally submitted. We had come full circle and 4 mo. later. And then the well concession came though.

AyA Water Service Upgrade: On Thursday we actually saw the installation of an 8 or 10" water line not far from El Dorado and read an article that the whole Santa Ana area would, over the next two years, be upgraded. The system engineers have known they had unreliable quality and quantity of water and applied for international grants to fund it. Those grants have been awarded and they have started construction. The area we are in, Bario Espana, was mentioned in the article as being one of the specific areas slated for upgrading. I guess they thought they had a gringo to build part of it it for them. Sometimes waiting and delay is the right strategy.

Marketing:
Now that we have the water concession, this means we are back to having a well. The cliient has focused on the building lot next to the well. Since we now have to dedicate this area as common element area as per rules and regulations of AyA we have to wait and see how this affects Lot #17 and the design modifications.

Website: I haven't started making the changes.
» RESIDENCIAS LOS JARDINES
AyA: We've applied to be disconnected from them. This $420 standby insurance wasn't necessary.

Mosquitoes: Spraying / fogging seems to have been effective. No complaints. The first guy wanted $550; we found someone for $210.

Pool Lights: We finally got this two hour project completed after a week and a half. It is again working although it required some creativity to deal with the unavailability of the original bulbs.
Sales Activity:
The sale of 111 is progressing to the closing date--April 15.
Unit 106A: $155,000
Unit 107: $270,000

See Descriptions and photos below.
Rental Vacancies:
We have one vacancy coming up:

Unit 121: April 1 $1,700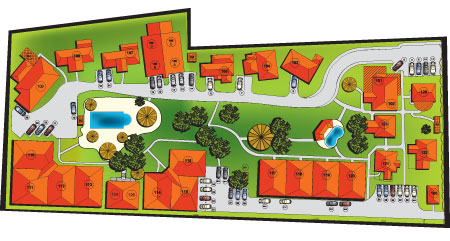 Unit #107 - For Sale $270,000 - FURNISHED

Total Area (Sq Ft): 1716
Total area (Sq M): 158
Bedrooms: 2
Bathrooms: 2.5
Floor(s): 2 Story
Type: Detached
Furnished: Yes

This 1,716 sf. (plus parking for one car) two story, detached house, with three terraces, two bedrooms (one on each floor) and upstairs master suite is a beautiful home. This home consists of two VERY large bedrooms (one on each floor) with en-suite bathrooms and a powder room, each with large closets with extensive built-ins for personal organization. The vaulted living room and ground floor bedroom ceilings as well as the master bedroom on the 2nd floor, provide a feeling of grandeur while allowing the warmer air to rise and exit through the ceiling ventilating system. There are three TVs (one in each bedroom and one in the living room.) This is a beautiful home. There is a rough-in for a dishwasher in the kitchen area.
Read More
Unit #
106A

--

For

Sale

$155,000 - FURNISHED (Leased at $1,000 pr month until January 2011)

Total Area (Sq Ft):

1250


Total area (Sq M):

120


Bedrooms:

2


Bathrooms:

2.5


Floor(s):

Ground Floor


Type:

Apartment


Furnished:

Yes




This is a fully furnished 2-bedroom unit situated in a 2-story building, which has two units on the ground floor and two units on the 2nd. floor. Each unit is the same size (1,250sf) divided into 800 sf of interior space and 450 sf of covered front and back terraces. UnitS 106 A

and B are on the ground floor; Units

106

C and D are on the 2nd. Floor. The solid masonry demising wall (common wall) as well as the 5" concrete slab prevent sound transference.
Read More
Unit 121 - For Rent $1,700 (Available April 1, 2010)
Total Area (Sq Ft):
1423
Total area (Sq M):
131
Bedrooms:
2
Bathrooms:
2.5
Floor(s):
2 Story
Type:
Detached
Furnished:
Yes
This two story, detached 1,423 sf home + parking for one car has two bedrooms, 2 ½ bathrooms and a 2nd. floor covered terrace.
The open railed wrought iron cement stair case leads to the 2nd. level where the master bedroom with en-suite master bathroom as well as 2nd. bedroom and en-suite bathroom are located. Also accessed from the 2nd. floor hallway is the covered terrace.
This is a very nicely furnished home with a good floor plan for those wanting two floors.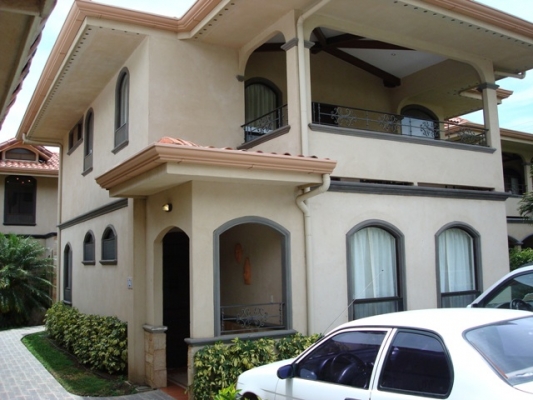 Read More
» NEWS FROM COSTA RICA
March 20, 2010
Next Central Bank President Criticized By Importers
It's been less than 24 hours since Rodrigo Bolaños was named the new head of the Banco Central de Costa Rica (BCC), the Central Bank, taking office on June 15th and already the flood of critics has begun.

Read
March 20, 2010
Central Bank President Leaves Strong Legacy
Gutiérrez will be remembered for steady hand in economic crisis

Read
March 19, 2010
Costa Rica Sees Increase In Tourists In The First Two Months Of The Year
The Instituto Costarricense de Turismo (ICE) says that 426.000 visitors came to Costa Rica during the first two months of the year, 37.000 more than the same period last year.

Read
March 18, 2010
Minister Arias Asks Legislators To Deal Calmly With The Tránsito Reforms; Not Time To Talk Veto
The controversy surrounding the new Ley de Tránsito (Traffic Act) has taken another twist, now the government of Oscar Arias is asking the legislative assembly to take its time to in dealing with the reforms approved the week earlier and found to be with technical errors and problems with constitutionality by a legislative commission.

Read
March 18, 2010
Indications Are That Economic Crisis In Costa Rica Is Almost Over
All indicators point out that the economic crisis is slowly coming to an end and the country is recuparating. Supporting that is the fact that there have been 35.995 new jobs created between August 2009 and January 2010.

Read
March 18, 2010
Exchange Rate To Move To "Floating Rate", Said President-Elect Chinchilla
President-elect, Laura Chinchilla, said on Wednesday that the exchange rate will move from the current policy of bands to a floating rate system.

Read
» OUR LIVES
Weather:

The temperature has backed off to normal. Thankfully.

Residency: I've asked the lawyer to check; hope to get feedback on Monday. Got the feedback...wait anther 10 days...we'll see.

Misc: Two friends left and another friend showed up and is currently with us for a week. We all met around 1972 when we lived a few houses from each other. He returned for the 2nd. stage of three teeth implants. However, he got bad information; he needs to wait at least 6 mo. between the extraction which he had last time he was here and putting in the anchor. The bone has to return to a certain density before the anchor will work. As of now, he will return in approximately 4 mo.

Villalobos--"The Brothers": about three weeks ago, the first and largest of two payments showed up in my account. We'll see if the second ever shows up. This was a long recovery period but fortunately for me, I did recover some of my money. I know two others who for reasons which aren't entirely clear, were no on the court awarded beneficiaries.


Brian, Lita, Hugo, irreverent Vicka, the pigeon toed parrot, and the newbies — Chico and Chica.



Brian C. Timmons, Newsletter Author
Residencias Los Jardines/Hacienda El Dorado - Developer
Cell: (506) 8305-3965
E-mail: brian@eldoradocostarica.com



For inquiries about availability of residences at Hacienda El Dorado or Residencias Los Jardines, contact:



Jan Kozak, Marketing Manager
Hacienda El Dorado
Rio Oro, Santa Ana
Costa Rica

Web: www.eldoradocostarica.com
E-mail: info@eldoradocostarica.com
MSN: jan.kozak.jr@hotmail.com
Skype: jan.kozak.jr

Tel (US) (+1) 647-477-5825
Cell: (+506) 8345-8018