WELL Concession Granted!


» NOTES
When I started Residencias Los Jardines, I started writing a weekly news letter —determined to tell all the good, bad, and the ugly. I knew some readers would be interested in the construction process. I expected others might be interested in the lifestyle of two people who had decided to live outside the box. For others, the adventures of Lita, the parrot and the cat took on an entertainment saga all its own.

Residencias Los Jardines is finished. We periodically have resales and rental availability. Some readers may be interested in this information.

More and more, the content will be dominated by events of our new project, "El Dorado" for short. While the future is always uncertain, I again aim to tell it like it happens —the good, the bad, and the ugly, and that is what follows.

In an effort to make the format more interesting and visually appealing and to field inquiries re. El Dorado, the news letter is now being distributed by Jan Kozak, Marketing Manager, Hacienda El Dorado. I will remain the author.

Brian C. Timmons, Author
Residencias Los Jardines/Hacienda El Dorado - Developer
E-mail: brian@eldoradocostarica.com

YOU CAN ALSO VIEW THE COMPLETE VERSION ONLINE AT:

https://www.eldoradocostarica.com/English/Newsletter/index.php

» CONSTRUCTION LOG
INVU--AyA .....On Friday we received "in hand" the well concession approval. As stated before, it is a "provisional" approval because in a condominium, the well has to be owned by the condominium corporation. Since we don't have one yet--tone of two objectives over the next months, we have been granted "provisional use". When the condominium is established, we return to the granting authority, show the condo paperwork and registration number, and supposedly, the "provisional" status will be removed and the concession dedicated to the condo. corp. This makes sense.

What happens now with the other method of securing water from AyA? The well effort took about three years work. First we could use the water, then AyA gave a different interpretation (the cynic in me says they felt they could squeeze us into building a system for the area that they had failed to build but were always going to...yeah, yeah..... Because they screwed us around with different criteria--by "law" they have one and only one review of items submitted to INVU. Whatever deficiencies or "wants" they have must be identified in the first review. In our case, it seems that each time we re-submitted (4 times) they were reviewed, by a different person who subsequently made changes and the some of the last changes brought us full circle to what was originally submitted, This seemed to be a completely useless, disorganized, fruitless exercise. I guess we are now going to show AyA-Invu that we do have water (right hand didn't know what the left hand was doing) so we are now NOT interested in building your system. We still have to get Aya-INVU to sign off on our application. I'd like to be the fly on the wall at this meeting.

Marketing:
Our client has pretty well settled on the design which works best for them. Very similar...only a bit larger terrace which is a good addition......

Website: I haven't started making the changes.
» RESIDENCIAS LOS JARDINES
AyA (Water):
We've had our fight with AyA over this. We lost....I'm not surprised. Our solution is to completely disconnect from their system. I'll be very happy not to be involved with this organization. All my experiences have been negative....
Mosquitoes:
we did a limited spraying and fogging for mosquitoes. They seem to have settled into some areas of the compound. We tried to use the same company as before but after several weeks of no shows and promises, moved on to another company.
Pool Lights:
Since it was built, we used a specialized bulb which works under water for accent lighting made by Malibu out of California. That bulb has been discontinued. Since we have some fixed sized housings, we needed something the same physical size and would tolerate water and be 12 V. When I gave up on finding the Malibu bulbs, we had to develop a different solution. We are in the process...we have all the component parts, now I just have to wait for the electrician to get over an infection.
Sales Activity:
The sale of 109 closed. The sale of 111 is progressing to the closing date.
Unit 106A: $155,000
Unit 107: $270,000

See Descriptions and photos below.
Rental Vacancies:
We have a number of vacancies coming up:
Unit 109: April 1 (to Oct. 31, $1,650 (pending lease)
Unit 115: March 16 $1,650 (pending lease)
Unit 121: April 1 $1,700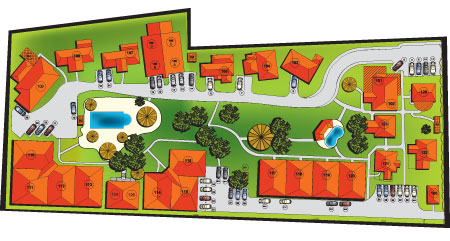 Unit #107 - For Sale $270,000 - FURNISHED

Total Area (Sq Ft): 1716
Total area (Sq M): 158
Bedrooms: 2
Bathrooms: 2.5
Floor(s): 2 Story
Type: Detached
Furnished: Yes

This 1,716 sf. (plus parking for one car) two story, detached house, with three terraces, two bedrooms (one on each floor) and upstairs master suite is a beautiful home. This home consists of two VERY large bedrooms (one on each floor) with en-suite bathrooms and a powder room, each with large closets with extensive built-ins for personal organization. The vaulted living room and ground floor bedroom ceilings as well as the master bedroom on the 2nd floor, provide a feeling of grandeur while allowing the warmer air to rise and exit through the ceiling ventilating system. There are three TVs (one in each bedroom and one in the living room.) This is a beautiful home. There is a rough-in for a dishwasher in the kitchen area.
Read More
Unit #
109

--

For

Rent $1,650 - FURNISHED - Available April 1, 2010 (7 month lease only)


Total Area (Sq Ft): 1506
Total area (Sq M):140

Bedrooms:

2

Bathrooms:

2

Floor(s):

1 Story

Type:

Detached

Furnished:

Yes

This single story home (1506 sf. + parking

for

one car) is detached, has two bedrooms, two bathrooms, home office, living room wall / entertainment center along with a built in office and a semi-private terrace. In addition, it has a vaulted ceiling in the "great" room and two skylights. The covered entrance way is suitable

for

two chairs located next to a covered garden area. Once through the impressive front door, you enter the "great room" which houses the kitchen, dining room, office and living room. Upon entering, there is a built in wooden hutch surfaced with granite—it matches all the built-in furniture in the great room. There is a clothes washer and dryer off the 2nd bedroom. It may also be used

for

storage.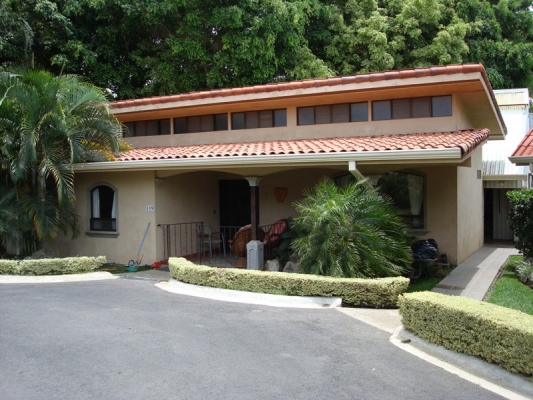 Read More
Unit #
106A

--

For

Sale

$155,000 - FURNISHED (Leased at $1,000 pr month until January 2011)

Total Area (Sq Ft):

1250


Total area (Sq M):

120


Bedrooms:

2


Bathrooms:

2.5


Floor(s):

Ground Floor


Type:

Apartment


Furnished:

Yes




This is a fully furnished 2-bedroom unit situated in a 2-story building, which has two units on the ground floor and two units on the 2nd. floor. Each unit is the same size (1,250sf) divided into 800 sf of interior space and 450 sf of covered front and back terraces. UnitS 106 A

and B are on the ground floor; Units

106

C and D are on the 2nd. Floor. The solid masonry demising wall (common wall) as well as the 5" concrete slab prevent sound transference.
Read More
Unit #
115

- Available for Rent $1,650 (March 15, 2010)

Total Area (Sq Ft):1345
Total area (Sq M):124
Bedrooms:2
Bathrooms:2
Floor(s):1 Story
Type:Attached
Furnished:Yes


This 1,345 sf single floor home includes a 200 sf private terrace plus parking for one car. It is attached on two sides by a 6" solid concrete block wall which prevents sound transfer. This is an extremely well decorated home with lots of natural wood built ins.
Read More
Unit 121 - For Rent $1,700 (Available April 1, 2010)
Total Area (Sq Ft):
1423
Total area (Sq M):
131
Bedrooms:
2
Bathrooms:
2.5
Floor(s):
2 Story
Type:
Detached
Furnished:
Yes
This two story, detached 1,423 sf home + parking for one car has two bedrooms, 2 ½ bathrooms and a 2nd. floor covered terrace.
The open railed wrought iron cement stair case leads to the 2nd. level where the master bedroom with en-suite master bathroom as well as 2nd. bedroom and en-suite bathroom are located. Also accessed from the 2nd. floor hallway is the covered terrace.
This is a very nicely furnished home with a good floor plan for those wanting two floors.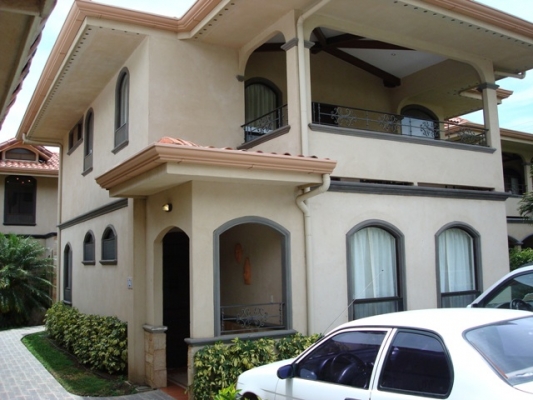 Read More
» NEWS FROM COSTA RICA
March 13, 2010
National Stadium Celebrates 1st Anniversary
Today, Friday 12 March 2010, marks the anniversary of the laying of the first stone of the construction of the new national stadium or "Nido Chino" (Chinese Nest), as it sometimes referred to, in the Sabana park.

Read
March 13, 2010
Temperatures Hit Record Highs
The last couple of days had been hot in Costa Rica, hotter than normal.

Read
March 13, 2010
Charting a New Course
The 33 teenagers who walked across a makeshift stage to receive their diplomas at the Experimental Bilingual School of Palmares last week weren't just any high-school graduates.

Read
March 12, 2010
UAE and Costa Rica Establish Diplomatic Relations
The United Arab Emirates and the Republic of Costa Rica have established diplomatic relations on ambassador level. Both countries signed a joint communiqué on Thursday at the UN headquarters establishing the diplomatic relations.

Read
March 11, 2010
"Green" Vehicles Will Be Cheaper Next Month
Beginning in April, the price of vehicles friendly to the environment will drop significantly with the elimination of the Impuesto Selectivo de Consumo (ISC) regardless of engine size.

Read
March 11, 2010
Next Security Minister Says He Will Be Tough On Crime
The future ministro de Seguridad, José María Tijerino, promises more police in the streets and more resources for security and the "professionalism" of police officers once he takes office on May 8th.

Read
March 11, 2010
ICE Accused Of Failing To Reinstate TDMA Customers
The Defensoría de los Habitantes (Ombudsman's office) has intervened on behalf of customers of ICE's TDMA cellular service, denouncing that the public institution is not TDMA cellular lines if a telephone is lost or service is suspended, forcing customers to switch over to 3G.

Read
March 11, 2010
Kim Kardashian Slips Into A Bikini For A Romantic Beach Stroll In Costa Rica
She puts in plenty of hours to get her body looking good, so it's no surprise Kim Kardashian takes any opportunity to show it off.

Read
March 10, 2010
Legislators Approve Drop In Traffic Fines, With Exceptions
The country's legislators approved to reduce the fines in the new Ley de Tránsito that went into effect on March 1, 2010. However, the reduction in fines apply only those traffic violations that do not involve highly dangerous behaviour like drinking and driving and reckless driving.

Read
March 10, 2010
Job Growth Expected In Costa Rica
Manpower in Costa Rica says that Costa Rican businesses are expected to be increasing their hiring by 28% between April and June, while only 5% will be reducing staff and 66% will not be altering its staff size.

Read
» OUR LIVES
Weather:

The weather has been HOTl....usually around 90F or 30C

Residency: I've asked the lawyer to check; hope to get feedback on Monday.

Misc: I have a long time friend visiting from Toronto along with a friend of his. When walking into Pozos for milk an other essentials, the friend fell into a hole in the sidewalk. The manhole cover was missing...... Well, welcome to CR!. He survived with a few scrapes, bruises, and broken camera..... and drivers wonder why pedestrians walking in the streets.....Is it any wonder? Showed them the new highway to Jaco....left at 11am, returned at 5......plenty of time to see what we wanted to see--an easy drive. After eating at Kiante's in Belen, we stopped off to see what was going on at Applebee's for a drink. Couldn't believe the amount of people spending lots of money there and at Brad's.


Brian, Lita, Hugo, irreverent Vicka, the pigeon toed parrot, and the newbies — Chico and Chica.



Brian C. Timmons, Newsletter Author
Residencias Los Jardines/Hacienda El Dorado - Developer
Cell: (506) 8305-3965
E-mail: brian@eldoradocostarica.com



For inquiries about availability of residences at Hacienda El Dorado or Residencias Los Jardines, contact:



Jan Kozak, Marketing Manager
Hacienda El Dorado
Rio Oro, Santa Ana
Costa Rica

Web: www.eldoradocostarica.com
E-mail: info@eldoradocostarica.com
MSN: jan.kozak.jr@hotmail.com
Skype: jan.kozak.jr

Tel (US) (+1) 647-477-5825
Cell: (+506) 8345-8018