AyA, ICE, & Updates


» NOTES
When I started Residencias Los Jardines, I started writing a weekly news letter —determined to tell all the good, bad, and the ugly. I knew some readers would be interested in the construction process. I expected others might be interested in the lifestyle of two people who had decided to live outside the box. For others, the adventures of Lita, the parrot and the cat took on an entertainment saga all its own.

Residencias Los Jardines is finished. We periodically have resales and rental availability. Some readers may be interested in this information.

More and more, the content will be dominated by events of our new project, "El Dorado" for short. While the future is always uncertain, I again aim to tell it like it happens —the good, the bad, and the ugly, and that is what follows.

In an effort to make the format more interesting and visually appealing and to field inquiries re. El Dorado, the news letter is now being distributed by Jan Kozak, Marketing Manager, Hacienda El Dorado. I will remain the author.

Brian C. Timmons, Author
Residencias Los Jardines/Hacienda El Dorado - Developer
E-mail: brian@eldoradocostarica.com

YOU CAN ALSO VIEW THE COMPLETE VERSION ONLINE AT:

https://www.eldoradocostarica.com/English/Newsletter/index.php

» CONSTRUCTION LOG
INVU: .....a day in Costa Rica is much longer than 24 hrs....

"Well" News: surprise, surprise, we're still waiting...

Marketing:
Our client has pretty well settled on the design which works best for them. Very similar...only a bit larger terrance which is a good addition......

Website: I haven't started making the changes.
» RESIDENCIAS LOS JARDINES
ICE (phone): One of our residents called ICE's listed complaint number. He spent a little of 8 min. explaining his complaint and got no satisfaction. We distributed the phone bills for last month, and he noticed a C10,000+ call to a number and company name he didn't recognize. He protested to us that it wasn't his call. We called the number and it was ICE's 800 # complaint line. We were on the line for 42 sec. and were charged C1,500 and we hadn't even gotten through the menu. We told him about this and all concluded that this is ICEs way to discourage complaints.

AyA (Water): For the past several months our water bill has been over $200. This made no sense since we do not use AyA water; we use our own well water and even though we have two 1/2" connections each with a meter for back up water, the pipes have valves which are closed. Each month we checked the water consumption to see that they were read properly. They were. We felt that someone had tapped into our water lines but couldn't figure out how it had been done. We asked AyA reps to come out. The second time they did they explained that they had updated their records and we were not being charged a base rate for each of 29 houses. The charge had nothing to do with consumption, just the basic service even though we have only two 1/2" lines and two meters. We have ordered a disconnect; our well water has been more reliable and better quality than AyAs and at $200+ a month for "insurance" that we haven't needed for two years, it seems a reasonable risk.

Sales Activity:
Agreements are in place for both 111 and 109. We are awaiting the agreed to closing dates.
Unit 106A: $155,000
Unit 107: $270,000

See Descriptions and photos below:
Rental Vacancies:
We have a number of vacancies coming up:
Unit 109: April 1 (to Oct. 31, $1,650
Unit 115 March 16 $1,650
Unit 121 April 1 $1,700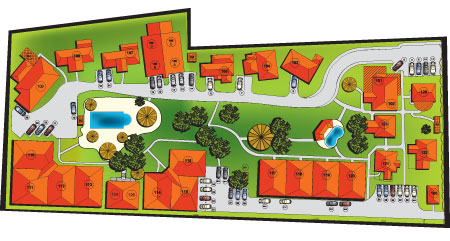 Unit #107 - For Sale $239,000 - FURNISHED

Total Area (Sq Ft): 1716
Total area (Sq M): 158
Bedrooms: 2
Bathrooms: 2.5
Floor(s): 2 Story
Type: Detached
Furnished: Yes

This 1,716 sf. (plus parking for one car) two story, detached house, with three terraces, two bedrooms (one on each floor) and upstairs master suite is a beautiful home. This home consists of two VERY large bedrooms (one on each floor) with en-suite bathrooms and a powder room, each with large closets with extensive built-ins for personal organization. The vaulted living room and ground floor bedroom ceilings as well as the master bedroom on the 2nd floor, provide a feeling of grandeur while allowing the warmer air to rise and exit through the ceiling ventilating system. There are three TVs (one in each bedroom and one in the living room.) This is a beautiful home. There is a rough-in for a dishwasher in the kitchen area.
Read More
Unit #
109

--

For

Rent $1,650 - FURNISHED - Available April 1, 2010 (7 month lease only)


Total Area (Sq Ft): 1506
Total area (Sq M):140

Bedrooms:

2

Bathrooms:

2

Floor(s):

1 Story

Type:

Detached

Furnished:

Yes

This single story home (1506 sf. + parking

for

one car) is detached, has two bedrooms, two bathrooms, home office, living room wall / entertainment center along with a built in office and a semi-private terrace. In addition, it has a vaulted ceiling in the "great" room and two skylights. The covered entrance way is suitable

for

two chairs located next to a covered garden area. Once through the impressive front door, you enter the "great room" which houses the kitchen, dining room, office and living room. Upon entering, there is a built in wooden hutch surfaced with granite—it matches all the built-in furniture in the great room. There is a clothes washer and dryer off the 2nd bedroom. It may also be used

for

storage.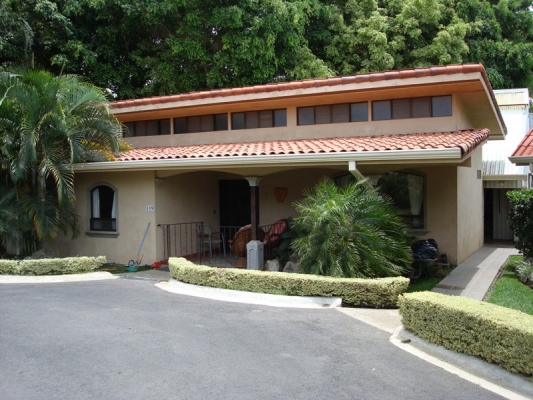 Read More
Unit #
106A

--

For

Sale

$155,000 - FURNISHED (Leased at $1,000 pr month until January 2011)

Total Area (Sq Ft):

1250


Total area (Sq M):

120


Bedrooms:

2


Bathrooms:

2.5


Floor(s):

Ground Floor


Type:

Apartment


Furnished:

Yes




This is a fully furnished 2-bedroom unit situated in a 2-story building, which has two units on the ground floor and two units on the 2nd. floor. Each unit is the same size (1,250sf) divided into 800 sf of interior space and 450 sf of covered front and back terraces. UnitS 106 A

and B are on the ground floor; Units

106

C and D are on the 2nd. Floor. The solid masonry demising wall (common wall) as well as the 5" concrete slab prevent sound transference.
Read More
Unit #
115

- Available for Rent $1,650 (March 15, 2010)

Total Area (Sq Ft):1345
Total area (Sq M):124
Bedrooms:2
Bathrooms:2
Floor(s):1 Story
Type:Attached
Furnished:Yes


This 1,345 sf single floor home includes a 200 sf private terrace plus parking for one car. It is attached on two sides by a 6" solid concrete block wall which prevents sound transfer. This is an extremely well decorated home with lots of natural wood built ins.
Read More
Unit 121 - For Rent $1,700 (Available April 1, 2010)
Total Area (Sq Ft):
1423
Total area (Sq M):
131
Bedrooms:
2
Bathrooms:
2.5
Floor(s):
2 Story
Type:
Detached
Furnished:
Yes
This two story, detached 1,423 sf home + parking for one car has two bedrooms, 2 ½ bathrooms and a 2nd. floor covered terrace.
The open railed wrought iron cement stair case leads to the 2nd. level where the master bedroom with en-suite master bathroom as well as 2nd. bedroom and en-suite bathroom are located. Also accessed from the 2nd. floor hallway is the covered terrace.
This is a very nicely furnished home with a good floor plan for those wanting two floors.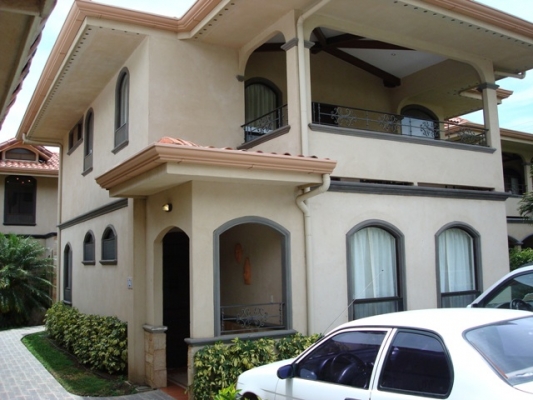 Read More
» NEWS FROM COSTA RICA
March 06, 2010
Costa Rican Drivers Rack Up ¢200 Million Colones In Fines In First Five Days Of New Traffic Law
The new traffic law, the Ley de Tránsito, went into effect only five days ago and in those first fivr days a total of 2.225 drivers are having to pay fines of up to ¢200 million colones collectively, for an average of ¢90.000 colones each.

Read
March 06, 2010
New Costa Rica Marina Set to Open
A new marina near Quepos is set to open in April, adding oft-requested boating facilities to Costa Rica's Pacific coastline.

Read
March 05, 2010
Expo Movíl 2010 With Great Deals
Although the new Ley de Tránsito that went into effect on Monday terrifies most drivers in Costa Rica, it did not stop attendance at the Expo Movíl 2010 car show that began on Thursday.

Read
March 04, 2010
Oscar And Laura To Meet With Hilary Clinton in Costa Rica Today
US Secretary of State Hillary Clinton arrived early this morning in Costa Rica to meet the president Oscar Arias and president-elect Laura Chinchilla, as well as ministers from Latin America to discuss economic and democracy issues.

Read
March 04, 2010
Irazú Volcano Panics Residents With 9 Tremors Monday Night
The Irazú volcano sent a panic chill in the neighbouring communities last night, as residents report at least 9 tremors from the volcano during a 30 minute period.

Read
March 01, 2010
Costa Rica Wakes Up To Two New Impacting Laws
Today, March 1, 2010, Costa Rica wakes to two impacting laws, the new Ley de Tránsito - traffic law - that will change driving habits in Costa Rica and the Ley de Migración y Extranjería - immigration law - that tightens immigration controls.

Read
» OUR LIVES
Weather:

The weather continues to be unusual....some cool, overcast days, little sprinkle sometimes, light to no winds..

Residency: Waiting for the files to be assigned to a case worker.

Property Management: Last weeks description (rant) of my previous several weeks hit a cord with a number of people. I received a number of responses saying in effect been there, done that and recognize what you are talking about. One person thought I was "deranged" and was not helping Residencias Los Jardines. I don't really understand this since I was working on behalf of the owners in each case by insisting that their tenant fulfilled the contract in each case. One tenant wanted me to pay him his deposit the day he left. The contract says within 45 days but in practice, we usually do it after we have done a check out of the condition and inventory. I insisted on waiting until I had the place cleaned up and was abgle to do that inventory and until the electrical bill came in so I could included that and because I suspected he had not paid the previous month. I was correct; he owed ICE a total of $234. The other tenant was the same plus he had been continually late in paying so I suspected he was would try to skip without paying the last month's rent. I used some leverage and he paid. In each case the tenant had signed a 12 mo. lease and the rental agent had been paid the full 12 mo. commission. The owner was going to be out those months commission; the lease states very clearly that if the tenant terminates early, the unearned portion of the lease commission will be deducted from the deposits. As an epilogue: both tenants moved out this week: we returned the deposits owed them and we are all happier.

Costa Rica and Laws: One would think that after working on laws, ie. Immigration Law and the new driving laws, for years, that when passed, they might be understandable, well thought out, with inconsistencies eliminated, with rules and regulations of enforcement, with government workers trained in the contents and application of the new laws....... perhaps in any country other than CR that might be a reasonable thought...... here, however, both laws have been promulgated to chaos, confusion, ignorance, inconsistencies, etc, etc, etc.... If one takes this process seriously, one will be seriously deluded. Best to think all is a work in progress ...... It makes life difficult when one doesn't know what the rules are, when the keep changing, when there are different enforcements and interpretations, and incomplete issues. El Dorado is a product of that.....to that I can now add driving and our residency applications.

Brian, Lita, Hugo, irreverent Vicka, the pigeon toed parrot, and the newbies — Chico and Chica.



Brian C. Timmons, Newsletter Author
Residencias Los Jardines/Hacienda El Dorado - Developer
Cell: (506) 8305-3965
E-mail: brian@eldoradocostarica.com



For inquiries about availability of residences at Hacienda El Dorado or Residencias Los Jardines, contact:



Jan Kozak, Marketing Manager
Hacienda El Dorado
Rio Oro, Santa Ana
Costa Rica

Web: www.eldoradocostarica.com
E-mail: info@eldoradocostarica.com
MSN: jan.kozak.jr@hotmail.com
Skype: jan.kozak.jr

Tel (US) (+1) 647-477-5825
Cell: (+506) 8345-8018