Rentals, Sales, Accident!


» NOTES
When I started Residencias Los Jardines, I started writing a weekly news letter —determined to tell all the good, bad, and the ugly. I knew some readers would be interested in the construction process. I expected others might be interested in the lifestyle of two people who had decided to live outside the box. For others, the adventures of Lita, the parrot and the cat took on an entertainment saga all its own.

Residencias Los Jardines is finished. We periodically have resales and rental availability. Some readers may be interested in this information.

More and more, the content will be dominated by events of our new project, "El Dorado" for short. While the future is always uncertain, I again aim to tell it like it happens —the good, the bad, and the ugly, and that is what follows.

In an effort to make the format more interesting and visually appealing and to field inquiries re. El Dorado, the news letter is now being distributed by Jan Kozak, Marketing Manager, Hacienda El Dorado. I will remain the author.

Brian C. Timmons, Author
Residencias Los Jardines/Hacienda El Dorado - Developer
E-mail: brian@eldoradocostarica.com

YOU CAN ALSO VIEW THE COMPLETE VERSION ONLINE AT:

https://www.eldoradocostarica.com/English/Newsletter/index.php


» CONSTRUCTION LOG
INVU -
No info. on the status of our application. We wait.
Marketing:
We have a meeting set for this next week to discuss the purchase of one unit.

Website: I haven't started making the changes.
» RESIDENCIAS LOS JARDINES
Septic Woes:

so far, so good. We have one small finishing detail to do; hopefully done on Saturday. Question: Why is it that wet cement brings out the kid in people and they just HAVE TO step in it or otherwise make their mark for posterity? I was a kid once and had the same urge but some people grow up; some don't. The finishing detail is to replace the slightly reinforced cement cap with a steel cap. This has been an exercise in frustration....first quote was way too high. Went to a guy we had used before for steel work; got a quote for labor only; fine, deal accepted. aaaaaaahhhhhh but we had to bring him and his welder to the site where the steel was.......o.k. but aaaaaaaahhhhhhh#2......his welder wasn't working but would be fixed by Friday and the lid ready by Saturday......on Friday I was told that for reasons I don't understand, that he could not do the work for other reasons I don't fully understand but based on what I hear, I'm not pleased. We shop for another person....I draft another simple diagram with dimensions. the first version of the lid does not fit (it did not see it). I was proudlyshown the second version--and realized that my design had not been followed, that the screw up the first time culd and should have been seen, and the steel top place was upside down...... and that the diameter of the lid is too small--it does not cover the entire outsiide diameter of the tub it is suppose to cover. This is a total screw up and I'm burning.....

Invoicing System: Used the first time....it works fine and saves a lot of time.



Rental / Sales Activity:

I will be working this weekend on putting together the Purchase / Sales agreement on Unit 109. Another couple looking to purchase realize they don't yet have their financial ducks line up properly so will probably pass on doing anything now. We leased 108 to a Tico; it had been vacant about a week.

Rental Vacancies:

As sometimes happens in March / April, we have a high turnover. Two tenants have purchased houses so will be moving; one tenant is being relocated by his company, one couple wants to downsize, and one family is a bit noisy and will relocate to another unit, and another tenant wants to move closer to her work. We will relocate several people to better accommodate them and look for several new ones. The owner of one unit will keep it vacant at least for the time being to facilitate a sale.
Units for Sale/Lease: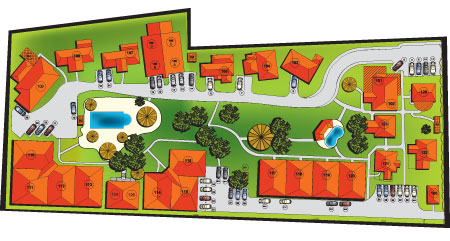 Unit #
109

--

For

Sale $214,900 - FURNISHED - Leased until March 30, 2010

S A L E P E N D I N G
Total Area (Sq Ft):
1506
Total area (Sq M):
140
Bedrooms:
2
Bathrooms:
2
Floor(s):
1 Story
Type:
Detached
Furnished:
Yes
This single story home (1506 sf. + parking
for
one car) is detached, has two bedrooms, two bathrooms, home office, living room wall / entertainment center along with a built in office and a semi-private terrace. In addition, it has a vaulted ceiling in the "great" room and two skylights. The covered entrance way is suitable
for
two chairs located next to a covered garden area. Once through the impressive front door, you enter the "great room" which houses the kitchen, dining room, office and living room. Upon entering, there is a built in wooden hutch surfaced with granite—it matches all the built-in furniture in the great room. There is a clothes washer and dryer off the 2nd bedroom. It may also be used
for
storage.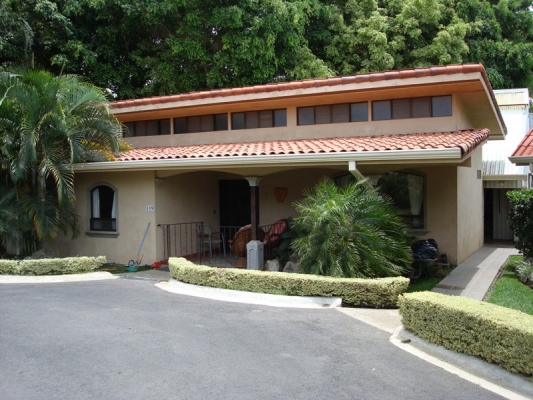 Read More
Unit #
111

--

For

Sale $195,000 SEMIFURNISHED* / Leased until Aug 2010 - $1,200 pr month

V A C A N T P O S S E S S I O N P O S S I B L E
* INCLUDED ARE: refrigerator, 6 burner gas range, built-in microwave/exhaust; stacked washer / dryer
,
curtains throughout,
a king and queen bed if desired.
Total Area (Sq Ft):
1738
Total area (Sq M):
161
Bedrooms:
2
Bathrooms:
2
Floor(s):
Single Floor
Type:
Attached
Furnished:
No
PRICE JUST GOT REDUCED FROM $200,000 TO $195,000. This corner home located in set of four homes, is very private. The entrance belies the 1,738 sf to be found on the other side of the entrance door. The short entrance hallway opens into a huge "
great room
" consisting of the kitchen, LR and DR. This room is truly of huge proportions including the 16' high vaulted ceiling. This vaulted ceiling has clear story windows
for
light and ventilation. Valance lighting surrounds the room and provides ambiance with its upward sighing lights as well as accent lighting with the recessed halogen lights. From the living room, a large sliding glass door leads onto a private covered terrace.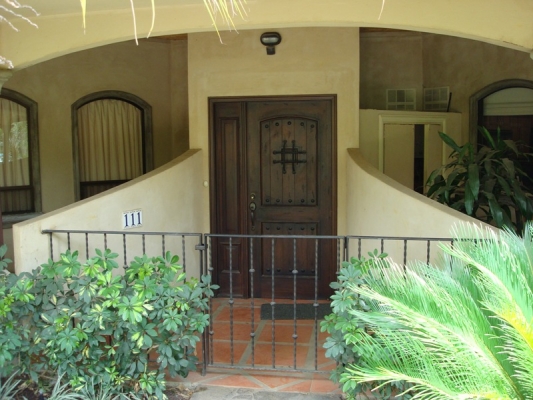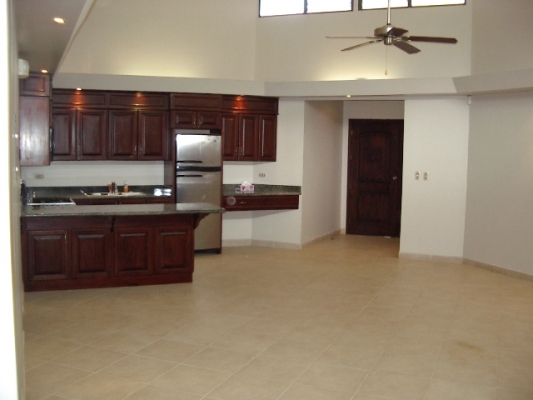 Read More
Unit #
106A

--

For

Sale

$155,000 - FURNISHED (Leased at $1,000 pr month until January 2010)

Total Area (Sq Ft):

1250


Total area (Sq M):

120


Bedrooms:

2


Bathrooms:

2.5


Floor(s):

Ground Floor


Type:

Apartment


Furnished:

Yes




This is a fully furnished 2-bedroom unit situated in a 2-story building, which has two units on the ground floor and two units on the 2nd. floor. Each unit is the same size (1,250sf) divided into 800 sf of interior space and 450 sf of covered front and back terraces. UnitS 106 A

and B are on the ground floor; Units

106

C and D are on the 2nd. Floor. The solid masonry demising wall (common wall) as well as the 5" concrete slab prevent sound transference.
Read More
» NEWS FROM COSTA RICA
February 07, 2010
Costa Rica Votes Today. Every Vote Counts.
Every vote counts and Costa Ricans are urged to get out today and vote. Some 2.8 million Costa Rican voters are being called on today to elect their president, two vice presidents, 57 deputies and 498 members of municipal councils.

Read
February 07, 2010
Candidates Pledge China-Led Recovery as Vote Nears
(Bloomberg) - Costa Ricans head to the polls for presidential elections this weekend with the leading candidate, Laura Chinchilla, pledging that a pending free-trade pact with China will power an economic rebound.

Read
February 06, 2010
How To Avoid Congestion On New San José - Caldera Highway? Increase The Tolls
Costa Ricans had been waiting more than thirty years for the road from San José to Caldera to be built, a road that promised to reduce the trip to the Pacific coast in less than an hour.

Read
February 06, 2010
Next President Faces Serious Challenges
Combating insecurity, corruption and poverty are the main challenges for the candidate who wins tomorrow's election, that is is up for grabs by nine contenders, three of which really have any chance of taking a majority of the votes.

Read
February 06, 2010
Young Vote Could Be Deciding Factor In Sunday's Presidential Election In Costa Rica
The 2010 presidential elections in Costa Rica may be decided by young voters more than ever, as they make up 42% of the voters or 1.2 million between the ages of 18 and 24 years of age. And this group is also shows the highest rate of abstention, according to the La Republica newspaper.

Read
February 06, 2010
Tourism Outlook? Depends Who You Ask
Chip Bramen says he goes to the beaches of Manuel Antonio in Quepos, on the central Pacific coast, nearly every day. He says the beaches are beautiful and calm and sunny. He also says they're vacant.

Read
February 02, 2010
Costa Ricans Cold On 3G Cellular Service
For some unexplained reason, Costa Ricans are not rushing to gobble up the cellular telephone lines as has occurred in the past. In fact, only 135.738 of the 950.000 3G cellular lines have been spoken for since the introduction last December.

Read
» OUR LIVES
Weather:

Warm and wonderful with mostly sunny skies.

Residency:

Our documents were DHLed to the CR Embassy in Canadian and are currently winging their way back to Immigration here in San Jose. This was a very efficient process. Up to now, the gathering of documents and packaging of them has been driven by me; the balance of the process is largely controlled by the CR Immigration machine......that is where horror stories originate--we'll just have to see what the process entails for us.



Crash--the end:

It seemed that the repair shop needed some information from the person who hit me; He refused to give it....I saw immediately how this was going to go so just finished the process via a small town repair shop. Total cost to remove, straighten, replace, repair the vinyl covering--C68,000. The culture here is such that Ticos don't like to take responsibility for errors they commit "no mi falta"..... I wasn't going to win anything in my lifetime and decided to spent $125 for the absence of a 3 mo. protracted hassle......



Great Accident: An 18 wheeler had to made a wide turn on a busy street. He was very careful to make sure on coming traffic stopped to allow him to make the turn.....this was on a busy but straight, clearly busy section of road. A small car thought he could pull a fast one by getting on the inside of the turn but got squeezed in the process. The body of the truck swung over the top of the small car crushing it 6-8 inches and the back tire carriage of the truck road up on the trunk of the car. All be cause some stupid idiot couldn't wait 3 min. and didn't think!!!!! No one was hurt. I also witnessed the collision of a motor cycle and a pick up truck..... guess who didn't win......

Three new Restaurants:

(Santa Ana) A chicken rotisserie opened in Santa Ana; it's expensive. We stopped at the new Bocas Bocas restaurant near the center of Santa Ana--o.k -- very busy street with loud noise -- don't think I'd rush back and a new fish restaurant--I've heard good reports of the food but the atmosphere didn't lend itself to dining....maybe we'll try it some day.

Weekend Activities: Begin 11am on Saturday will be a pool party hosted by a larger than life resident and his extended family and friends.. I'm sure it will be great. This will probably have to be accompanied by an afternoon nap before Terry's dinner party. Tomorrow is church for Lita and shopping for me followed by a a super bowl party and the Monday I will try out the new highway and a day or so at the beach. Some where in there, I have to put together the Purchase / Sales agreement. It's hard to work when there are so many temptations available. After the birthday party another party took up by different residents and later another house party started--some party bug must have been floating in the air..



Election: On Sunday, CR votes for a new head of state. If the polls are correct, the electorate will elect their first woman president and on the first ballot.. However, I remember the last election when the polls had Arias ahead by a substantial percentage and he ended up with only a 00.4% lead over his rival. So, I'm not too confident that the pools foretell the story. We'll see -- maybe by Sunday evening.

Brian, Lita, Hugo, irreverent Vicka, the pigeon toed parrot, and the newbies — Chico and Chica.



Brian C. Timmons, Newsletter Author
Residencias Los Jardines/Hacienda El Dorado - Developer
Cell: (506) 8305-3965
E-mail: brian@eldoradocostarica.com



For inquiries about availability of residences at Hacienda El Dorado or Residencias Los Jardines, contact:



Jan Kozak, Marketing Manager
Hacienda El Dorado
Rio Oro, Santa Ana
Costa Rica

Web: www.eldoradocostarica.com
E-mail: info@eldoradocostarica.com
MSN: jan.kozak.jr@hotmail.com
Skype: jan.kozak.jr

Tel (US) (+1) 647-477-5825
Cell: (+506) 8345-8018

Tel (US) (+1) 647-477-5825
Cell: (+506) 8345-8018