INVU & Residency Update; UPS!


» NOTES
When I started Residencias Los Jardines, I started writing a weekly news letter —determined to tell all the good, bad, and the ugly. I knew some readers would be interested in the construction process. I expected others might be interested in the lifestyle of two people who had decided to live outside the box. For others, the adventures of Lita, the parrot and the cat took on an entertainment saga all its own.

Residencias Los Jardines is finished. We periodically have resales and rental availability. Some readers may be interested in this information.

More and more, the content will be dominated by events of our new project, "El Dorado" for short. While the future is always uncertain, I again aim to tell it like it happens —the good, the bad, and the ugly, and that is what follows.

In an effort to make the format more interesting and visually appealing and to field inquiries re. El Dorado, the news letter is now being distributed by Jan Kozak, Marketing Manager, Hacienda El Dorado. I will remain the author.

Brian C. Timmons, Author
Residencias Los Jardines/Hacienda El Dorado - Developer
E-mail: brian@eldoradocostarica.com

YOU CAN ALSO VIEW THE COMPLETE VERSION ONLINE AT:

https://www.eldoradocostarica.com/English/Newsletter/index.php


» CONSTRUCTION LOG
INVU -

Our docuements have been submitted. While design items could still be rejected, we think it less likely now because each of the three branches of INVU has had their go at us and we have met all their concerns. We are hope that by the end of February, we will be approved.
Marketing:
We are in active discussions with a couple who is considering purchasing a unit.

Website: I'm going to begin updating the information--especially on availability and expected schedule of events.
» RESIDENCIAS LOS JARDINES
Garden Lights: They arrived. The shipper had to go back and find one box which had become separated but he did and now we have all. The 50 packages of lights cost $320 + $175 for shipping = $495 for fifty lengths or $10 a length. That is less than I was paying at PriceSmart when I could get them.

Cable TV & Internet:

Our equipment has tripped out several times this week. Why? Probably voltage fluctuations even though our equipment is separated from the grid by a UPS--I guess the UPS is not designed for the type of fluctuations we've been experiencing.

Septic Woes:

We've had one tank that has not work properly for years. It has been abused by numerous things being put in it that should not have been. Each time we cleaned and cautioned; problems returned. We found similar signs of abused again and again cautioned. We got a new tenant; he washed 5 loads of wash in 4 hrs. He got flooded out. We attributed that to exceeding the design capacity of the system. Another person washed two loads, same thing happened. The house which is the lowest reported one morning that he was about to be flooded again and he had only had a flush and a shower. Obviously this now needs investigation. We brought in Roto-rooter who snaked out the discharge line--I thought it might have become plugged with the misuse of the system--cleaning rags, plastic, etc.... We don't know for sure whether this was in fact involved but we decided to open up the system at the intersection of two leach lines. We dug down and what we found was not what we expected. The two leach pipes had not been directly connected. In fact, we have not yet found the discharge pipe over the leach bed. We made a fix--not the way I really wanted nor should have been; We'll see if it works. If it doesn't, we'll probably have to bring in a backhoe. I think there is a reasonably good chance they fix will work and that is why we did it have have covered it back up again. Should we need access to it again, we have provided an access point. I have extensive pictures of the construction but of course, NONE that would help me with this situation.



invoicing System: For 4 years I was told that what I wanted couldn't be done with the system we had. The answers never made any sense to me but I was forced to accept them since I did not know how to accomplish what I wanted -- this is a PC based system and I'm a MAC user --. When messing around with some printed invoices which didn't work out the way we expected because of bad information, we scrapped what we got and are redoing it. It was on a quiet Saturday morning that I sat with the office manager and pushed her to do some changes......... In the end, we had done what I had been told couldn't be done. Moral: don't believe what you're told when surrounding information is inconsistent. Rather than say "it couldn't be done" say, "I don't know how do it." That changes the landscape. Regardless, I feel better just frustrated that it took so much pressing to have accomplished a simple task.





Rental / Sales Activity:

We haven't had many people interested in leasing but have two parties with whom we are actively discussing the purchase of two houses. We'll see. We are back on Christopher Howard's tour route. On Saturday, we had about 7 people tour Los Jardines and a little information re. Hacienda El Dorado. It's too early to determine if there is any follow on interest. We'll see.

Deep Sea Fishing:

One of our owners at Los Jardines owes a fishing boat docked at Los Suenos. I asked him to give me some info. on his boat and services and his results. This is what he wrote:

BARNACLE II SPORTFISHING 35 OCEAN SPORTFISH FULL DAY $1450.00 INC FOOD DRINKS,FRUIT,SNACKS, BEER ,BAIT,EVERYTHING .1/2 DAY SAME NO LUNCH $1150.00 LOS JARDINES RESD.$100.00 DISCOUNT.WEBSITE

BARNACLE2.COM

*** CAPTAIN GREG 8898-5323/2637-8993

and his weekly results are: fishing this week 1 day 1 sail /2 day 3 sails 5 dorado/ Sunday 4 sails 1 marlin. thanks

greg

We know Greg very well and we know his boat is absolutely immaculate and mechanical maintenance is always first class..... he's that type of guy! Here is a picture of his boat:
Rentals: 108 - Available immediately $1,750 mo.
Units for Sale/Lease: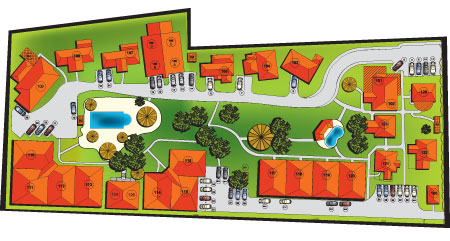 Unit #
109

--

For

Sale $214,900 - FURNISHED - Leased until March 30, 2010


Total Area (Sq Ft):

1506

Total area (Sq M):

140

Bedrooms:

2

Bathrooms:

2

Floor(s):

1 Story

Type:

Detached

Furnished:

Yes

This single story home (1506 sf. + parking

for

one car) is detached, has two bedrooms, two bathrooms, home office, living room wall / entertainment center along with a built in office and a semi-private terrace. In addition, it has a vaulted ceiling in the "great" room and two skylights. The covered entrance way is suitable

for

two chairs located next to a covered garden area. Once through the impressive front door, you enter the "great room" which houses the kitchen, dining room, office and living room. Upon entering, there is a built in wooden hutch surfaced with granite—it matches all the built-in furniture in the great room. There is a clothes washer and dryer off the 2nd bedroom. It may also be used

for

storage.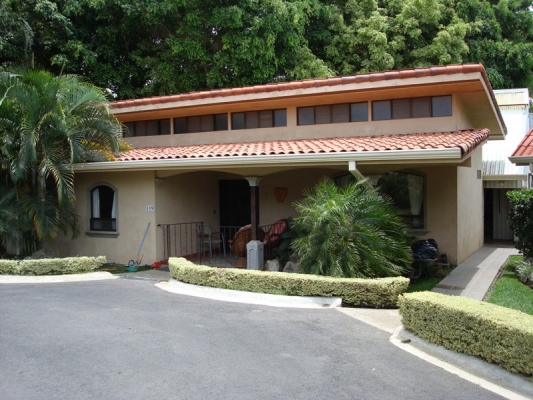 Read More
Unit #
111

--

For

Sale $195,000 SEMIFURNISHED* / Leased until Aug 2010 - $1,200 pr month
* INCLUDED ARE: refrigerator, 6 burner gas range, built-in microwave/exhaust; stacked washer / dryer

,

curtains throughout, a king and queen bed if desired.

Total Area (Sq Ft):

1738

Total area (Sq M):

161

Bedrooms:

2

Bathrooms:

2

Floor(s):

Single Floor

Type:

Attached

Furnished:

No
PRICE JUST GOT REDUCED FROM $200,000 TO $195,000. This corner home located in set of four homes, is very private. The entrance belies the 1,738 sf to be found on the other side of the entrance door. The short entrance hallway opens into a huge "
great room
" consisting of the kitchen, LR and DR. This room is truly of huge proportions including the 16' high vaulted ceiling. This vaulted ceiling has clear story windows
for
light and ventilation. Valance lighting surrounds the room and provides ambiance with its upward sighing lights as well as accent lighting with the recessed halogen lights. From the living room, a large sliding glass door leads onto a private covered terrace.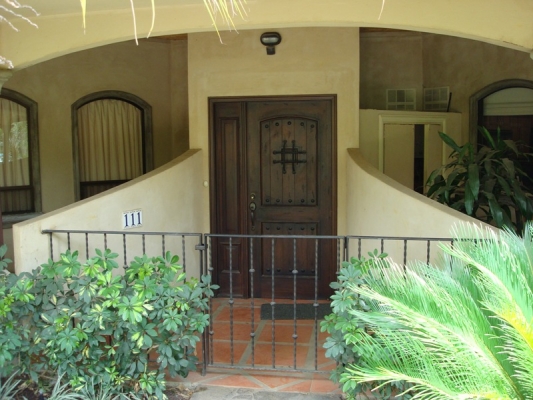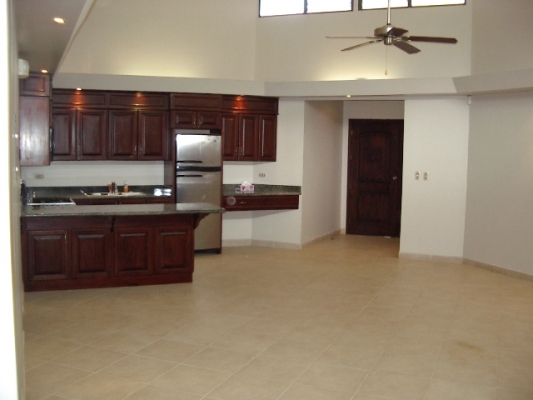 Read More
Unit #

108

--

For

Rent $1,750 - FURNISHED (Available Immediately)

Total Area (Sq Ft):
1716
Total area (Sq M):
158
Bedrooms:
2
Bathrooms:
2.5
Floor(s):
2 Story
Type:
Detached
Furnished:
Yes
This 1,716 sf. (plus parking space
for
one car) two storey, detached house, with two terraces, two bedrooms (one on each floor) and an upstairs master suite is a beautiful home.
This home consists of two VERY large bedrooms with en-suite bathrooms (one on each floor) and a powder room each with closets with extensive built-ins
for
personal organization. The vaulted living room and ground floor bedroom ceilings as well as the master bedroom on the 2nd floor provide a feeling of grandeur while allowing the warmer air to rise and exit through the ceiling ventilating system.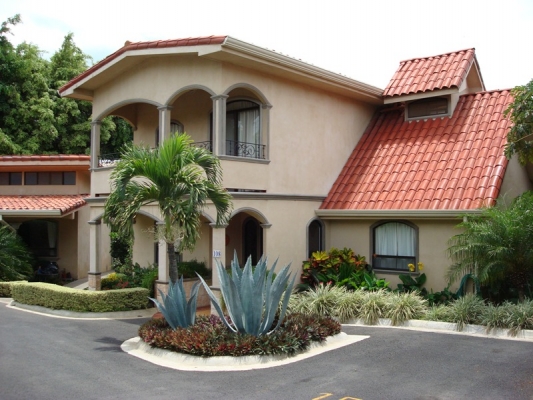 Read More

» NEWS FROM COSTA RICA
January 30, 2010
Political Campaign Must Shut Down On Thursday, Three Days Before The Elections
Come Thursday, the naked man, the least evil of the candidates and the marionettes will all disappear from the public's eye as the 2010 presidential elections campaigns come to a close.

Read
January 28, 2010
San José - Caldera Road Open, Finally
Finally, after more than three decades of planning, promises, starts, stops and delays, the San José - Caldera highway, though some prefer to call it a road, is a reality and travel between the interior of Costa Rica and the Pacific coast is at least 45 minutes faster.

Read
January 27, 2010
Costa Rica, Colombia Among the Times' '31 Places to Go in 2010'
Costa Rica wins praise for its new Costa Rican Bird Route, which highlights the country's great avian diversity and natural beauty, is one of the hot travel destinations in the world, according to the New York Times.

Read
January 27, 2010
Frequent Quakes in Costa Rica
Frequent telluric movements in Costa Rica since last Saturday were the cause of the clash of Cocos and Nazca plates and the micro-plate Panama in the area around Punta Burica, experts reported on Tuesday.

Read
January 27, 2010
Qatar, Costa Rica Sign Economic And Other Deals
Official talks between Costa Rican president, Oscar Arias and the the Emir H H Sheikh Hamad bin Khalifa Al Thani, of Qatar, resulted in the signing of an economic agreement between the two countries, including a Tourism Cooperation Agreement.

Read
January 26, 2010
Solís Says He Was Offered us$50 Million Dollars By Panamian To Finance His Campaign
Ottón Solís, the presidential candidate for the Partido Acción Cuidadan (PAC) sent a letter on Monday to the Tribunal Supremo de Elecciones (TSE), explaining that he received a strange phone call from a number originating in Panama, offering him financial help for his struggling campaign.

Read
January 26, 2010
Starbucks Buying Less Costa Rica Coffee
Starbucks, the US coffee giant has reduced the amount of purchases of Costa Rican coffee this year, according to the Instituto del Café de Costa Rica (ICAFE) - the Costa Rican Coffee Institute.

Read
January 25, 2010
Praxair Starts up New Plant in Costa Rica
Praxair, Inc. has started up its new air separation plant in San José. In addition to meeting increasing demand for oxygen, nitrogen and argon from industrial and medical customers in Costa Rica, the new facility positions Praxair to supply distributors in Panama as well as the Caribbean market.

Read
» OUR LIVES
Weather:

Warm and wonderful with mostly sunny skies.

Residency:

The documents are now all assembled, certified, and translated. A summary form of personal information needed to be completed for each of us. I wanted to review it since I am the most affected by errors and experience has taught me that few documents are produced here without errors. It is easier to review before submission to make sure ALL information is accurate. Nothing holds up paper processing here like inconsistent information. The lawyer was to produce this summary. I'm still waiting. First job that is in his hands; he's stumbled. I'm concerned.



Crash!!:

On Feb. 1 I go to the INS damage appraisal place to get they report on how much they will pay for the needed repairs. I have an estimate for repair by a non-INS place -- %110 to straighten the bumper and probably $25 to cut and replace the section of tailpipe that needs fixing. the car would be out of commission for 1 1/2 days. The repair place has already said that if I were to use them to fix the damage, labor alone would be $175. We'll see. I've got the time to go through the system and learn. I suspect that I will just get it fixed on my own but will wait to make that call.

Brian, Lita, Hugo, irreverent Vicka, the pigeon toed parrot, and the newbies — Chico and Chica.



Brian C. Timmons, Newsletter Author
Residencias Los Jardines/Hacienda El Dorado - Developer
Cell: (506) 8305-3965
E-mail: brian@eldoradocostarica.com



For inquiries about availability of residences at Hacienda El Dorado or Residencias Los Jardines, contact:



Jan Kozak, Marketing Manager
Hacienda El Dorado
Rio Oro, Santa Ana
Costa Rica

Web: www.eldoradocostarica.com
E-mail: info@eldoradocostarica.com
MSN: jan.kozak.jr@hotmail.com
Skype: jan.kozak.jr

Tel (US) (+1) 647-477-5825
Cell: (+506) 8345-8018

Tel (US) (+1) 647-477-5825
Cell: (+506) 8345-8018