INVU & Residency Update; UPS!


» NOTES
When I started Residencias Los Jardines, I started writing a weekly news letter —determined to tell all the good, bad, and the ugly. I knew some readers would be interested in the construction process. I expected others might be interested in the lifestyle of two people who had decided to live outside the box. For others, the adventures of Lita, the parrot and the cat took on an entertainment saga all its own.

Residencias Los Jardines is finished. We periodically have resales and rental availability. Some readers may be interested in this information.

More and more, the content will be dominated by events of our new project, "El Dorado" for short. While the future is always uncertain, I again aim to tell it like it happens —the good, the bad, and the ugly, and that is what follows.

In an effort to make the format more interesting and visually appealing and to field inquiries re. El Dorado, the news letter is now being distributed by Jan Kozak, Marketing Manager, Hacienda El Dorado. I will remain the author.

Brian C. Timmons, Author
Residencias Los Jardines/Hacienda El Dorado - Developer
E-mail: brian@eldoradocostarica.com

YOU CAN ALSO VIEW THE COMPLETE VERSION ONLINE AT:

https://www.eldoradocostarica.com/English/Newsletter/index.php


» CONSTRUCTION LOG
INVU -

Our consultants reviewed the final "to do" list on Friday.
We are expecting to resubmit all documents next week.

Note: New project:

no more information on this.

Marketing:

We have not been marketing El Dorado for the past year. Lately, however, we have had several inquiries. In addition, two agents who were very active and successful in marketing El Dorado have again contacted me re. our status and our timing. I think we have the same expectation re. market timing, strategy and construction. One marketing company will again begin bringing tour groups through and will begin putting us on their radar screen. At about the same time, I expect some Canadian driven marketing to happen; when people are spending $500-$600 a sf for high rise condos, what we are offering at $150sf (for now) looks ridiculously inexpensive...and it is

» RESIDENCIAS LOS JARDINES
Garden Lights: Waiting on the garden lights to arrive from Montana. I hope to get them through Customs without duty based on my $500 per each 6 mo. exemption. We'll see.

Cable TV & Internet: Both have been down -- at the same time-- twice this week for unknown reasons.



Rental / Sales Activity:

We've had a lot of rental interest but haven't connected on anything yet for sure. Agents are all saying that purchaser interest is returning but not like before and no one is walking around with $$ hanging out of their pockets. Having said that, however, we do have two parties interested in two units. We'll see what or if anything develops.

Our ban of dogs continues to hurt rentals. We had a great candidate for 108 but they had a nice little dog. We've also had to corporate clients looking but neither has been able to make up their mind. We had one company coming to CR to supply one of the new cell phone companies--this is directly related to the free trade agreement. The other company which is currently doing business in India plans to relocate to CR because the costs are the same and the time zones are better. His company does HVAC (heating, ventilation, AC,) quantity take offs which are then returned to HVAC contractors in N. Am. who use this information to bid on projects.
Rentals:
108 - Available immediately $1,750 mo.
Units for Sale/Lease: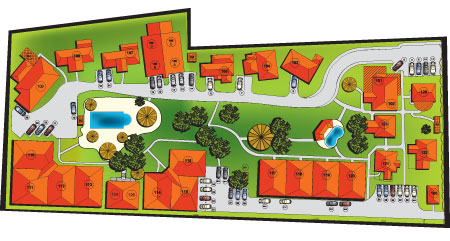 Unit #
109

--

For

Sale $214,900 - FURNISHED - Leased until March 30, 2010


Total Area (Sq Ft):

1506

Total area (Sq M):

140

Bedrooms:

2

Bathrooms:

2

Floor(s):

1 Story

Type:

Detached

Furnished:

Yes

This single story home (1506 sf. + parking

for

one car) is detached, has two bedrooms, two bathrooms, home office, living room wall / entertainment center along with a built in office and a semi-private terrace. In addition, it has a vaulted ceiling in the "great" room and two skylights. The covered entrance way is suitable

for

two chairs located next to a covered garden area. Once through the impressive front door, you enter the "great room" which houses the kitchen, dining room, office and living room. Upon entering, there is a built in wooden hutch surfaced with granite—it matches all the built-in furniture in the great room. There is a clothes washer and dryer off the 2nd bedroom. It may also be used

for

storage.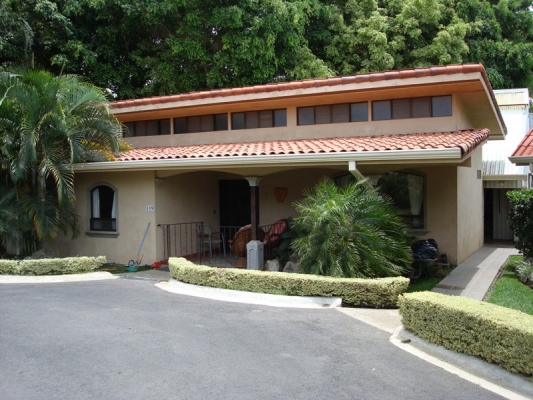 Read More
Unit #
111

--

For

Sale $200,000 SEMIFURNISHED* / Leased until Aug 2010 - $1,200 pr month
* INCLUDED ARE: refrigerator, 6 burner gas range, built-in microwave/exhaust; stacked washer / dryer

,

curtains throughout, a king and queen bed if desired.

Total Area (Sq Ft):

1738

Total area (Sq M):

161

Bedrooms:

2

Bathrooms:

2

Floor(s):

Single Floor

Type:

Attached

Furnished:

No
This corner home located in set of four homes, is very private. The entrance belies the 1,738 sf to be found on the other side of the entrance door. The short entrance hallway opens into a huge "
great room
" consisting of the kitchen, LR and DR. This room is truly of huge proportions including the 16' high vaulted ceiling. This vaulted ceiling has clear story windows
for
light and ventilation. Valance lighting surrounds the room and provides ambiance with its upward sighing lights as well as accent lighting with the recessed halogen lights. From the living room, a large sliding glass door leads onto a private covered terrace.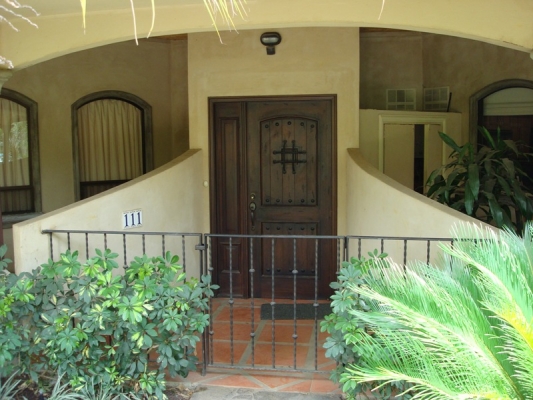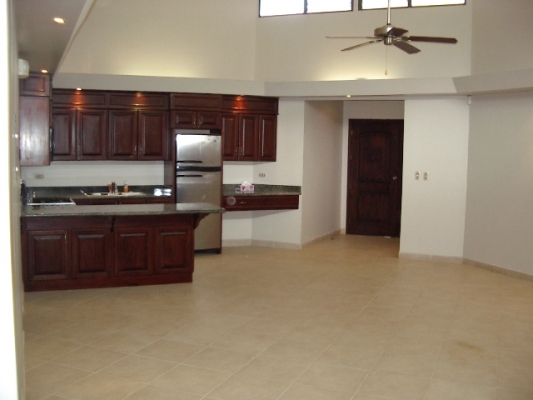 Read More
Unit #

108

--

For

Rent $1,750 - FURNISHED (Available Immediately)

Total Area (Sq Ft):
1716
Total area (Sq M):
158
Bedrooms:
2
Bathrooms:
2.5
Floor(s):
2 Story
Type:
Detached
Furnished:
Yes
This 1,716 sf. (plus parking space
for
one car) two storey, detached house, with two terraces, two bedrooms (one on each floor) and an upstairs master suite is a beautiful home.
This home consists of two VERY large bedrooms with en-suite bathrooms (one on each floor) and a powder room each with closets with extensive built-ins
for
personal organization. The vaulted living room and ground floor bedroom ceilings as well as the master bedroom on the 2nd floor provide a feeling of grandeur while allowing the warmer air to rise and exit through the ceiling ventilating system.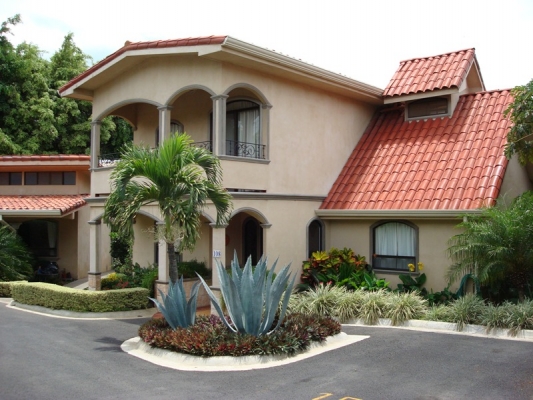 Read More

» NEWS FROM COSTA RICA
January 24, 2010
Costa Ricans Cannot Adopt Orphaned Haitian Children
Costa Rican families who want to adopt Haitain children orphaned following last week's devastating earthquake cannot do so, says Mario Víquez, president of thePatronato Nacional de la Infancia, Costa Rica's child welfare agency.

Read
January 24, 2010
Cisco Opens Entrepreneur Institute in Costa Rica
Cisco has announced the creation of the Cisco Entrepreneur Institute in Costa Rica to help small and medium business entrepreneurs improve their business skills and learn how to use information and collaboration technologies.

Read
January 24, 2010
Presidential Candidates Debate On Live Television Tonight
Costa Ricans will be able to see in action, on live television tonight the three top presidential candidates, in a debate that is sure to spark controversy and increase tensions.

Read
January 23, 2010
Quake Hit Costa Rica Central And South Pacific Zones
A moderate earthquake shook the ground in some 30 kilometres southeast of Golfito in Costa Rica's southern zone, (65 km) west of David, Panama.

Read
January 23, 2010
Costa Rica Braces for Tight Presidential Election
(Angus Reid Global Monitor) - Costa Rica's next presidential election might need a run-off and the second round could see a tight finish, according to a poll by Unimer published in La Nación. 40.9 per cent of respondents would vote for the ruling Liberal National Party (PLN) candidate Laura Chinchilla in next month's ballot, down 2.1 points since November.

Read
January 22, 2010
Prince of Qatar in Costa Rica
Costa Rica each year receives "important" visitors who chose Costa Rican beaches and resorts for their vacations. The latest of such visits is by the Prince of Qatar, arriving at the Daniel Oduber Quirós in Liberia, Guanacaste, shortly after 8pm.

Read
January 20, 2010
Costa Rica To Approve Cellular Competitors By April
The process of opening the cellular telecommunications sector in Costa Rica has been a slow one, with setbacks and postponements, all the time giving the state telecom, the Instituto Costarricense de Electricidad (ICE), time to regroup and prepare to operate in a competitive market.

Read
January 19, 2010
Quick Justice Sends Jamaican Minor To 32 Years For Killing OIJ Agent
A private trial held in the Tribunales de San José sentenced a Jamaican national to 32 years in prison for killing the Organismo de Investigación Judicial (OIJ) agent, Randall López, last November 3, in a shootout in Escazú.

Read
» OUR LIVES
Weather:

The winds have been very mild to non-existent. Warm and wonderful with mostly sunny skies.

Residency:

On Friday we reviewed all our documents with the Immigration lawyer. We think we have everything in sufficient quantity and in the right form. The documents are expected to be shipped off to a CR Embassy in either Panama or Canada by the end of next week. According to the time line I've been given, the Embassy usually takes a week to 10 days to return them to CR Immigration in San Jose. A DHL tracking number is sent to the lawyer who follows up on the document(s) when they arrive in San Jose. In San Jose he gets a receipt of the documents. The file is reviewed to determine it's completeness. If we have done our homework and IF they haven't added or changed any requirements, we will then be issued a file number and it is supposedly this number which will allow us NOT to have to leave the country every 90 days. We'll see. That is all many steps down the road and lots can happen here in CR....



UPS Parcel Service: I've been really, really pleased to the point of amazed at their service. For example: The embassy advised me by e-mail that they could not call UPS to arrange for our documents to be picked up. (Why? I don't know but ...) I went to the Pavas office here, explained the problem. The rep. here phoned ?? around 11am Ottawa time. Parcel pick up was confirmed by e-mail to me around 1pm. By noon the next day, I was called by UPS that the parcel would arrive that afternoon...did I want to pick it up or have it delivered. I was called again around 3:30 the the parcel was ready for pick up. I went to Pavas and there it was. FedEx and DHL might be similar; I don't have experience with them but UPS has been excellent.

Dinner: Lita and I hosted a new owner and invited another couple to join us. We don't know the new couple -- they found their way here this week. They are looking to retire in CR and were scouting places to lease next year. They have many questions. Since I'm sure the new purchasers went through similar research as these people and as Lita and I did, I thought a beer and pizza might be appropriate around a table.....round table discussion group. So that's what we did.....ordered in a Gino's pizza, cranked open the ........... and chatted.

Crash!!:

I've submitted all the documents to the MOPT and am now working on the INS insurance coverage. Since the other person who is expected to be found guilty (she rear ended me and admits it w/out excuses) has insurance. Her insurance is suppose to cover it. But first I have to go to an approved repair place; then I have to get an assessment from the INS estimator place--appointment set for 11:15, Feb. 1--then we'll see.



New San Jose - Caldera Highway:

Opens officially this Wednesday, Jan. 27. - 25 years to plan and talk about; less than 2 years to build.... reminds me of our El Dorado experience to date. Regardless, I hope to take a drive on the road.


Brian, Lita, Hugo, irreverent Vicka, the pigeon toed parrot, and the newbies — Chico and Chica.



Brian C. Timmons, Newsletter Author
Residencias Los Jardines/Hacienda El Dorado - Developer
Cell: (506) 8305-3965
E-mail: brian@eldoradocostarica.com



For inquiries about availability of residences at Hacienda El Dorado or Residencias Los Jardines, contact:



Jan Kozak, Marketing Manager
Hacienda El Dorado
Rio Oro, Santa Ana
Costa Rica

Web: www.eldoradocostarica.com
E-mail: info@eldoradocostarica.com
MSN: jan.kozak.jr@hotmail.com
Skype: jan.kozak.jr

Tel (US) (+1) 647-477-5825
Cell: (+506) 8345-8018

Tel (US) (+1) 647-477-5825
Cell: (+506) 8345-8018