INVU & Residency Update; Crash!!


» NOTES
When I started Residencias Los Jardines, I started writing a weekly news letter —determined to tell all the good, bad, and the ugly. I knew some readers would be interested in the construction process. I expected others might be interested in the lifestyle of two people who had decided to live outside the box. For others, the adventures of Lita, the parrot and the cat took on an entertainment saga all its own.

Residencias Los Jardines is finished. We periodically have resales and rental availability. Some readers may be interested in this information.

More and more, the content will be dominated by events of our new project, "El Dorado" for short. While the future is always uncertain, I again aim to tell it like it happens —the good, the bad, and the ugly, and that is what follows.

In an effort to make the format more interesting and visually appealing and to field inquiries re. El Dorado, the news letter is now being distributed by Jan Kozak, Marketing Manager, Hacienda El Dorado. I will remain the author.

Brian C. Timmons, Author
Residencias Los Jardines/Hacienda El Dorado - Developer
E-mail: brian@eldoradocostarica.com

YOU CAN ALSO VIEW THE COMPLETE VERSION ONLINE AT:

https://www.eldoradocostarica.com/English/Newsletter/index.php


» CONSTRUCTION LOG
INVU -

On Friday we were told that the final (?) document needed from AyA was ready for pick up on Monday. IF that happens, we will re-file with INVU and ?????? This time, we are not expecting any problems because all three departments have had a go at us and we have addressed their concerns--no matter how significant or insignificant.. We are beginning to see light at the end of the tunnel and we are not hearing the sound of a train.... We'll see....

Note: New project:

Just below our site on the west side, hoarding is going up on a site that I've been watching for a year. I knew of a planned development there but hadn't heard nor seen much about it. I asked the workmen what was going in. He said 75 condos were to be built. It will be interesting to see what is planned (I believe three story towers and what the price point will be. Basically, I see this as good news.
» RESIDENCIAS LOS JARDINES
Garden Changes: Some areas in the garden had either become overgrown and were crowding out or shading too much. We thinned out several of these areas and planted some red leafed plants which do well in shade or filtered light and some other plants. This brought some color and covered in some bare areas that were previously too dark to support what was there.


Garden Lights: We use them year round but can only buy them here in August--usually from PriceSmart. For each of the past three years, I've purchased 1/2 our requirements waiting to get the other half on sale. In each of the three attempts, the latter purchase hasn't happened. The lights were all gone. This year the plan was to have friends bring them from Canada; I asked the most recent guest but it didn't happen. I went on lone and ordered 50 boxes from a distributor in Montana. Now I'll wait to see the duty and shipping costs on these.

Septic Systems: No matter how much effort we take to caution / tell people about what cannot be put down the toilet, some people just don't listen. We cleaned out the same septic tank for a 3rd. time this year. A charge back might get someone's attention. This is not fun work nor should it have to be done.



Rental / Sales Activity:

We leased one unit (106A) and showed to several possible purchasers but no one is yet digging into their pockets.
Rentals: 108 - Available immediately $1,750 pr month;
Units for Sale/Lease: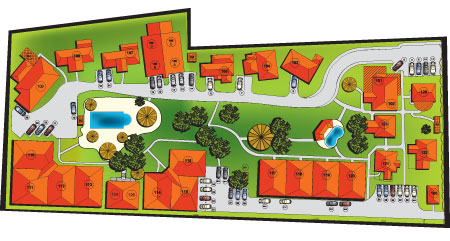 Unit #
109

--

For

Sale $214,900 - FURNISHED - Leased until March 30, 2010


Total Area (Sq Ft):

1506

Total area (Sq M):

140

Bedrooms:

2

Bathrooms:

2

Floor(s):

1 Story

Type:

Detached

Furnished:

Yes

This single story home (1506 sf. + parking

for

one car) is detached, has two bedrooms, two bathrooms, home office, living room wall / entertainment center along with a built in office and a semi-private terrace. In addition, it has a vaulted ceiling in the "great" room and two skylights. The covered entrance way is suitable

for

two chairs located next to a covered garden area. Once through the impressive front door, you enter the "great room" which houses the kitchen, dining room, office and living room. Upon entering, there is a built in wooden hutch surfaced with granite—it matches all the built-in furniture in the great room. There is a clothes washer and dryer off the 2nd bedroom. It may also be used

for

storage.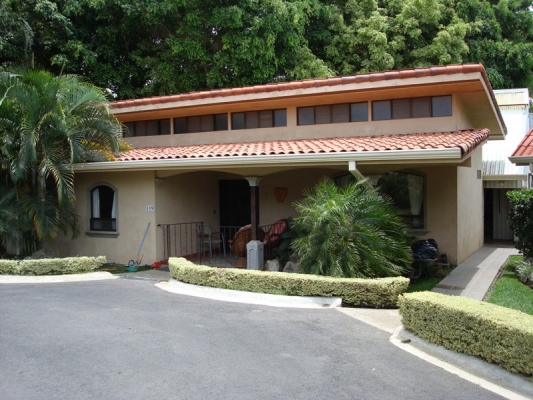 Read More
Unit #
111

--

For

Sale $200,000 SEMIFURNISHED* / Leased until Aug 2010 - $1,200 pr month
* INCLUDED ARE: refrigerator, 6 burner gas range, built-in microwave/exhaust; stacked washer / dryer

,

curtains throughout, a king and queen bed if desired.

Total Area (Sq Ft):

1738

Total area (Sq M):

161

Bedrooms:

2

Bathrooms:

2

Floor(s):

Single Floor

Type:

Attached

Furnished:

No
This corner home located in set of four homes, is very private. The entrance belies the 1,738 sf to be found on the other side of the entrance door. The short entrance hallway opens into a huge "
great room
" consisting of the kitchen, LR and DR. This room is truly of huge proportions including the 16' high vaulted ceiling. This vaulted ceiling has clear story windows
for
light and ventilation. Valance lighting surrounds the room and provides ambiance with its upward sighing lights as well as accent lighting with the recessed halogen lights. From the living room, a large sliding glass door leads onto a private covered terrace.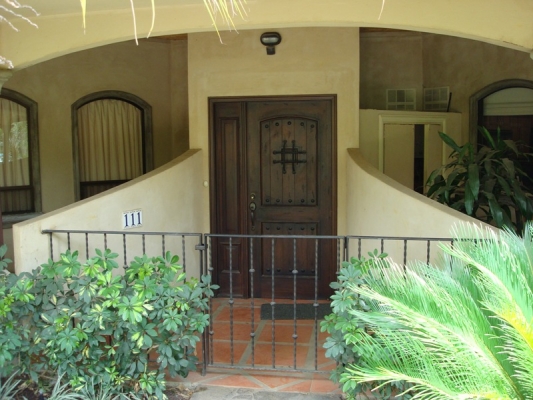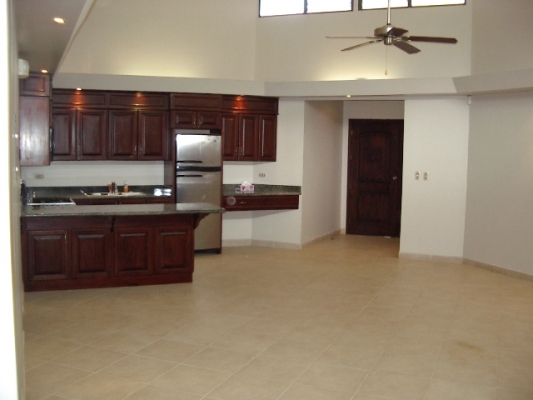 Read More
Unit #

108

--

For

Rent $1,750 - FURNISHED (Available Immediately)

Total Area (Sq Ft):
1716
Total area (Sq M):
158
Bedrooms:
2
Bathrooms:
2.5
Floor(s):
2 Story
Type:
Detached
Furnished:
Yes
This 1,716 sf. (plus parking space
for
one car) two storey, detached house, with two terraces, two bedrooms (one on each floor) and an upstairs master suite is a beautiful home.
This home consists of two VERY large bedrooms with en-suite bathrooms (one on each floor) and a powder room each with closets with extensive built-ins
for
personal organization. The vaulted living room and ground floor bedroom ceilings as well as the master bedroom on the 2nd floor provide a feeling of grandeur while allowing the warmer air to rise and exit through the ceiling ventilating system.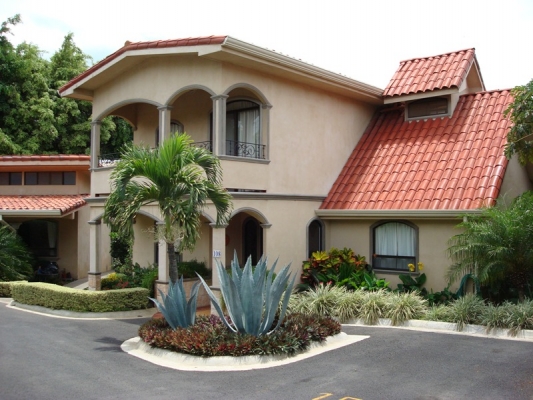 Read More

» NEWS FROM COSTA RICA
January 16, 2010
Scotiabank Group Named No. 1 FX Provider in Canada, Costa Rica, Jamaica and Peru
Scotiabank announced today that it has been acknowledged as the leading foreign exchange provider in Canada, Costa Rica, Jamaica and Peru for 2010.

Read
January 16, 2010
ICE, A Company In Change, But Sticks With Same Restrictive Policies For Cellular Services
For more than a decade Costa Ricans and foreigners living and visiting Costa Rica have had to accept the decisions of the Instituto Costarricense de Electricidad (ICE) with respect to cellular telephone service, with poor service, no coverage in many areas and the banalities of a state institution of dictates who can and who cannot subscribe to their cellular service.

Read
January 13, 2010
Guevara Promises Dollarization and Lower Taxes; Chinchilla Confident To Win In First Round
Otto Guevara, the presidential candidate for the Movimiento Libertario (ML) party said he plans to "dollarize" the Costa Rican economy if elected.

Read
January 12, 2010
Singapore, Costa Rica, To Sign FTA
Costa Rica and Singapore are expected to sign a free trade agreement (FTA) by the weekend, said Costa Rica's External Commerce Ministry on Monday.

Read
January 12, 2010
Anne Slaughter Andrew Takes Head Of US Embassy Today.
Anne Slaughter Andrew today officially replaces Peter Cianchette as head of the United States Embassy in San José. Cianchette left his post in June 2009, leaving the San José embassy without a boss for the last six months.

Read
January 12, 2010
WNS Heads Into Costa Rica Creating More Than 100 Jobs
WNS (Holdings) Limited, a leading provider of global business process outsourcing (BPO) services recently announced its entry into Latin America with the establishment of a centre in Costa Rica, providing employment for at least 100 people.

Read
January 12, 2010
Teleperformance Launches Operations in Costa Rica
MARKETWIRE via COMTEX)Teleperformance, the # 1 global leader in managing the customer experience in the outsourced contact centre market, is pleased to announce its launch of operations in San José, Costa Rica.

Read
» NEWS FROM SANTA ANA

The Momentum Commercial Center in Lindora - Santa Ana has become one of the most trendy, upscale spots in the Central Valley. It hosts a number of restaurants such as Applebee's, Brad's Grille, La Fabrica, Ichiban, Spoon, Chocolate, La Creperie as well as a number of fashion boutiques, beauty salons and spas, banks... Adjacent to Momentum, you will find the recently inaugurated Indigo Hotel.



» OUR LIVES
Weather:

This past week we've had very strong, cool winds weather--that cold front has passed now and we are into much calmer times..

Residency:

The CR Embassy in Canada insisted that the payment for authenticating the documents be made to them instead of being paid to the Dept. of Foreign Affairs in CR which is a legal option. Rather than getting into a legal wrangle with them, I sent them a wire transfer. On Friday, I was advised that our four documents are now certified and the person wanted instructions of how to return them. In my original inquiry I gave those instructions along with a UPS return routing slip. Did they get lost or can the person not read? I'll find out on Monday. Our documents are translated. When we get our documents from Canada, we should be able to send them off to Panama for application. We still feel this can be accomplished by the end of this month. We'll see.

Friend Returns to the Cold:

He had three teeth removed in a stage one of a three stage implant process. He will return in several months. Returning was not without it's tense moments; he bent the mouth plate the night before he was to leave and had to make an emergency trip to the dentist who straightened it out and showed him how to do this. Fortunately, he had the dentist's cell phone and fortunately, the doc lived in Santa Ana and his office is virtually across the street. He was there waiting for us and my friend made his flight.

Crash!!:

I am in the process of repairing a hole in the arm of a leather sofa. I had a hide dyed the right color. The person brought it Friday morning, I accepted it and payed for it ($70) but he didn't have a receipt. I said I would go to his office (only a few blocks away here in Pozos) and pick it up. I did. It was ready as promised. Returning to our house--only six blocks away, we were rammed from behind by a person not watching where she was going. I saw the whole event unfold in the rearview mirror and told Lita that we were going to be rammed. The driver was looking into the back seat attending to her son who was in a chair seat...with her driving, this was a good idea. We waited two and a half hours for the INS and the transito police to arrive. Her car was substantially damaged; I need a new rear bumper and a few other modifications.... This is the 2nd. rear end collision I've had in a year....both for the same reasons--neither driver was watching -- I know because in each case I knew I was going to be rammed and watched each event unfold in the mirror. I asked the Transito police how many accidents he had attended that day. He showed me his book; it was about 25. I asked him how long he had been on duty and he said from 6am; I said that it seemed like a slow day to which he agreed and said that most of the drunks were at Palmares tope and grinned. ...and that's life here in the slow lane... Now I get to spend the next week screwing around with this only to probably end up paying for it myself like last time.....yes, I was 100% innocent last time but it was my responsibility to track down the culprit to get the money......he didn't have insurance--this person says they do but .....I'll still be without a car for several days.

Top Sirloin--US Beef: Terry has found a great bargain. PriceSmart is again carrying US beef--rib eye and NY strip steaks as well as Top sirloins. The ribeyes and the NYs are the same price as Belca but the top sirloin is C5,200 per kilo--that's about $5 a lb. It is fantastic--flavorful and tender and the price is right. We guess that he haven't priced it correctly because they don't know this cut of beef. We seen it before; eventually it changes but if you like beef, I really don't think you'll go wrong with this.

Holiday Inn: This is the building being built on the former "Boardwalk" location between CIMA and PriceSmart. The project manager leased 106A.

Brian, Lita, Hugo, irreverent Vicka, the pigeon toed parrot, and the newbies — Chico and Chica.



Brian C. Timmons, Newsletter Author
Residencias Los Jardines/Hacienda El Dorado - Developer
E-mail: brian@eldoradocostarica.com



For inquiries about availability of residences at Hacienda El Dorado or Residencias Los Jardines, contact:



Jan Kozak, Marketing Manager
Hacienda El Dorado
Rio Oro, Santa Ana
Costa Rica

Web: www.eldoradocostarica.com
E-mail: info@eldoradocostarica.com
MSN: jan.kozak.jr@hotmail.com
Skype: jan.kozak.jr

Tel (US) (+1) 647-477-5825
Cell: (+506) 8345-8018

Tel (US) (+1) 647-477-5825
Cell: (+506) 8345-8018