Residency Update


» NOTES
When I started Residencias Los Jardines, I started writing a weekly news letter —determined to tell all the good, bad, and the ugly. I knew some readers would be interested in the construction process. I expected others might be interested in the lifestyle of two people who had decided to live outside the box. For others, the adventures of Lita, the parrot and the cat took on an entertainment saga all its own.

Residencias Los Jardines is finished. We periodically have resales and rental availability. Some readers may be interested in this information.

More and more, the content will be dominated by events of our new project, "El Dorado" for short. While the future is always uncertain, I again aim to tell it like it happens —the good, the bad, and the ugly, and that is what follows.

In an effort to make the format more interesting and visually appealing and to field inquiries re. El Dorado, the news letter is now being distributed by Jan Kozak, Marketing Manager, Hacienda El Dorado. I will remain the author.

Brian C. Timmons, Author
Residencias Los Jardines/Hacienda El Dorado - Developer
E-mail: brian@eldoradocostarica.com

YOU CAN ALSO VIEW THE COMPLETE VERSION ONLINE AT:

https://www.eldoradocostarica.com/English/Newsletter/index.php


» CONSTRUCTION LOG
INVU - It's back nor is normal operation. We have met with them to clarify some of the issues noted. These last set of notes seem to include such important deficiencies as how to bind the documents and what to include in which package, etc.
» RESIDENCIAS LOS JARDINES
Rental / Sales Activity:
We have had a lot of people interested in leasing and purchasing this week but no one had followed through.
Rentals: 108 - Available immediately $1,750 pr month;
106A - Available January 6, at $1,000 pr month.
Units for Sale/Lease: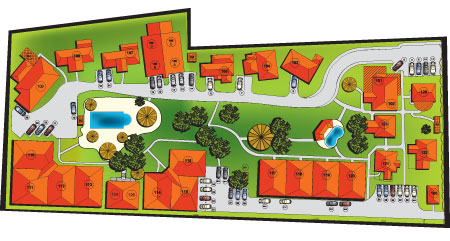 Unit #
109

--

For

Sale $214,900 - FURNISHED - Leased until March 30, 2010


Total Area (Sq Ft):

1506

Total area (Sq M):

140

Bedrooms:

2

Bathrooms:

2

Floor(s):

1 Story

Type:

Detached

Furnished:

Yes

This single story home (1506 sf. + parking

for

one car) is detached, has two bedrooms, two bathrooms, home office, living room wall / entertainment center along with a built in office and a semi-private terrace. In addition, it has a vaulted ceiling in the "great" room and two skylights. The covered entrance way is suitable

for

two chairs located next to a covered garden area. Once through the impressive front door, you enter the "great room" which houses the kitchen, dining room, office and living room. Upon entering, there is a built in wooden hutch surfaced with granite—it matches all the built-in furniture in the great room. There is a clothes washer and dryer off the 2nd bedroom. It may also be used

for

storage.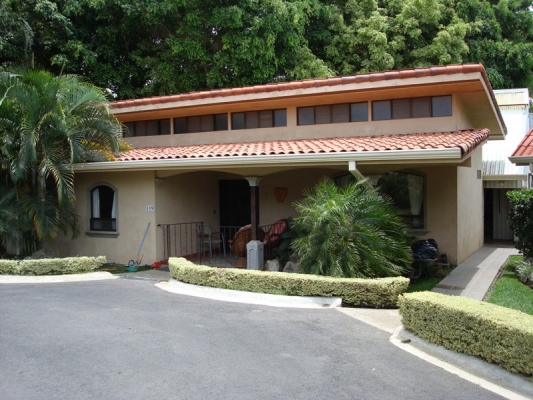 Read More
Unit #
111

--

For

Sale $200,000 SEMIFURNISHED* / Leased until Aug 2010 - $1,200 pr month
* INCLUDED ARE: refrigerator, 6 burner gas range, built-in microwave/exhaust; stacked washer / dryer

,

curtains throughout, a king and queen bed if desired.

Total Area (Sq Ft):

1738

Total area (Sq M):

161

Bedrooms:

2

Bathrooms:

2

Floor(s):

Single Floor

Type:

Attached

Furnished:

No
This corner home located in set of four homes, is very private. The entrance belies the 1,738 sf to be found on the other side of the entrance door. The short entrance hallway opens into a huge "
great room
" consisting of the kitchen, LR and DR. This room is truly of huge proportions including the 16' high vaulted ceiling. This vaulted ceiling has clear story windows
for
light and ventilation. Valance lighting surrounds the room and provides ambiance with its upward sighing lights as well as accent lighting with the recessed halogen lights. From the living room, a large sliding glass door leads onto a private covered terrace.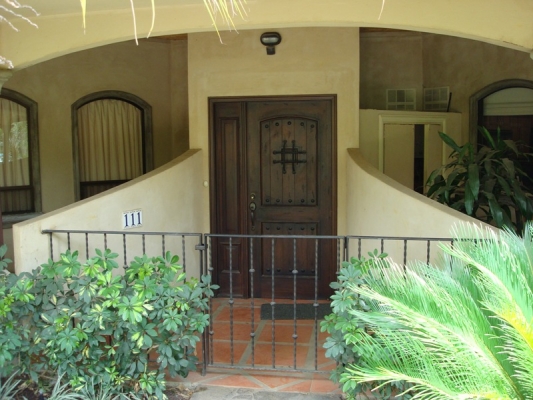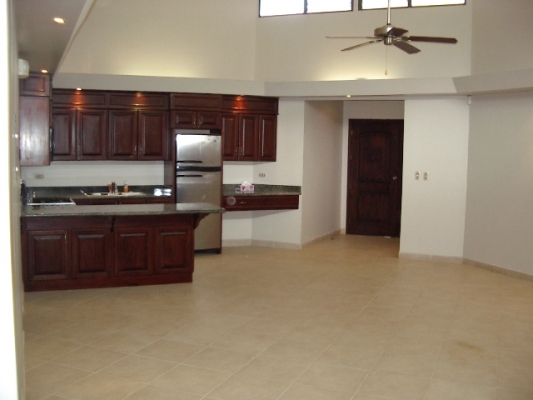 Read More
Unit #

108

--

For

Rent $1,750 - FURNISHED (Available Immediately)

Total Area (Sq Ft):
1716
Total area (Sq M):
158
Bedrooms:
2
Bathrooms:
2.5
Floor(s):
2 Story
Type:
Detached
Furnished:
Yes
This 1,716 sf. (plus parking space
for
one car) two storey, detached house, with two terraces, two bedrooms (one on each floor) and an upstairs master suite is a beautiful home.
This home consists of two VERY large bedrooms with en-suite bathrooms (one on each floor) and a powder room each with closets with extensive built-ins
for
personal organization. The vaulted living room and ground floor bedroom ceilings as well as the master bedroom on the 2nd floor provide a feeling of grandeur while allowing the warmer air to rise and exit through the ceiling ventilating system.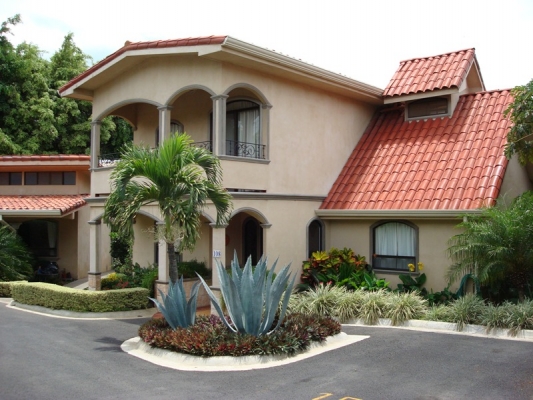 Read More

Unit #

106A

--

For

Rent $1,000 - FURNISHED (Available Immediately)

Total Area (Sq Ft):
1250
Total area (Sq M):
120
Bedrooms:
2
Bathrooms:
2.5
Floor(s):
Ground Floor
Type:
Apartment
Furnished:
Yes
This is a fully furnished 2-bedroom unit situated in a 2-story building, which has two units on the ground floor and two units on the 2nd. floor. Each unit is the same size (1,250sf) divided into 800 sf of interior space and 450 sf of covered front and back terraces. Units 106A and B are on the ground floor; Units
106
C and D are on the 2nd. Floor. The solid masonry demising wall (common wall) as well as the 5" concrete slab prevent sound transference.
Read More
» NEWS FROM COSTA RICA
January 10, 2010
Ridge Collapse Leaves Large Crater in Costa Rica Volcano
SAN JOSE – Costa Rican vulcanologists inspected the Turrialba volcano and discovered that the ridge separating two new craters formed after an eruption of ash this week had collapsed, leaving a large crater 65 meters (213 feet) in diameter.

Read
January 10, 2010
AH1N1 Vaccine Should Be In Costa Rica On Monday
Although the 200.000 doses of the AH1N1 vaccine were to have arrived in Costa Rica this week, the Ministerio de Salud confirms that that is not the case.

Read
January 10, 2010
Costa Rica: Opportunity And Risk In A "New" Insurance Market
While relatively small in comparison to the major Latin American insurance markets, Costa Rica is the largest insurance market in Central America (excluding Panama).

Read
January 10, 2010
It's Cold Out There, Cold Front Hits Costa Rica
If you haven't felt it yet, it's probably because you haven't stepped outdoors just yet. So, if that is the case, make sure to get out the long sweater and a jacket, as a cold front dropped the daytime high to around 22 Celsius in San José and strong winds make feel like winter.

Read
January 09, 2010
Tourism Decline In 2009 Was Lower Than Forecasted
The numbers are in and show that Costa Rica had 180.000 less tourists during 2009 over 2008. Despite this decline, the agency forecasted of a drop from 12%, but in reality was just under 10%, a decline lower than anticipated.

Read
January 09, 2010
New York Times Columnist Praises Costa Rica
"Hmmm. You think it's a coincidence? Costa Rica is one of the very few countries to have abolished its army, and it's also arguably the happiest nation on Earth", Nicholas D. Kristof starts off his syndicated New York Times column "The Happiest People ".

Read
January 07, 2010
Turrialba Coffee Crops Spared From Volcano Eruption
Costa Rica's high-quality coffee crops around the Turrialba volcano were spared from damage this week when the long-dormant volcano erupted for the first time in more than 140 years, spewing ash and forcing evacuations.

Read
January 06, 2010
Second Round Predicted In Presidential Elections In Costa Rica
Although Laura Chinchilla has a commanding lead over her opponents in the presidential elections to be held on February 7th, the latest opinion poll predicts she lacks the necessary votes to win a first round.

Read
» OUR LIVES
Weather: This past week we've had normal weather--mostly clear skies with lots of wind.

Residency: A review of our documents with the lawyer determined that we needed to have the marriage certificate and the police reports certified by the CR Embassy in Ottawa....so off went the documents...and we are waiting on their return. In the meantime, the documents when need translating into Spanish, are being worked on.

Friend Arrived: The friend arrived as expected. He immediately stated his dental work which includes three implants. While the whole ordeal will be done in three stages, and while he is in the middle of the first stage, he is very, very pleased so far.

Saturday Night: we went to Paul's house where the accountant and her husband were as well --for what ended up being a rousing set of conversations, great croc-pot ribs, wine, scotch and I lost track after one too many scotchs.....my friend was with us and he had a great time trying to understand our experiences and assessments......it was a bit much for him...his teeth hurt and he lost more hair.....but wouldn't have missed it for the world--he kept wondering how we could continue to laugh about all this...and it's the attitude which keeps one going here when all progress seems blocked.....

Brian, Lita, Hugo, irreverent Vicka, the pigeon toed parrot, and the newbies — Chico and Chica.



Brian C. Timmons, Newsletter Author
Residencias Los Jardines/Hacienda El Dorado - Developer
E-mail: brian@eldoradocostarica.com



For inquiries about availability of residences at Hacienda El Dorado or Residencias Los Jardines, contact:



Jan Kozak, Marketing Manager
Hacienda El Dorado
Rio Oro, Santa Ana
Costa Rica

Web: www.eldoradocostarica.com
E-mail: info@eldoradocostarica.com
MSN: jan.kozak.jr@hotmail.com
Skype: jan.kozak.jr

Tel (US) (+1) 647-477-5825
Cell: (+506) 8345-8018

Tel (US) (+1) 647-477-5825
Cell: (+506) 8345-8018