INVU Update; Rentals; Residency Update


» NOTES
When I started Residencias Los Jardines, I started writing a weekly news letter —determined to tell all the good, bad, and the ugly. I knew some readers would be interested in the construction process. I expected others might be interested in the lifestyle of two people who had decided to live outside the box. For others, the adventures of Lita, the parrot and the cat took on an entertainment saga all its own.

Residencias Los Jardines is finished. We periodically have resales and rental availability. Some readers may be interested in this information.

More and more, the content will be dominated by events of our new project, "El Dorado" for short. While the future is always uncertain, I again aim to tell it like it happens —the good, the bad, and the ugly, and that is what follows.

In an effort to make the format more interesting and visually appealing and to field inquiries re. El Dorado, the news letter is now being distributed by Jan Kozak, Marketing Manager, Hacienda El Dorado. I will remain the author.

Brian C. Timmons, Author
Residencias Los Jardines/Hacienda El Dorado - Developer
E-mail: brian@eldoradocostarica.com

YOU CAN ALSO VIEW THE COMPLETE VERSION ONLINE AT:

https://www.eldoradocostarica.com/English/Newsletter/index.php


» CONSTRUCTION LOG
INVU - We got the letter we needed from AyA. It said in three lines what had already been committed by them but INVU wanted their commitment in one letter with the new plano catastrado, the Uso de Suelo, and the number of lots being serviced.

On Friday we received AyA's review of the documents we had submitted to INVU. AyA wanted a couple changes (no surprise): (1) the discharge into the stream of the cleansed water from the black water treatment plant is not suppose to be greater than 45 degrees -- solution--we change the angle of the discharge pipe relative to the stream; (2) they did not like that we proposed to split the water service at the internal curbs to each of the multiple residences. What was designed was a manifold for each multi unit building which would equalize the pressure to each of the units. Why AyA objected, we don't know for sure but it could be because the design presented could have water meters attached and the user could then be charged.....this is not acceptable since AyA will not allow the resale of water nor is it our intention to do so. (3) They also seem to have lost one of the previously submitted papers; we'll have to resubmit our copy.

Epilogue: Last week I wrote about how ICE would not turn over the bandwidth necessary to allow cell phone competition. The government sat on them and they said they could do it immediately and would do so last Wednesday. Well, surprise, surprise, ICE reneged....

» RESIDENCIAS LOS JARDINES
Rancho Roofs: I actually got a second quote which was substantially cheaper than the first. We've agreed to begin work with the 2nd. person around April.

Gardeners and Watering: One week into the watering and mtnc. schedule I developed for the gardeners, it seems to be working. Why they could not develop a simple approach to managing the garden I don't know, but that seems typical here and I believe a cultural characteristic. I'm not thinking about the gardeners now, but when I think about how work is approached here, I oftentimes have difficulty identifying any systematic or logical approach--when they dive in they don't really think about priorities, sequences, breaking jobs into smaller, manageable chunks, etc..... I still watch over them on a regular basis but at least I'm not beating them up and life is much better for all.

Luxury Property Tax: We have determined that Los Jardines will be considered as 29 independent houses. Based on that, none of our houses meet the C100,000,000 / $180,000 threshold. Why a government would attempt to implement a very complex, additional tax system when they can't even manage simple processes is beyond the understanding of anyone I've spoken with. It seems like the beauracrats turned loose a bunch of engineer / technocrats started smoking something funny smelling and lost sight of reality. I haven't heard anyone object to the tax; only the the complexity of the law and payment scheme. Who in their right mind would give the CR government access to and permission to debit their bank account

Tenants: We get some real irresponsible tenants in CR....Experience has shown that provisions in our lease are well advised. We kick out or "encourage" the worst to leave rapidly.--what we do is all foretold in the lease. While we make every effort to avoid termination and eviction, sometimes it is necessary.... I wish I could find a way to weed out the undesirables before renting to them but with no background information available, it's difficult. But when they declare themselves, I don't fret about tenant's rights in CR too much...it's a short conversation followed up by progressively shutting down their contracted services..... so far, in all cases, it has achieved one of two desired outcomes....

"Amazon" Christmas Party: One of our residents works for Amazon.com. He is hosting a company party on Saturday afternoon......it is being catered--he knows how to do it right--; he expects around 60+ people... the area can handle that easily.

Rentals / Resales: 108 - LEASED, 115 - Available immediately $1,600 pr month, 109 - Available January 1, 2010 at $1,600 pr month.
Units for Sale/Lease: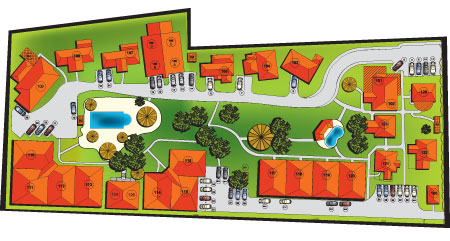 Unit #
109

--

For

Sale $214,900; For Rent $1,600 pr month - FURNISHED

Total Area (Sq Ft):

1506

Total area (Sq M):

140

Bedrooms:

2

Bathrooms:

2

Floor(s):

1 Story

Type:

Detached

Furnished:

Yes

This single story home (1506 sf. + parking

for

one car) is detached, has two bedrooms, two bathrooms, home office, living room wall / entertainment center along with a built in office and a semi-private terrace. In addition, it has a vaulted ceiling in the "great" room and two skylights. The covered entrance way is suitable

for

two chairs located next to a covered garden area. Once through the impressive front door, you enter the "great room" which houses the kitchen, dining room, office and living room. Upon entering, there is a built in wooden hutch surfaced with granite—it matches all the built-in furniture in the great room. There is a clothes washer and dryer off the 2nd bedroom. It may also be used

for

storage.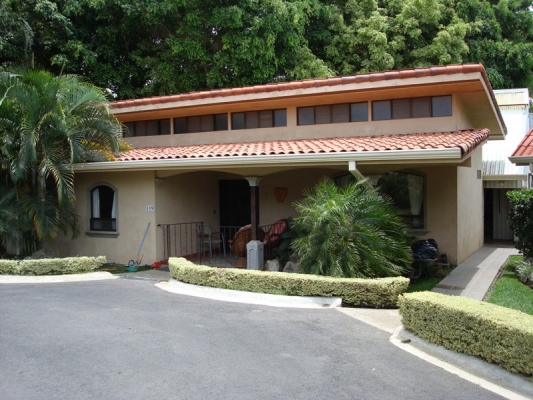 Read More
Unit #
111

--

For

Sale $200,000 SEMIFURNISHED* / Leased until Aug 2010 - $1,200 pr month
* INCLUDED ARE: refrigerator, 6 burner gas range, built-in microwave/exhaust; stacked washer / dryer

,

curtains throughout, a king and queen bed if desired.

Total Area (Sq Ft):

1738

Total area (Sq M):

161

Bedrooms:

2

Bathrooms:

2

Floor(s):

Single Floor

Type:

Attached

Furnished:

No
This corner home located in set of four homes, is very private. The entrance belies the 1,738 sf to be found on the other side of the entrance door. The short entrance hallway opens into a huge "
great room
" consisting of the kitchen, LR and DR. This room is truly of huge proportions including the 16' high vaulted ceiling. This vaulted ceiling has clear story windows
for
light and ventilation. Valance lighting surrounds the room and provides ambiance with its upward sighing lights as well as accent lighting with the recessed halogen lights. From the living room, a large sliding glass door leads onto a private covered terrace.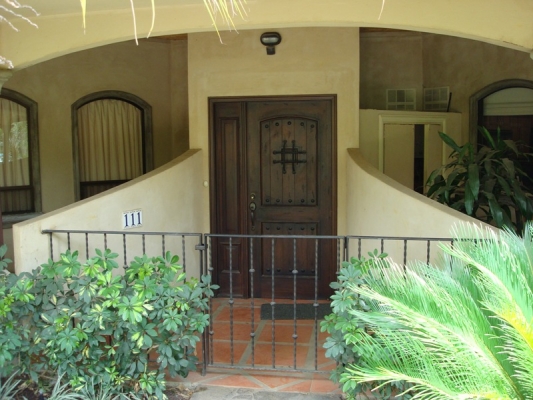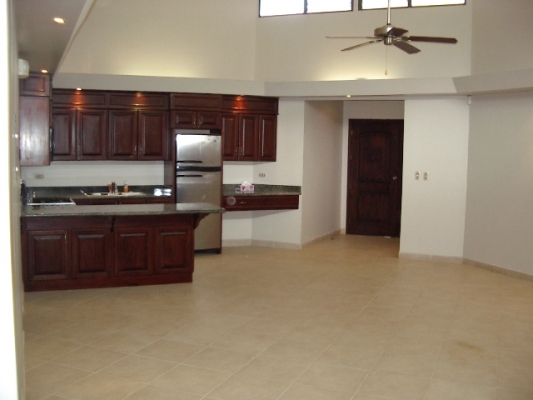 Read More
Unit #
115

- F

or

Rent

at $1,600 - FURNISHED

Total Area (Sq Ft):1345

Total area (Sq M):124

Bedrooms:2
Bathrooms:2
Floor(s):1 Story

Type:Attached

Furnished:Yes

This 1,345 sf single floor home includes a 200 sf private terrace plus parking

for

one car. It is attached on two sides by a 6" solid concrete block wall which prevents sound transfer. This is an extremely well decorated home with lots of natural wood built ins.
Read More
» NEWS FROM COSTA RICA
December 20, 2009
Chinchilla is Favourite in Costa Rica
(Angus Reid Global Monitor) - Laura Chinchilla could become the next president of Costa Rica, according to the latest poll by CID-Gallup, with 45 per cent of respondents would vote for the former vice-president and member of the governing Partido Liberación Nacional (PLN) in the 2010 election.

Read
December 18, 2009
In Costa Rica, Intel Keeps Crown as King of Exports
At a time when Costa Rica's trade deficit has grown to its largest size in more than a decade, the country's smallest export continues to be its biggest moneymaker. That product is the Intel Pentium processor, or the microchip, which continues to be the flagship export for Costa Rica, even in a year of overall economic decline.

Read
December 17, 2009
Why is Costa Rica Smiling?
(Yes! Magazine) A child growing up in the Costa Rican countryside is surrounded by some of the most beautiful and biodiverse landscapes in the world. The government of this tiny Central American country aims to keep it that way. But preserving this land of tropical rainforests isn't Costa Rica's only accomplishment. The government ensures all citizens have access to health care and education, and the country actively promotes peace around the world. So when the New Economics Foundation released its second Happy Planet Index, a ranking of countries based on their environmental impact and the health and happiness of their citizens, the No. 1 spot went to Costa Rica, population 4 million.

Read
December 16, 2009
New consumer rules appear to cover developers
Real estate developers who offer proposed projects or projects in development must now comply with strict rules for the protection of consumers.

Read
» OUR LIVES
Weather: The trade winds are blowing; the weather has changed. Mostly sunny. We're irrigating on a regular basis.

Residency: The last foreign document showed up in the mail on Friday and the financial qualification documentation was accurately completed on Friday as well. We now will proceed to have the English documents translated and be ready to submit early January. We will essentially loose three weeks because of the holidays.

Christmas Tree: Two years ago Lita purchased the makings for exterior decorations. She decorated the tree she uses for the parrot. He proceeded to eat the lights....that was another story. This year, Lita chose a different tree and organized a work detail (when that happens, some run for cover, some of us can't find cover) to get it decorated. It's now done (looks nice) and all those who enter on the west side, pass buy it and it's visible from the street.

Pre-Christmas Pot Luck: Terry has agreed to coordinate a pot luck party for residents of Los Jardines and their friends on Dec. 23.

New Construction Site: Between the Intercontinental Hotel and Pequeno Mundo there is a large, vacant lot. It is being readied for commercial development. No signage, of course. We'll have to wait to see what it becomes.

Brian, Lita, Hugo, irreverent Vicka, the pigeon toed parrot, and the newbies — Chico and Chica.



Brian C. Timmons, Newsletter Author
Residencias Los Jardines/Hacienda El Dorado - Developer
E-mail: brian@eldoradocostarica.com



For inquiries about availability of residences at Hacienda El Dorado or Residencias Los Jardines, contact:



Jan Kozak, Marketing Manager
Hacienda El Dorado
Rio Oro, Santa Ana
Costa Rica

Web: www.eldoradocostarica.com
E-mail: info@eldoradocostarica.com
MSN: jan.kozak.jr@hotmail.com
Skype: jan.kozak.jr

Tel (US) (+1) 647-477-5825
Cell: (+506) 8345-8018

Tel (US) (+1) 647-477-5825
Cell: (+506) 8345-8018