Shareholders Meet & Residency


» NOTES
When I started Residencias Los Jardines, I started writing a weekly news letter —determined to tell all the good, bad, and the ugly. I knew some readers would be interested in the construction process. I expected others might be interested in the lifestyle of two people who had decided to live outside the box. For others, the adventures of Lita, the parrot and the cat took on an entertainment saga all its own.

Residencias Los Jardines is finished. We periodically have resales and rental availability. Some readers may be interested in this information.

More and more, the content will be dominated by events of our new project, "El Dorado" for short. While the future is always uncertain, I again aim to tell it like it happens —the good, the bad, and the ugly, and that is what follows.

In an effort to make the format more interesting and visually appealing and to field inquiries re. El Dorado, the news letter is now being distributed by Jan Kozak, Marketing Manager, Hacienda El Dorado. I will remain the author.

Brian C. Timmons, Author
Residencias Los Jardines/Hacienda El Dorado - Developer
E-mail: brian@eldoradocostarica.com

YOU CAN ALSO VIEW THE COMPLETE VERSION ONLINE AT:

https://www.eldoradocostarica.com/English/Newsletter/index.php


» CONSTRUCTION LOG
INVU - A little over a week ago, our consultant wrote a very strongly worded letter to AyA focusing on their bureaucratic bumbling. Supposedly it has produced a letter but the self declared very important person seems too busy with Christmas to attend to work.... While not AyA, ICE is a related Government monopoly whose behavior and arrogance is similar to AyA. Last week ICE stated that they couldn't possibly free up the bandwidth necessary to allow competing cell phone services until at least 2011. anything to delay their forced entry into market competition under the signed Free Trade Agreement. Some one in the government had a "chat" with them and on Tuesday ICE announced that they would actually free up the bandwidth the next day so the licensing could proceed.
» RESIDENCIAS LOS JARDINES
Rancho Roofs: I have only one quote; the second one does not seem to be forthcoming...

Gate Crasher: We had a resident who returned from a happy party. He crashed into one of the gates; We had to get it repaired and those using that gate were inconvenienced.

Gardeners and Watering: I had to again become very unpopular with gardeners and staff. I've never been successful at getting the gardeners to realize the time saving benefits of sprinklers. They would rather stand with a hose and water area not reached by the irrigation system. Over the years, I've purchased hoses to cover every area of the property and portable sprinklers to address the arid spots. Despite a year of trying to explain the benefits of using the sprinklers and then using their time to weed, trim, rake, etc..... multi tasking was just not going to happen. On Tuesday I had reached the end of my limit--I was on the verge of giving up but not without one last heroic and horrific scene....It may have worked--too early to tell--In addition, the gardeners had not learned how to manage the garden....they had no system for watering, for raking, weeding, etc.... and it was obvious they never were going to have a system.. I've tried to help them by dividing the grounds into three colored zones and assigning days to each color..... they think this might work.... it's a last desperate attempt to maintain my sanity. What is obvious from my perspective is not universally held to be.... so many things are struggles.....and I don't know that I have made any real progress yet. Time will tell....

Shareholder's Meeting: This was held as scheduled and went without significant surprises. As usual we get just a little over 50% of the total votes represented so we can carry on. All the resolutions were passed and a couple additional items--useful items--were added to the agenda. As a property manager I can say that I'm happy we are phasing out dogs.....all future contracts will have a clause eliminating dogs a pets for tenants.

Rental: An unexpected rental opportunity begins January 1... See 109 below... The tenant found commuting to Escazu expensive and because she works long hours 6 days a week.....She will make other arrangements closer to her place of work.
Units for Sale/Lease: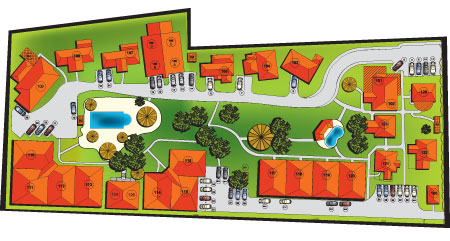 Unit #
109

--

For

Sale $214,900 - FURNISHED (Leased until July 31, 2010 - $1,550 pr month)

For Rent -- $1,600 mo. JANUARY 1-- FURNISHED
Total Area (Sq Ft):
1506
Total area (Sq M):
140
Bedrooms:
2
Bathrooms:
2
Floor(s):
1 Story
Type:
Detached
Furnished:
Yes
This single story home (1506 sf. + parking
for
one car) is detached, has two bedrooms, two bathrooms, home office, living room wall / entertainment center along with a built in office and a semi-private terrace. In addition, it has a vaulted ceiling in the "great" room and two skylights. The covered entrance way is suitable
for
two chairs located next to a covered garden area. Once through the impressive front door, you enter the "great room" which houses the kitchen, dining room, office and living room. Upon entering, there is a built in wooden hutch surfaced with granite—it matches all the built-in furniture in the great room. There is a clothes washer and dryer off the 2nd bedroom. It may also be used
for
storage.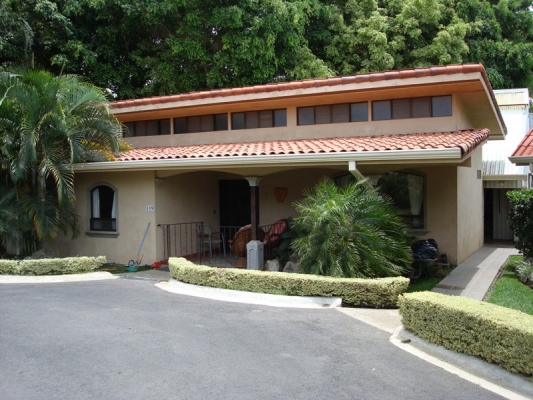 Read More
Unit #
111

--

For

Sale at $200,000 SEMIFURNISHED* / Leased until August 1, 2010 - $1,200 pr month
* INCLUDED ARE: refrigerator, 6 burner gas range, built-in microwave/exhaust; stacked washer / dryer

,

curtains throughout, a king and queen bed if desired.

Total Area (Sq Ft):

1738

Total area (Sq M):

161

Bedrooms:

2

Bathrooms:

2

Floor(s):

Single Floor

Type:

Attached

Furnished:

No
This corner home located in set of four homes, is very private. The entrance belies the 1,738 sf to be found on the other side of the entrance door. The short entrance hallway opens into a huge "
great room
" consisting of the kitchen, LR and DR. This room is truly of huge proportions including the 16' high vaulted ceiling. This vaulted ceiling has clear story windows
for
light and ventilation. Valance lighting surrounds the room and provides ambiance with its upward sighing lights as well as accent lighting with the recessed halogen lights. From the living room, a large sliding glass door leads onto a private covered terrace.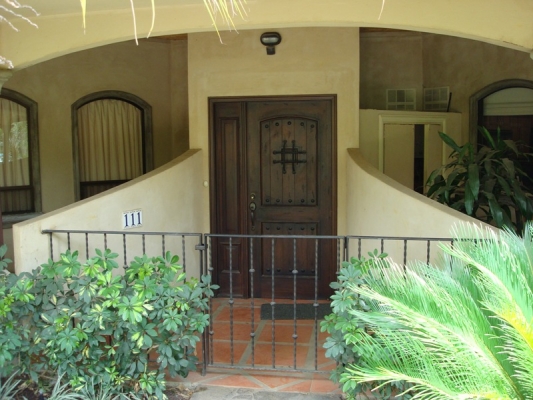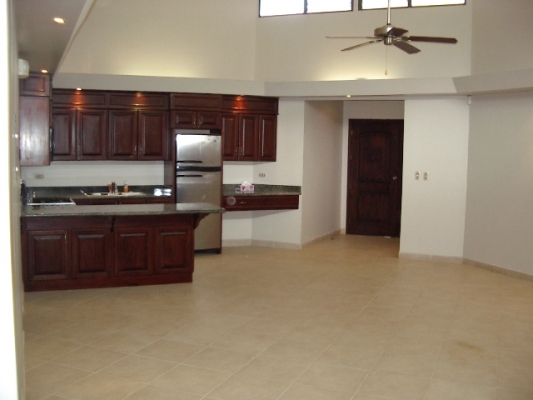 Read More
» NEWS FROM COSTA RICA
December 12, 2009
The Jewish Experience In Costa Rica
While Costa Rica is a Catholic country, it is considered one of Israel's best friends. It was among the first countries, in the United Nations, to vote for for Israeli statehood. Costa Rica maintains an embassy in Tel Aviv, having fairly recently moved from Jerusalem.

Read
December 12, 2009
¢100 Million Colones To Keep Spaniard In Custody Prior To Extradition
It has been some time, but Pedro Urrutia was on his way home to Spain yesterday after more than a year under heavy police guard, waiting extradition, which cost the Costa Rican people an estimate ¢100 million colones.

Read
December 11, 2009
Credit Cards In Costa Rica Come With 54% Interest Rate
Everyone knows that using a credit card is costly especially when paying only the minimum payment on the balance. But, what is the real cost of credit card interest in Costa Rica? Anywhere from 20% to 54% a year.

Read
December 11, 2009
Is a Real Estate Revival Underway?
As light begins to peek through the dark clouds of the worldwide economic crisis, members of the Costa Rican real estate community are growing more optimistic at the tail end of what has been, for many, one of the worst years they can remember in the housing market.

Read
December 09, 2009
20% More Job Opportunities Expected In 2010
If the expectations and projections for 2010 are realized, the year could start off with more job opportunities and growth in the economy. A recent study by Manpower of 620 Costa Rican businesses reveals that 26% will be looking to hire more staff in the new year.

Read
December 08, 2009
Intel Costa Rica Sees Q3 Exports Increase 18%
US chip manufacturer Intel saw third quarter exports from its Costa Rica facility increase 18% year-over-year, reaching US$595 million. Intel corporate relations manager Karla Blanco said main product destinations include Asia, the US and Europe, all of which have recovered faster than expected from the global economic slowdown.

Read
December 08, 2009
Costa Rican Tourism Down 10% in 2009
The impact of the world economic crisis on Costa Rica will be 200.000 or 10% less tourists for 2009 over 2008, according to projections by the Cámara Nacional de Turismo (Canatur).

Read
» OUR LIVES
Weather: The trade winds are blowing; the weather has changed. Overcast some of the time but mostly sunny. We're irrigating on a regular basis.

Little Theater Group: On Sunday a small group went to the last production of "The Caretaker". It was very well acted and quite enjoyable.

Residency: One document I needed was delivered this week. I reviewed it and in three pages, there were 15 errors. Many of the errors were typos but one was significant because my passport number was WRONG. In a country where any excuse to not do something is the norm, I had 15 excuses. Obviously I returned it for fixing. But the point here is, that you cannot assume that documents are prepared accurately. I've seen so many times transpositions, miss spelling, wrong dates.....I have become my own control / inspection person. My police report arrived but we are now waiting for Lita's. Both applications were made in the same envelope but seem to have become separated in Ottawa....one result was sent to our home address in Toronto which is the one we are now awaiting...; mine for whatever reason, was sent to our Miami forwarding address--that is the one I received. It could be that we are nearly there.....ready to submit all our documents for translation and then into the Residency Application System where we will be issued a number and wait, and wait, and wait.....and where they will probably lose at least one or more documents which will have to be resupplied, and who knows what other events will occur....One person on site has been waiting 2 yrs. 4 mo....and counting.

Bye Bye Birdie: One of Lita's pericos flew away. We had been telling her she needed to allow me to clip the wings.....didn't happen.....birdie went bye bye...... now she realizes she was wrong.....too late....

Real Estate Market: The Tico Times had an article the beginnings of life in the RE market. While I didn't find it very informative, it was interesting that the article even appeared.

A couple banking stories: A friend related to me a story of how he was recently called to the Scotiabank and grilled by two US IRS people. His account was / is quite active and they wanted an explanation. He also told me a story of a similar incident at a Panamanian bank where IRS agents approached the banking wanting a look-see at an account..The banker made a phone call, and the story goes that he informed the IRS people that it was their lucky day, they were being given a one way ticket back to the US and would be promptly escorted to the airport. Should they want to return, they were advised that they would be arrested and jailed. They were wished a nice flight.

Brian, Lita, Hugo, irreverent Vicka, the pigeon toed parrot, and the newbies — Chico and Chica.



Brian C. Timmons, Newsletter Author
Residencias Los Jardines/Hacienda El Dorado - Developer
E-mail: brian@eldoradocostarica.com



For inquiries about availability of residences at Hacienda El Dorado or Residencias Los Jardines, contact:



Jan Kozak, Marketing Manager
Hacienda El Dorado
Rio Oro, Santa Ana
Costa Rica

Web: www.eldoradocostarica.com
E-mail: info@eldoradocostarica.com
MSN: jan.kozak.jr@hotmail.com
Skype: jan.kozak.jr

Tel (US) (+1) 647-477-5825
Cell: (+506) 8345-8018

Tel (US) (+1) 647-477-5825
Cell: (+506) 8345-8018