INVU Status Report & New Rental


» NOTES
When I started Residencias Los Jardines, I started writing a weekly news letter —determined to tell all the good, bad, and the ugly. I knew some readers would be interested in the construction process. I expected others might be interested in the lifestyle of two people who had decided to live outside the box. For others, the adventures of Lita, the parrot and the cat took on an entertainment saga all its own.

Residencias Los Jardines is finished. We periodically have resales and rental availability. Some readers may be interested in this information.

More and more, the content will be dominated by events of our new project, "El Dorado" for short. While the future is always uncertain, I again aim to tell it like it happens —the good, the bad, and the ugly, and that is what follows.

In an effort to make the format more interesting and visually appealing and to field inquiries re. El Dorado, the news letter is now being distributed by Jan Kozak, Marketing Manager, Hacienda El Dorado. I will remain the author.

Brian C. Timmons, Author
Residencias Los Jardines/Hacienda El Dorado - Developer
E-mail: brian@eldoradocostarica.com

YOU CAN ALSO VIEW THE COMPLETE VERSION ONLINE AT:

https://www.eldoradocostarica.com/English/Newsletter/index.php


» CONSTRUCTION LOG
INVU - There were two issues that INVU wanted to see changed: (1) For some reason the rain water collection tank for flood control cannot be located under the tennis court in the recreational area. I don't understand the objection to this but ......... we will relocate it; (2) The black water treatment plant cannot be located on recreational property. That makes sense to me so we simply redefine the area in which it is located and that objection is dealt with. The final design for the black water treatment plant has been approved by the Min. of Salud. AyA's lethargy is still an issue but we are working around it. We have a commitment from them to provide water; we just don't have a commitment as to how that water will be provided.
» RESIDENCIAS LOS JARDINES
Rancho Roofs: I have one revised quote. I'm waiting for a second quote. I was told it would be in my hand last Tuesday.....now it is this coming Tuesday.

Satellite TV: After making some repairs to the distribution system, we got a decent signal to the clients wall. However, for some reason the de-scrambler box he has -- and it did work -- now doesn't read the signal. What has happened??? We don't know for sure but several days later now it seems that the company "Nfusin" boxes are down across the board -- none are working so .... so it was purely coincidental timing in our case. There is a way around using our system; a person in CR has figured it out. We may abandon our system and let residents who want DISH network channels, to contract with him......

Snow birds Arrive: On Monday, we have two owner snowbirds arriving.

Rental: An unexpected rental opportunity begins January 1... See 109 below... The tenant found commuting to Escazu expensive and because she works long hours 6 days a week.....She will make other arrangements closer to her place of work.
Units for Sale/Lease: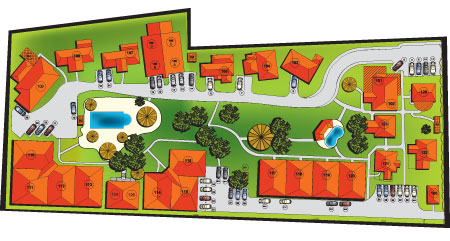 Unit #
109

--

For

Sale $214,900 - FURNISHED (Leased until July 31, 2010 - $1,550 pr month)

For Rent -- $1,600 mo. JANUARY 1-- FURNISHED
Total Area (Sq Ft):
1506
Total area (Sq M):
140
Bedrooms:
2
Bathrooms:
2
Floor(s):
1 Story
Type:
Detached
Furnished:
Yes
This single story home (1506 sf. + parking
for
one car) is detached, has two bedrooms, two bathrooms, home office, living room wall / entertainment center along with a built in office and a semi-private terrace. In addition, it has a vaulted ceiling in the "great" room and two skylights. The covered entrance way is suitable
for
two chairs located next to a covered garden area. Once through the impressive front door, you enter the "great room" which houses the kitchen, dining room, office and living room. Upon entering, there is a built in wooden hutch surfaced with granite—it matches all the built-in furniture in the great room. There is a clothes washer and dryer off the 2nd bedroom. It may also be used
for
storage.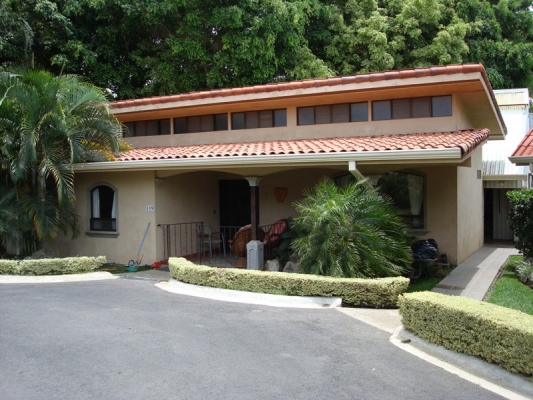 Read More
Unit #
111

--

For

Sale at $200,000 SEMIFURNISHED* / Leased until August 1, 2010 - $1,200 pr month
* INCLUDED ARE: refrigerator, 6 burner gas range, built-in microwave/exhaust; stacked washer / dryer

,

curtains throughout, a king and queen bed if desired.

Total Area (Sq Ft):

1738

Total area (Sq M):

161

Bedrooms:

2

Bathrooms:

2

Floor(s):

Single Floor

Type:

Attached

Furnished:

No
This corner home located in set of four homes, is very private. The entrance belies the 1,738 sf to be found on the other side of the entrance door. The short entrance hallway opens into a huge "
great room
" consisting of the kitchen, LR and DR. This room is truly of huge proportions including the 16' high vaulted ceiling. This vaulted ceiling has clear story windows
for
light and ventilation. Valance lighting surrounds the room and provides ambiance with its upward sighing lights as well as accent lighting with the recessed halogen lights. From the living room, a large sliding glass door leads onto a private covered terrace.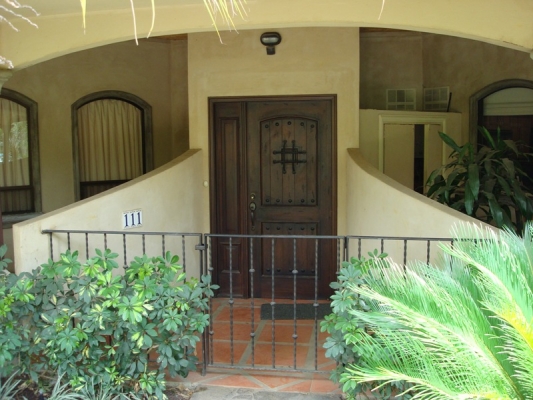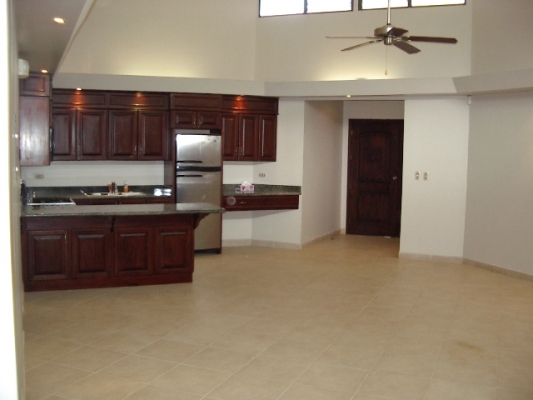 Read More
» NEWS FROM COSTA RICA
December 05, 2009
ICE Delays Cellular Competition In Costa Rica; No Competition Until At Least 2011
A move by the Instituto Costarricense de Electricidad (ICE) delays the entry of new operators for cellular service and opening of the cellular market in Costa Rica until at least 2011. The reason for the delay is due to ICE's, the state telecom, stall in providing the government the radio frequencies that are to be used by the competition.

Read
December 04, 2009
Arias To End Term with Low Popularity
With only months before the end of his term, Costa Rican President Oscar Arias will end his presidential term with a low popularity, as his acceptance indexes dropped by 5 percent during November, as revealed by the latest poll published Wednesday.

Read
December 03, 2009
Costa Rica Cost Of Living Increases
The cost of living in Costa Rica has gone up and the latest report on basic prices and services by the Ministerio de Economía, Industria y Comercio (MEIC) confirms it.

Read
December 02, 2009
Guevara Moves Up In The Polls, Becomes Alternate Option To Chinchilla
A poll by Unimer for the daily Spanish languaga newspaper La Nación places Otto Guevara of the Movimiento Libertario (ML) party in second place with 30% support, behind Laura Chinchilla of the Partido Liberación Nacional (PLN) party with 43%, while Ottón Solís of the Partido Acción Cuidadana (PAC) party trailing in third with a 16% support.

Read
December 01, 2009
Six Supermarkets Charged With Over Charging
The country's supermarkets and retailers are under the watchful eyes of officials of the Ministerio de Economía (MEIC), as many take advantage of consumers during the holiday season.

Read
» OUR LIVES
Weather: The trade winds are blowing; the weather has changed. Overcast some of the time but mostly sunny. We're irrigating on a regular basis.

Misc. Construction: The three new developments along our service road in Pozos continue. They appear to be smaller residential developments but it's too early to know for sure. The three story, steel commercial building near us in Pozos continues to be built. I have heard that the 18 story mixed use Trio Tower project is near to starting; The Boardwalk apartment / commercial development near CIMA is continuing. The residential development down the hill from El Dorado on the west side is continuing. How many units will ultimately be built is not clear. It appears that another phase of an existing project in Santa Ana is about to start; a crane has been erected.The commercial warehouse terminal on the road to Belen is continuing and several similar developments on the road to the cement factory are finishing up. Two, 14 units each housing developments where houses are selling between $400,000 and $850,000 are proceeding. One is nearly sold out. Kirebe continues to build out the two developments east of us. It appears they are beginning to work on the final phase of residences on our east side of us. On their newest project, they are advancing. Jan has been working with three different clients having budgets of $300K, $500K and $800K. The clients are from Chile, Venezuela, and the USA. Like others before him, the Venezuelan (he has the $800,000 budget) is leaving because of the deteriorating economic and security issues within the country. This is a continuing exodus; wealthy Bolivians and Ecuadorians are likely to make the trek.

The Rock and Roll Pollo is suppose to re-open soon; the Tex - Mex is closed-- soon to open under new ownership. One of the original owners is seriously ill. A new restaurant which appears to be very nice is now open; I have yet to try it.

PriceSmart: I noticed a large supply of Tico beef-- Delminico cut for about C3,500 kilo or $2.78 lb. Given the price it was worth checking into. Having been burnt many times before, Terry an I decided to test a couple individual steaks. They were great. However, we passed, because it just looked too fresh, it hadn't been aged long enough......the price is really attractive--but only if it's good...

Brian, Lita, Hugo, irreverent Vicka, the pigeon toed parrot, and the newbies — Chico and Chica.



Brian C. Timmons, Newsletter Author
Residencias Los Jardines/Hacienda El Dorado - Developer
E-mail: brian@eldoradocostarica.com



For inquiries about availability of residences at Hacienda El Dorado or Residencias Los Jardines, contact:



Jan Kozak, Marketing Manager
Hacienda El Dorado
Rio Oro, Santa Ana
Costa Rica

Web: www.eldoradocostarica.com
E-mail: info@eldoradocostarica.com
MSN: jan.kozak.jr@hotmail.com
Skype: jan.kozak.jr

Tel (US) (+1) 647-477-5825
Cell: (+506) 8345-8018

Tel (US) (+1) 647-477-5825
Cell: (+506) 8345-8018