INVU Status Report & Highway to Caldera


» NOTES
When I started Residencias Los Jardines, I started writing a weekly news letter —determined to tell all the good, bad, and the ugly. I knew some readers would be interested in the construction process. I expected others might be interested in the lifestyle of two people who had decided to live outside the box. For others, the adventures of Lita, the parrot and the cat took on an entertainment saga all its own.

Residencias Los Jardines is finished. We periodically have resales and rental availability. Some readers may be interested in this information.

More and more, the content will be dominated by events of our new project, "El Dorado" for short. While the future is always uncertain, I again aim to tell it like it happens —the good, the bad, and the ugly, and that is what follows.

In an effort to make the format more interesting and visually appealing and to field inquiries re. El Dorado, the news letter is now being distributed by Jan Kozak, Marketing Manager, Hacienda El Dorado. I will remain the author.

Brian C. Timmons, Author
Residencias Los Jardines/Hacienda El Dorado - Developer
E-mail: brian@eldoradocostarica.com

YOU CAN ALSO VIEW THE COMPLETE VERSION ONLINE AT:

https://www.eldoradocostarica.com/English/Newsletter/index.php


» CONSTRUCTION LOG
INVU - On Friday our consultant was advised that they want some additional information and / or clarification. We will go to their offices on Monday and pick up the written list of additional items or information being requested. We'll see. This is not unusual especially when the proposed development is fairly complex. Similar requests could happen several times. We just keep plugging away at it.
» RESIDENCIAS LOS JARDINES
Rancho Roofs: I am waiting for the revised contract from one person and an offer from a second contractor.

Internet Woes: it's worked all week but has been generally very slow...

Electrical Outage: A connection down the street caused a 30 min. outage right at dinner time Wednesday night. Fortunately in situations like this, each house has an emergency battery pack for about 45 min. of lighting to allow people to wind things down.

Hunter Fan: This issue was finally resolved-- 4+ weeks later. In the process, the distributor lost one of the pieces. In retrospect, it would have been cheaper to buy a new fan but I wanted to be stubborn.

Satellite TV: Now that the hackers have found a way around the DISH change, we are once again tinkering with the system. We found that the dish was slightly out of alignment but as of writing, we have some unknown problem in the distribution of the signal... The service technician returns on Monday morning to continue the analysis.

For Rent - SHORT TERM: Immediately to Dec. 6 -- see pictures and description below.

Fully furnished 2 bedroom unit (1250sf). This can be leased on a per diem basis minimum of 1 week.

Description: 106 Complex:
This building is a "4 plex". It has two units on the ground floor and two units on the 2nd. floor. Each unit is the same size (1,250sf) divided into 800 sf of interior space and 450 sf of covered front and back terraces. Units 106A and B are on the ground floor; Units 106 C and D are on the 2nd. Floor. The solid masonry demising wall (common wall) as well as the 5" concrete slab prevent sound transference.
Each house features east and west facing terraces. With the addition of a green hedge, the ground floor terrace become private. The west or back terraces on each level are private. The very large east terraces of Units C and D (upper level) capture the sunrise and overlook the gardens and large pool as well as a nearby hill. The west or back terraces from the upper level are great for viewing sunsets and the mountains surrounding the Central Valley.

106 B: (ground floor)
KITCHEN / DINING
While the open concept kitchen / living room / dining room offer a large area for living and entertaining, the generous "U" shaped kitchen design with raised eating counter makes it unnecessary to have a dinning room table but should one want it, there is room. All cupboards are made from "cedro", beautiful local wood. Both, the living room and dining area, face the east terrace. Being on the same level, the large covered terrace becomes an extended living area.
The kitchens features a SS range, refrigerator, and microwave/ exhaust as well as full granite backsplash and counter. Recessed valence lighting accents the workspace. A suspended cupboard over the breakfast counter provides additional storage and completes the full set of upper cabinets in the kitchen.
GUEST BEDROOM / DEN:
Use of the center room is flexible: It could be used variously as a communications room / extended living room, or by closing the large sliding doors, it could become a private bedroom with en-suite washroom. Integrated into the cupboard/closet is a computer work station.
MASTER BEDROOM:
The vaulted master bedroom features a queen bed. The closet is designed to allow a TV which is conveniently located for in-bed viewing. A three piece wash room is attached to this room.
2ND. BATHROOM:
It has a shower, vanity, and WC. It can be a guest bathroom or by closing a door, could be an en-suite bathroom should the guest bedroom / den area be used as a bedroom.
BACKYARD / TERRACE
The very private backyard covered terrace is accessed off the master bedroom through a sliding glass door. A stacked washer/dryer is located here.
Units for Sale/Lease: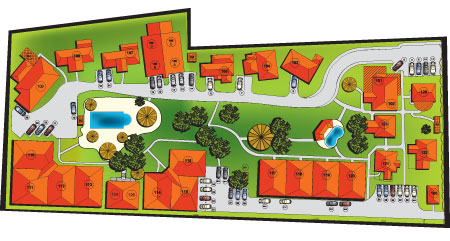 Unit #
109

--

For

Sale $214,900 - FURNISHED (Leased until July 31, 2010 - $1,550 pr month)


Total Area (Sq Ft):

1506

Total area (Sq M):

140

Bedrooms:

2

Bathrooms:

2

Floor(s):

1 Story

Type:

Detached

Furnished:

Yes

This single story home (1506 sf. + parking

for

one car) is detached, has two bedrooms, two bathrooms, home office, living room wall / entertainment center along with a built in office and a semi-private terrace. In addition, it has a vaulted ceiling in the "great" room and two skylights. The covered entrance way is suitable

for

two chairs located next to a covered garden area. Once through the impressive front door, you enter the "great room" which houses the kitchen, dining room, office and living room. Upon entering, there is a built in wooden hutch surfaced with granite—it matches all the built-in furniture in the great room. There is a clothes washer and dryer off the 2nd bedroom. It may also be used

for

storage.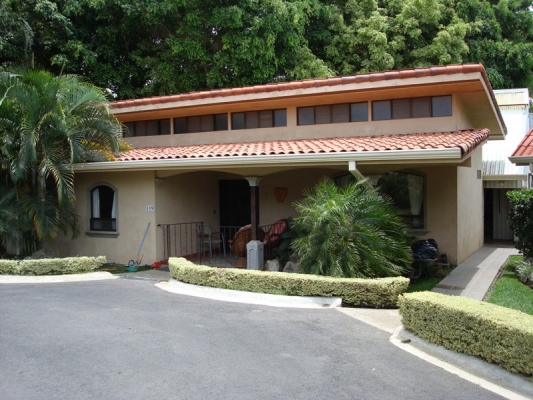 Read More
Unit #
111

--

For

Sale at $200,000 SEMIFURNISHED* / Leased until August 1, 2010 - $1,200 pr month
* INCLUDED ARE: refrigerator, 6 burner gas range, built-in microwave/exhaust; stacked washer / dryer

,

curtains throughout, a king and queen bed if desired.

Total Area (Sq Ft):

1738

Total area (Sq M):

161

Bedrooms:

2

Bathrooms:

2

Floor(s):

Single Floor

Type:

Attached

Furnished:

No
This corner home located in set of four homes, is very private. The entrance belies the 1,738 sf to be found on the other side of the entrance door. The short entrance hallway opens into a huge "
great room
" consisting of the kitchen, LR and DR. This room is truly of huge proportions including the 16' high vaulted ceiling. This vaulted ceiling has clear story windows
for
light and ventilation. Valance lighting surrounds the room and provides ambiance with its upward sighing lights as well as accent lighting with the recessed halogen lights. From the living room, a large sliding glass door leads onto a private covered terrace.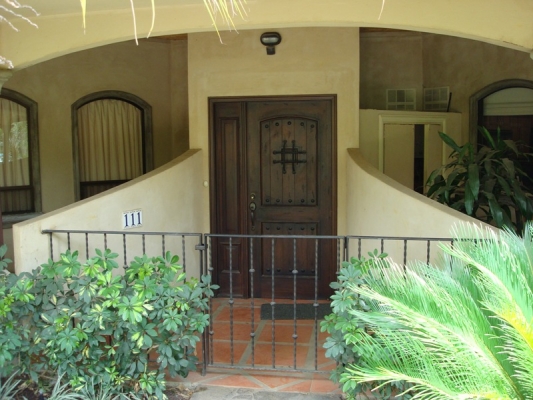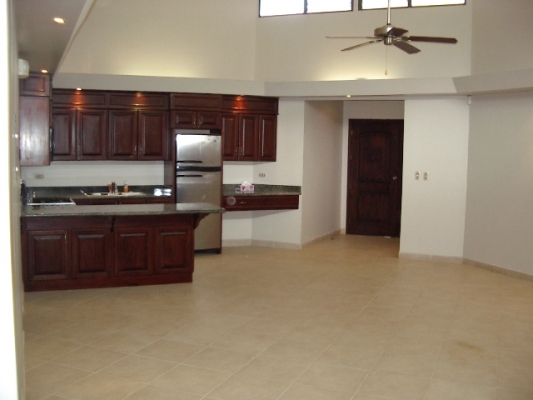 Read More
» NEWS FROM COSTA RICA
November 28, 2009
Up To 1.600 Drivers Licenses Issued Daily For End Of Year Rush
The year end rush for a driver's license is on. The Ministerio de Obras Públicas y Transportes (MOPT) reports an increase of 15% in requests, bringing the total number of applications to between 1.400 and 1.600 daily.

Read
November 28, 2009
Arias A Key Player In Sunday's Possible Democratic End To The Honduras Conflict
Costa Rican president, Oscar Arias, who as placed in the middle of the Honduras conflict following the ousting of Manuel Zelaya on June 28 by his country's military and set on the ground in San José following the coup d'etát, must now watch the events unfold from the sidelines.

Read
November 27, 2009
Limón Filled With Tourists
With the arrival of three cruiseliners and the Transat competition, some 6.000 tourists have invaded the port of Limón this past couple of days, boosting economic activity in the Caribbean coast.

Read
November 26, 2009
MOPT: Bridge Network Requires US$200 Million
Costa Rica's Ministerio de Obras Públicas y Transportes - public works and transport ministry (MOPT) - says it needs to invest us$200 million over the next three years to improve bridge infrastructure, local paper La Nación reported.

Read
November 26, 2009
Chinchilla Promises Hard Line On Drug Trafficking
The frontrunner in Costa Rica's 2010 presidential elections, Laura Chinchilla, promises to combat drug trafficking and reduce violence and crime, if she is elected to replace Oscar Arias.

Read
November 26, 2009
RITEVE Looking To Double Its Inspection Fees
The mandatory vehicular inspection could cost double next year if the Autoridad Reguladora de los Servicios Públicos (ARESEP) approves a request by the Revisión Técnica Vehicular (RITEVE).

Read
November 25, 2009
New National Stadium To Have Natural Turf
Following months of doubt and uncertainty, the new Estadio Nacional (national stadium) under construction in San José will have a natural turf. The announcement was made by the viceministro de Deportes, Osvaldo Pandolfo, dispelling rumours of the installation of a synthetic playing surface.

Read
November 24, 2009
Boston Scientific to close plant, send 1,400 jobs to Costa Rica
Medical-products manufacturer Boston Scientific will close its plant in Doral, Fla., eliminating 1,400 jobs by 2012, Miami-Dade economic development officials said Friday.

Read
November 24, 2009
Government Announces Public Workers Holiday Period
Note on your calendar the dates December 19, 2009 to January 4, 2010, as the date the public sector employees are off on their Christmas/Year End vacation.

Read
November 23, 2009
Debi Nova is Costa Rican Singer
Meet Debi Nova, an already very famous singer in her native Costa Rica. But watch out world, the young songstress is looking to make her mark! Read more about the lovely Debi Nova here.

Read
» OUR LIVES
Highway from San Jose to Caldera Nearing Completion Earlier Than Anticipated:

Approximately one year ago, it was announced tin the national press hat the new highway from San Jose to Caldera on the Pacific Coast would be completed by the end of December 2010. Once completed, this highway will make it possible for us living in Santa Ana to get to the beach in less than 45 minutes, as opposed to the 2 hour ride through Alajuela, San Ramon, Esparza and Puntarenas, which is the only reasonable and fastest route now. The cost (toll) on the stretch of the new highway from Santa Ana to the beach should run at around 2,500 colones ($5) each way. According to insider information we obtained from one of the leading engineers working for Autopistas del Sol -- a consortium of companies from Spain, Portugal and Chile -- thanks to the dry weather and low construction costs this year, the Santa Ana - Caldera segment of the new highway will be completed one year earlier -- in January 2010. Unfortunately, the agreement between Autopistas del Sol and the Costa Rican government does not allow the concessionaire to start charging the tolls before July 2010, which means that the highway will remain closed to the public until that time, despite the fact that it could theoretically and practically be used by the public already in January. The engineer from Autopistas del Sol told us he had driven on the new highway to Caldera many times already... according to him 95% of the works are completed already. We might be able to get a couple of VIP passes to get on the highway and be able to pass by the numerous security checkpoints.

Weather:

The trade winds are blowing; the weather has changed. Overcast much of the time; one slight rain. We're drying out..

Residency Status:

The accountant preparing one document got off into the jungle and had to be yanked back to reality.... I'll have to follow up on him again this week. We received something at our house in Toronto from the RCMP -- whether it is the clearances or simply a notice of receipt of our request I don't yet know. I see that the RCMP website is now saying it can take up to 4 mo. for them to fulfill our request. If this is the case, then we will consider making an quick trip to Toronto and get local police clearances.....unfortunately, these requests have to be done in person......I was trying to avoid this but........

Thanksgiving & Misc:

Other than the power outage, it's been a quiet week..no rentals, no vacancies, no changes, all the technology was working albeit a slow Internet but there's nothing we can do about that and today it seems to be back to it's expected performance. In short, a quiet week. A Thanksgiving feast we attended. The

turkey's

at BELCA "Pride of Country" or "Pride of Carolina" (I'm not sure since I didn't buy it but but it was great)--around C2,500 kilo or $2.50 lb. are about half the price as AutoMercado "Butterball".

Brian, Lita, Hugo, irreverent Vicka, the pigeon toed parrot, and the newbies — Chico and Chica.



Brian C. Timmons, Newsletter Author
Residencias Los Jardines/Hacienda El Dorado - Developer
E-mail: brian@eldoradocostarica.com



For inquiries about availability of residences at Hacienda El Dorado or Residencias Los Jardines, contact:



Jan Kozak, Marketing Manager
Hacienda El Dorado
Rio Oro, Santa Ana
Costa Rica

Web: www.eldoradocostarica.com
E-mail: info@eldoradocostarica.com
MSN: jan.kozak.jr@hotmail.com
Skype: jan.kozak.jr

Tel (US) (+1) 647-477-5825
Cell: (+506) 8345-8018

Tel (US) (+1) 647-477-5825
Cell: (+506) 8345-8018