Granada & Nicaragua


» NOTES
When I started Residencias Los Jardines, I started writing a weekly news letter —determined to tell all the good, bad, and the ugly. I knew some readers would be interested in the construction process. I expected others might be interested in the lifestyle of two people who had decided to live outside the box. For others, the adventures of Lita, the parrot and the cat took on an entertainment saga all its own.

Residencias Los Jardines is finished. We periodically have resales and rental availability. Some readers may be interested in this information.

More and more, the content will be dominated by events of our new project, "El Dorado" for short. While the future is always uncertain, I again aim to tell it like it happens —the good, the bad, and the ugly, and that is what follows.

In an effort to make the format more interesting and visually appealing and to field inquiries re. El Dorado, the news letter is now being distributed by Jan Kozak, Marketing Manager, Hacienda El Dorado. I will remain the author.

Brian C. Timmons, Author
Residencias Los Jardines/Hacienda El Dorado - Developer
E-mail: brian@eldoradocostarica.com

YOU CAN ALSO VIEW THE COMPLETE VERSION ONLINE AT:

https://www.eldoradocostarica.com/English/Newsletter/index.php


» CONSTRUCTION LOG
INVU - If no news is good news, then we have good news. We have not received any requests for additional information. That might mean one of two things: no one has looked at it or all the info. we have submitted is fine. We just have to wait and see. An argument can me made that we are likely to receive approval before the government's holiday break in December. Having said that, we'll just have to wait and see.
» RESIDENCIAS LOS JARDINES
Rancho Roofs: I am waiting for the revised contract. The resident who has another contact followed through with his offer of introduction but I was away this week so we'll work on it this week. Hopefully, we will end up with two quotes for the work.

Internet Woes: It worked well this week except for the day that the undersea connection failed.

Kirebe Construction: The gray water flowing on to our property has stopped but the dust has started.

Hunter Fans: This continues to be an on-going battle of determination. The company has not yet made good on the warranty but they have given us a temporary replacement. We'll see how long "temporary" is.

For Rent - SHORT TERM: Immediately to Dec. 6 -- see pictures and description below.

Fully furnished 2 bedroom unit (1250sf). This can be leased on a per diem basis minimum of 1 week.

Description: 106 Complex:
This building is a "4 plex". It has two units on the ground floor and two units on the 2nd. floor. Each unit is the same size (1,250sf) divided into 800 sf of interior space and 450 sf of covered front and back terraces. Units 106A and B are on the ground floor; Units 106 C and D are on the 2nd. Floor. The solid masonry demising wall (common wall) as well as the 5" concrete slab prevent sound transference.
Each house features east and west facing terraces. With the addition of a green hedge, the ground floor terrace become private. The west or back terraces on each level are private. The very large east terraces of Units C and D (upper level) capture the sunrise and overlook the gardens and large pool as well as a nearby hill. The west or back terraces from the upper level are great for viewing sunsets and the mountains surrounding the Central Valley.

106 B: (ground floor)
KITCHEN / DINING
While the open concept kitchen / living room / dining room offer a large area for living and entertaining, the generous "U" shaped kitchen design with raised eating counter makes it unnecessary to have a dinning room table but should one want it, there is room. All cupboards are made from "cedro", beautiful local wood. Both, the living room and dining area, face the east terrace. Being on the same level, the large covered terrace becomes an extended living area.
The kitchens features a SS range, refrigerator, and microwave/ exhaust as well as full granite backsplash and counter. Recessed valence lighting accents the workspace. A suspended cupboard over the breakfast counter provides additional storage and completes the full set of upper cabinets in the kitchen.
GUEST BEDROOM / DEN:
Use of the center room is flexible: It could be used variously as a communications room / extended living room, or by closing the large sliding doors, it could become a private bedroom with en-suite washroom. Integrated into the cupboard/closet is a computer work station.
MASTER BEDROOM:
The vaulted master bedroom features a queen bed. The closet is designed to allow a TV which is conveniently located for in-bed viewing. A three piece wash room is attached to this room.
2ND. BATHROOM:
It has a shower, vanity, and WC. It can be a guest bathroom or by closing a door, could be an en-suite bathroom should the guest bedroom / den area be used as a bedroom.
BACKYARD / TERRACE
The very private backyard covered terrace is accessed off the master bedroom through a sliding glass door. A stacked washer/dryer is located here.
Units for Sale/Lease: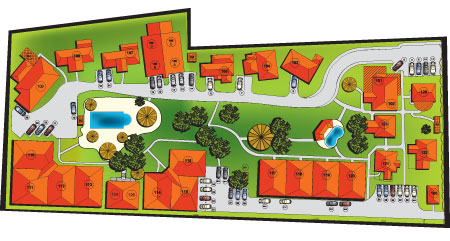 Unit #
109

--

For

Sale $214,900 - FURNISHED (Leased until July 31, 2010 - $1,550 pr month)


Total Area (Sq Ft):

1506

Total area (Sq M):

140

Bedrooms:

2

Bathrooms:

2

Floor(s):

1 Story

Type:

Detached

Furnished:

Yes

This single story home (1506 sf. + parking

for

one car) is detached, has two bedrooms, two bathrooms, home office, living room wall / entertainment center along with a built in office and a semi-private terrace. In addition, it has a vaulted ceiling in the "great" room and two skylights. The covered entrance way is suitable

for

two chairs located next to a covered garden area. Once through the impressive front door, you enter the "great room" which houses the kitchen, dining room, office and living room. Upon entering, there is a built in wooden hutch surfaced with granite—it matches all the built-in furniture in the great room. There is a clothes washer and dryer off the 2nd bedroom. It may also be used

for

storage.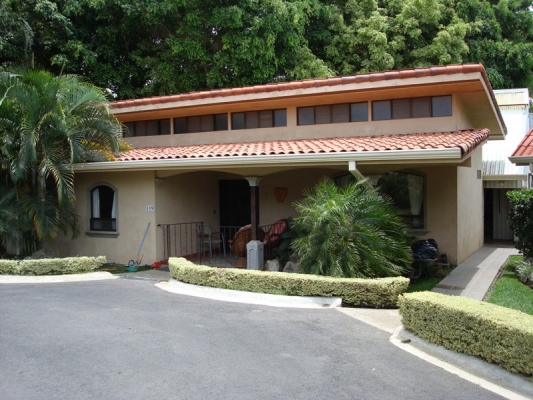 Read More
Unit #
111

--

For

Sale at $200,000 SEMIFURNISHED* / Leased until August 1, 2010 - $1,200 pr month
* INCLUDED ARE: refrigerator, 6 burner gas range, built-in microwave/exhaust; stacked washer / dryer

,

curtains throughout, a king and queen bed if desired.

Total Area (Sq Ft):

1738

Total area (Sq M):

161

Bedrooms:

2

Bathrooms:

2

Floor(s):

Single Floor

Type:

Attached

Furnished:

No
This corner home located in set of four homes, is very private. The entrance belies the 1,738 sf to be found on the other side of the entrance door. The short entrance hallway opens into a huge "
great room
" consisting of the kitchen, LR and DR. This room is truly of huge proportions including the 16' high vaulted ceiling. This vaulted ceiling has clear story windows
for
light and ventilation. Valance lighting surrounds the room and provides ambiance with its upward sighing lights as well as accent lighting with the recessed halogen lights. From the living room, a large sliding glass door leads onto a private covered terrace.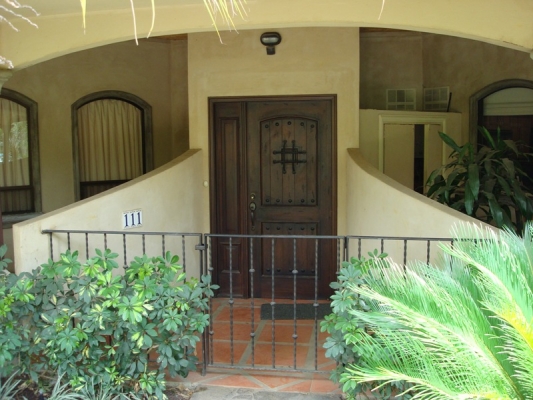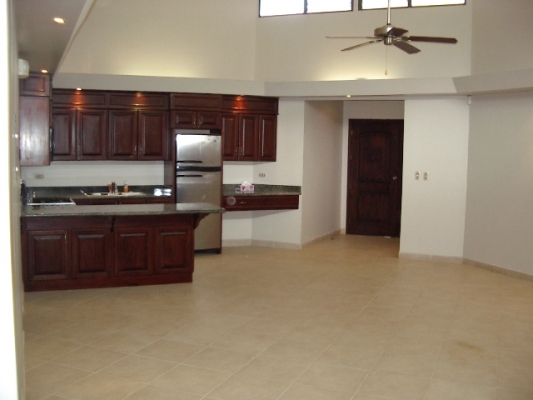 Read More
» NEWS FROM COSTA RICA
November 22, 2009
3G Will Only Be Offered in "Basic" Mode To Start
Many are excited for the arrival of 3G in Costa Rica, especially with the announcement by the Instituto Costarricense de Electricidad (ICE) will begin marketing the 950.000 next generation of cellular lines by mid December. However, some will be severely disappointed.

Read
November 22, 2009
Problems With Text Messaging Continues
The Instituto Costarricense de Electricidad (ICE) - Costa Rica's sole provider of cellular service - said on Friday that it was having problems with the text messaging platform. The problem continues still today.

Read
November 22, 2009
Holidays in Costa Rica Bring Savings and Warm Weather
With tight budgets on everyone's minds and the cold, winter months just around the corner, Costa Rica is the ideal place where families can warm up, relax, and interact with the world around them, all while giving back to local communities and the environment and still not breaking the bank.

Read
November 21, 2009
Dollar Keeps Dropping, No Rebound Expected Today
The US dollar has been dropping all week and experts day the spiral downward will continue for the rest of the month, recovering in December.

Read
November 21, 2009
Costa Rican creates plasma rocket to pick up space trash
Franklin Chang Diaz wants to fuel the International Space Station and transport people to Mars with his plasma rocket.

Read
November 21, 2009
Costa Rica Tagged As Threat To Banana Exports to Mideast
Philippine banana exporters to the Middle East are threatened by an expected intensifying competition banana producer Costa Rica, an industry official said yesterday. Higher export prices are also seen if aerial spraying is banned, causing an increase in production cost.

Read
November 19, 2009
Costa Rica Cut Off From World For Two Hours
A break in the Arcos underwater cable left most of Costa Rica without an internet connection for almost two hours.

Read
November 19, 2009
China May Spend $700 Million on Costa Rica Refinery
China may spend $700 million to help fund expansion of Costa Rica's Refinadora Costarricense de Petroleo SA oil refinery as it boosts energy ties in the region.

Read
November 17, 2009
Amway To Move Functions To Costa Rica
Amway says it will cut jobs in North America as part of an effort to consolidate its finance division, which consolidation will happen in Costa Rica, where new jobs will be created.

Read
» OUR LIVES
Weather:

The trade winds are blowing; the weather has changed. We are now into the dry season and will be here normally until the end of April. Last year the rains lasted to the end of December.

Residency Status:

I'll be focusing on the two missing documents this week.

Granada & Nicaragua:

We spent Tuesday through Saturday in Granada. It is it's same sleepy self without much change and without many tourists when we were there. It is still a wonderful escape--there is an old world charm to it...the charm lasts a couple days and then we want to return to CR....we couldn't live there--too hot and too inconvenient and too limiting. When one looks beyond the "...charm" one realizes that it is caused by poverty...the oxen carts, the hand push carts, the shoe shine boys, the trinket vendors....etc. I do not see any new development in the city nor have I for the past 18 mo. Many of the real estate companies have folded and left--foreign investment is way down. Hoteliers tell me that there is still tourism--mostly European and more lower end. The higher end hotels looked quite empty. Restaurants continue to come and go.....some continue to be good and those that we didn't find good, it seems others didn't find good either --they are gone only to be replaced with others...some good, some won't last either. The "El Zaguan" continues to serve the best and perfectly cooked steak I've ever had...it's even better than our BELCA USDA beef purchases and they cook it better than I do.

Granada is not an Ortega supporter. We couldn't find one person who spoke positively of his government. Lita asked the money changer how he was. His replay was essentially, "as well as I can be given the bloody government we have." ....and that seems to sum up the overall sentiment. The night we arrived, we say two pickups loaded with young people. They stopped in front of our hotel and painted political graffiti in red and black Sandanista colors on the wall across from our hotel. "Daniel -2011" and a caricature of a working man in red and black. I was told that Ortega's party pays people to go around the country doing this. Usually, the opposition party comes buy a few days later and paints over it. I didn't see that happen. On Saturday there was to be a big political rally in Managua. The locals were expecting rioting between the Sandanistas and the opposition group. On Friday night, a parade of Sandanistas drove through Granada, made a brief stop in the town square, loud speakers, large fire crackers, loud music....they went on after an hour to Masaya which was the staging ground for the rally in Managua.

We spoke with employee friends at the hotel we've stayed at for the past 6 years. They earn about $140 a month for what is probably about 70-80 hr. work week (280-320 hrs per month). While this seems terrible by most yardsticks, they were / are the relatively lucky ones--at least they have a job and a little money coming in. It so sad to see the people held prisoner to politics. We asked some of the gringos there if they were concerned. Everyone expressed some degree of concern and all mentioned that if necessary, they could pack their bags and get out real fast but they would leave their house or business behind.....none thought it would come to that but did not dismiss the possibility.

Costa Rica and Prices:

This week several announcements were made. The cost of electricity will increase again in January; one figure has the cost of electricity increases over the past year at 41%. The cost of water will increase in January as well by 23%. Gasoline and diesel increased this past week and taxi fares went up as well. The exchange rate of the colon and USD has been returning to it's rate a few months ago; if it stabilizes there, the slight hedge we enjoyed for a few months, will be gone.

Brian, Lita, Hugo, irreverent Vicka, the pigeon toed parrot, and the newbies — Chico and Chica.



Brian C. Timmons, Newsletter Author
Residencias Los Jardines/Hacienda El Dorado - Developer
E-mail: brian@eldoradocostarica.com



For inquiries about availability of residences at Hacienda El Dorado or Residencias Los Jardines, contact:



Jan Kozak, Marketing Manager
Hacienda El Dorado
Rio Oro, Santa Ana
Costa Rica

Web: www.eldoradocostarica.com
E-mail: info@eldoradocostarica.com
MSN: jan.kozak.jr@hotmail.com
Skype: jan.kozak.jr

Tel (US) (+1) 647-477-5825
Cell: (+506) 8345-8018

Tel (US) (+1) 647-477-5825
Cell: (+506) 8345-8018