INVU Update & Internet Woes


» NOTES
When I started Residencias Los Jardines, I started writing a weekly news letter —determined to tell all the good, bad, and the ugly. I knew some readers would be interested in the construction process. I expected others might be interested in the lifestyle of two people who had decided to live outside the box. For others, the adventures of Lita, the parrot and the cat took on an entertainment saga all its own.

Residencias Los Jardines is finished. We periodically have resales and rental availability. Some readers may be interested in this information.

More and more, the content will be dominated by events of our new project, "El Dorado" for short. While the future is always uncertain, I again aim to tell it like it happens —the good, the bad, and the ugly, and that is what follows.

In an effort to make the format more interesting and visually appealing and to field inquiries re. El Dorado, the news letter is now being distributed by Jan Kozak, Marketing Manager, Hacienda El Dorado. I will remain the author.

Brian C. Timmons, Author
Residencias Los Jardines/Hacienda El Dorado - Developer
E-mail: brian@eldoradocostarica.com

YOU CAN ALSO VIEW THE COMPLETE VERSION ONLINE AT:

https://www.eldoradocostarica.com/English/Newsletter/index.php


» CONSTRUCTION LOG
INVU - All documents have been submitted. They are being reviewed to see if they are complete. If we do not hear otherwise, next week, I expect what we submitted will now be o.k. That does not mean that somewhere down the road, they may not ask for ??????? We'll wait and see. Meanwhile, the Min. of Salud is reviewing the detailed design of the black water treatment plant. We asked our consultant for a status report on the well concession. We got what I thought was an odd answer but Paul interpreted the answer to be that each lawyer has 200 file to manage and that each file is submitted in order of some date...... we wait. I got another speculation that the current government didn't want to deal with these until the very last days of their administration since some decision might be controversial and they don't want to be blamed. Who knows?

Note: One smaller development has started down the hill on the west side. I don't know how large it will eventually be, but looks like it might be 15 Tico style townhouses. Since it is built on fill dirt, I've got my reservations about it but....
» RESIDENCIAS LOS JARDINES
Shareholder Meeting: The documents were distributed. A small follow up document will be issued this week.

Rancho Roofs: I met again with the proposed contractor for the rancho roofs. We clarified a few issues and I asked that he write all up in a new contract. One of our resident owners says he knows someone who does this work. He would contact these people and ask them to contact me. We'll see.

Internet Woes: All computers are now up and running but not without more service calls. The AMNET rep who was so confident and service oriented the previous week never did show up last week. The MAC rep who was to show up on Monday afternoon finally showed up on Wednesday afternoon. What he did got the MACs up and running but brought two two others so we had to have our general service rep come--who arrived two hours after we called him. We still feel that the problem was caused internally when someone thought they knew what they were doing.......

Kirebe Construction: We managed to speak with the Project Manager of Kirebe...for the third time. Again we complained about foul water being dumped onto us, killing the grass ans smelling. Again he committed to doing something about it and to his credit, two years after the first complaint, seems to have done something. Re. or complaint about banging their equipment to clean it at 6am in the morning......didn't happen the next day but seems to be beginning 4 days later. Re. dust during the dry season: I explained again the issue and expressed concern about the coming season and the remaining construction. He said they would be beginning their final phase of construction in January; I said now that the have water to the site, the can certainly apply a dust suppression effort......I got no response that I recognized.

Hunter Fans: On Monday I went to the repair place and demand the repaired fan. I paid the C13,500 labor to repair the fan--this was not covered under the warranty. Brought the fan back, installed it, and it doesn't work. It's now back in the shop where it has been for three day awaiting a decision by the company to repair or replace.... This is ridiculous but now, it's a battle of wills.

For Rent - SHORT TERM: Immediately to Dec. 6 -- see pictures and description below.

Fully furnished 2 bedroom unit (1250sf). This can be leased on a per diem basis minimum of 1 week.

Description: 106 Complex:
This building is a "4 plex". It has two units on the ground floor and two units on the 2nd. floor. Each unit is the same size (1,250sf) divided into 800 sf of interior space and 450 sf of covered front and back terraces. Units 106A and B are on the ground floor; Units 106 C and D are on the 2nd. Floor. The solid masonry demising wall (common wall) as well as the 5" concrete slab prevent sound transference.
Each house features east and west facing terraces. With the addition of a green hedge, the ground floor terrace become private. The west or back terraces on each level are private. The very large east terraces of Units C and D (upper level) capture the sunrise and overlook the gardens and large pool as well as a nearby hill. The west or back terraces from the upper level are great for viewing sunsets and the mountains surrounding the Central Valley.

106 B: (ground floor)
KITCHEN / DINING
While the open concept kitchen / living room / dining room offer a large area for living and entertaining, the generous "U" shaped kitchen design with raised eating counter makes it unnecessary to have a dinning room table but should one want it, there is room. All cupboards are made from "cedro", beautiful local wood. Both, the living room and dining area, face the east terrace. Being on the same level, the large covered terrace becomes an extended living area.
The kitchens features a SS range, refrigerator, and microwave/ exhaust as well as full granite backsplash and counter. Recessed valence lighting accents the workspace. A suspended cupboard over the breakfast counter provides additional storage and completes the full set of upper cabinets in the kitchen.
GUEST BEDROOM / DEN:
Use of the center room is flexible: It could be used variously as a communications room / extended living room, or by closing the large sliding doors, it could become a private bedroom with en-suite washroom. Integrated into the cupboard/closet is a computer work station.
MASTER BEDROOM:
The vaulted master bedroom features a queen bed. The closet is designed to allow a TV which is conveniently located for in-bed viewing. A three piece wash room is attached to this room.
2ND. BATHROOM:
It has a shower, vanity, and WC. It can be a guest bathroom or by closing a door, could be an en-suite bathroom should the guest bedroom / den area be used as a bedroom.
BACKYARD / TERRACE
The very private backyard covered terrace is accessed off the master bedroom through a sliding glass door. A stacked washer/dryer is located here.
Units for Sale/Lease: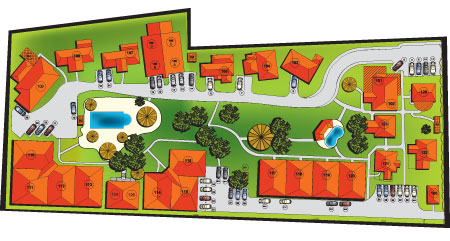 Unit #
109

--

For

Sale $214,900 - FURNISHED (Leased until July 31, 2010 - $1,550 pr month)


Total Area (Sq Ft):

1506

Total area (Sq M):

140

Bedrooms:

2

Bathrooms:

2

Floor(s):

1 Story

Type:

Detached

Furnished:

Yes

This single story home (1506 sf. + parking

for

one car) is detached, has two bedrooms, two bathrooms, home office, living room wall / entertainment center along with a built in office and a semi-private terrace. In addition, it has a vaulted ceiling in the "great" room and two skylights. The covered entrance way is suitable

for

two chairs located next to a covered garden area. Once through the impressive front door, you enter the "great room" which houses the kitchen, dining room, office and living room. Upon entering, there is a built in wooden hutch surfaced with granite—it matches all the built-in furniture in the great room. There is a clothes washer and dryer off the 2nd bedroom. It may also be used

for

storage.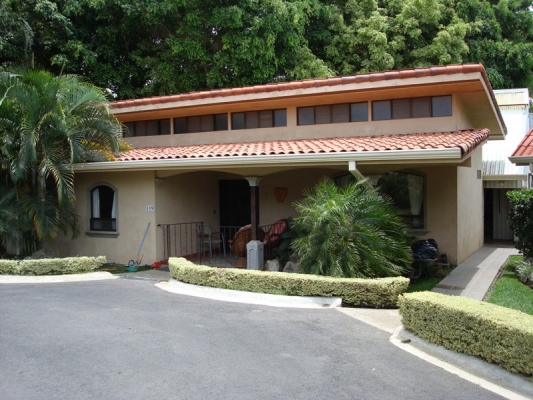 Read More
Unit #
111

--

For

Sale at $200,000 SEMIFURNISHED* / Leased until August 1, 2010 - $1,200 pr month
* INCLUDED ARE: refrigerator, 6 burner gas range, built-in microwave/exhaust; stacked washer / dryer

,

curtains throughout, a king and queen bed if desired.

Total Area (Sq Ft):

1738

Total area (Sq M):

161

Bedrooms:

2

Bathrooms:

2

Floor(s):

Single Floor

Type:

Attached

Furnished:

No
This corner home located in set of four homes, is very private. The entrance belies the 1,738 sf to be found on the other side of the entrance door. The short entrance hallway opens into a huge "
great room
" consisting of the kitchen, LR and DR. This room is truly of huge proportions including the 16' high vaulted ceiling. This vaulted ceiling has clear story windows
for
light and ventilation. Valance lighting surrounds the room and provides ambiance with its upward sighing lights as well as accent lighting with the recessed halogen lights. From the living room, a large sliding glass door leads onto a private covered terrace.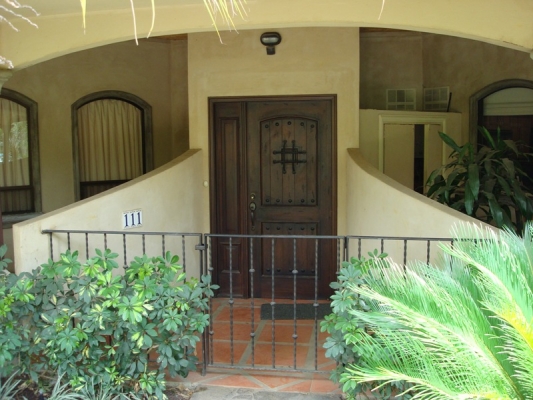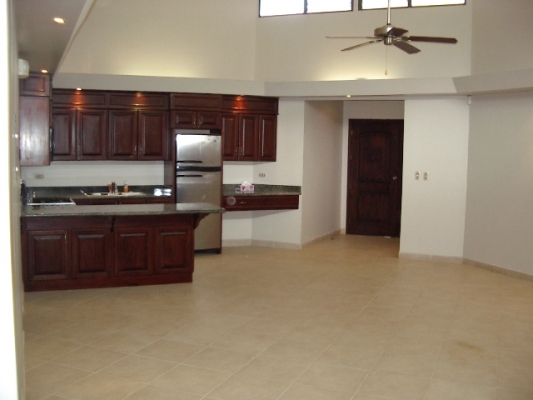 Read More
» NEWS FROM COSTA RICA
November 15, 2009
Costa Rica With One Foot Out Of World Cup
The Uruguay teamA first-half goal from Diego Lugano gave Oscar Washington Taberez\'s side strong hopes of playing in South Africa next year, following their failure to qualify for the finals Germany in 2006.

Read
November 15, 2009
Heredia Centro Bridge Added To List of "Bad Bridges"
The list of "bad bridges" - bridges that are a safety risk for their poor condition due mainly to lack of maintenance - grows with the latest bridge added to the growing list is that over the Pirro river, adjacent to the Universidad Nacional UNA) in Heredia centro. The bridge is located 150 metres east of the Burger King, and had a 4 metre gaping hole, which continues unrepaired.

Read
November 14, 2009
Moderate Earthquake Shakes Costa Rica
A 5.1 magnitude earthquake shook Costa Rica Friday, without immediate report of victims and material damages.

Read
November 14, 2009
2.2 Tonnes Of Cocaine Seized In Costa Rica
Costa Rican police seized over 2.2 tonnes of cocaine in San Francisco de Dos Rios, in the southern suburbs of the capital, San José. The drugs were found late Wednesday in a storage facility belonging to an international drug gang that was shipping the load to the Mexico and United States in containers, officials said.

Read
November 13, 2009
2010 Marchamo On Sale Beginning Monday
The 2010 Marchamo - annual vehicular circulation permit - goes on sale beginning Monday, November 16, confirmed the president of the INS, Guillermo Constenla.

Read
November 09, 2009
Chinchilla is Clear Frontrunner in Costa Rica
(Angus Reid Global Monitor) - Former vice-president Laura Chinchilla is heavily favoured to become the next president of Costa Rica, according to a poll by Demoscopía published in Al Día. 53 per cent of respondents would vote for the candidate of the ruling National Liberation Party (PLN) in next year's election.

Read
» OUR LIVES
Weather:

Some indication that the trade winds are beginning which heralds the change in seasons. Less rain but overcast skies; breezy at night and partially cloudy.

Residency Status:

We are still waiting for our police clearance. The one other document needed is being prepared. In the mean time, we will take our trip to Granada beginning Tuesday and enjoy ourselves. This should be the last one we have to take; I hope we continue to simply because we enjoy it.

Misc.

It appears that residential construction is beginning on the two lots cleared several weeks ago. Each will probably have a small multifamily Tico development on it. The three story steel structured commercial building continues to move along. Construction is returning to this area of the Central Valley but it is all appears targeted for local buyers / users.

A Lesson Relearned:

A number of us went to BELCA and bought our respective USDA beef. We then, as per normal, went to a butcher shop where we had the frozen meat cut into steaks. To make it easier for him to express himself and for the butcher to understand, he drew on a piece of cardboard the thickness he wanted his steaks cut. When he got them back from the butcher, they were about 1/2 the thickness he wanted. He got upset and started blaming the butcher and asked for the cardboard back. When the butcher returned the cardboard, it was obvious what had happened. He had used the width of the cardboard and not the drawing on it as his guide. The damage was done. In the evening I relayed the story to Lita and the more we talked aobut it the funnier we could make it. I decided to call my friend, who, by this time had calmed down although he didn't yet see the humor in it. I saw a distinct lesson in this which I didn't think he saw and one which can make a bid difference in surviing happy here and constantly being disappointed. He blamed the CR butcher for screwing up. Remember here, that is a language barrier (he speaks no Spanish) and there is a cultural difference, and there are 3 1/2 million of "them" and only one of "you". So to survive and to avoid this situation again, he has to take responsibility to do things differently next time. The solution is simple--look for feedback of understanding--have him cut one steak, check to see if that is want you want--and go from there. I found this out early on in construction. because what can go wrong WILL go wrong..regardless of language and cultural barriers...always wait to see if the instruction given was understood and is being executed. Blaming the other guy won't stop your problems; we all need to take responsibility for what we can change.

Finally:

Our friend Terry showed up unexpectedly. It seems the cruise line wanted him to work an extended contract after Christmas to which he said "yes" but I want more time at home now so they returned him to us early..... and we're greatful.....

Brian, Lita, Hugo, irreverent Vicka, the pigeon toed parrot, and the newbies — Chico and Chica.



Brian C. Timmons, Newsletter Author
Residencias Los Jardines/Hacienda El Dorado - Developer
E-mail: brian@eldoradocostarica.com



For inquiries about availability of residences at Hacienda El Dorado or Residencias Los Jardines, contact:



Jan Kozak, Marketing Manager
Hacienda El Dorado
Rio Oro, Santa Ana
Costa Rica

Web: www.eldoradocostarica.com
E-mail: info@eldoradocostarica.com
MSN: jan.kozak.jr@hotmail.com
Skype: jan.kozak.jr

Tel (US) (+1) 647-477-5825
Cell: (+506) 8345-8018

Tel (US) (+1) 647-477-5825
Cell: (+506) 8345-8018