INVU Update; House Reconditioning


» NOTES
When I started Residencias Los Jardines, I started writing a weekly news letter —determined to tell all the good, bad, and the ugly. I knew some readers would be interested in the construction process. I expected others might be interested in the lifestyle of two people who had decided to live outside the box. For others, the adventures of Lita, the parrot and the cat took on an entertainment saga all its own.

Residencias Los Jardines is finished. We periodically have resales and rental availability. Some readers may be interested in this information.

More and more, the content will be dominated by events of our new project, "El Dorado" for short. While the future is always uncertain, I again aim to tell it like it happens —the good, the bad, and the ugly, and that is what follows.

In an effort to make the format more interesting and visually appealing and to field inquiries re. El Dorado, the news letter is now being distributed by Jan Kozak, Marketing Manager, Hacienda El Dorado. I will remain the author.

Brian C. Timmons, Author
Residencias Los Jardines/Hacienda El Dorado - Developer
E-mail: brian@eldoradocostarica.com

YOU CAN ALSO VIEW THE COMPLETE VERSION ONLINE AT:

https://www.eldoradocostarica.com/English/Newsletter/index.php


» CONSTRUCTION LOG
INVU - All the changes requested by INVU as well as additional information were completed this week and the resulting sheaf of documents were re-submitted to INVU. We are still missing some documents on the black water treatment plant; these documents are currently being processed by the Min. of Salud and are expected to be ready for inclusion to the submitted INVU documents when that part of the project is being reviewed. We will not be surprised if we receive a request for additional information or changes but these are expected to be very minor.

Note: This has been a long and complicated process. Why? Probably because of the complexity of the development. The complexity is caused by the stream, the location of the stream in the middle of the property, and the topography. Had we had no stream or if the stream had been on the edge of the property and had the property been flat, a number of the issues we've had to deal with would not have been an issue. However, the trade off is that the development would be much less interesting.
» RESIDENCIAS LOS JARDINES
Shareholder Meeting: The documents were distributed. A small follow up document will be issued this week.

Rancho Roofs: I received the quote; it is what I expected even though I was hoping for a bit less. When everything is included, it will be about $15,000 and will take 6 people 1-2 months to complete. During this time, they will have to be housed on site. They are from Guancaste and will live on site during the work and return home on the weekends. We are still working on the wording of the contract and to make sure we have a complete understanding of who is providing what and what the expectations are. The goal here is..no surprises.

Internet Woes: On Wednesday, the AMNET system in our area went down for about 3 hours. When it came back up, only the west side of the property received a signal; the east side did not. We brought in our respected tech guy; after a lot of head scratching, he found that the DSN codes in our router had been changed. Why and How? He doesn't know for sure but speculated that some one on site thought that when the system was down, it was their router and proceeded to tinker with what they thought was theirs but in fact, was our router. Many of the computers didn't come back on line and the tech has spent the last three days on site working with people. This is really unfortunate as it inconvenienced a lot of people as well as incurred a significant expense for the owners.

Hunter Fans: I bought about 50 of them because they are a good fan and because of their world wide, life time guarantee. Two weeks ago, one failed. We took it to the designated Hunter dealer (actually the same place we bought it) and ask that it be repaired under warranty. The first had to check to see what the problem was. Yes, there was a factory defect but we had to produce the purchase receipt. Why? It is a world wide, lifetime guarantee....aaahhhh yes, but you need the receipt. We spent 1 day combing through thousands of receipts to find it. They had to study it and determine if the fan was covered. Ten days later, we get a "yes" but we will have to pay the labor...--C 13,000 vs. C42,000 total repair. o.k. go ahead... We are still waiting for it despite several commitments made to have it done and to return it.

Moen Faucet: A kitchen faucet has two screw in handles. One went missing. I really didn't want to replace the entire faucet for one $0.50 handle. I found the same model still available and the rep took the info. Promised to call that afternoon with the new handle.....I'm still waiting. I don't expect to get it but I'm going to try.

Turnovers: This week we reconditioned two units--106A and 108. Both were substantial efforts. Work not only included a deep cleaning but touch up painting through out, repairs to curtains, screen doors, faucets, wood work, lights, re-connection of electronics, location of remotes, etc. Both these units took a multi task group--maids, painters, wood workers, glaziers, etc. and involved substantially more time than 107 took. There are a few remaining details on each to be completed but both are substantially done.

Luxury Property Tax: This continues to be a topic of concern and utter confusion for expats. As one columnist described it; expats are concerned because they expect to abide by the law--what ever it is--Ticos are mostly unconcerned because they don't know about it or they expect to ignore it. The advise we are likely to follow at this point in time is to wait and let the dust settle and the confusion cleared up. We still don't think it applies to us but the calculations and the filing are very confusing and ill understood. It is my understanding that even the ministry responsible for administering this law has advised everyone to wait.

For Rent - SHORT TERM: Immediately to Dec. 6 -- see pictures and description below.

Fully furnished 2 bedroom unit (1250sf). This can be leased on a per diem basis minimum of 1 week.

Description: 106 Complex:
This building is a "4 plex". It has two units on the ground floor and two units on the 2nd. floor. Each unit is the same size (1,250sf) divided into 800 sf of interior space and 450 sf of covered front and back terraces. Units 106A and B are on the ground floor; Units 106 C and D are on the 2nd. Floor. The solid masonry demising wall (common wall) as well as the 5" concrete slab prevent sound transference.
Each house features east and west facing terraces. With the addition of a green hedge, the ground floor terrace become private. The west or back terraces on each level are private. The very large east terraces of Units C and D (upper level) capture the sunrise and overlook the gardens and large pool as well as a nearby hill. The west or back terraces from the upper level are great for viewing sunsets and the mountains surrounding the Central Valley.

106 B: (ground floor)
KITCHEN / DINING
While the open concept kitchen / living room / dining room offer a large area for living and entertaining, the generous "U" shaped kitchen design with raised eating counter makes it unnecessary to have a dinning room table but should one want it, there is room. All cupboards are made from "cedro", beautiful local wood. Both, the living room and dining area, face the east terrace. Being on the same level, the large covered terrace becomes an extended living area.
The kitchens features a SS range, refrigerator, and microwave/ exhaust as well as full granite backsplash and counter. Recessed valence lighting accents the workspace. A suspended cupboard over the breakfast counter provides additional storage and completes the full set of upper cabinets in the kitchen.
GUEST BEDROOM / DEN:
Use of the center room is flexible: It could be used variously as a communications room / extended living room, or by closing the large sliding doors, it could become a private bedroom with en-suite washroom. Integrated into the cupboard/closet is a computer work station.
MASTER BEDROOM:
The vaulted master bedroom features a queen bed. The closet is designed to allow a TV which is conveniently located for in-bed viewing. A three piece wash room is attached to this room.
2ND. BATHROOM:
It has a shower, vanity, and WC. It can be a guest bathroom or by closing a door, could be an en-suite bathroom should the guest bedroom / den area be used as a bedroom.
BACKYARD / TERRACE
The very private backyard covered terrace is accessed off the master bedroom through a sliding glass door. A stacked washer/dryer is located here.
Units for Sale/Lease: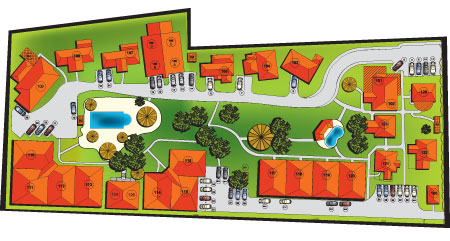 Unit #
109

--

For

Sale $214,900 - FURNISHED (Leased until July 31, 2010 - $1,550 pr month)


Total Area (Sq Ft):

1506

Total area (Sq M):

140

Bedrooms:

2

Bathrooms:

2

Floor(s):

1 Story

Type:

Detached

Furnished:

Yes

This single story home (1506 sf. + parking

for

one car) is detached, has two bedrooms, two bathrooms, home office, living room wall / entertainment center along with a built in office and a semi-private terrace. In addition, it has a vaulted ceiling in the "great" room and two skylights. The covered entrance way is suitable

for

two chairs located next to a covered garden area. Once through the impressive front door, you enter the "great room" which houses the kitchen, dining room, office and living room. Upon entering, there is a built in wooden hutch surfaced with granite—it matches all the built-in furniture in the great room. There is a clothes washer and dryer off the 2nd bedroom. It may also be used

for

storage.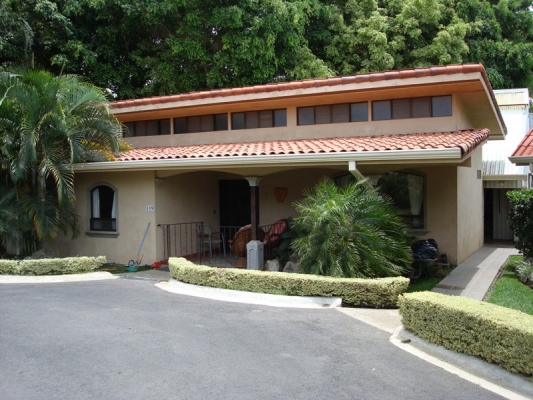 Read More
Unit #
111

--

For

Sale at $200,000 SEMIFURNISHED* / Leased until August 1, 2010 - $1,200 pr month
* INCLUDED ARE: refrigerator, 6 burner gas range, built-in microwave/exhaust; stacked washer / dryer

,

curtains throughout, a king and queen bed if desired.

Total Area (Sq Ft):

1738

Total area (Sq M):

161

Bedrooms:

2

Bathrooms:

2

Floor(s):

Single Floor

Type:

Attached

Furnished:

No
This corner home located in set of four homes, is very private. The entrance belies the 1,738 sf to be found on the other side of the entrance door. The short entrance hallway opens into a huge "
great room
" consisting of the kitchen, LR and DR. This room is truly of huge proportions including the 16' high vaulted ceiling. This vaulted ceiling has clear story windows
for
light and ventilation. Valance lighting surrounds the room and provides ambiance with its upward sighing lights as well as accent lighting with the recessed halogen lights. From the living room, a large sliding glass door leads onto a private covered terrace.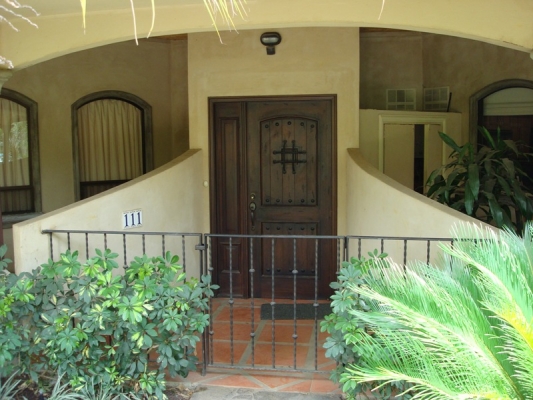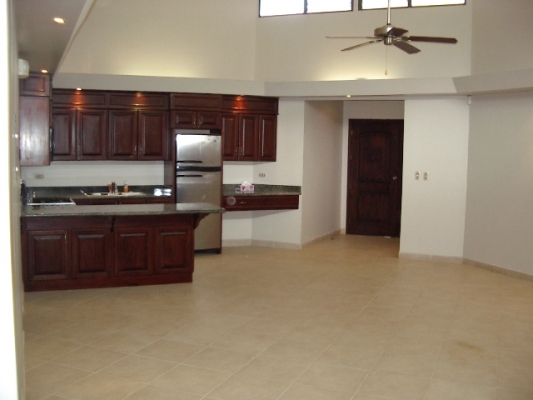 Read More
» NEWS FROM COSTA RICA
November 08, 2009
State of the Nation: Guarded Optimism
Costa Rica stumbled through much of 2008 and the first half of 2009, but the country is still on its feet.

Read
November 07, 2009
Search Continues For Missing Brit in Costa Rica
The family of missing British journalist, Michael Dixon, continues to search for him following his disappearance in Costa Rica. Michael was reported missing over two weeks ago in Tamarindo, Guanacaste, where he was on holiday.

Read
November 07, 2009
Sailors predict flat out race to Costa Rica in the Transat Jacques Vabre
The wind whipping up the Channel and into the harbour of Le Havre today served notice to the 20 yachts in the Bassin Paul Vatine that, come Sunday when they set off on the 5,000-mile Transat Jacques Vabre to Costa Rica, that the price of a sunny South American finish will be an opening autumnal slap in the face.

Read
November 06, 2009
San José - Santa Ana Highway Completely Closed At Multiplaza
The autopista Próspero Fernández near Multiplaza Escazú will be completely closed between 8am today and 10am Sunday to allow work crews to continue critical work on the Agres river bridge reconstruction. The reconstruction of the bridge has been going on for the better part of the year as part of the widening of the autopista to six lanes.

Read
November 06, 2009
Wal-Mart To Open 11 New Stores And Provide 500 New Jobs in Costa Rica
Wal-Mart announced that it will be hiring an additional 500 people and opening 11 more stores in 2010 in Costa Rica, half of the company's investment in the region.

Read
November 06, 2009
ICE Gets Tough On High Risk Cellular Customers
Have you had your cellular phone service cut off immediately the day after it's due date? Well, it may be because your are on ICE's blakc list.

Read
November 06, 2009
Costa Rica Foreign Investment to Rebound, Ruiz Says
(Bloomberg) - Costa Rica's foreign direct investment will return to 2008 levels after falling about 30 percent this year, boosted by tourism and investments in ports and telecommunications projects, said Marco Vinicio Ruiz, the country's minister of foreign trade.

Read
November 05, 2009
Costa Rica To Suspend New Gun Permits To Foreigners
By executive order the government of Costa Rica has decided on a ban on new weapons permits to all foreigners and an exhaustive review of all existing permits held by foreigners and revoke any permits if such permits cannot be justified, said yesterday the ministro de la Presidencia, Rodrigo Arias Sánchez.

Read
November 05, 2009
New MOPT Minister Orders Closure Of Two Bridges
In less than 48 hours in office, the new ministro de Obras Pública y Transportes (MOPT), Marco Vargas, has ordered the closing of the first two, of what could be a series of bridges, the suspension bridges in Grano de Oro de Turrialba and San Jerónimo de Esparza.

Read
November 05, 2009
"Lay Away" Is A Way For Many Costa Ricans To Buy Christmas Gifts
Christmas shopping in Costa Rica is a little different, the lay-away plan is a favourite for early shoppers to avoid the long lines as December approaches, fear of shortage of stock or lack of funds to pay before receiving the Aguinaldo.

Read
November 04, 2009
Best Bank Costa Rica: Sweet Insulation
Costa Rica's state banks have played an important role in supporting the country's economy and continue to dominate at a time when private financial institutions and foreign operations may find it difficult to enter or increase share.

Read
November 04, 2009
Luxury Home Tax Fine Can Be 10 Times The Tax
Foreign nationals should be especially careful about the new luxury home tax (casa de lujo in Spanish) because Costa Rica (Tico) attorneys and accountants have expressed confusion about how this new law affects owners.

Read
November 02, 2009
Court To Decide On Appeal For Free Wireless In Costa Rica
The Sala Constitucional (Constitutional Court) has accepted for study a "recurso amparo" (appeal) that would require the State to offer free internet services over a wireless network.

Read
» OUR LIVES
Weather:

Normal October rains in November--finally. Mostly overcast days with sunny mornings.

Residency:

Lita's birth certificate is now in hand. She is relieved. We now wait on our police clearance from Canada. Our other documents are being prepared. Slowly we are making progress.

House turnovers:

this has been a busy week for me supervising the cleaning and repair of houses. I've spent many, many hours in the trenches doing this work and now supervise it. Fortunately over the years, I've learned many, many techniques which can be applied, but they have to be taught. And doing the right job requires a careful eye and years of experience. You can't just say.."clean the house..." and expect the result to be acceptable. I find I have to be on-site giving active supervision to whomever. In most cases, this means 10 hour days. Work did not end until 8pm. Friday night and two people plus myself were at it again on Saturday when we finally finished at 5. Lita fixed dinner and I drank--it worked for me.

Brian, Lita, Hugo, irreverent Vicka, the pigeon toed parrot, and the newbies — Chico and Chica.



Brian C. Timmons, Newsletter Author
Residencias Los Jardines/Hacienda El Dorado - Developer
E-mail: brian@eldoradocostarica.com



For inquiries about availability of residences at Hacienda El Dorado or Residencias Los Jardines, contact:



Jan Kozak, Marketing Manager
Hacienda El Dorado
Rio Oro, Santa Ana
Costa Rica

Web: www.eldoradocostarica.com
E-mail: info@eldoradocostarica.com
MSN: jan.kozak.jr@hotmail.com
Skype: jan.kozak.jr

Tel (US) (+1) 647-477-5825
Cell: (+506) 8345-8018

Tel (US) (+1) 647-477-5825
Cell: (+506) 8345-8018