INVU Update; Rancho Roofs & Possums


» NOTES
When I started Residencias Los Jardines, I started writing a weekly news letter —determined to tell all the good, bad, and the ugly. I knew some readers would be interested in the construction process. I expected others might be interested in the lifestyle of two people who had decided to live outside the box. For others, the adventures of Lita, the parrot and the cat took on an entertainment saga all its own.

Residencias Los Jardines is finished. We periodically have resales and rental availability. Some readers may be interested in this information.

More and more, the content will be dominated by events of our new project, "El Dorado" for short. While the future is always uncertain, I again aim to tell it like it happens —the good, the bad, and the ugly, and that is what follows.

In an effort to make the format more interesting and visually appealing and to field inquiries re. El Dorado, the news letter is now being distributed by Jan Kozak, Marketing Manager, Hacienda El Dorado. I will remain the author.

Brian C. Timmons, Author
Residencias Los Jardines/Hacienda El Dorado - Developer
E-mail: brian@eldoradocostarica.com

YOU CAN ALSO VIEW THE COMPLETE VERSION ONLINE AT:

https://www.eldoradocostarica.com/English/Newsletter/index.php


» CONSTRUCTION LOG
INVU - The electro-mechanical engineer and the civil engineer were suppose to meet on Friday and to review their completed work. I don't have a status report if that happened but..... We are still waiting for the Min. of Salud to approve the detailed design of the black water treatment plan. We are waiting for an update on the status of the well concession.
» RESIDENCIAS LOS JARDINES
Shareholder Meeting: I have been working with the lawyer to craft the resolutions. They are nearly ready for distribution along with supporting documentation.

Rancho Roofs: They reached the end of their life and have to be replaced. This has been known for several years. On Saturday, I had the builder of the ranchos who lives in Guanacaste on site. He's done his on site inspection and clarified some responsibilities..eg. who is responsible for disposing of the old roof, where will they live (5 people for approx. 2 months) when they are working on the roofs...etc. He said he would give me a quote in 8 days.....

Possums: We have become over run with possums. They have found a safe habitat with lots of food...some people leave food out for cats and ....... We found a nest of 5 and relocated them to a quebrada. We didn't find the mother and yesterday, we found another one. They have to be God's ugliest creation. No wonder the mother hid!!!!

Turnovers: We have a series of house turnovers beginning Saturday. This always involves a deep cleaning, repairs, and replacement of broken, worn, or missing household items--towels, coat hangers, sheets, etc. This turnover usually takes about 25-30 hours. I spent yesterday on site supervising and training new maids...if there is a payoff, it will come after several more close supervisions.

Kirebe: They are installing the landscaping and finishing off the interiors of 2/3rds. of their development. As of Saturday, it could be that they are making preparations to build out the last 1/3 of the houses...that would be closest to our property. I think we are in for another dusty season.

For Rent: November only -- $1,250 inclusive (gas, electricity, Internet, Cable TV)

Fully furnished 2 bedroom unit (1250sf). This can be leased on a per diem basis minimum of 1 week.
Units for Sale/Lease: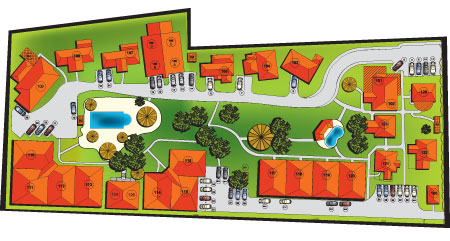 Unit #
109

--

For

Sale $214,900 - FURNISHED (Leased until July 31, 2010 - $1,550 pr month)


Total Area (Sq Ft):

1506

Total area (Sq M):

140

Bedrooms:

2

Bathrooms:

2

Floor(s):

1 Story

Type:

Detached

Furnished:

Yes

This single story home (1506 sf. + parking

for

one car) is detached, has two bedrooms, two bathrooms, home office, living room wall / entertainment center along with a built in office and a semi-private terrace. In addition, it has a vaulted ceiling in the "great" room and two skylights. The covered entrance way is suitable

for

two chairs located next to a covered garden area. Once through the impressive front door, you enter the "great room" which houses the kitchen, dining room, office and living room. Upon entering, there is a built in wooden hutch surfaced with granite—it matches all the built-in furniture in the great room. There is a clothes washer and dryer off the 2nd bedroom. It may also be used

for

storage.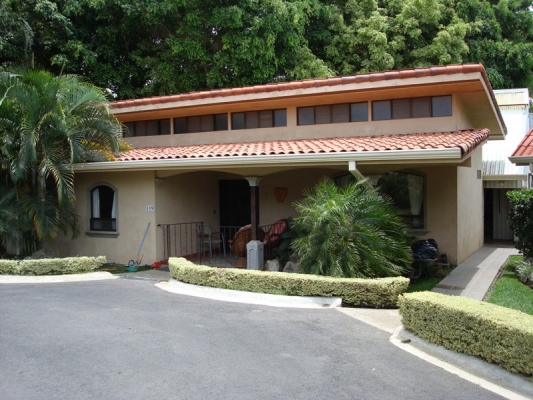 Read More
Unit #
111

--

For

Sale at $200,000 SEMIFURNISHED* / Leased until August 1, 2010 - $1,200 pr month
* INCLUDED ARE: refrigerator, 6 burner gas range, built-in microwave/exhaust; stacked washer / dryer

,

curtains throughout, a king and queen bed if desired.

Total Area (Sq Ft):

1738

Total area (Sq M):

161

Bedrooms:

2

Bathrooms:

2

Floor(s):

Single Floor

Type:

Attached

Furnished:

No
This corner home located in set of four homes, is very private. The entrance belies the 1,738 sf to be found on the other side of the entrance door. The short entrance hallway opens into a huge "
great room
" consisting of the kitchen, LR and DR. This room is truly of huge proportions including the 16' high vaulted ceiling. This vaulted ceiling has clear story windows
for
light and ventilation. Valance lighting surrounds the room and provides ambiance with its upward sighing lights as well as accent lighting with the recessed halogen lights. From the living room, a large sliding glass door leads onto a private covered terrace.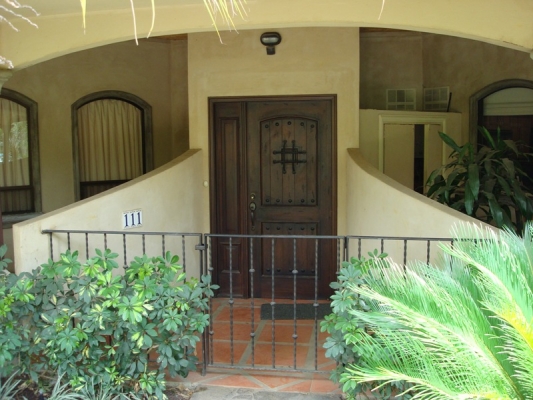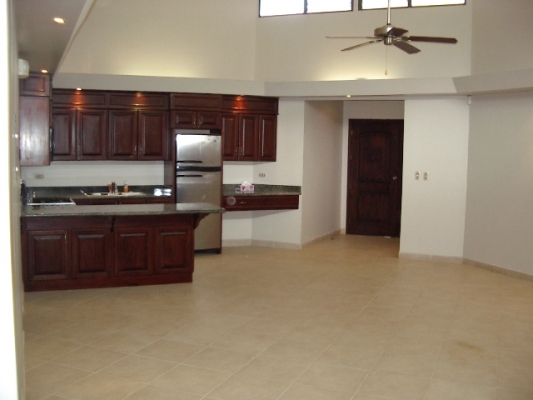 Read More
» NEWS FROM COSTA RICA
October 31, 2009
Trick or Treat. It's Halloween!
Halloween, a relatively new holiday in Costa Rica, will be celebrated today in mostly private parties and get together. In Costa Rica the night is called "Noche de Brujas" (witches night).
Read
October 31, 2009
Arias Commits To Feasibility Study To Build Railway With Panama
Costa Rican president Oscar Arias, said on Friday that during a meeting with his Panamanian counterpart, Ricardo Marinelli, to sign the Costa Rica - Panama trade agreement they two discussed the possibility of a railway between the two countries.

Read
October 31, 2009
Two More Weeks Before the Dry Season Kicks In
The national weather service - the Instituto Meteorológico Nacional (IMN) - says that the rains will last two weeks more in the Central Valley before the summer or dry season kicks in by the middel of November.

Read
October 30, 2009
Costa Ricans Have Most "Happy Years" Of Life
An update of the World Database of Happiness calculates Costa Rica is at the top of the list for quality of life in 148 countries, Dutch researchers say.

Read
October 29, 2009
Multiplaza Escazú To Unveil Expansion On Monday
On Monday, Multiplaza Escazú will unveil its "quinta etapa" (fifth stage) with the expansion of its floor area to include 86 additional stores, a new department store and more than 1.000 new parking spaces.

Read
October 28, 2009
Porteadores To Paralyze Country Today
The Porteadores (the informal taxi drivers) say they will paralyze the country today with protests and roadblocks to pressure the government into stopping its plans to eliminate the "porteo" or informal taxi service from the current legislative agenda.

Read
October 27, 2009
Tires Made In Costa Rica Will Be Part of 2011 Volkswagens Original Equipment
Tires manufactured in Costa Rica will be used in new Volkswagen vehicles beginning in 2011, following the signing of an agreement between the German auto manufacturer and Bridgestone.

Read
October 26, 2009
10 Ticking Time Bombs Await Us In Costa Rica, Report Says
A recent study says that at least 10 of the 1.330 bridges that need urgent repairs are a ticking time bomb, waiting to be the next tragedy for Costa Ricans to mourn. The first of the time bombs "exploded" last Thursday killing five people and injuring 33. How many more have to die before anything is done, Costa Ricans ask themselves, turning to their leaders for answers.

Read
» OUR LIVES
Weather:

Normal October rains--finally. Mostly overcast days. One thunderstorm which knocked out power for 45 min.

The Parrot: Disaster and Recovery:

This story hit a cord with many people--some known, some unknown. He has behaved himself this week but he's been grounded mostly in his cage. Lita was too afraid of letting him out. She hasn't yet let anyone clip his wings....we're all working her since none of us wants to relive the event.

A Call from Old Friends:

This must be the season for this. On Sunday I received a call from a French Canadian friend of 30 years who was in Paris. He called on his SKYPE to my Toronto number which was call forwarded via my Vonage system to my phone in CR. Technology is wonderful. I don't know how phone companies make any money!

Residency:

Lita's birth certificate continues to be an elusive documents. More delays in getting it in hand...ticket not issued properly or timely in the Philippines, luggage of the good Samaritan which contained the documents gone astray only to be traced down and now waiting for them to arrive. Will the documents be inside???? What started out as a quick and easy method for getting her birth certificate has turned into a typical Costa Rican odyssey..... Speed is not a real issue at this point in time since we are still waiting for our police clearance from Canada. In addition, we are preparing other required documents.

The Underpass Disaster:

This is a continuing saga. The new underpass on the old road connecting Pozos with Santa Ana which allows two way traffic was again under construction. A back hoe dug up the drain which didn't not work, jack hammers ripping out or modifying the catch basin and now there is no sign of drainage at all. I understand that the houses whose front yards got cut off have lodged a suit. I can't believe that any competent company would build with so many mistakes. I hope they did / do a better job on the San Jose-Caldera highway.

A new, three story commercial building is underway in Pozos and additional commercial activity is beginning in and around Santa Ana. Life is picking up a bit.

Brian, Lita, Hugo, irreverent Vicka, the pigeon toed parrot, and the newbies — Chico and Chica.



Brian C. Timmons, Newsletter Author
Residencias Los Jardines/Hacienda El Dorado - Developer
E-mail: brian@eldoradocostarica.com



For inquiries about availability of residences at Hacienda El Dorado or Residencias Los Jardines, contact:



Jan Kozak, Marketing Manager
Hacienda El Dorado
Rio Oro, Santa Ana
Costa Rica

Web: www.eldoradocostarica.com
E-mail: info@eldoradocostarica.com
MSN: jan.kozak.jr@hotmail.com
Skype: jan.kozak.jr

Tel (US) (+1) 647-477-5825
Cell: (+506) 8345-8018

Tel (US) (+1) 647-477-5825
Cell: (+506) 8345-8018