Disaster !!!!! and Recovery--The Parrot


» NOTES
When I started Residencias Los Jardines, I started writing a weekly news letter —determined to tell all the good, bad, and the ugly. I knew some readers would be interested in the construction process. I expected others might be interested in the lifestyle of two people who had decided to live outside the box. For others, the adventures of Lita, the parrot and the cat took on an entertainment saga all its own.

Residencias Los Jardines is finished. We periodically have resales and rental availability. Some readers may be interested in this information.

More and more, the content will be dominated by events of our new project, "El Dorado" for short. While the future is always uncertain, I again aim to tell it like it happens —the good, the bad, and the ugly, and that is what follows.

In an effort to make the format more interesting and visually appealing and to field inquiries re. El Dorado, the news letter is now being distributed by Jan Kozak, Marketing Manager, Hacienda El Dorado. I will remain the author.

Brian C. Timmons, Author
Residencias Los Jardines/Hacienda El Dorado - Developer
E-mail: brian@eldoradocostarica.com

YOU CAN ALSO VIEW THE COMPLETE VERSION ONLINE AT:

https://www.eldoradocostarica.com/English/Newsletter/index.php


» CONSTRUCTION LOG
INVU- The "final" approval for the location of the black water treatment plant was issued this week. That will now allow the Min. of Salud (Health) to review and approve the detailed design of the plant itself. Meanwhile, the civil engineer is doing his thing.
» RESIDENCIAS LOS JARDINES
Shareholder Meeting: The finishing touches are being made to documentation for the up coming meeting--summary of the year in review, year end financial analysis against the budget, preparation of next year's budget, assessment of the new and ill defined "luxury" property tax and it's affect on Los Jardines, various agenda items for discussion and resolution, etc. All this falls on me....why? Good question.. I have develop0ed answers for my satisfaction.....

For Sale:

109, two bedroom, one level, furnished, $214,900
111, two bedroom, one level, unfurnished, $200,000
Units for Sale/Lease: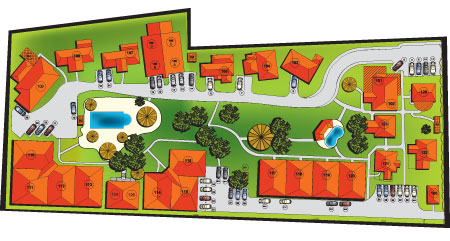 Unit #
109

--

For

Sale $214,900 - FURNISHED (Leased until July 31, 2010 - $1,550 pr month)


Total Area (Sq Ft):

1506

Total area (Sq M):

140

Bedrooms:

2

Bathrooms:

2

Floor(s):

1 Story

Type:

Detached

Furnished:

Yes

This single story home (1506 sf. + parking

for

one car) is detached, has two bedrooms, two bathrooms, home office, living room wall / entertainment center along with a built in office and a semi-private terrace. In addition, it has a vaulted ceiling in the "great" room and two skylights. The covered entrance way is suitable

for

two chairs located next to a covered garden area. Once through the impressive front door, you enter the "great room" which houses the kitchen, dining room, office and living room. Upon entering, there is a built in wooden hutch surfaced with granite—it matches all the built-in furniture in the great room. There is a clothes washer and dryer off the 2nd bedroom. It may also be used

for

storage.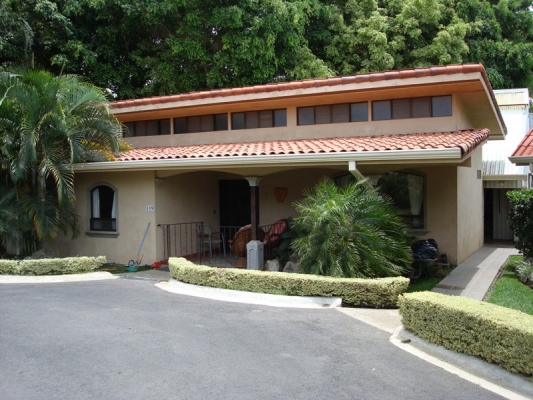 Read More
Unit #
111

--

For

Sale at $200,000 SEMIFURNISHED* / Leased until August 1, 2010 - $1,200 pr month
* INCLUDED ARE: refrigerator, 6 burner gas range, built-in microwave/exhaust; stacked washer / dryer

,

curtains throughout, a king and queen bed if desired.

Total Area (Sq Ft):

1738

Total area (Sq M):

161

Bedrooms:

2

Bathrooms:

2

Floor(s):

Single Floor

Type:

Attached

Furnished:

No
This corner home located in set of four homes, is very private. The entrance belies the 1,738 sf to be found on the other side of the entrance door. The short entrance hallway opens into a huge "
great room
" consisting of the kitchen, LR and DR. This room is truly of huge proportions including the 16' high vaulted ceiling. This vaulted ceiling has clear story windows
for
light and ventilation. Valance lighting surrounds the room and provides ambiance with its upward sighing lights as well as accent lighting with the recessed halogen lights. From the living room, a large sliding glass door leads onto a private covered terrace.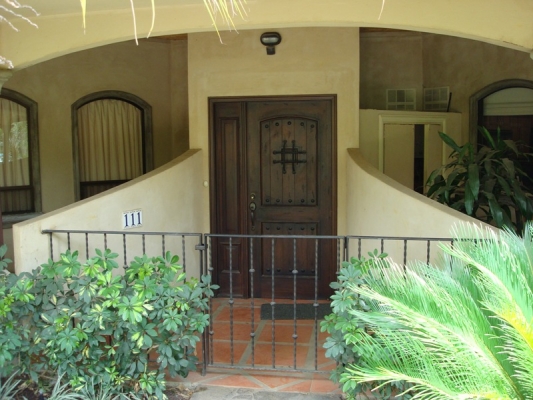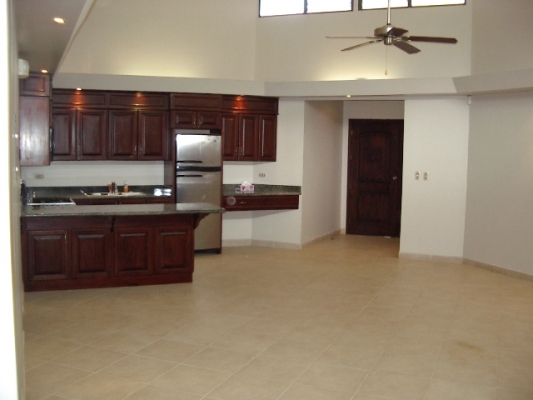 Read More
» NEWS FROM COSTA RICA
October 25, 2009
Government Allocates $15 Million to Repair Bridges
The Costa Rica government announced on Saturday that it is allocating us$15 million for the reparation of 10 bridges, two days after a tragedy that took five lives and sparked a barrage of criticism against the ministra de Obras Pública y Transportes, Karla González.

Read
October 25, 2009
Private Security Guards Outnumber Police Officers In Costa Rica
Private security guards in Costa Rica almost double the number of police officers in Costa Rica. According to the Dirección del Servicio de Seguridad Privada del Ministerio de Seguridad, there are 20.000 registered security guards to 13.000 members of the Fuerza Pública (police).

Read
October 24, 2009
Costa Rica Focusing On Eco-Tourism To Weather The Economic Storm
An interview with Costa Rica's ministro de Turismo (Tourism Minister), Carlos Ricardo Benavides, who says that tourism in Costa Rica, like the rest of the world, has dropped a little bit and still focusing on the US market.

Read
October 24, 2009
Costa Rica's Most Comprehensive Real Estate Guide Hits the Presses
For close to a decade, Costa Rica has been building a reputation as a reliable place to invest in property. In fact, in 2006 Costa Rica was one the hottest real estate markets in the world according to CNBC News.

Read
October 24, 2009
Intel Is Good Neighbour in Costa Rica
Intel Corporation, with headquarters in California, has a large presence in Costa Rica, where it strives to prepare local students for the high-tech job market. The company, which makes integrated circuits for computing and communications industries worldwide, is the largest company in Costa Rica.

Read
October 23, 2009
Beer In Costa Rica
Quick, how many different types of beers are there in Costa Rica? If you said five - Imperial, Pilsen, Bavaria, Rock Ice and Heineken - you would be absolutely, without a question, be wrong!

Read
October 23, 2009
Costa Rica's Economy Doing Better, But Unemployment Levels Worrisome
The Banco Central de Costa Rica (BCCR) - Central Bank - says the Costa Rican economy is recuperating from the economic crisis of the past year, however, unemployment continues to be a stickler.

Read
October 23, 2009
TACA Offers Orlando - San José Three Times A Week
TACA joins JetBlue in providing service between Orlando, Florida and San José, Costa Rica, with three flights a week beginning on November 1.

Read
October 22, 2009
Sykes Looking To Hire 100 In Costa Rica
Sykes in Costa Rica is looking to hire 100 for positions in customer service to technical support. The job fair will be held on Saturday between 8am and 2pm in Sykes offices in Moravia.

Read
October 22, 2009
Lack Of Rainfall Forces Possible Higher Electricity Rates
The lack of rainfall this rainy season will cost us all as the Instituto Costarricense de Electricidad (ICE) is readying to request an increase in electrical rates as it faces higher expenditures in the generation of electricity to keep the lights on in Costa Rica.

Read
October 21, 2009
New Grant to Support Discovery and Innovation in the Americas
The Costa Rican National Council for Scientific and Technological Research (CONICIT), in association with the Costa Rica-United States of America Foundation (CRUSA), the National Center for Supercomputing Applications (NCSA) at the University of Illinois, and under the auspices of the Advanced Research and Technology Collaboratory for the Americas (ARTCA) announced the Discovery and Innovation Through Cyberactivity - Costa Rica (CR-DIC) to the international scientific and research community.

Read
October 20, 2009
Costa Rica Tourist Arrivals Drop in 2009 After 2008 Record Increase
After a record arrivals of 2.51 million in 2008, a steady annual increase since the 2.06 million in 20006 and 2.29 million in 2007, Costa Rica recorded a drop to 2.29 million for 2009. Arrival numbers are forecast to tick up again in 2010, and to grow at an average rate of 2.2% until the end of our forecast period in 2013.

Read
» OUR LIVES
Weather:

Normal October rains--finally. Mostly overcast days. No lightening storms.


Steak Run:

They had only rib eye and tenderloin (this is not a real hardship)-- no NY strips..... we'll return next week for those. As usual, the rib eyes and tenderloin are fantastic.

The Parrot: Disaster and Recovery:

This has dominated the week. On Wednesday morning, I instructed (for the 5th time) one of the gardeners to rake down the trimmed ficus trees. When they trim them, many leaves are left in the tree which fall down over the next several weeks. I've told them many times to shake the tree and to rake down the surface in order to drop the cut leaves. As with most things here, it often takes repeated instructions up to and including the with holding a paycheck to get the desired action. They were working on the tree that the parrot was in and not thinking. Around 10am, one of the gardeners ran to my office saying the parrot had flown away. (His wing feathers had grown out and seemed perfectly able to fly.) The gardeners didn't get a look as to where he went....he was last seen flying high to the west. Lita goes into action and I along with her. We search the neighborhood for the next 6 hours...through rain. No sight nor sound from the parrot. He's gone....there's hell to pay and we all get it. Everyone is running for cover.... everyone is feeling absolutely terrible because we all know Lita's bond and how important the bird is to her happiness. I review my resources and order another one from a guy I know in Guanacaste. He immediately goes to work on this. About 4pm, rain soaked and despondent, Lita thinks she is getting a response from the parrot. No one believes her. She persists. She's accused of hallucinating. Wait... Yes, she may be hearing something. I climb the fence / hedge and I locate the sound. We go next door, again convince the guard that we now believe we know where the little bugger is and he accompanies us to that location. No one can see the parrot--green against green...perfect camouflage. He sticks Lita's pole into the hedge where he thinks it is. Nope,,,but from a closer hedge I see the little guy scampering as fast has his little legs would go, climbs on the pole and shimmys down into Lita's arms. You can't believe the relief.....now we are into the post traumatic syndrome phase and the air is still thick with tension.... We were invited for dinner on Friday but we weren't good company so declined...I didn't like doing that but don't think the alternative would have been fair to our host. It will pass and the wings will be clipped and I'm sure the gardeners will never forget the parrot in the future. (The order for another parrot was canceled--he already had one lined up--it's good to have friends in time of need.)

A Call from Old Friends:

Wednesday night I was fixing dinner (for one) and trying to forget about the day and wondering if anyone still loved me and the phone rings. I had forgotten that I was expecting the call. Twenty plus years ago, I, along with my HR department, initiated a "team building" event centering around curry. We would meet twice a year, all you can eat and drink; usually for about $20 per person. We had a well located, great Indian place where the owner accommodated us very well. The group usually numbered between 15 and 25. New people came; some regulars dropped. On Wednesday, there were 25. Since the event is just two blocks from my home in Toronto, and since all a caller has to do is to call my home phone number and it rings in CR, I got to talk with a number of former colleagues. It was great. I guess the team building exercise worked in one respect, the group is still together after all these years. Many still follow my life here in CR through the newsletter. All were, of course, invited to visit me here...

Residency:

Lita's birth certificate has been issued and is being hand delivered but the deliver keeps being postponed due to inclement weather, ticket foul-ups, etc. Now we are expecting it on Oct. 28. Our marriage certificate has been issued. We are waiting for the police clearance. The financial report which will form part of the application is beginning to be prepared. The Tico Times had an article with the Min. of Immigration this week. The article focused mainly on the new rules for "investor" and the $200,000 figure. However, as is usual with the TT article on this subject, I believe the insert applied to the old law and not the new decree thus continuing to add confusion and uncertainty to how the new decree will be applied. So why would I think this should be clear; it really seems that CR legislators cannot write a clearly understood and well thought out law. Whether it be for immigration, property tax on "luxury" homes, or traffic laws....ALL have the same characteristic....ambiguous in wording and poorly thought through. That's the way it is in paradise!

Misc.

It appears that a small residential construction site is being readied not far from Los Jardines. It is too early to tell what will happen there.

Brian, Lita, Hugo, irreverent Vicka, the pigeon toed parrot, and the newbies — Chico and Chica.



Brian C. Timmons, Newsletter Author
Residencias Los Jardines/Hacienda El Dorado - Developer
E-mail: brian@eldoradocostarica.com



For inquiries about availability of residences at Hacienda El Dorado or Residencias Los Jardines, contact:



Jan Kozak, Marketing Manager
Hacienda El Dorado
Rio Oro, Santa Ana
Costa Rica

Web: www.eldoradocostarica.com
E-mail: info@eldoradocostarica.com
MSN: jan.kozak.jr@hotmail.com
Skype: jan.kozak.jr

Tel (US) (+1) 647-477-5825
Cell: (+506) 8345-8018

Tel (US) (+1) 647-477-5825
Cell: (+506) 8345-8018