Tico Teamwork -- Cultural Dysfunction?


» NOTES
When I started Residencias Los Jardines, I started writing a weekly news letter —determined to tell all the good, bad, and the ugly. I knew some readers would be interested in the construction process. I expected others might be interested in the lifestyle of two people who had decided to live outside the box. For others, the adventures of Lita, the parrot and the cat took on an entertainment saga all its own.

Residencias Los Jardines is finished. We periodically have resales and rental availability. Some readers may be interested in this information.

More and more, the content will be dominated by events of our new project, "El Dorado" for short. While the future is always uncertain, I again aim to tell it like it happens —the good, the bad, and the ugly, and that is what follows.

In an effort to make the format more interesting and visually appealing and to field inquiries re. El Dorado, the news letter is now being distributed by Jan Kozak, Marketing Manager, Hacienda El Dorado. I will remain the author.

Brian C. Timmons, Author
Residencias Los Jardines/Hacienda El Dorado - Developer
E-mail: brian@eldoradocostarica.com

YOU CAN ALSO VIEW THE COMPLETE VERSION ONLINE AT:

https://www.eldoradocostarica.com/English/Newsletter/index.php


» CONSTRUCTION LOG
INVU- last week I wrote: The follow up meeting scheduled for Wednesday was postponed to Friday and then rescheduled for Wed. of this coming week. It's easy to understand why it took 28 years to plan the San Jose - Caldera highway and two years to build it. We'll keep pushing.....

Wednesday This week: The person to receive the information arrived at the designated time; the person who was to have finished his portion of the work did not show up until called and then showed up an hour late with no information; and the other key player didn't show up for reasons unknown. We rescheduled for Friday at 3:30.

Friday meeting: the meeting was postponed from 3:30 to 4:00 by the person to receive the info. The person giving the info. arrived at 4:30. The third party was burying his friend so couldn't attend. The meeting between the two key players finally happened. One did not have the marked up drawings which he needed to turn over to the Civil engineer; the civil engineer didn't have a flash stick to download the electro-mechanical changes. We did a line item review and found two minor items to be changed and two major items which, had I been involved earlier, would not have needed to be changed. We had already discussed the solution in a different context but the engineer had not translated that solution to this application. The municipality wants some device (tank, flood plane, or absorption pit) to, when necessary, to absorb large rain runoff. This is reasonable. The solution proposed would have used the recreation area where there is to be a swimming pool and tennis court for that flood lagoon. No way... we had always planned on putting a tank under the tennis court to be used for a reservoir for irrigation water. and possibly for fire suppression. During the rainy season, it can be used as a rainwater retention tank and the same solution applied in a different location. How many hours were spent agonizing over this, I don't know. Had I been more involved I think we could have move ahead faster. I'm not an engineer but engineering designs begin with ideas...

The civil engineer will now pick up where the electro-mechanical engineer left off and will do the changes he needs to make.

INVU / AyA want a detailed design of the black water treatment plant--this is being done--and will review the location and presumably give final approval when the design is finished. This is expected to be ready in early November and which point, we will re-submit all info. to INVU....

Some number alignments need to be made on documents...mainly administrative..
» RESIDENCIAS LOS JARDINES
Marketing: None of the leads generated resulted in follow ups by the 10 leads. In speaking with another person who participated, he got fewer leads than he expected and no follow through either. Our conclusion is that the N. Am. market is still very weak for our product here. Only one person interested in purchasing and that would be several years down the road.

Shareholder Meeting: Documentation is being prepared for distribution next week.

For Sale:

109, two bedroom, one level, furnished, $214,900
111, two bedroom, one level, unfurnished, $200,000
Units for Sale/Lease: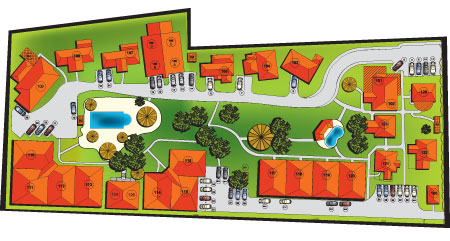 Unit #
109

--

For

Sale $214,900 - FURNISHED (Leased until July 31, 2010 - $1,550 pr month)


Total Area (Sq Ft):

1506

Total area (Sq M):

140

Bedrooms:

2

Bathrooms:

2

Floor(s):

1 Story

Type:

Detached

Furnished:

Yes

This single story home (1506 sf. + parking

for

one car) is detached, has two bedrooms, two bathrooms, home office, living room wall / entertainment center along with a built in office and a semi-private terrace. In addition, it has a vaulted ceiling in the "great" room and two skylights. The covered entrance way is suitable

for

two chairs located next to a covered garden area. Once through the impressive front door, you enter the "great room" which houses the kitchen, dining room, office and living room. Upon entering, there is a built in wooden hutch surfaced with granite—it matches all the built-in furniture in the great room. There is a clothes washer and dryer off the 2nd bedroom. It may also be used

for

storage.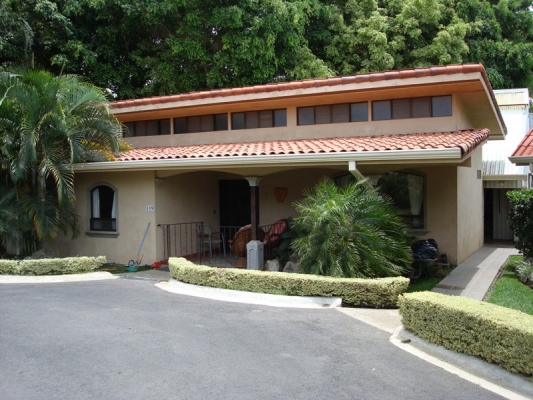 Read More
Unit #
111

--

For

Sale at $200,000 SEMIFURNISHED* / Leased until August 1, 2010 - $1,200 pr month
* INCLUDED ARE: refrigerator, 6 burner gas range, built-in microwave/exhaust; stacked washer / dryer

,

curtains throughout, a king and queen bed if desired.

Total Area (Sq Ft):

1738

Total area (Sq M):

161

Bedrooms:

2

Bathrooms:

2

Floor(s):

Single Floor

Type:

Attached

Furnished:

No
This corner home located in set of four homes, is very private. The entrance belies the 1,738 sf to be found on the other side of the entrance door. The short entrance hallway opens into a huge "
great room
" consisting of the kitchen, LR and DR. This room is truly of huge proportions including the 16' high vaulted ceiling. This vaulted ceiling has clear story windows
for
light and ventilation. Valance lighting surrounds the room and provides ambiance with its upward sighing lights as well as accent lighting with the recessed halogen lights. From the living room, a large sliding glass door leads onto a private covered terrace.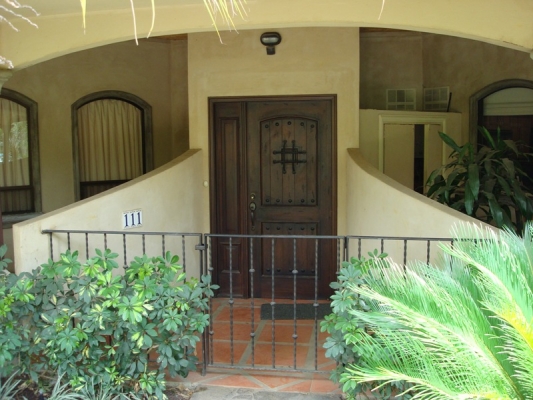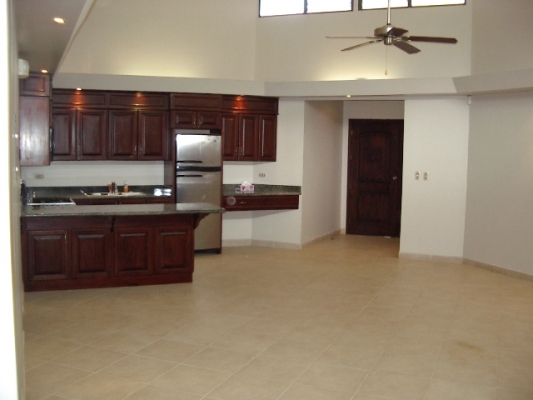 Read More
» NEWS FROM COSTA RICA
October 18, 2009
C.R.'s Lease on Peace
Venezuelan President Hugo Chávez' decision to open a peace base in Costa Rica has perplexed government officials here.

Read
October 18, 2009
Bands on Exchange Rate Are Stretched to ₡ 100
The Central Bank of Costa Rica adjusted the breadth of the exchange rate vis-a-vis the United States dollar this week, raising the ceiling value to ₡ 600 to $1. The floor value that a dollar can be exchanged for is ₡ 500, and dollars can be bought or sold anywhere within the ₡ 100 range on Monex, the domestic money market. When the system of the bands was initially created in 2006, the width between the ceiling and floor was only ₡ 15.44.

Read
October 18, 2009
How Not to Get Ripped Off in Costa Rica
"Is it safe to invest in Costa Rica?" This is one of the most frequent questions I get asked by the guests on my monthly retirement/relocation tours. During my nearly 30 years of living in Costa Rica I have had the opportunity to observe a lot of people make money and other lose it. I have also bought and sold a lot of property here and have currently have some sizeable money invested in property.

Read
October 17, 2009
Anne Slaughter Andrew Nominee For US Ambassador to Costa Rica
Anne Slaughter Andrew is the nominee of US president Barack Obama for ambassador to Costa Rica, the White House announced.

Read
October 17, 2009
Amway Could Move Hundreds Of Jobs to Costa Rica
Amway Corp. is said to be ready to move what could be hundreds of local jobs to Costa Rica as part of a sweeping streamlining of its global operations, according to a confidential memo obtained by The Press. The Ada-based direct seller on Oct. 5 told employees it was moving finance functions currently handled locally to a new "enterprise process centre" in Costa Rica.

Read
October 16, 2009
Political Campaign Turns Heated Days After Commencing
Although it has only been days since the 2010 presidential political campaign officially began, it has already begun to heat with the first round fired by the Partido Acción Ciudadana (PAC), Ottón Solís, challenging Laura Chinchilla, candidate for the Partido Liberación Nacional (PLN), to a "cara-a-cara".

Read
October 15, 2009
ICE President Accused Of Graft and Embezzlement By Fiscalía
The use of helicopters and airplanes by public officials for private use is hitting a new time high, with the Fiscalía filing charges against the president of the Instituto Costarricense de Electricidad (ICE), Pedro Pablo Quirós, for using state funds to pay a helicopter for personal use.

Read
October 15, 2009
Government Introduces Plan To Regulate Casinos And Gambling
The government wants to take advantage of the potential tax revenue of casinos that could mean some us$100 million dollars a year in revenue by proposing a new law to regulate casino and sports betting operations.

Read
October 15, 2009
372 Years Prison For "Whitehouse Killers"
Tuesday afternoon, almost a year after the killing spree, Juan Carlos Mena Jiménez and Cristian Mora Cantillano faced the three trial judges who would determine their fate for the rest of the lives. The decision wasn't a question if they were guilty or not, but rather, how long would they spend behind bars.

Read
» OUR LIVES
Weather:

Little rain, partly sunny, beautiful temperature.

Activities:

Quiet. I've spent most of my time working on year end information for Los Jardines owners and for next year's budget. Our friend returned to contract work for the next 7 weeks. We'll miss his company.


Steak Run:

Four of us will be doing another USA beef run for steaks. Each of our freezers are down to not much. I expect we will get both rib eye's and NY Strips....

Brian, Lita, Hugo, irreverent Vicka, the pigeon toed parrot, and the newbies — Chico and Chica.



Brian C. Timmons, Newsletter Author
Residencias Los Jardines/Hacienda El Dorado - Developer
E-mail: brian@eldoradocostarica.com



For inquiries about availability of residences at Hacienda El Dorado or Residencias Los Jardines, contact:



Jan Kozak, Marketing Manager
Hacienda El Dorado
Rio Oro, Santa Ana
Costa Rica

Web: www.eldoradocostarica.com
E-mail: info@eldoradocostarica.com
MSN: jan.kozak.jr@hotmail.com
Skype: jan.kozak.jr

Tel (US) (+1) 647-477-5825
Cell: (+506) 8345-8018

Tel (US) (+1) 647-477-5825
Cell: (+506) 8345-8018