Immigration Law Change & Lechon!!!!


» NOTES
When I started Residencias Los Jardines, I started writing a weekly news letter —determined to tell all the good, bad, and the ugly. I knew some readers would be interested in the construction process. I expected others might be interested in the lifestyle of two people who had decided to live outside the box. For others, the adventures of Lita, the parrot and the cat took on an entertainment saga all its own.

Residencias Los Jardines is finished. We periodically have resales and rental availability. Some readers may be interested in this information.

More and more, the content will be dominated by events of our new project, "El Dorado" for short. While the future is always uncertain, I again aim to tell it like it happens —the good, the bad, and the ugly, and that is what follows.

In an effort to make the format more interesting and visually appealing and to field inquiries re. El Dorado, the news letter is now being distributed by Jan Kozak, Marketing Manager, Hacienda El Dorado. I will remain the author.

Brian C. Timmons, Author
Residencias Los Jardines/Hacienda El Dorado - Developer
E-mail: brian@eldoradocostarica.com

YOU CAN ALSO VIEW THE COMPLETE VERSION ONLINE AT:

https://www.eldoradocostarica.com/English/Newsletter/index.php


» CONSTRUCTION LOG
INVU-The follow up meeting scheduled for Wednesday was postponed to Friday and then rescheduled for Wed. of this coming week. It's easy to understand why it took 28 years to plan the San Jose - Caldera highway and two years to build it. We'll keep pushing.....
» RESIDENCIAS LOS JARDINES
Marketing: The marketing effort happened. So far it's generated 9 leads. About what I expected. It is too early to tell if any of those 9 people are interested in our 109 or 111 houses.

Shareholder Meeting: Each year we hold this meeting. This year's will be Dec. 12. A request for agenda items has been distributed. The financial statement and other documents will be prepared and distributed over the next month along with a finalized meeting agenda.

Luxury Tax on Real Estate: Last year, the government announced a luxury tax on houses valued at over $200K plus. This was suppose to be implemented January 2009. In true CR fashion, it wasn't because the rules and regulations re. this tax had not yet been written nor promulgated. They now have. Based on our research last year, we do not think we will be affected by this because of the way we are registered with the municipality.

Rental Demand: Competition for quality rental properties is strong. An unexpected pending vacancy initiated a feeding frenzy this week which brought out some ugliness in people. Not fun. Not pretty.

For Sale:

109, two bedroom, one level, furnished, $214,900
111, two bedroom, one level, unfurnished, $200,000
Units for Sale/Lease: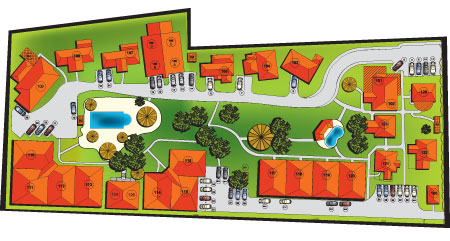 Unit #
109

--

For

Sale $214,900 - FURNISHED (Leased until July 31, 2010 - $1,550 pr month)


Total Area (Sq Ft):

1506

Total area (Sq M):

140

Bedrooms:

2

Bathrooms:

2

Floor(s):

1 Story

Type:

Detached

Furnished:

Yes

This single story home (1506 sf. + parking

for

one car) is detached, has two bedrooms, two bathrooms, home office, living room wall / entertainment center along with a built in office and a semi-private terrace. In addition, it has a vaulted ceiling in the "great" room and two skylights. The covered entrance way is suitable

for

two chairs located next to a covered garden area. Once through the impressive front door, you enter the "great room" which houses the kitchen, dining room, office and living room. Upon entering, there is a built in wooden hutch surfaced with granite—it matches all the built-in furniture in the great room. There is a clothes washer and dryer off the 2nd bedroom. It may also be used

for

storage.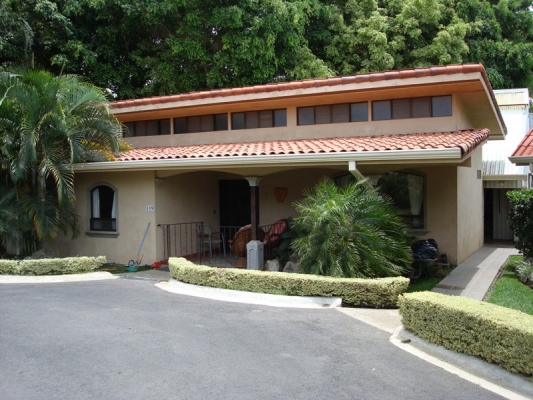 Read More
Unit #
111

--

For

Sale at $200,000 SEMIFURNISHED* / Leased until August 1, 2010 - $1,200 pr month
* INCLUDED ARE: refrigerator, 6 burner gas range, built-in microwave/exhaust; stacked washer / dryer

,

curtains throughout, a king and queen bed if desired.

Total Area (Sq Ft):

1738

Total area (Sq M):

161

Bedrooms:

2

Bathrooms:

2

Floor(s):

Single Floor

Type:

Attached

Furnished:

No
This corner home located in set of four homes, is very private. The entrance belies the 1,738 sf to be found on the other side of the entrance door. The short entrance hallway opens into a huge "
great room
" consisting of the kitchen, LR and DR. This room is truly of huge proportions including the 16' high vaulted ceiling. This vaulted ceiling has clear story windows
for
light and ventilation. Valance lighting surrounds the room and provides ambiance with its upward sighing lights as well as accent lighting with the recessed halogen lights. From the living room, a large sliding glass door leads onto a private covered terrace.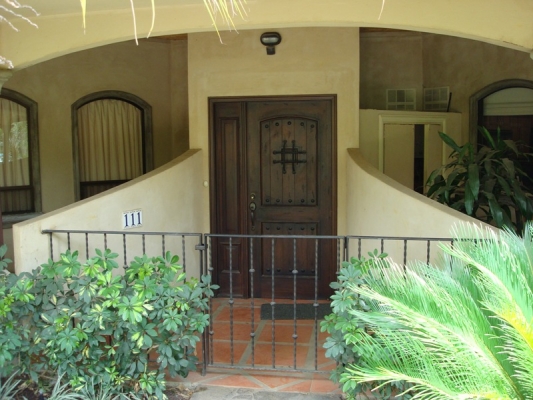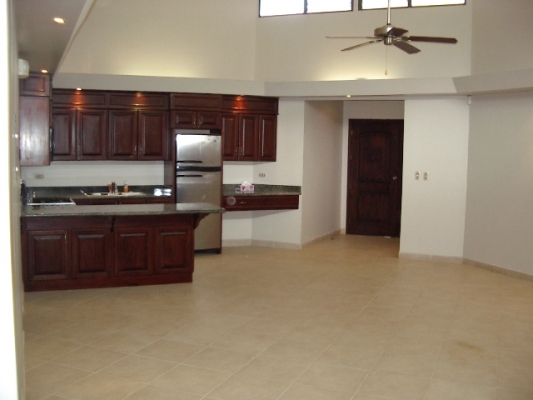 Read More
» NEWS FROM COSTA RICA
October 11, 2009
Costa Rica Wins Easily To Bolster World Cup Chances
Costa Rica had a 4-0 home win over Trinidad & Tobago on Saturday to put itself in position to qualify for the 2010 World Cup. Alvaro Saborio scored two goals and Walter Centeno added another, while Radanfa Abubakr's own-goal opened the scoring at the Ricardo Saprissa Stadium.

Read
October 11, 2009
Monday Is A Holiday
Monday October 12 is "Día de las Culturas" in Costa Rica, a day that is traditionally celebrated throughout the Americas as the day Cristopher Columbus arrived in 1492. In English speaking countries is celebrated as Columbus Day. In other countries in Latin America it is celebrated as "Día de la Raza".

Read
October 10, 2009
Gas Prices Coming Down Again
By mid November gasoline prices will drop again, the second decrease in a row, with the latest approval by the Autoridad Reguladora de los Servicios Públicos (Aresep).

Read
October 09, 2009
San José - Caldera Highway Gets Green Light For Completion
The Tribunal Ambiental Administrativo gave the Autopistas de Sol the green light yesterday to continue work on the San José - Caldera highway.

Read
October 08, 2009
New Luxury Tax In Costa Rica - A Contribution To The Poor
As of October 1st. 2009 Costa Rica sets a standard for giving home to the poor at times when the luxury real estate industry of the world is facing the challenges of the current worldwide financial crisis.

Read
October 08, 2009
2010 Presidential Campaign Now Official
Now that the 2010 presidential elections is official, what can voters expect from the candidates? Promises on security, jobs and honesty, is the answer by the experts, though it won't be known until after the elections if the elected will keep the promises.

Read
» OUR LIVES
Weather:
Some rain this week but nothing compared to the normal nor to last year which was abnormally heavy.

Immigration Law Change:
It seems that in early September, the Director General of Immigration changed the rules of the ballgame re. "inversionista" or "investor" residency status. Previous to this decree, qualification for this category and the discretionary nature of it's application in Immigration, caused most lawyers to counsel against it in favor of "pensianado" or "rentista" status. However, with the seeming stroke of a pen, a DECREE was issued which is effective immediately. The decree says:
Investment project equal or greater than $200,000 at that date`s exchange rate as determined by the Central Bank, be it in real estate, stock, productive projects or projects of national interest. To renew said status as investment residency, it is indispensable to prove that said investment has been reported to the tax authority."
The Tico Times is reporting that this now means that anyone purchasing a $200,000 house will qualify as an "investor" for residency purposes. Personally, I think it is unclear that this interpretation fits "investment project" but I expect it will be worked out in the courts through test cases. If it does, however, the housing market here of $200K + homes might get a boost. The TT article also said that it would be effective March 2010; this is different than my information which said the decree was effective immediately.
My understanding as to why this decree was made is that someone finally recognized that many desirable would be resident immigrants were attracted to Panama and Nicaragua through similar criteria. Costa Rica decided to compete. However, to date, the government hasn't made any significant effort to advertise this change and a number of lawyers are unaware of it.
New Road to the Pacific Beaches:
Limited work seems to be on going.....work stoppages in some area. It's unclear as to the effect this has on the expected completion date of June 2010.
Old West restaurant:
tried it; disappointing food-- I won't be back for 2nds. One of the three were lousy and the other two were barely mediocre. Maybe it was a off day; maybe we ordered the wrong things, but I see no reason to give it a 2nd. chance.
Lechon!!! +:
The Irish are famous for their drinking; the Filipinos are famous for their lechon (roast pig) and copious amounts of food at parties. (I know, I'm married to a filipina and have attended many, many family parties.) We have a filipina and her Canadian husband on site and they hosted a HUMONGOUS party Friday night-- The lechon (of course complete with apple in its mouth), lobster tails and chaffing dish after chaffing dish as well as platters and platters of traditional food, appetizers and finger foods followed by a variety of deserts. They had 5 people cooking most of the day with additional helpers. It was a feast....and then the karaoke started.....and the host (Noreen and the birthday girl) as well as our own Lourdes became instant rock stars!!!! (check out the picture)

Personal Note:

Friday was the 8th. anniversary of the 7am murder of Lita's nephew and his friend in their home 6 blocks from where we lived in downtown Toronto. The murderer was a jealous, crazed neighbor who put two 12guage shells into Jerry's friend as he was leaving for work and proceed to shoot Jerry three times as he came down the stairs to investigate the noise. Jerry's wife, baby and three other members of the household were still asleep. Yes, the murderer was arrested and is in a place for the criminally insane. Jerry is still dead; his wife and daughters will never know him; and the Canadian justice system allowed the murderer's assets to be drained off to his sister. There was never an "incident" which was identifiable that lead to the murder; just a jealous, unstable, social misfit who couldn't accept that an immigrant like himself could make a new life for himself and family and have fun doing it. Life goes on but some events in life become defining moments. That coupled with a botched investigation by the Toronto Police Dept. of 4 burglaries of my home including forgery and uttering failed to identify the person who's name I had given them and from whom they had collected 16 finger prints. I caught the guy and turned him over to the police; I saw him on the street car two days later.; he never saw a day of jail time. I filed a complaint against the officers with the Police Department Internal Review Board who investigated and found the officers to be the finest, hard working, conscientious public servants one could expect. My record and the evidence didn't support that finding so I took it higher--outside the cover up group within.....and yes, they were found to be derelict in their duty... For years I was under the niaeve belief in the propaganda. In Costa Rica, I don't expect anything so I won't be disappointed so I ever have a similar unfortunate experience.

Brian, Lita, Hugo, irreverent Vicka, the pigeon toed parrot, and the newbies — Chico and Chica.



Brian C. Timmons, Newsletter Author
Residencias Los Jardines/Hacienda El Dorado - Developer
E-mail: brian@eldoradocostarica.com



For inquiries about availability of residences at Hacienda El Dorado or Residencias Los Jardines, contact:



Jan Kozak, Marketing Manager
Hacienda El Dorado
Rio Oro, Santa Ana
Costa Rica

Web: www.eldoradocostarica.com
E-mail: info@eldoradocostarica.com
MSN: jan.kozak.jr@hotmail.com
Skype: jan.kozak.jr

Tel (US) (+1) 647-477-5825
Cell: (+506) 8345-8018

Tel (US) (+1) 647-477-5825
Cell: (+506) 8345-8018