INVU Updated & New BBQ Finished


» NOTES
When I started Residencias Los Jardines, I started writing a weekly news letter —determined to tell all the good, bad, and the ugly. I knew some readers would be interested in the construction process. I expected others might be interested in the lifestyle of two people who had decided to live outside the box. For others, the adventures of Lita, the parrot and the cat took on an entertainment saga all its own.

Residencias Los Jardines is finished. We periodically have resales and rental availability. Some readers may be interested in this information.

More and more, the content will be dominated by events of our new project, "El Dorado" for short. While the future is always uncertain, I again aim to tell it like it happens —the good, the bad, and the ugly, and that is what follows.

In an effort to make the format more interesting and visually appealing and to field inquiries re. El Dorado, the news letter is now being distributed by Jan Kozak, Marketing Manager, Hacienda El Dorado. I will remain the author.

Brian C. Timmons, Author
Residencias Los Jardines/Hacienda El Dorado - Developer
E-mail: brian@eldoradocostarica.com

YOU CAN ALSO VIEW THE COMPLETE VERSION ONLINE AT:

https://www.eldoradocostarica.com/English/Newsletter/index.php


» CONSTRUCTION LOG
INVU--On Wednesday, I met with the consultants for an update. We have three areas were we are developing further information: (1) AyA now wants a detailed plan for the installation of a water line from their take off to their specified delivery cistern and our return line. They have changed the location requirements once and want us to locate the municipal road for them. (2) Ministry of Health wants a detailed design of the black water treatment plant.... Usually the detailed design is presented when a construction permit is sought. (3) The Muni wants a detailed design of flood abatement even the they agree with the consultant that it isn't necessary. We have decided to provide that information and argue it later. The consultant responsible for items 1 & 3 promised to have all documents ready by this coming Wednesday. At that time, his work will be turned over to another consultant who has to add some information and has to rescale some of the drawings. It seems that INVU changed their official scale and our drawings now have to conform. Item 2 will probably take an additional couple weeks to complete. Mean while the concession application sits on the desk of the minister responsible. It seems like he is busy campaigning for next year's election and speculation is that he isn't signing any concessions since someone may not like it and he doesn't want to anger anyone until after the elections. Water resources in CR have become an even more sensitive issue what with the current drought.
» RESIDENCIAS LOS JARDINES
Bar-b-q--Finished: This is now finished and operational. In the end, I simplified the finishing details in favor of reduced maintenance. The design works fine and offers more counter space and an upgraded bar-b-q.

Marketing: I'm trying to participate in a marketing campaign featuring our two houses for sale. at Los Jardines. A situation was brought to my attention that I'm following up on. So far, however, the web connections of the person heading up the campaign are not working well for me and I'm beginning to wonder what will happen going forward. We'll see.

Market Demand: We continue to receive numerous inquiries for rentals even though we have nothing. Speaking with several realtors, they say notice an increase in inquiries re. purchasing, from the US and Ticos mainly for investment purposes at the moment. Low end three bedroom homes, either furnished or unfurnished. Depending on the results of this effort, we may try testing the market for Hacienda El Dorado.

For Sale:

109, two bedroom, one level, furnished, $214,900
111, two bedroom, one level, unfurnished, $200,000
Units for Sale/Lease: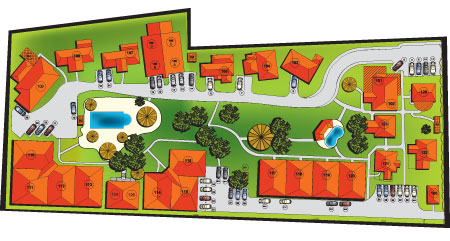 Unit #
109

--

For

Sale $214,900 - FURNISHED (Leased until July 31, 2010 - $1,550 pr month)


Total Area (Sq Ft):

1506

Total area (Sq M):

140

Bedrooms:

2

Bathrooms:

2

Floor(s):

1 Story

Type:

Detached

Furnished:

Yes

This single story home (1506 sf. + parking

for

one car) is detached, has two bedrooms, two bathrooms, home office, living room wall / entertainment center along with a built in office and a semi-private terrace. In addition, it has a vaulted ceiling in the "great" room and two skylights. The covered entrance way is suitable

for

two chairs located next to a covered garden area. Once through the impressive front door, you enter the "great room" which houses the kitchen, dining room, office and living room. Upon entering, there is a built in wooden hutch surfaced with granite—it matches all the built-in furniture in the great room. There is a clothes washer and dryer off the 2nd bedroom. It may also be used

for

storage.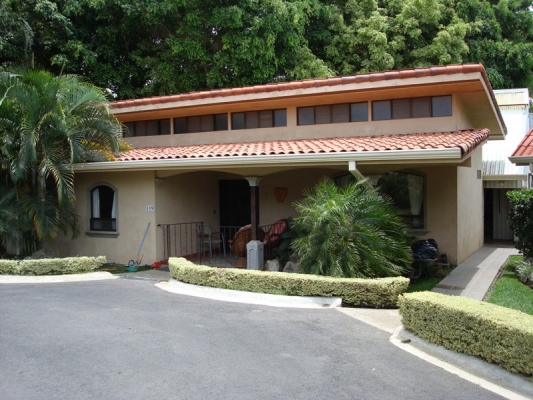 Read More
Unit #
111

--

For

Sale at $200,000 SEMIFURNISHED* / Leased until August 1, 2010 - $1,200 pr month
* INCLUDED ARE: refrigerator, 6 burner gas range, built-in microwave/exhaust; stacked washer / dryer

,

curtains throughout, a king and queen bed if desired.

Total Area (Sq Ft):

1738

Total area (Sq M):

161

Bedrooms:

2

Bathrooms:

2

Floor(s):

Single Floor

Type:

Attached

Furnished:

No
This corner home located in set of four homes, is very private. The entrance belies the 1,738 sf to be found on the other side of the entrance door. The short entrance hallway opens into a huge "
great room
" consisting of the kitchen, LR and DR. This room is truly of huge proportions including the 16' high vaulted ceiling. This vaulted ceiling has clear story windows
for
light and ventilation. Valance lighting surrounds the room and provides ambiance with its upward sighing lights as well as accent lighting with the recessed halogen lights. From the living room, a large sliding glass door leads onto a private covered terrace.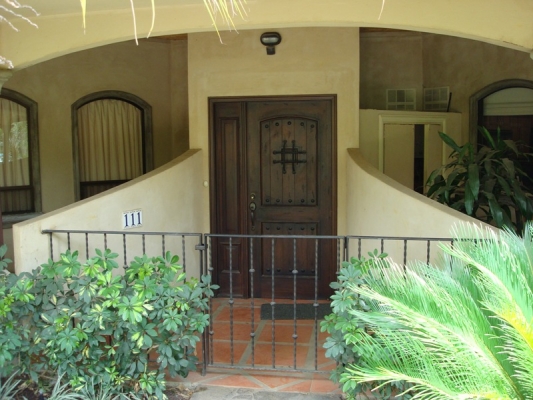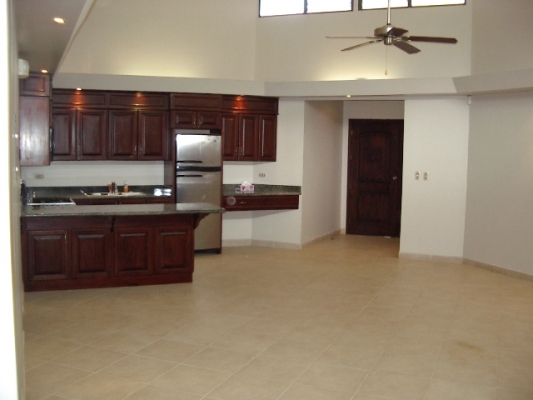 Read More
» NEWS FROM COSTA RICA
October 03, 2009
Emergency Vehicles Must Stop To Fill Out Form At Escazú Toll Booths
Emergency response units of the Policía de Tránsito, Cruz Roja, Bomberos and Fuerza Pública are complaning on the time it takes them to get through the Escazú toll booths on the San José - Caldera highway.

Read
October 03, 2009
Dunn Bros Coffee to Take Customer on Coffee Tour in Costa Rica
MINNEAPOLIS--(BUSINESS WIRE) - For more than 20 years, Dunn Bros Coffee has been bringing the world's finest coffees to customers around the country. Now, they're going to do it the other way around. They're bringing the customers to the coffee.

Read
October 03, 2009
Mild Quakes Shake And Roll Costa Rica
Friday morning at least two mild earthquakes shook Costa Rica, one near the Cinchona site that devastated the area in January.

Read
October 03, 2009
Traffic Accident Deaths Down
The Ministerio de Obras Públicas y Transportes (MOPT) statistics show that the number deaths on the country's roads is down this year by 36 over the same period last year.

Read
October 03, 2009
Caldera Highway Cited
In a move that seems to many to be long overdue, the Environmental Tribunal, an administrative court under the Ministry of the Environment, Energy and Technology (MINAET), froze work on a portion of the Caldera highway last week because of concerns over suspected environmental damage.

Read
October 02, 2009
Luxury Home Tax Takes Effect Today
Today, October 1, 2009, is not a good day for owners of homes categorized as "luxury", as owners such homes, beginning today will have to pay a special tax for a period of 10 years.

Read
October 02, 2009
Government "Will Pay" Aguinaldo
The ministro de la Presidencia, Rodrigo Arias, assured yesterday that this year's "aguinaldo" (Christmas bonus) will be paid to all public employees as established by law that obligates every employer - public or private - to pay to its employees between December 1 and 20 of each year.

Read
October 02, 2009
Gasoline Price Drop Approved
The price of gasoline products at the pumps will be dropping in the coming weeks with the latest and fifth reduction approval this year by the Autoridad Reguladora de Servicios Públicos (Aresep).

Read
October 02, 2009
Calderón Takes His Legal Battle To The Media
The verdict is only days away and former president, Rafael Angel Calderón, is not leaving his freedom to chance, using the media to get his message to the judges and support of the public in his favour, in case the judges don't bite.

Read
October 01, 2009
Arias Blasts Honduran Decree
Condemning the Honduran coup as a throwback to Latin America's ugly history, Costa Rican President Oscar Arias said Tuesday that the country can't have free and fair elections until its de facto government lifts a repressive decree that silenced opposition media and forbade public gatherings.

Read
October 01, 2009
GE Money To Close Offices in Costa Rica, Transfer Services To BAC
GE money said it will close its 16 offices located around the country as of October 1 and will transfer its operations to the Red de Pagos de Credomatic and BAC San José, who between them have more than 200 branches and points of sale.

Read
» OUR LIVES
Weather: Some rain this week but nothing compared to the normal nor to last year which was abnormally heavy. There is a story in the Tico Times about 14,000 people in Heredia having rationed water.

Police Report: This is now off after conflicting information. My lawyer believed the CR document had to be authenticated by the Canadian consulate here; he spoke with the receptionist....yes. The RCMP who were / are to do the report said "no, not necessary" which I spoke with them. I determined that it was best to resolve the inconsistent information so went to the embassy for a face to face. The receptionist said yes, we need to have the embassy certify them; we waited for an appointment with an officer who said, no, the embassy didn't need to certify them. Obviously there are some inconsistent info. in the embassy.....we sent the documents directly to Ottawa. We'll see.

New Road to the Pacific Beaches:

Limited work seems to be on going.....work stoppages in some area. Not much info. at all.

Misc:

Work seems to be starting up again on the site previously signed as "Boardwalk". The previous signage is now gone but no new signage has be erected.... Two lots on the road connecting Pozos to Santa Ana have been cleared---nothing has declared itself yet. Some new commercial construction is beginning near the major bridge between Pozos and Belen--next to an existing commercial construction site. A small commercial plaza is being built in downtown Santa Ana and the Muni is finishing of their cultural center which may house their new municipal offices as well. Rock and Roll Pollo is still closed and in my opinion, not likely to re-open in it's previous format--patrons have gone to a newly open restaurant/bar in a previously failed location (Azucar and subsequently, an Italian restaurant)--it is now "The Old West" or something like that.

Brian, Lita, Hugo, irreverent Vicka, the pigeon toed parrot, and the newbies — Chico and Chica.



Brian C. Timmons, Newsletter Author
Residencias Los Jardines/Hacienda El Dorado - Developer
E-mail: brian@eldoradocostarica.com



For inquiries about availability of residences at Hacienda El Dorado or Residencias Los Jardines, contact:



Jan Kozak, Marketing Manager
Hacienda El Dorado
Rio Oro, Santa Ana
Costa Rica

Web: www.eldoradocostarica.com
E-mail: info@eldoradocostarica.com
MSN: jan.kozak.jr@hotmail.com
Skype: jan.kozak.jr

Tel (US) (+1) 647-477-5825
Cell: (+506) 8345-8018

Tel (US) (+1) 647-477-5825
Cell: (+506) 8345-8018