INVU Update & Another Rough Week


» NOTES
When I started Residencias Los Jardines, I started writing a weekly news letter —determined to tell all the good, bad, and the ugly. I knew some readers would be interested in the construction process. I expected others might be interested in the lifestyle of two people who had decided to live outside the box. For others, the adventures of Lita, the parrot and the cat took on an entertainment saga all its own.

Residencias Los Jardines is finished. We periodically have resales and rental availability. Some readers may be interested in this information.

More and more, the content will be dominated by events of our new project, "El Dorado" for short. While the future is always uncertain, I again aim to tell it like it happens —the good, the bad, and the ugly, and that is what follows.

In an effort to make the format more interesting and visually appealing and to field inquiries re. El Dorado, the news letter is now being distributed by Jan Kozak, Marketing Manager, Hacienda El Dorado. I will remain the author.

Brian C. Timmons, Author
Residencias Los Jardines/Hacienda El Dorado - Developer
E-mail: brian@eldoradocostarica.com

YOU CAN ALSO VIEW THE COMPLETE VERSION ONLINE AT:

https://www.eldoradocostarica.com/English/Newsletter/index.php


» CONSTRUCTION LOG
INVU--last week I wrote: The consultants are still working on adding the requested information. It seems that the Muni wants some details re. the road.....I decided not to try and figure out why... It still applies this past week. It seems most the remaining work is for AyA details. We've signed a promise to Min. of Salud re. the location of the black water treatment plant.....that will be added to the documents requested by INVU.
» RESIDENCIAS LOS JARDINES
Bar-b-q: While I had two known tradesmen available and in order to complete this project funded this year, I've designed and authorized the replacement. Converting the existing structure to fit the current bar-b-q was simply more work with a lower product than making a new structure. We'll have more counter space, a new bar frig, new sink and faucet. It should be done by the end of this coming week.

New Baby: mother and son are dong fine. I've asked her to write an article about her experience. She used a birthing clinic and her son was delivered by the same person who delivered her some 30+ years ago.

Rentals / Sales: we've received a number of inquires from agents and from our website this past week but have nothing now or in the foreseeable future. I've referred them to other developments and / or to agents who might be able to help them. We've had no calls for people looking for purchase this week.

For Sale:

109, two bedroom, one level, furnished, $214,900
111, two bedroom, one level, unfurnished, $200,000
Units for Sale/Lease: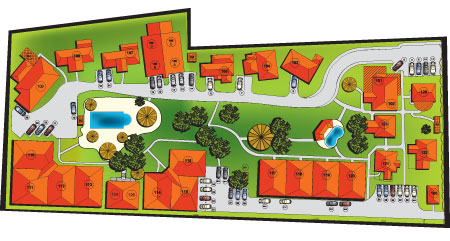 Unit #
109

--

For

Sale $214,900 - FURNISHED (Leased until July 31, 2010 - $1,550 pr month)


Total Area (Sq Ft):

1506

Total area (Sq M):

140

Bedrooms:

2

Bathrooms:

2

Floor(s):

1 Story

Type:

Detached

Furnished:

Yes

This single story home (1506 sf. + parking

for

one car) is detached, has two bedrooms, two bathrooms, home office, living room wall / entertainment center along with a built in office and a semi-private terrace. In addition, it has a vaulted ceiling in the "great" room and two skylights. The covered entrance way is suitable

for

two chairs located next to a covered garden area. Once through the impressive front door, you enter the "great room" which houses the kitchen, dining room, office and living room. Upon entering, there is a built in wooden hutch surfaced with granite—it matches all the built-in furniture in the great room. There is a clothes washer and dryer off the 2nd bedroom. It may also be used

for

storage.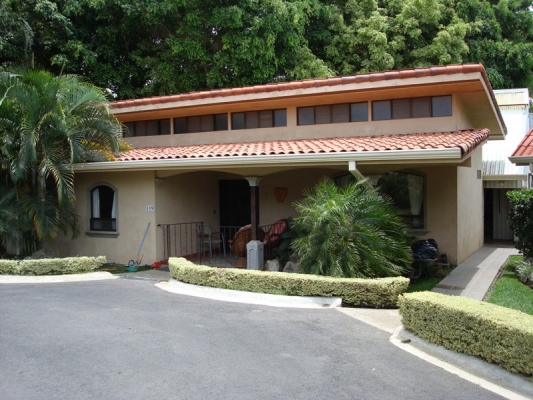 Read More
Unit #
111

--

For

Sale at $200,000 SEMIFURNISHED* / Leased until August 1, 2010 - $1,200 pr month
* INCLUDED ARE: refrigerator, 6 burner gas range, built-in microwave/exhaust; stacked washer / dryer

,

curtains throughout, a king and queen bed if desired.

Total Area (Sq Ft):

1738

Total area (Sq M):

161

Bedrooms:

2

Bathrooms:

2

Floor(s):

Single Floor

Type:

Attached

Furnished:

No
This corner home located in set of four homes, is very private. The entrance belies the 1,738 sf to be found on the other side of the entrance door. The short entrance hallway opens into a huge "
great room
" consisting of the kitchen, LR and DR. This room is truly of huge proportions including the 16' high vaulted ceiling. This vaulted ceiling has clear story windows
for
light and ventilation. Valance lighting surrounds the room and provides ambiance with its upward sighing lights as well as accent lighting with the recessed halogen lights. From the living room, a large sliding glass door leads onto a private covered terrace.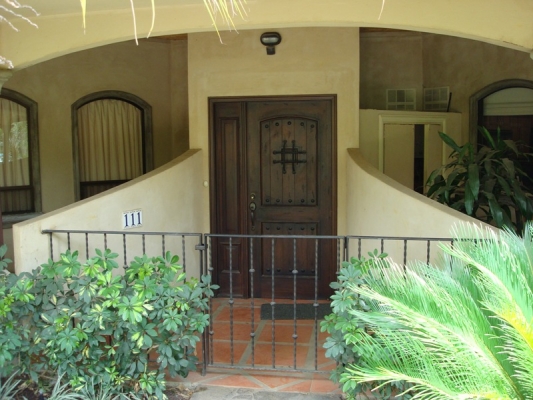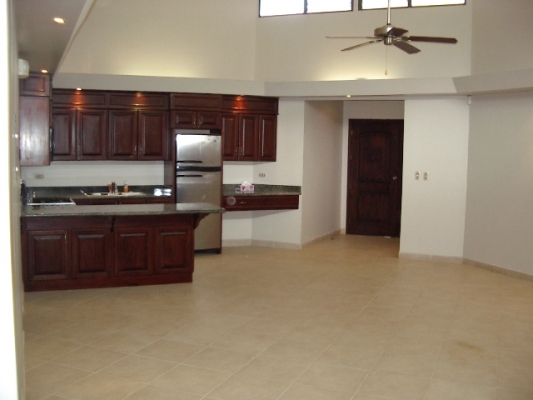 Read More
» NEWS FROM COSTA RICA
September 27, 2009
The Sun Wore Its Crown Yesterday
The peace and monotony of Saturday morning in Costa Rica was broken yesterday when a perfect halo formed around the sun was visible between 10am and 12 noon.

Read
September 27, 2009
San José - Caldera Highway Hits An Environmental Roadblock
The completion of the construction of section of the San José - Caldera highway is in jeopardy as the Environmental Tribunal put a halt to all construction on the final section (Santa Ana - Orotina) of the highway, ordering the Autopistas del Sol to stop all construction, because of apparent environmental damages.

Read
September 25, 2009
Costa Rica Calls On UN Security Council to "Make Good On The Promise" For Peace
Costa Rica on Thursday called on the UN Security Council to "make good on the promise" for peace, saying that the 15-nation body "fails in its historic mission every day that it turns a blind eye to the rampant arms race."

Read
September 25, 2009
Sabana Sur Road Construction Continues Behind Schedule
The adminssion by the Ministerio de Obras Públicas y Transportes (MOPT) that the Universal-MAG road work is behind schedule is of no surprise to anyone, as we all are accustomed to the delays in road work.

Read
September 24, 2009
Domino's Pizza Making A Comeback In Costa Rica
The Domino's Pizza chain will be re-opening its doors in Costa Rica after a surprise total closure last February, with new owners and better service.

Read
September 24, 2009
Six Sentenced In NC For Role In Costa Rican Telemarketing Scheme
(AP) -- Six more people have been sentenced for their roles in a Costa Rica-based telemarketing scheme.

Read
» OUR LIVES
Weather: Some rain this week....Articles are beginning to appear about a drought in the making and water rationing. This seems to be a 70 dry record; last year was a 70 yr. wet record. What a contrast. Our 50m deep well taps into an aquifer from the northern side of the central valley. I don't know how many years it takes for the water from its source to appear here. I'm hoping we will be unaffected. If I'm wrong, we will have problems like the rest of the people around us relying on AyA water.

Residency Application: Lita's authenticated birth certificate is supposedly in the messenger's hands. We hope this is the case. She should have it in about a week.

Police Report: We didn't want to travel to Toronto to apply in person to get our police report from Metro Toronto (for some reason we had to apply in person last time) which is part of the application documents. I learned that we could get a report from the RCMP by courier provided that we gave them fingerprints and completed an information form. Friday we went to the CR police station where they do this. It was relatively efficient--we were out of there in about 90 min. The documents now need to be processed by the CR police--supposedly ready for pick up on Monday--then taken to the Min. of Foreign Affairs for authentication and then UPSed off to Ottawa. The RCMP website says that if finger prints are submitted on paper--which is the only way CR can take finger prints--they cannot send them electronically--the turn around time with the RCMP can be three months. However, in conversation with a person who had just done this, his turn around time was about 10 days. We'll see.....

The Pub:

We tried this place again which was the forerunner of The Time Out Tavern. It is quite small and was busy. The food was o.k. but not as great as the Time Out Tavern once was.... While we may go back, we'll continue looking for a new Friday night place.

New Road to the Pacific Beaches:

This was suppose to be ready July 1 and all indications were that that date was likely to be met. On Friday, however, the government environmental body--the same group we have had so many delays from--ordered a complete all to ALL construction. This has to be a major blow. I read some of the charges leveled against the company and what is needed to comply----based on our experience and given the massive size of this project, it will take a long, long time for them to comply. I have to believe that some resolution will be found....I have no opinion re. the merits of the allegations.

Stupid Traffic Accidents:

We saw two this week--both rear-enders, both have just happened, and both were on straight aways..... Tail gating and not watching the road appeared to be the cause of both. No one hurt in either case but simply careless driving......

Brian, Lita, Hugo, irreverent Vicka, the pigeon toed parrot, and the newbies — Chico and Chica.



Brian C. Timmons, Newsletter Author
Residencias Los Jardines/Hacienda El Dorado - Developer
E-mail: brian@eldoradocostarica.com



For inquiries about availability of residences at Hacienda El Dorado or Residencias Los Jardines, contact:



Jan Kozak, Marketing Manager
Hacienda El Dorado
Rio Oro, Santa Ana
Costa Rica

Web: www.eldoradocostarica.com
E-mail: info@eldoradocostarica.com
MSN: jan.kozak.jr@hotmail.com
Skype: jan.kozak.jr

Tel (US) (+1) 647-477-5825
Cell: (+506) 8345-8018

Tel (US) (+1) 647-477-5825
Cell: (+506) 8345-8018