INVU Update & Another Rough Week


» NOTES
When I started Residencias Los Jardines, I started writing a weekly news letter —determined to tell all the good, bad, and the ugly. I knew some readers would be interested in the construction process. I expected others might be interested in the lifestyle of two people who had decided to live outside the box. For others, the adventures of Lita, the parrot and the cat took on an entertainment saga all its own.

Residencias Los Jardines is finished. We periodically have resales and rental availability. Some readers may be interested in this information.

More and more, the content will be dominated by events of our new project, "El Dorado" for short. While the future is always uncertain, I again aim to tell it like it happens —the good, the bad, and the ugly, and that is what follows.

In an effort to make the format more interesting and visually appealing and to field inquiries re. El Dorado, the news letter is now being distributed by Jan Kozak, Marketing Manager, Hacienda El Dorado. I will remain the author.

Brian C. Timmons, Author
Residencias Los Jardines/Hacienda El Dorado - Developer
E-mail: brian@eldoradocostarica.com

YOU CAN ALSO VIEW THE COMPLETE VERSION ONLINE AT:

https://www.eldoradocostarica.com/English/Newsletter/index.php


» CONSTRUCTION LOG
INVU--The consultants are still working on adding the requested information. It seems that the Muni wants some details re. the road.....I decided not to try and figure out why...
» RESIDENCIAS LOS JARDINES
Rough Week: Getting money in is getting harder and harder. Banks are always blamed. Sometimes they are the culprits; more often than not, however, they are not. The turnover dispute seems to be winding down; it need not to have happened.....too many cooks in the kitchen.

A RE agent phoned to remind me that his rental client wanted to gain access ideally on Sept. 28. I reiterated my previous conversation with him that the existing client has always been difficult to deal with and that as of now, I had no information as to when the tenant expected to vacate the unit. The RE agent understood but went on to ask me how I deal with difficult clients. He said that lately he had had a number of difficult clients and was looking to me for advice. I had a small laugh and confessed that I didn't think I was particularly successful and if I ever did figure it out, I'd be glad to share the secrete with him. We left it at that--each knowing that we were not alone in getting beaten up.

Misc. Fortunately, PriceMart has Christmas garden lights available--we use them year round for ambiance. We were nearly out. For the past two years, I've tried to buy them on sale just after Christmas; each year it hasn't happened because they have disappeared or sold out just before Christmas. I will again stock up on them and hopefully, the inventory will be sufficient to last us through the year. Bar-b-q--we purchased a 2nd. unit for the large rancho. It was the last of it's kind in PriceMart and I wanted two of the same units for parts inventory. We'll probably put it into storage until the existing unit dies....right now it is fine...just not as fancy as the new unit. The counter will have to be substantially modified to accommodate the new unit. Sod---we're sodding some of the areas where the grass died and thinning out the overhead branches to allow more light into those areas.

Rentals / Sales: we've received a number of inquires from agents and from our website this past week but have nothing now or in the foreseeable future. I've referred them to other developments and / or to agents who might be able to help them. We've only had one couple looking for purchase this week.

For Sale:

109, two bedroom, one level, furnished, $214,900
111, two bedroom, one level, unfurnished, $200,000
Units for Sale/Lease: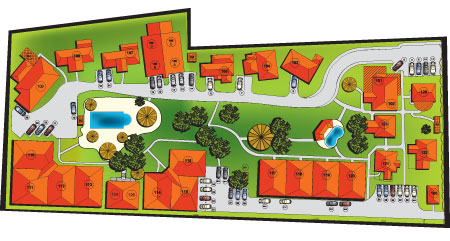 Unit #
109

--

For

Sale $214,900 - FURNISHED (Leased until July 31, 2010 - $1,550 pr month)


Total Area (Sq Ft):

1506

Total area (Sq M):

140

Bedrooms:

2

Bathrooms:

2

Floor(s):

1 Story

Type:

Detached

Furnished:

Yes

This single story home (1506 sf. + parking

for

one car) is detached, has two bedrooms, two bathrooms, home office, living room wall / entertainment center along with a built in office and a semi-private terrace. In addition, it has a vaulted ceiling in the "great" room and two skylights. The covered entrance way is suitable

for

two chairs located next to a covered garden area. Once through the impressive front door, you enter the "great room" which houses the kitchen, dining room, office and living room. Upon entering, there is a built in wooden hutch surfaced with granite—it matches all the built-in furniture in the great room. There is a clothes washer and dryer off the 2nd bedroom. It may also be used

for

storage.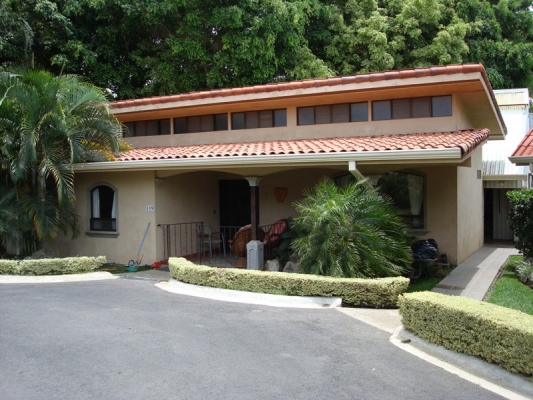 Read More
Unit #
111

--

For

Sale at $200,000 SEMIFURNISHED* / Leased until August 1, 2010 - $1,200 pr month
* INCLUDED ARE: refrigerator, 6 burner gas range, built-in microwave/exhaust; stacked washer / dryer

,

curtains throughout, a king and queen bed if desired.

Total Area (Sq Ft):

1738

Total area (Sq M):

161

Bedrooms:

2

Bathrooms:

2

Floor(s):

Single Floor

Type:

Attached

Furnished:

No
This corner home located in set of four homes, is very private. The entrance belies the 1,738 sf to be found on the other side of the entrance door. The short entrance hallway opens into a huge "
great room
" consisting of the kitchen, LR and DR. This room is truly of huge proportions including the 16' high vaulted ceiling. This vaulted ceiling has clear story windows
for
light and ventilation. Valance lighting surrounds the room and provides ambiance with its upward sighing lights as well as accent lighting with the recessed halogen lights. From the living room, a large sliding glass door leads onto a private covered terrace.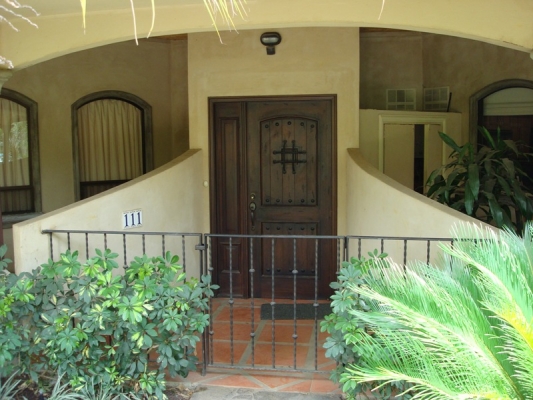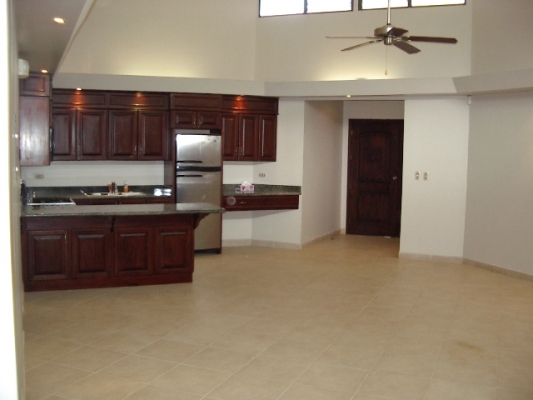 Read More
» NEWS FROM COSTA RICA
September 19, 2009
Exchange Rate On Rollercoaster Ride
Many in the middle of an exchange transaction were caught by surprise Friday afternoon with the sudden and drastic rate change announced by the Banco Central de Costa Rica (BCCR) - Central Bank.

Read
September 19, 2009
Costa Rican President Impressed With Work Pace At The New Stadium
Costa Rican president, Oscar Arias, yesterday displayed surprise and said he was impressed at the fast moving pace of the Chinese workers building the new Estadio Nacional (national stadium) in the Sabana park.

Read
September 19, 2009
Media Bill Languishes in Congress
A bill on the press and freedom of expression that has been kicking around in the Costa Rican Congress for the past eight years, which deals with questions like source confidentiality, access to public information, and libel and slander laws, was saved in late August from being permanently shelved by the legislature.

Read
September 19, 2009
New Ley De Tránsito Pushed Back To March 2010
It's official, the new Ley de Tránsito will not take effect on Wednesday as it had been scheduled, but rather on March 1, 2010, following approval by 39 legislators last night. Four legislators voted against the postponement.

Read
September 19, 2009
Problems With GSM Cellular Service Continues
The subgerente de Telecomunicaciones del ICE, Claudio Bermúdez, assures that the problems experienced by GSM cellular telephones users this week is due to the cellular telephone unit and not the unification of the network that occurred last Saturday, September 12.

Read
September 16, 2009
U.S. World Cup Foe Costa Rica Could Turn Tough
The road to the 2010 World Cup in South Africa has just turned a little bit more tricky for the United States.

Read
September 15, 2009
Property Registry Continues Vulnerable
Looking for that notary that signed off on the property deed now in question? Can't find him or her? Probability he or she is dead.

Read
» OUR LIVES
Weather: No rain....sunny and hot. A recent article says that precipitation in Guanacaste is down 50%; in the Santa Ana area I'm sure it is down even more than that. Our accountant is 53--she's never seen a year like this!!!!

Residency Application: Lita's documents are supposedly under way. We had to send another fax with other documentation. We'll see......
Time Out Tavern:
A number of us are feeling that it's lost it's edge since it re-opened. The prices are higher, the nightly specials are fewer, and the food is just not as consistently good as before. This is disappointing. I wish them well and will check in with them periodically but will explore other places in the interim.
A Birth:
The third baby born hours ago to residents at Los Jardines--three years to the day another boy was born to former residents. Mother and father are doing well--I'm awaiting a cigar from the proud father.....The house has been prepared "Walter Jr."; the grandparents arrived just in time.
Brian, Lita, Hugo, irreverent Vicka, the pigeon toed parrot, and the newbies — Chico and Chica.

Brian C. Timmons, Newsletter Author
Residencias Los Jardines/Hacienda El Dorado - Developer
E-mail: brian@eldoradocostarica.com

For inquiries about availability of residences at Hacienda El Dorado or Residencias Los Jardines, contact:

Jan Kozak, Marketing Manager
Hacienda El Dorado
Rio Oro, Santa Ana
Costa Rica

Web: www.eldoradocostarica.com
E-mail: info@eldoradocostarica.com
MSN: jan.kozak.jr@hotmail.com
Skype: jan.kozak.jr

Tel (US) (+1) 647-477-5825
Cell: (+506) 8345-8018