INVU Update & A Rough Week


» NOTES
When I started Residencias Los Jardines, I started writing a weekly news letter —determined to tell all the good, bad, and the ugly. I knew some readers would be interested in the construction process. I expected others might be interested in the lifestyle of two people who had decided to live outside the box. For others, the adventures of Lita, the parrot and the cat took on an entertainment saga all its own.

Residencias Los Jardines is finished. We periodically have resales and rental availability. Some readers may be interested in this information.

More and more, the content will be dominated by events of our new project, "El Dorado" for short. While the future is always uncertain, I again aim to tell it like it happens —the good, the bad, and the ugly, and that is what follows.

In an effort to make the format more interesting and visually appealing and to field inquiries re. El Dorado, the news letter is now being distributed by Jan Kozak, Marketing Manager, Hacienda El Dorado. I will remain the author.

Brian C. Timmons, Author
Residencias Los Jardines/Hacienda El Dorado - Developer
E-mail: brian@eldoradocostarica.com

YOU CAN ALSO VIEW THE COMPLETE VERSION ONLINE AT:

https://www.eldoradocostarica.com/English/Newsletter/index.php


» CONSTRUCTION LOG
INVU--The consultants are still working on adding the requested information. We have received approval from the Ministry of Health for the proposed location of the black water treatment plant. This approval has been added to the INVU application. We heard from the consultant's contact re. the Well Concession and were advised that it was on track but may be another 6 weeks before being issued. This should not affect the INVU application processing.

» RESIDENCIAS LOS JARDINES
DAMAGE: The damage done to one of our common buildings has been repaired.

Rough Week: Getting the money in is usually a difficult, thankless task.--it was no different this past week. We have several yet to deal with. In addition, we had a turnover--tenant left and a new owner is taking possession. Side deals between the two of them were made which subsequently fell apart due, at least, in part to misunderstanding of what the agreement was. As property managers, we were caught in the middle. Lots of angst sorting this out--none of which needed to have happened had there been no out-of-lease agreement deals and had we been allowed to do our normal unit re-conditioning. I'm not confident this issue is fully resolved yet but we'll see........

For Sale:

109, two bedroom, one level, furnished, $214,900
111, two bedroom, one level, unfurnished, $200,000
Units for Sale/Lease: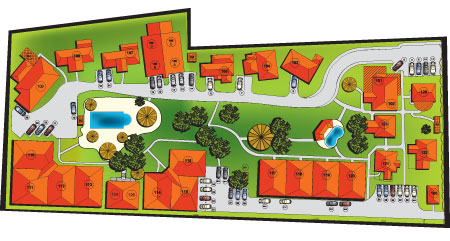 Unit #
109

--

For

Sale $214,900 - FURNISHED (Leased until July 31, 2010 - $1,550 pr month)


Total Area (Sq Ft):

1506

Total area (Sq M):

140

Bedrooms:

2

Bathrooms:

2

Floor(s):

1 Story

Type:

Detached

Furnished:

Yes

This single story home (1506 sf. + parking

for

one car) is detached, has two bedrooms, two bathrooms, home office, living room wall / entertainment center along with a built in office and a semi-private terrace. In addition, it has a vaulted ceiling in the "great" room and two skylights. The covered entrance way is suitable

for

two chairs located next to a covered garden area. Once through the impressive front door, you enter the "great room" which houses the kitchen, dining room, office and living room. Upon entering, there is a built in wooden hutch surfaced with granite—it matches all the built-in furniture in the great room. There is a clothes washer and dryer off the 2nd bedroom. It may also be used

for

storage.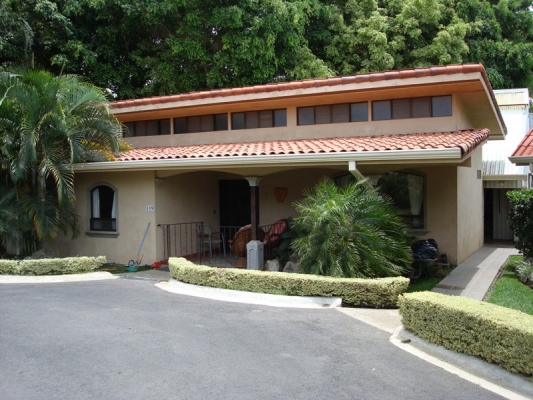 Read More
Unit #
111

--

For

Sale at $200,000 SEMIFURNISHED* / Leased until August 1, 2010 - $1,200 pr month
* INCLUDED ARE: refrigerator, 6 burner gas range, built-in microwave/exhaust; stacked washer / dryer

,

curtains throughout, a king and queen bed if desired.

Total Area (Sq Ft):

1738

Total area (Sq M):

161

Bedrooms:

2

Bathrooms:

2

Floor(s):

Single Floor

Type:

Attached

Furnished:

No
This corner home located in set of four homes, is very private. The entrance belies the 1,738 sf to be found on the other side of the entrance door. The short entrance hallway opens into a huge "
great room
" consisting of the kitchen, LR and DR. This room is truly of huge proportions including the 16' high vaulted ceiling. This vaulted ceiling has clear story windows
for
light and ventilation. Valance lighting surrounds the room and provides ambiance with its upward sighing lights as well as accent lighting with the recessed halogen lights. From the living room, a large sliding glass door leads onto a private covered terrace.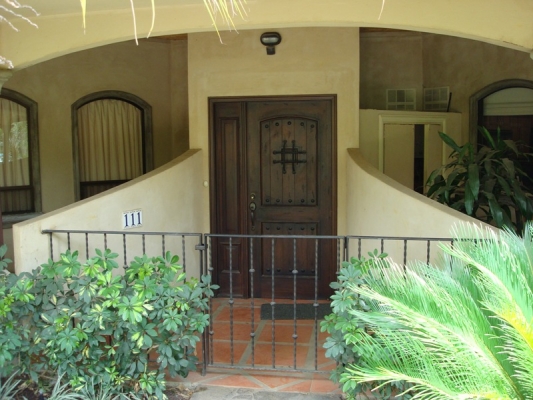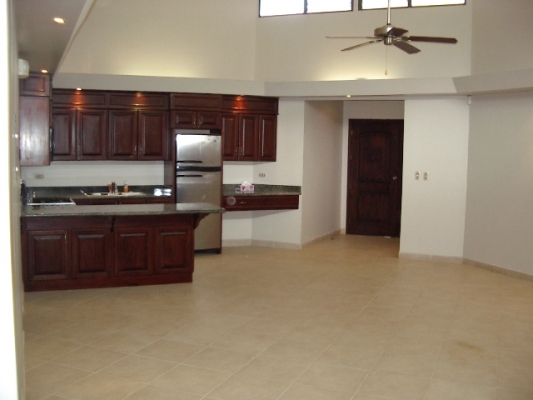 Read More
» NEWS FROM COSTA RICA
September 12, 2009
Costa Rica Celebrates Tuesday 188 Years Of Independence
This week the Costa Rican flags on display everywhere - private homes, public buildings, store windows, etc - are not to support the Costa Rican national soccer team, "the sele", but, rather to celebrate the country's 188th day of independence which is on Tuesday, September 15.

Read
September 12, 2009
China, Costa Rica Make Progress In Free Trade Talks
(AFP) – China and Costa Rica concluded the fourth round of negotiations in Beijing aimed at reaching a free trade agreement, according to the foreign trade ministry.

Read
September 12, 2009
Don't Forget To Turn Off And On Your Cellular Phone Tonight
As announced all week long the unification of the two GSM cellular networks takes place today and the Instituto Costarricense de Electricidad (ICE) is asking all GSM subscribers to turn off their cellular phones and then turn them back on.

Read
September 11, 2009
Catholic Church Will Not Be Silent About Anti-Catholic Movements
(CNA) In response to attempts by lawmakers to eliminate a clause from the country's constitution that states the official religion of Costa Rica is the Catholic faith, Bishop José Francisco Ulloa of Cartago said the Church "will not be silent" and will not abandon her mission to defend human life and the family.

Read
September 11, 2009
Tilarán Wind Farm Announces Possible Closure
The first generating project using wind energy in Latin America would cease to exist next March because of money problems. Plantas Eólicas, Sociedad de Responsabilidad Limitada, which has been operating in Tilarán for the last 15 years says it may stop operating next March.

Read
September 11, 2009
Cruz Roja Discards Presence of Body In Volcano Lagoon
The Cruz Roja Costarricense (Costa Rican Red Cross) has ruled out that the item floating in the lagoon of the Rincon de la Vieja volcano is not the body of US missing student, David Gilmfarb.

Read
September 11, 2009
Finally, Electrical Rates Come Down
Following days of adjournments, the Tribunal Contencioso Administrativo on Wednesday ordered the approved 7.2% electrical rate reduction to go into effect as of today.

Read
September 10, 2009
Nicklaus Opens New Golf Course, Joins Biden in Costa Rica
(PR.com)-- Frank Biden, brother of U.S. Vice President Joe Biden, and Craig Williamson, chairman of the Guanacaste Country Club announced that Nicklaus Design, the world's leading golf course design firm, will open a Jack Nicklaus Signature Golf Course at the Guanacaste Country Club, just 15 minutes from the Liberia International Airport, Costa Rica.

Read
September 10, 2009
Costa Rica Improves Its Competitiveness Ranking
Costa Rica has moved up four notches in the Global Competitiveness Report released by the World Economic Forum on Tuesday.

Read
September 09, 2009
Tourism Minister Expected To Resign Today
The ministro de Turismo, Carlos Ricardo Benavides, is expected to tender his resignation today to join the presidential campaign of Laura Chinchilla.

Read
» OUR LIVES
Weather
: We've had a couple penetrating rains but the days have, for the most part, been sunny and hot.
Hugo
: He's been sick the last couple weeks. After all the blood work and ultrasound examination, the basic conclusion is that his problems are due to over weight and aging. Solution--change the diet ..... sounds like my situation.... Through it all, he seemed a happy camper---purred so loudly that the vet couldn't listen to his heart; he was so fat they couldn't do a decent physical on him, so had to do an ultrasound. and all through the ultrasound ordeal he was a regular trouper and kept trying to get the tech to rub his privates.... At the beginning, the tech. thought she might have to get the transducer they use on big dogs and horses to penetrate his belly fat.
Lita
: after years of showing no interest in the swimming pool, Lita has been spending many hours in it. We got her a life vest (she doesn't swim) but enjoys the water.

Residency Application:
I've received my certified birth certificate from the CR Consulate in Los Angeles. This process was much easier and more efficient than I had expected. Lita's case is yet to play itself out. The first set of documents we sent to the Philippines to start the process, didn't fly. We are now sending a second set which basically consists of most of the same documents but "originals". I'm always hesitant to release "originals" in case they get lost---which certainly happens in CR bureaucracies on a regular basis and I suspect, in the Philippine bureaucracies as well. We had no choice--we just have to wait and hope. The person expediting this seems to be on top of things so we can, at least, get feedback. If we are successful this time, she could have it by Sept. 28--when the expediter arrives here. Next week, I'll start working on other documentation required.
September 15--Independence Day: Tuesday is Costa Rica's celebratory day--along with many other Latin American countries--marking the break with Spain. Many people are making a long weekend of it; I doubt that much will get done in the government bureaucracies.
Brian, Lita, Hugo, irreverent Vicka, the pigeon toed parrot, and the newbies — Chico and Chica.

Brian C. Timmons, Newsletter Author
Residencias Los Jardines/Hacienda El Dorado - Developer
E-mail: brian@eldoradocostarica.com

For inquiries about availability of residences at Hacienda El Dorado or Residencias Los Jardines, contact:

Jan Kozak, Marketing Manager
Hacienda El Dorado
Rio Oro, Santa Ana
Costa Rica

Web: www.eldoradocostarica.com
E-mail: info@eldoradocostarica.com
MSN: jan.kozak.jr@hotmail.com
Skype: jan.kozak.jr

Tel (US) (+1) 647-477-5825
Cell: (+506) 8393-4666