INVU Update, Rentals, Where's the Beef?!!


» NOTES
When I started Residencias Los Jardines, I started writing a weekly news letter —determined to tell all the good, bad, and the ugly. I knew some readers would be interested in the construction process. I expected others might be interested in the lifestyle of two people who had decided to live outside the box. For others, the adventures of Lita, the parrot and the cat took on an entertainment saga all its own.

Residencias Los Jardines is finished. We periodically have resales and rental availability. Some readers may be interested in this information.

More and more, the content will be dominated by events of our new project, "El Dorado" for short. While the future is always uncertain, I again aim to tell it like it happens —the good, the bad, and the ugly, and that is what follows.

In an effort to make the format more interesting and visually appealing and to field inquiries re. El Dorado, the news letter is now being distributed by Jan Kozak, Marketing Manager, Hacienda El Dorado. I will remain the author.

Brian C. Timmons, Author
Residencias Los Jardines/Hacienda El Dorado - Developer
E-mail: brian@eldoradocostarica.com

YOU CAN ALSO VIEW THE COMPLETE VERSION ONLINE AT:

https://www.eldoradocostarica.com/English/Newsletter/index.php


» CONSTRUCTION LOG
INVU--The consultants are still working on adding the requested information. We have received approval from the Ministry of Health for the proposed location of the black water treatment plant. This approval has been added to the INVU application. We've asked for a status report on the well concession; we are awaiting a reply. We were reminded that this is an election year.......who knows what that means.

» RESIDENCIAS LOS JARDINES
DAMAGE: On Friday night, one of our owners returned from what was evidently a good party (there is a difference of opinion re. this but....). Regardless, while "parking?" he plowed into one building, damaged a light standard and his neighbor's car. We woke up to no water because he had severed a water line. We'll get all the damage repaired; it'll be an expensive as well as embarrassing night for him.

Collection Date: Monday marks the end of this month's free ride. (In CR, there is a 7 day grace period for payments of our type.) The creative stories are probably being created this weekend. "O" tolerance seems to be the best policy...cutting services gets people's attention--but their mouth still wags.

For Rent: there seems to be a strong rental market we've had a number of agents show our one rental. I'm sure we could have leased more had we had the inventory. Fortunately for our owners, we did not..

115 -- leased to a Tico family

For Sale:

109, two bedroom, one level, furnished, $214,900
111, two bedroom, one level, unfurnished, $200,000
Units for Sale/Lease: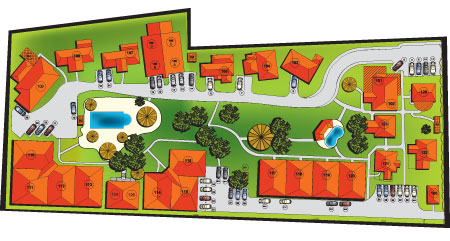 Unit #
109

--

For

Sale $214,900 - FURNISHED (Leased until July 31, 2010 - $1,550 pr month)


Total Area (Sq Ft):

1506

Total area (Sq M):

140

Bedrooms:

2

Bathrooms:

2

Floor(s):

1 Story

Type:

Detached

Furnished:

Yes

This single story home (1506 sf. + parking

for

one car) is detached, has two bedrooms, two bathrooms, home office, living room wall / entertainment center along with a built in office and a semi-private terrace. In addition, it has a vaulted ceiling in the "great" room and two skylights. The covered entrance way is suitable

for

two chairs located next to a covered garden area. Once through the impressive front door, you enter the "great room" which houses the kitchen, dining room, office and living room. Upon entering, there is a built in wooden hutch surfaced with granite—it matches all the built-in furniture in the great room. There is a clothes washer and dryer off the 2nd bedroom. It may also be used

for

storage.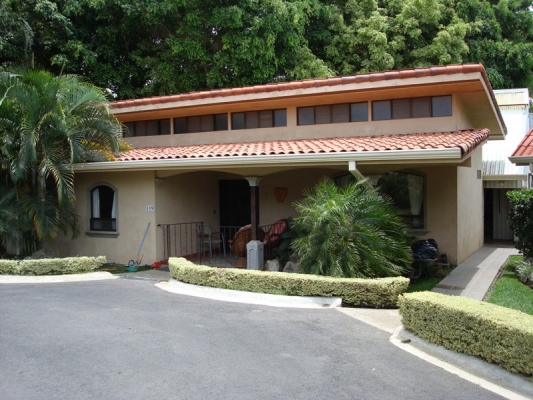 Read More
Unit #
111

--

For

Sale at $200,000 SEMIFURNISHED* / Leased until August 1, 2010 - $1,200 pr month
* INCLUDED ARE: refrigerator, 6 burner gas range, built-in microwave/exhaust; stacked washer / dryer

,

curtains throughout, a king and queen bed if desired.

Total Area (Sq Ft):

1738

Total area (Sq M):

161

Bedrooms:

2

Bathrooms:

2

Floor(s):

Single Floor

Type:

Attached

Furnished:

No
This corner home located in set of four homes, is very private. The entrance belies the 1,738 sf to be found on the other side of the entrance door. The short entrance hallway opens into a huge "
great room
" consisting of the kitchen, LR and DR. This room is truly of huge proportions including the 16' high vaulted ceiling. This vaulted ceiling has clear story windows
for
light and ventilation. Valance lighting surrounds the room and provides ambiance with its upward sighing lights as well as accent lighting with the recessed halogen lights. From the living room, a large sliding glass door leads onto a private covered terrace.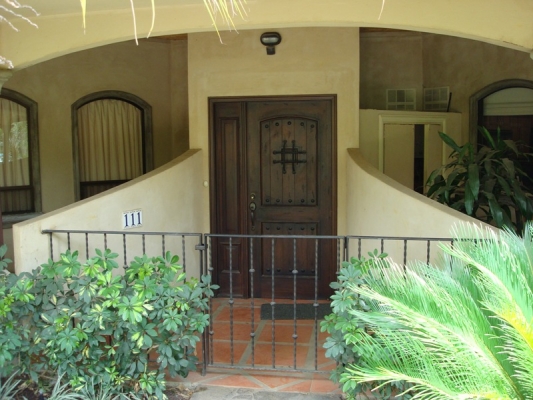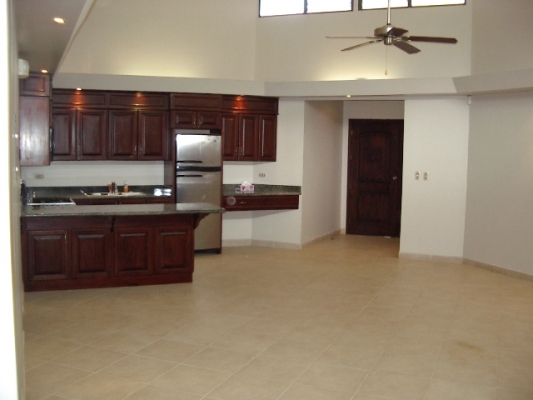 Read More
» NEWS FROM COSTA RICA
September 06, 2009
4.5 Quake Jolts Costa Rica
(Inside Costa Rica) A 4.5 quake shook the Pacific zone of Costa Rica last night at 11:02pm, the epicentre located 10 kilometres from Golfito, according to the US Geological Survey, that monitors earthquakes around the world.

Read
September 06, 2009
Electricity Rate Reduction Decision Maybe Tomorrow
(Inside Costa Rica) Costa Rican have to wait a little long to know if their electricity bill will drop by 7.2% as approved by the Autoridad Reguladora de los Servicios Públicos (Aresep) and challenged in court by the Instituto Costarricense de Electricidad (ICE).

Read
September 05, 2009
Contraloría Approves China - Recope Oil contract
(Inside Costa Rica) The Contraloría General de la Republica (Comptroller's Office) - Costa Rica's legal watchdog - on Thursday cleared a billion-dollar contract the government signed with China to jointly build an oil refinery after it was held up in legal wrangling for months.

Read
September 05, 2009
Installation of 3G Network In Trouble; ICE Decides Not To Cancel TDMA
December is only a few months away and the Instituto Costarricense de Electricidad (ICE) is scrambling to keep its promise of a 3G network in the country, even though it has facing hurdles and accusations of "sabotage" by ICE's president, Pedro Pablo Quirós.

Read
September 05, 2009
Rising Energy Needs Prompt New Bill
(The Tico Times) Less than a year before President Oscar Arias' departure from Casa Presidencial, the Ministry of the Presidency has proposed a bold new bill that would spell drastic changes for Costa Rica's energy market.

Read
September 04, 2009
Modern New Ecoloxury Community Breaks Ground in Costa Rica
Rich in biodiversity brimming with excitement and unparalleled in gorgeous views, Costa Rica is one of the hottest destinations for travelers and expatriates.

Read
» OUR LIVES
Weather: It's rained a bit this week but not like it normally does nor like last year. We haven't had to irrigate but we are frequently on the verge of it.

Where's the Beef?!!!! In preparing a meal for guests, I discovered I was out of USA beef. I later checked with three others who had expressed an interest in participating when I next provisioned. Four of us bought a NY Strip loin roast (USDA "Choice") and a rib eye roast (USDA "Prime"), had both cut into steaks and then divided up the spoils. Two people have tried the NY steaks and pronounced them "excellent"; I have yet to try the rib eyes but being "Premium" grade, I have no doubt they, too, will be excellent. I did a little math and it works out to about $3.25 a serving--not bad when most equal steak meals in a restaurant start around 12,000 colones.

Brian, Lita, Hugo, irreverent Vicka, the pigeon toed parrot, and the newbies — Chico and Chica.

Brian C. Timmons, Newsletter Author
Residencias Los Jardines/Hacienda El Dorado - Developer
E-mail: brian@eldoradocostarica.com

For inquiries about availability of residences at Hacienda El Dorado or Residencias Los Jardines, contact:

Jan Kozak, Marketing Manager
Hacienda El Dorado
Rio Oro, Santa Ana
Costa Rica

Web: www.eldoradocostarica.com
E-mail: info@eldoradocostarica.com
MSN: jan.kozak.jr@hotmail.com
Skype: jan.kozak.jr

Tel (US) (+1) 647-477-5825
Cell: (+506) 8393-4666