INVU--FINALLY!


» NOTES
When I started Residencias Los Jardines, I started writing a weekly news letter —determined to tell all the good, bad, and the ugly. I knew some readers would be interested in the construction process. I expected others might be interested in the lifestyle of two people who had decided to live outside the box. For others, the adventures of Lita, the parrot and the cat took on an entertainment saga all its own.

Residencias Los Jardines is finished. We periodically have resales and rental availability. Some readers may be interested in this information.

More and more, the content will be dominated by events of our new project, "El Dorado" for short. While the future is always uncertain, I again aim to tell it like it happens —the good, the bad, and the ugly, and that is what follows.

In an effort to make the format more interesting and visually appealing and to field inquiries re. El Dorado, the news letter is now being distributed by Jan Kozak, Marketing Manager, Hacienda El Dorado. I will remain the author.

Brian C. Timmons, Author
Residencias Los Jardines/Hacienda El Dorado - Developer
E-mail: brian@eldoradocostarica.com

YOU CAN ALSO VIEW THE COMPLETE VERSION ONLINE AT:

https://www.eldoradocostarica.com/English/Newsletter/index.php

NOTE. WE ARE IN THE PROCESS OF SWITCHING OUR DISTRIBUTION TO GOOGLE GROUPS BECAUSE WE HAVE HAD PROBLEMS OVER THE PAST MONTH. SOME PEOPLE HAVE NOT RECEIVED THEIR NEWSLETTER AND WE HAVE NEVER BEEN ABLE TO SOLVE THE PROBLEM. IF YOU HAVE NOT YET RECEIVED AN INVITATION TO JOIN THE GOOGLE GROUP, PLEASE NOTIFY EITHER MYSELF OR JAN AND WE WILL MAKE SURE YOU GET AN INVITATION. IT'S EASY TO JOIN THE GROUP, FOLLOW THE LINK TO GOOGLE, CLICK "I ACCEPT" AND DONE....

To read this newsletter on Google Groups, click here:

https://groups.google.com/group/hacienda-el-dorado---newsletter?hl=en

To join this Google Group, click here:

https://groups.google.com/group/hacienda-el-dorado---newsletter/subscribe?hl=en

This Google Group has been established to facilitate the distribution of a weekly newsletter published by Brian C. Timmons, the developer of Residencias Los Jardines and Hacienda El Dorado in Santa Ana, Costa Rica.
» CONSTRUCTION LOG
INVU--On Tuesday, we received what we believe to be the last two missing documents--a letter from the MUNI stating that the rainwater runoff and the outflow from the black water treatment plant would not cause flooding downstream and (2) a letter from ICE, the electrical company saying that no transmission lines were planned through the property. All the documents were bundled together and on Thursday submitted to INVU for review. We are advised that normally this process takes about four weeks......but based on previous experience, it will take what it takes and I'm expecting more than four weeks. We know of one document which we need to provide. We submitted the document locating the black water treatment plant to the Muni. about 5 weeks ago. They were suppose to send an inspector to confirm that the proposed location was acceptable. When push came to shove on Wednesday, the Muni told our consultant that they did not have inspectors and that he would have to refile in Pavas..... It seems that INVU has allowed us to submit the documents with a promise to provide this document in due course.
» RESIDENCIAS LOS JARDINES
Electricity:
We all received our electrical bills this week. Instead of an expected reduction of 14%, I actually received an increase from C68,000 to C72,000 or about $8.00. Consumption supposedly increased from 739 kwh to 779 kwh ....I'm stumped to figure out how our lifestyle changed that much in a month but this is just another mystery amongst many in CR.
For Sale:
109, two bedroom, one level, furnished, $214,900
111, two bedroom, one level, unfurnished, $200,000
Units for Sale/Lease: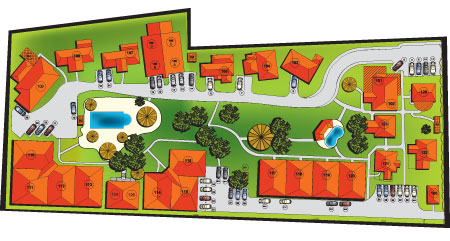 Unit #
109

--

For

Sale $214,900 - FURNISHED (Leased until July 31, 2010 - $1,550 pr month)


Total Area (Sq Ft):

1506

Total area (Sq M):

140

Bedrooms:

2

Bathrooms:

2

Floor(s):

1 Story

Type:

Detached

Furnished:

Yes

This single story home (1506 sf. + parking

for

one car) is detached, has two bedrooms, two bathrooms, home office, living room wall / entertainment center along with a built in office and a semi-private terrace. In addition, it has a vaulted ceiling in the "great" room and two skylights. The covered entrance way is suitable

for

two chairs located next to a covered garden area. Once through the impressive front door, you enter the "great room" which houses the kitchen, dining room, office and living room. Upon entering, there is a built in wooden hutch surfaced with granite—it matches all the built-in furniture in the great room. There is a clothes washer and dryer off the 2nd bedroom. It may also be used

for

storage.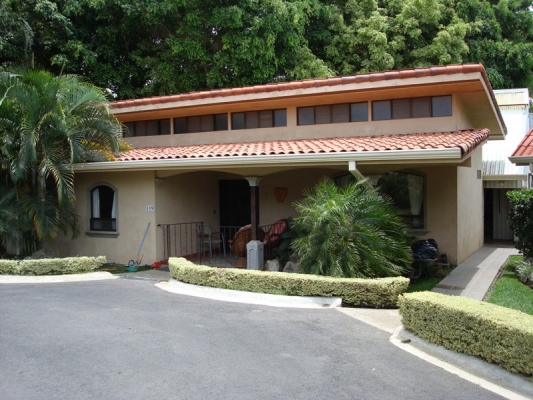 Read More
Unit #
111

--

For

Sale at $200,000 SEMIFURNISHED* / Leased until August 1, 2010 - $1,200 pr month
* INCLUDED ARE: refrigerator, 6 burner gas range, built-in microwave/exhaust; stacked washer / dryer

,

curtains throughout, a king and queen bed if desired.

Total Area (Sq Ft):

1738

Total area (Sq M):

161

Bedrooms:

2

Bathrooms:

2

Floor(s):

Single Floor

Type:

Attached

Furnished:

No
This corner home located in set of four homes, is very private. The entrance belies the 1,738 sf to be found on the other side of the entrance door. The short entrance hallway opens into a huge "
great room
" consisting of the kitchen, LR and DR. This room is truly of huge proportions including the 16' high vaulted ceiling. This vaulted ceiling has clear story windows
for
light and ventilation. Valance lighting surrounds the room and provides ambiance with its upward sighing lights as well as accent lighting with the recessed halogen lights. From the living room, a large sliding glass door leads onto a private covered terrace.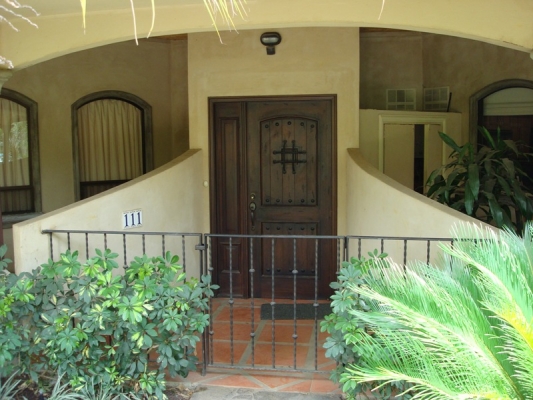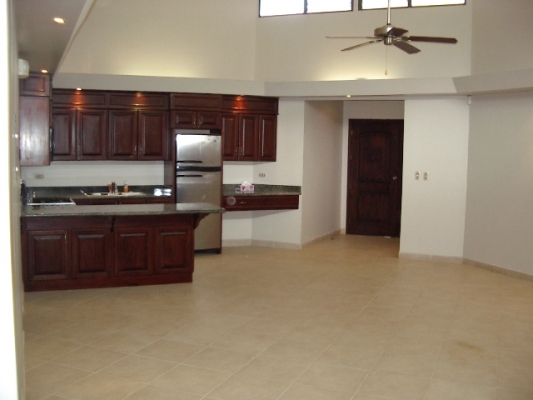 Read More
» NEWS FROM COSTA RICA
August 09, 2009
Cellular Service To Improve In The Coming Weeks, But Don't Bet On It!
(Inside Costa Rica) The manager of mobile services for ICE, Adolfo Arias, promises that cellular service will get better in the coming weeks.

Read
August 09, 2009
Heredia - San José Train Finally Leaves The Station
(Inside Costa Rica) The Heredia - San José commuter train is now a reality with the inauguration run Saturday morning when the four locomotives and cars purchased from Spain left the Estación al Atlántico in San José bound for the "ciudad de las flores".

Read
August 09, 2009
Miss Costa Rica at Miss Universe

Read
August 09, 2009
Corporations Eyeing Costa Rica Rentals for Meetings and Incentives
(Inside Costa Rica) Costa Rica has long been a popular destination for incentive travel, company events and business trips for both U.S. and Latin America-based corporations. Beach resort destinations like the Paradisus Playa Conchal and San José meeting locations such as the Real InterContinental and Ramada Plaza Herradura are well accustomed to handling these large corporate groups.

Read
August 08, 2009
Costa Rica With Free Treatment For All For AH1N1 Flu
(Inside Costa Rica) The ministerio de Salud (Costa Rican health ministry) has declared the AH1N1 flu virus a matter of "public interest" and ordered the nation's medical facilities, both public and private, to treat AH1N1 patients free of charge.

Read
August 08, 2009
Mother's Day in Costa Rica Around The Corner
(Inside Costa Rica) Mother's Day is around the corner and many a budge is being stretched thin to give mom that perfect gift. And waiting to the last minute will end up being even more expensive.

Read
August 08, 2009
More than 2.500 Jobs Available In Two Job Fairs
(Inside Costa Rica) Good news for those looking for a job, as the Instituto Nacional de Aprendizaje (INA) in Alajuela is holding a job fair to fill some 2.500 jobs being offered by some 20 national and international companies.

Read
August 07, 2009
Taxi Customers To Pay Road Tolls
(Inside Costa Rica) Taking a taxi to Escazú, for instance, just got more expensive. ¢320 colones more to be exact, now that the Autoridad Reguladora de los Servicios Públicos (Aresep) has ruled that customers are responsible to pay for the tolls.

Read
August 07, 2009
Legislator Proposes Bringing Back Land "Exit" Tax
(Inside Costa Rica) Francisco Molina, legislator for the Partido Acción Ciudadana (PAC), wants to bring back the "exit" tax charged to all Costa Ricans and foreigners leaving Costa Rica by land. Currently only those leaving the country by air pay the "exit" tax of us$26.

Read
August 07, 2009
New Costa Rican Immigration Law Approved!
(Inside Costa Rica) In second and final debate, the new immgration law was passed by the country's legislators Tuesday evening. But, it won't be until next year and the next government to apply the new rules.

Read

» OUR LIVES
Property Management: This being the week rent is due, is always a difficult week. While most pay their bills without problems, some don't . Some provide reasons which approach incredibility and when we note that they have time and $$ for their pleasures, we have difficulty believing; some just get down right mean and nasty listing a whole host of grievances--the electricity is too high (talk to ICE), the phone bill is too high (you used the phone, get Vonage or ??), or ????. Rents are due on the first of each month; people have, under CR law, until the 7th to pay without penalty. We distributed the invoices on the 1st (last Saturday) with the last day to pay without penalty being clearly stated. If we remind people they need to pay in order to avoid penalty, they complain of harassment; if we do not, we are beaten up for not reminding them. Why some people insist on playing games and being irresponsible and childish, I don't understand.

We had two breakfast counter chairs go missing from one unit. We know approximately when, we don't know who nor why. However, it is incumbent on us to replace them at our expense since we manage the unit. I took one of the two remaining chairs as a sample, got two additional chairs made up in 18 hrs. and now have to re-cover the two new ones and the two old ones. This is supposed to be done Tuesday. Fortunately, I know where and how to do all this from previous experience.

A freelancing car washer who's been working on site for a year or more, has become too entrepreneurial. He's been known to let air out of tires and offer to fill up the tire for a service fee, and to replace "burned out" car bulbs by disconnecting the wire and then reconnecting the wire when given money to buy new bulbs. He's tried a few other things as well. We've had to ban him from the property. Our regular gardeners can work on their free time to wash cars.

We had to clean out a drain and septic tank because wrong things were put into it. Despite our efforts to educate some residents, we don't seem to accomplish our goal.

The office computer hard disc crashed probably due to voltage fluctuations. Fortunately, we have a person who could restore it without loss of data......but $110.

Brian, Lita, Hugo, irreverent Vicka, the pigeon toed parrot, and the newbies — Chico and Chica.

Brian C. Timmons, Newsletter Author
Residencias Los Jardines/Hacienda El Dorado - Developer
E-mail: brian@eldoradocostarica.com

For inquiries about availability of residences at Hacienda El Dorado or Residencias Los Jardines, contact:

Jan Kozak, Marketing Manager
Hacienda El Dorado
Rio Oro, Santa Ana
Costa Rica

Web: www.eldoradocostarica.com
E-mail: info@eldoradocostarica.com
MSN: jan.kozak.jr@hotmail.com
Skype: jan.kozak.jr

Tel (US) (+1) 647-477-5825
Cell: (+506) 8393-4666