Last Doc; Lita is Busted; Misc. Info.


» NOTES
When I started Residencias Los Jardines, I started writing a weekly news letter —determined to tell all the good, bad, and the ugly. I knew some readers would be interested in the construction process. I expected others might be interested in the lifestyle of two people who had decided to live outside the box. For others, the adventures of Lita, the parrot and the cat took on an entertainment saga all its own.

Residencias Los Jardines is finished. We periodically have resales and rental availability. Some readers may be interested in this information.

More and more, the content will be dominated by events of our new project, "El Dorado" for short. While the future is always uncertain, I again aim to tell it like it happens —the good, the bad, and the ugly, and that is what follows.

In an effort to make the format more interesting and visually appealing and to field inquiries re. El Dorado, the news letter is now being distributed by Jan Kozak, Marketing Manager, Hacienda El Dorado. I will remain the author.

Brian C. Timmons, Author
Residencias Los Jardines/Hacienda El Dorado - Developer
E-mail: brian@eldoradocostarica.com

YOU CAN ALSO VIEW THE COMPLETE VERSION ONLINE AT:

https://www.eldoradocostarica.com/English/Newsletter/index.php

NOTE. WE ARE IN THE PROCESS OF SWITCHING OUR DISTRIBUTION TO GOOGLE GROUPS BECAUSE WE HAVE HAD PROBLEMS OVER THE PAST MONTH. SOME PEOPLE HAVE NOT RECEIVED THEIR NEWSLETTER AND WE HAVE NEVER BEEN ABLE TO SOLVE THE PROBLEM. IF YOU HAVE NOT YET RECEIVED AN INVITATION TO JOIN THE GOOGLE GROUP, PLEASE NOTIFY EITHER MYSELF OR JAN AND WE WILL MAKE SURE YOU GET AN INVITATION. IT'S EASY TO JOIN THE GROUP, FOLLOW THE LINK TO GOOGLE, CLICK "I ACCEPT" AND DONE.... FOR THE NEXT TWO WEEKS, HOWEVER, WE WILL SEND THE NEWSLETTER BY BOTH VENUES....

To read this newsletter on Google Groups, click here:

https://groups.google.com/group/hacienda-el-dorado---newsletter?hl=en

To join this Google Group, click here:

https://groups.google.com/group/hacienda-el-dorado---newsletter/subscribe?hl=en

This Google Group has been established to facilitate the distribution of a weekly newsletter published by Brian C. Timmons, the developer of Residencias Los Jardines and Hacienda El Dorado in Santa Ana, Costa Rica.
» CONSTRUCTION LOG
Last Document--We are now waiting for the Muni to write the letter confirming that the amount of discharge from our black water treatment plant will not flood out those downstream. The Muni has reviewed the documentation presented them and have accepted it; they have to write the letter. This letter was suppose to be ready Friday. I haven't received confirmation that it was, in fact, available for pick up. When we have this, we will have ALL the known documents required to submit to INVU.
In the meantime, we continue to maintain the land by keeping the weeds knocked down and the stream cleared of debris.
» RESIDENCIAS LOS JARDINES
American Embassy: It has heretofore limited its acceptable area to Escazu. They seem to be reviewing that practice. The looked us over. We don't fit their criteria, however. While they make 5 year contracts (which are breakable under diplomatic rules) they add security systems, appliances, and want unfurnished, 3 bedroom units.

Internet: We have AMNET. Generally, it's been o.k to fine including this week. However, just prior to this week, we had problems--very slow and down a lot. I read that AMNET is divorcing itself from ICE which is their service provider and reading between the lines, the divorce may not be going all that smoothly. Whether because of technical issues or political issues I couldn't guess. Maybe then have it sorted out now. We'll need next week to know.
Rentals: We are full for now and have additional people wanting.....
111 -- Leased. We actually had two clients interested in leasing this unit in 12 hrs. The old adage that it never rains but pours, applied.
For Sale:
109, two bedroom, one level, furnished, $214,900
111, two bedroom, one level, unfurnished, $200,000
Units for Sale/Lease: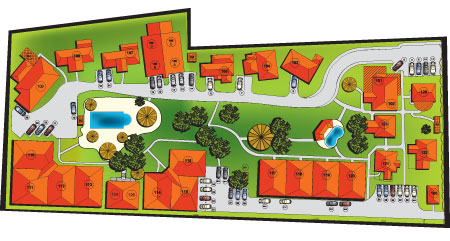 Unit #
109

--

For

Sale $214,900 - FURNISHED (Leased until July 31, 2010 - $1,550 pr month)


Total Area (Sq Ft):

1506

Total area (Sq M):

140

Bedrooms:

2

Bathrooms:

2

Floor(s):

1 Story

Type:

Detached

Furnished:

Yes

This single story home (1506 sf. + parking

for

one car) is detached, has two bedrooms, two bathrooms, home office, living room wall / entertainment center along with a built in office and a semi-private terrace. In addition, it has a vaulted ceiling in the "great" room and two skylights. The covered entrance way is suitable

for

two chairs located next to a covered garden area. Once through the impressive front door, you enter the "great room" which houses the kitchen, dining room, office and living room. Upon entering, there is a built in wooden hutch surfaced with granite—it matches all the built-in furniture in the great room. There is a clothes washer and dryer off the 2nd bedroom. It may also be used

for

storage.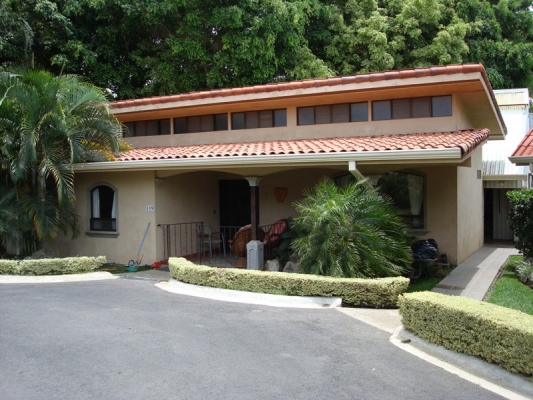 Read More
Unit #
111

--

For

Sale at $200,000 SEMIFURNISHED* / Leased until August 1, 2010 - $1,200 pr month
* INCLUDED ARE: refrigerator, 6 burner gas range, built-in microwave/exhaust; stacked washer / dryer

,

curtains throughout, a king and queen bed if desired.

Total Area (Sq Ft):

1738

Total area (Sq M):

161

Bedrooms:

2

Bathrooms:

2

Floor(s):

Single Floor

Type:

Attached

Furnished:

No
This corner home located in set of four homes, is very private. The entrance belies the 1,738 sf to be found on the other side of the entrance door. The short entrance hallway opens into a huge "
great room
" consisting of the kitchen, LR and DR. This room is truly of huge proportions including the 16' high vaulted ceiling. This vaulted ceiling has clear story windows
for
light and ventilation. Valance lighting surrounds the room and provides ambiance with its upward sighing lights as well as accent lighting with the recessed halogen lights. From the living room, a large sliding glass door leads onto a private covered terrace.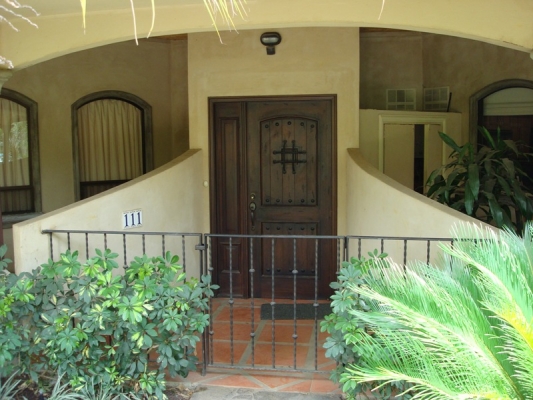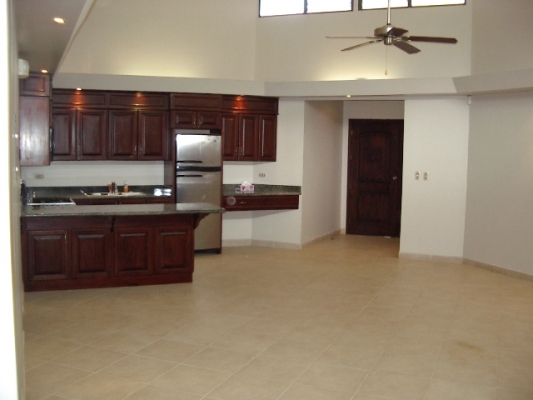 Read More
» NEWS FROM COSTA RICA
August 01, 2009
General Cañas Westbound Completely Closed Again This Weekend
(Inside Costa Rica) The bridge over the river Virilla on the autopista General Cañas continues to be a headache for motorists daily as repair after repair and constant closures, including a complete closure of the highway, fails to solve the problem.

Read
August 01, 2009
The ISA World Surfing Games arrives in Costa Rica
(The Tico Times) The International Surfing Association (ISA) World Surfing Games begin in Costa Rica Friday.

Read
August 01, 2009
Electoral reforms bring transparency and opportunity to vote abroad
(The Tico Times) Sweeping reforms to the electoral code approved this week by the Legislative Assembly will grant more transparency to elections in Costa Rica, while updating old rules to better accommodate modern processes.

Read
August 01, 2009
High Phase Of AH1N1 Pandemic In Costa Rica Not Over Yet
(Inside Costa Rica) Costa Rican Salud (Health) officials had expected that the number of AH1N1 cases would have began to drop on Friday after for weeks of increasing infections and deaths. But, such is not the case.

Read
August 01, 2009
Fiscalía Asks 24 Years Prison For Former President Calderón
(Inside Costa Rica) The Ministerio Público, in its closing arguments, petitioned the judges of the Tribunal de Juicio de Goicoechea find former president (1990-1994) and 2010 presidential candidate, Rafael Ángel Calderón, guilty and to send him to prison for 24 years for his role in the fraud and embezzlement Caja-Fischel case.

Read
July 29, 2009
Costa Rica Seizes 1.4 Tons of Cocaine
(Inside Costa Rica) Costa Rican authorities seized Tuesday about 1.4 tons of cocaine being carried in a truck and arrested two people involved in the shipment, police said.

Read
» OUR LIVES
Weather: This week has seen the continuation of our mini-summer -- with the exception of one wild 20 min. storm Friday.

Lita Get's "Busted": Lita was going out with a resident. Amongst other places, they wanted to go to PriceSmart so asked to borrow my card. No problem. They did their shopping, went to check out, submitted the card to the cashier, and then three nice guys arrived surrounding the two....... Since the card was in my name, she couldn't use it and even though she had her passport showing her name, it didn't matter. So embarrassed, and confused, she phoned me...I realized what had happened, laughed, ..... Pam was allowed to buy her things, but the kept the card which a receipt for retrieval. I got it the next day and the PriceSmart rep remembered the incident and we both started laughing. The fact that it is a "personal membership card" lapsed with me.

"Busted" --Rock and Roll Pollo: It's been closed. Rumor has it (I don't know if accurate or not) something like the following: Two local cops showed up to collect their "chorrizo"; the owner said "no" that he is fully legal and complying with all laws. The cops left. Shortly afterwards, two girls showed up, sat at the bar and proceeded to drink from plastic cups. The cops returned, checked their IDs and found them to be underage. They (or they called the equivalent of the health inspector) proceeded to do an inspection of the premises and found a minor violation in the kitchen. They were shut down. Since this is their third violation they have to find another liquor license. Supposedly they will have one and hope to re-open soon.

Time Out Tavern: As good as ever....but the prices are going up. Fish and Chips has gone from C3,500 to C4,800 and a number of their daily specials are now up from C5,500 to C7,000.

A Visitor's Assessment: A friend of my accountant came from Canada with his wife. He had been to CR a number of times before but not for three years and had previously traveled the country on the cheap. He is afraid to drive in CR so planned to travel by bus and stay at nice hotels and restaurants. They booked a bed and breakfast in Santa Ana--very, very basic--not what they were expecting. After Santa Ana, they were off to Quepos and the Mariposa Hotel. The plan was to stay there for a couple days, bus on south to Domincal for a couple days and then bus back through San Isidro / Cartago / to Santa Ana. Not much of this happened. The bus to Quepos was stopped in Parrita due to some protest. They had to backtrack on their own and find accommodations; their hotel in Playa Hermosa was lousy and overpriced. They had to take a taxi to Quepos the next day. Their hotel was nice but the price quoted did not include taxes or gratuities- (and as newbies, they didn't know enough to ask)-another 23%. They ate out several times and found the meals overpriced and mediocre at best. They gave up trying to go further south and returned very disappointed. I looked for a place in Santa Ana for them for one night (we didn't have a vacancy so we couldn't accommodate them). Nothing less than $130. They left CR with a bad taste in their mouth. The assessment they will tell their friends is that it is overpriced and substandard service and quality. I've heard and read these comments from others. This is not helping the tourist industry or CR's future--these people were potential future residents. While I think they made some mistakes in their strategy and perhaps they had the "unusual" quirk in the road closure due to protesters, some of their assessments seemed justified. (Note: despite their experience, we did have a great meal at Brian and Lita's followed by an interesting conversation.....he comes from a different professional background than I and he had some interesting takes on the world financial, legal, and political system.)

Our Week's Experience: I read that "JR House of Ribs" was open; I found out it was a small local chain. I linked to their website--their website links didn't work. Thursday Lita and I went. Since the building wasn't marked, I went to a restaurant "Blue Ocean" to ask directions for JR.... I looked over their menu and found corvina for C13,000+; there was no one in the restaurant. I asked for JRs....in both English and Spanish; the girl said she didn't know. O.k. an ad for JRs was on the bottom of their sign in front of their restaurant. I found JRs next door--no signage of course...two tables occupied. The menu looked expensive but we decide to try the full baby back ribs and onion rings. The ribs were o.k.--nothing special--but the onion rings at C3900 were the lowest grade frozen, lousy rings one could buy. They didn't have the beer I drink--Bavaria Negra. Service was good. Bottom line is that it is just another ho-hum restaurant that is mediocre and pricey. We won't be going back.

Friday I had to do some shopping for various household things.--phones, DVD player, etc...When returning to Santa Ana, there was a huge traffic jam--I tried all avenues and everything was blocked. When the guy behind me honked and clearly none of us were going anywhere for some time, I decided it was time to opt out. I parked (I could do it given my location) and decided to have lunch at a newly rebuilt restaurant in MegaSuper's parking lot--formerly "Big Dogs". At 12:30, one table was occupied by 3 people. The 10 item luncheon menu looked expensive. I settled on casado at C2,000--good price. The meal was o.k. but decided I wouldn't be returning soon. My bill had the casado priced at C2,245. I asked why the difference. The waitress (simply doing what she had been told to do) said I had had the "large" casado.... Rather than explain that there was no large or small casado on the menu ( which I double checked), just simply said that I will never, ever return, that what happened was not right. My prediction is that both of these restaurants will soon be out of business.

Applebee's Restaurant is coming to the Momentum Mall and is expected to open Nov. 15. Inka Grill in Santa Ana is now open.

Brian, Lita, Hugo, irreverent Vicka, the pigeon toed parrot, and the newbies — Chico and Chica.

Brian C. Timmons, Newsletter Author
Residencias Los Jardines/Hacienda El Dorado - Developer
E-mail: brian@eldoradocostarica.com

For inquiries about availability of residences at Hacienda El Dorado or Residencias Los Jardines, contact:

Jan Kozak, Marketing Manager
Hacienda El Dorado
Rio Oro, Santa Ana
Costa Rica

Web: www.eldoradocostarica.com
E-mail: info@eldoradocostarica.com
MSN: jan.kozak.jr@hotmail.com
Skype: jan.kozak.jr

Tel (US) (+1) 647-477-5825
Cell: (+506) 8393-4666