Uso de Suelo!! & USDA Choice Steak


» NOTES
When I started Residencias Los Jardines, I started writing a weekly news letter —determined to tell all the good, bad, and the ugly. I knew some readers would be interested in the construction process. I expected others might be interested in the lifestyle of two people who had decided to live outside the box. For others, the adventures of lita, the parrot and the cat took on an entertainment saga all its own.

Residencias Los Jardines is finished. We periodically have resales and rental availability. Some readers may be interested in this information.

More and more, the content will be dominated by events of our new project, "El Dorado" for short. While the future is always uncertain, I again aim to tell it like it happens —the good, the bad, and the ugly, and that is what follows.

In an effort to make the format more interesting and visually appealing and to field inquiries re. El Dorado, the news letter is now being distributed by Jan Kozak, Marketing Manager, Hacienda El Dorado. I will remain the author.

Brian C. Timmons, Author
Residencias Los Jardines/Hacienda El Dorado - Developer
E-mail: brian@eldoradocostarica.com

YOU CAN ALSO VIEW THE COMPLETE VERSION ONLINE AT https://www.eldoradocostarica.com/English/Newsletter/index.php

NOTE. WE ARE IN THE PROCESS OF SWITCHING OUR DISTRIBUTION TO GOOGLE GROUPS BECAUSE WE HAVE HAD PROBLEMS OVER THE PAST MONTH. SOME PEOPLE HAVE NOT RECEIVED THEIR NEWSLETTER AND WE HAVE NEVER BEEN ABLE TO SOLVE THE PROBLEM. IF YOU HAVE NOT YET RECEIVED AN INVITATION TO JOIN THE GOOGLE GROUP, PLEASE NOTIFY EITHER MYSELF OR JAN AND WE WILL MAKE SURE YOU GET AN INVITATION. IT'S EASY TO JOIN THE GROUP, FOLLOW THE LINK TO GOOGLE, CLICK "I ACCEPT" AND DONE.... FOR THE NEXT TWO WEEKS, HOWEVER, WE WILL SEND THE NEWSLETTER BY BOTH VENUES....
» CONSTRUCTION LOG
Uso de Suelo--Land Use Permit: We have it in hand and I'm awaiting confirmation that we also have the ICE letter and another letter which was / is to be stamped by the Muni which will be submitted to INVU. The latter letter has to do with the additional amount of discharge of treated water into the stream -- the government agencies want to make sure we don't flood out those people down stream. We won't; our discharge will not be significant and in the dry season, it will be negligible because we will be using it for irrigation.
» RESIDENCIAS LOS JARDINES
Garden: We continue to cut away at what has become a virtual jungle. I thought it would be slowing down now but we've had two truck loads of garden trimmings go out again this week.

Rental Cascade: Friday began what will be a three part cascade of moves. It started with our resident of 6 mo. who had completed his work assignment. His unit was cleaned, people temporarily housed in 121 moved in and it keeps going from there...clean and back fill....with a new couple coming in on Monday. This is one way we are able to maintain such a high occupancy.

Rentals:

111 -- Available--Unfurnished,, $1,200


For Sale:

109, two bedroom, one level, furnished, $214,900
111, two bedroom, one level, unfurnished, $200,000
Units for Sale/Lease: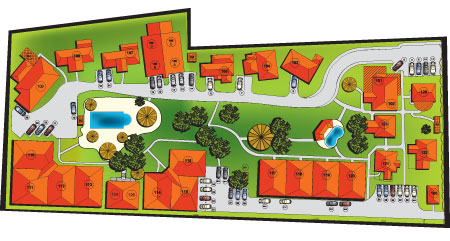 Unit #
109

--

For

Sale $214,900 - FURNISHED (Leased until July 31, 2010 - $1,550 pr month)


Total Area (Sq Ft):

1506

Total area (Sq M):

140

Bedrooms:

2

Bathrooms:

2

Floor(s):

1 Story

Type:

Detached

Furnished:

Yes

This single story home (1506 sf. + parking

for

one car) is detached, has two bedrooms, two bathrooms, home office, living room wall / entertainment center along with a built in office and a semi-private terrace. In addition, it has a vaulted ceiling in the "great" room and two skylights. The covered entrance way is suitable

for

two chairs located next to a covered garden area. Once through the impressive front door, you enter the "great room" which houses the kitchen, dining room, office and living room. Upon entering, there is a built in wooden hutch surfaced with granite—it matches all the built-in furniture in the great room. There is a clothes washer and dryer off the 2nd bedroom. It may also be used

for

storage.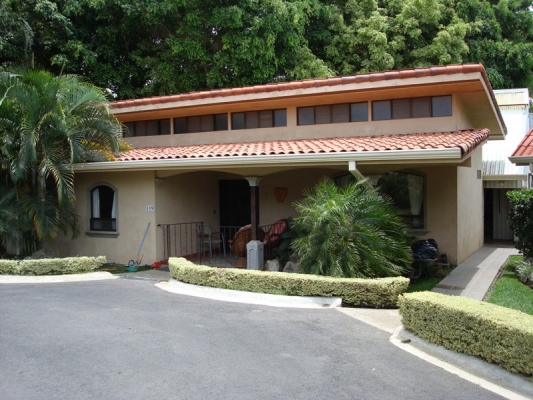 Read More
Unit #
111

--

For

Sale at $200,000 SEMIFURNISHED* / For Lease at $1,200 SEMIFURNISHED*
* INCLUDED ARE: refrigerator, 6 burner gas range, built-in microwave/exhaust; stacked washer / dryer

,

curtains throughout, a king and queen bed if desired.

Total Area (Sq Ft):

1738

Total area (Sq M):

161

Bedrooms:

2

Bathrooms:

2

Floor(s):

Single Floor

Type:

Attached

Furnished:

No
This corner home located in set of four homes, is very private. The entrance belies the 1,738 sf to be found on the other side of the entrance door. The short entrance hallway opens into a huge "
great room
" consisting of the kitchen, LR and DR. This room is truly of huge proportions including the 16' high vaulted ceiling. This vaulted ceiling has clear story windows
for
light and ventilation. Valance lighting surrounds the room and provides ambiance with its upward sighing lights as well as accent lighting with the recessed halogen lights. From the living room, a large sliding glass door leads onto a private covered terrace.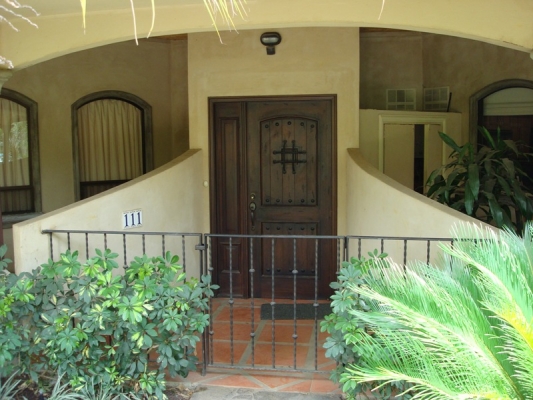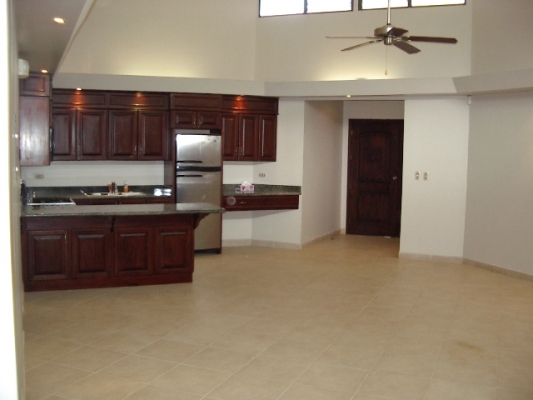 Read More
» NEWS FROM COSTA RICA
July 25, 2009
Legislators Give Immigration Bill First Approval
(Inside Costa Rica) Legislators have approved, in first reading, the reforms to the Ley de Migración y Extranjería (immigration law) after being bounced around in the halls of the Legislative Assembly for the last several years.

Read
July 25, 2009
Bill Would Tax Costa Rica Based Online Gambling Sites
(Inside Costa Rica) Every few years the Costa Rican government comes up with a novel plan to either tax or license online gambling firms operating in that Central American nation. Each time, the attempt has failed. In two weeks Costa Rica will try once more.

Read
July 25, 2009
Back-to-back events planned for 185th celebration of Guanacaste Annexation
(The Tico Times) Costa Rica's upper arm on the Pacific, known for its expansive beaches and steep volcanoes, is celebrating the day it became part of Costa Rica this weekend.

Read
July 24, 2009
The Arias Proposal For Peace In Honduras A Bust!
(Inside Costa Rica) Costa Rican president Oscar Arias, as mediator to the Honduras political crisis, on Wednesday presented his reconciliation pan called "Acuerdo de San José" (San José Proposal) in an attempt to bring peace to that country.

Read
July 23, 2009
Mexico Beats Costa Rica
(Reuters) – Mexico beat Costa Rica on penalties in a tense semi-final on Thursday to reach the CONCACAF Gold Cup final where they will play the United States, 2-0 victors over Honduras.

Read
July 22, 2009
More Than 1.200 Tickets In First Day Of Restrictions
(Inside Costa Rica) On the first day of the reinstatement of the vehicular restrictions of San Jose, more than 1.200 drivers were fined by Tránsito officials.

Read
July 18, 2009
Arias's Effort to End Honduras Stalemate Resumes in Costa Rica
July 18 (Bloomberg) -- Representatives of deposed Honduran President Manuel Zelaya and acting leader Roberto Micheletti will meet today in a bid to end a political stalemate, even as both sides show few signs they're willing to ease their demands.

Read
» OUR LIVES
Weather:
This week has seen the continuation of our mini-summer -- we've had no rain and are again irrigating.
USDA "Choice" Steaks:
I finally got to the point where I just had to try a better method. The CR beef just wasn't cutting in for flavor. Paul and I went to Belca, the food purveyor for many of the large hotels and the company which supplied us with the prime rib of beef which was so delicious. We bought a 5 kl. chunk of frozen rib eye roast for C11,000 kilo, took it to a local butcher shop and paid a nominal amount for him to cut it into steaks. (We could have chosen a strip loin roast for NY steaks for C12,000 kilo). We then took the frozen steaks, repackaged in portions we wanted, and stuck them in the freezer. (Note: had we purchased the individual steaks vs. the uncut piece, the price would have been about 90% higher, or from C11,000 to C21,000 kilo). We also did the same thing with a churrasco cut of CR beef (C3,500 kilo)--just for comparison purposes. The rib eyes were / are absolutely fantastic--the beef taste I remember and longed for. The CR beef just doesn't compare taste wise. Price wise it's the same; you can buy the CR "lomito" from AutoMercado at C11,500 kilo or the USDA "Choice" from Belca and there simply is no comparison re. taste... I've now solved the cheap booze and the good steak problem.....Now: Where can I buy Stilton cheese?
Time Out Tavern:
As good as ever....
Lita:
For some reason, she's been very busy this week organizing luncheons.....probably because I made up a big batch of chicken curry which turned out great. We also had to say good-bye to one of our residents who had foolishly finished his job assignment so had to return to Minn.; we tested the steaks on him. And we took some guests to The Time Out Tavern midweek where I got my hamburger fix. Last Sunday we had some newbies to CR along with a friend of theirs....there was a lively discussion that night about Am. politics....my fix for another year or more.
Accidents:
I've seen two bad ones and still can't figure out why they happened. One involved two motor cycles broadsiding a truck in a clear but busy intersection. My guess is that the motor cycles didn't stop as they were supposed to and didn't see the truck crossing.....They paid a high price. The second accident was a small car again broadsiding a truck--it went right under the belly of the truck.---the driver wasn't hurt but the new car was probably totaled. Probably going too fast and unable to stop. Both of these accidents had just happened and in neither case had the ambulance arrived. Driving here is just dangerous!!
McDonald's Restaurant:
The long expected chain restaurant is now appearing in a very unlikely place. It is at the current end of a series of commercial developments with very limited parking. What looked to be a multistory commercial building started and then stopped; now the McDonald flags are flying; more traffic chaos to come. The KFC is open and it, too, has very limited parking....both of these restaurants can, or will be, accessed by drivers....
Brian, Lita, Hugo, irreverent Vicka, the pigeon toed parrot, and the newbies — Chico and Chica.
Brian C. Timmons, Newsletter Author
Residencias Los Jardines/Hacienda El Dorado - Developer
E-mail: brian@eldoradocostarica.com
For inquiries about availability of residences at Hacienda El Dorado or Residencias Los Jardines, contact:
Jan Kozak, Marketing Manager
Hacienda El Dorado
Rio Oro, Santa Ana
Costa Rica
Web: www.eldoradocostarica.com
E-mail: info@eldoradocostarica.com
MSN: jan.kozak.jr@hotmail.com
Skype: jan.kozak.jr
Tel (US) (+1) 647-477-5825
Cell: (+506) 8393-4666