The Dawn Brightens; Rentals; Craziness...


» NOTES
When I started Residencias Los Jardines, I started writing a weekly news letter —determined to tell all the good, bad, and the ugly. I knew some readers would be interested in the construction process. I expected others might be interested in the lifestyle of two people who had decided to live outside the box. For others, the adventures of lita, the parrot and the cat took on an entertainment saga all its own.

Residencias Los Jardines is finished. We periodically have resales and rental availability. Some readers may be interested in this information.

More and more, the content will be dominated by events of our new project, "El Dorado" for short. While the future is always uncertain, I again aim to tell it like it happens —the good, the bad, and the ugly, and that is what follows.

In an effort to make the format more interesting and visually appealing and to field inquiries re. El Dorado, the news letter is now being distributed by Jan Kozak, Marketing Manager, Hacienda El Dorado. I will remain the author.

Brian C. Timmons, Author
Residencias Los Jardines/Hacienda El Dorado - Developer
E-mail: brian@eldoradocostarica.com

YOU CAN ALSO VIEW THE COMPLETE VERSION ONLINE AT https://www.eldoradocostarica.com/English/Newsletter/index.php
» CONSTRUCTION LOG
Uso de Suelo--Land Use Permit: The amended survey has been accepted and logged by the national registry. It is now back to the Muni where we understand they will now issue an "uso de suelo" based on the amended survey......bottom line is we fixed a problem they had allowed happen.

Well Water: The well concession can now proceed based on the amended survey. We are told 10 days.....

Misc. The amended survey will now be used to submit the rain water run off calculations and the ICE letter saying they have no plans to run an electrical line through the property. Both of these are suppose to take 10 days.

Timing: We now feel we will have all the documents in hand for application to INVU by around end of July From then, we are advised that it normally takes four weeks.... We're getting closer, much closer--I have the cigar and the 23 yr. old rum for celebration. Having said that, I'm just so very thankful that we were not building during this world financial meltdown. We weren't smarter than anyone else; just more fortunate. than some. Our schedule and those of our purchasers have been delayed but we have not been crushed--and that is the key to being able to go forward when conditions are right.
» RESIDENCIAS LOS JARDINES
Renters: We leased two units again this week; we have only an unfurnished unit with no more furnished units for 6 weeks.

Design Award Contest: I was contacted by a person in Britain to enter a development design competition. I've reviewed the criteria. I've thought about this and have decided that the cards are stacked against us. The criteria is really designed for larger projects where marketing is currently underway, where architects, designers and graphic artists are on the payroll, and where someone -- designer, architect, developer--wants this award to help promote their project. I just don't see us being able to make a first class presentation that will be reviewed -- in actuality, I believe Los Jardines can compete well against any project but we simply cannot make the $5,000 presentation that would be required......

Rentals:

121 -- Leased
109 -- Leased
111 -- Available--Unfurnished, $1,200


For Sale:


109, two bedroom, one level, furnished, $214,900
111, two bedroom, one level, unfurnished, $200,000

Units for Sale/Lease: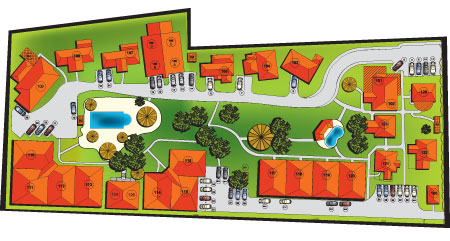 Unit #
109

--

For

Sale $214,900 - FURNISHED (Leased until July 31, 2010 - $1,550 pr month)


Total Area (Sq Ft):

1506

Total area (Sq M):

140

Bedrooms:

2

Bathrooms:

2

Floor(s):

1 Story

Type:

Detached

Furnished:

Yes

This single story home (1506 sf. + parking

for

one car) is detached, has two bedrooms, two bathrooms, home office, living room wall / entertainment center along with a built in office and a semi-private terrace. In addition, it has a vaulted ceiling in the "great" room and two skylights. The covered entrance way is suitable

for

two chairs located next to a covered garden area. Once through the impressive front door, you enter the "great room" which houses the kitchen, dining room, office and living room. Upon entering, there is a built in wooden hutch surfaced with granite—it matches all the built-in furniture in the great room. There is a clothes washer and dryer off the 2nd bedroom. It may also be used

for

storage.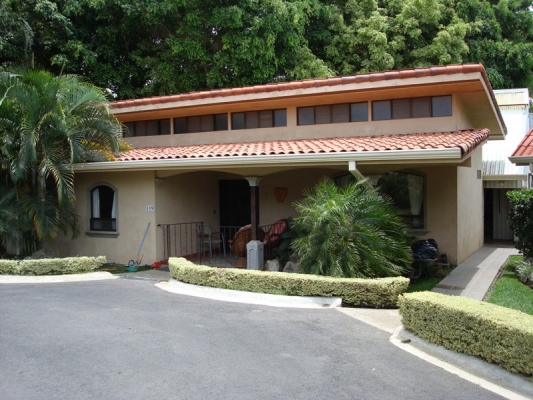 Read More
Unit #
111

--

For

Sale at $200,000 SEMIFURNISHED* / For Lease at $1,200 SEMIFURNISHED*
* INCLUDED ARE: refrigerator, 6 burner gas range, built-in microwave/exhaust; stacked washer / dryer

,

curtains throughout, a king and queen bed if desired.

Total Area (Sq Ft):

1738

Total area (Sq M):

161

Bedrooms:

2

Bathrooms:

2

Floor(s):

Single Floor

Type:

Attached

Furnished:

No
This corner home located in set of four homes, is very private. The entrance belies the 1,738 sf to be found on the other side of the entrance door. The short entrance hallway opens into a huge "
great room
" consisting of the kitchen, LR and DR. This room is truly of huge proportions including the 16' high vaulted ceiling. This vaulted ceiling has clear story windows
for
light and ventilation. Valance lighting surrounds the room and provides ambiance with its upward sighing lights as well as accent lighting with the recessed halogen lights. From the living room, a large sliding glass door leads onto a private covered terrace.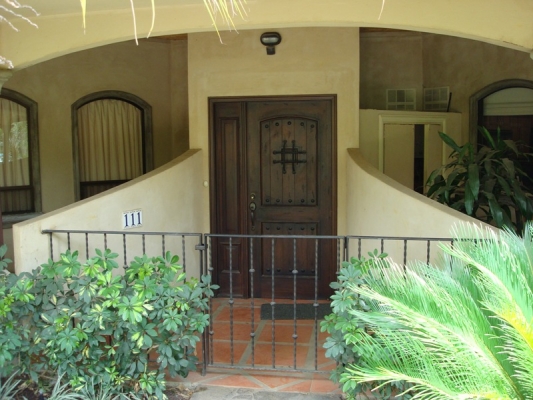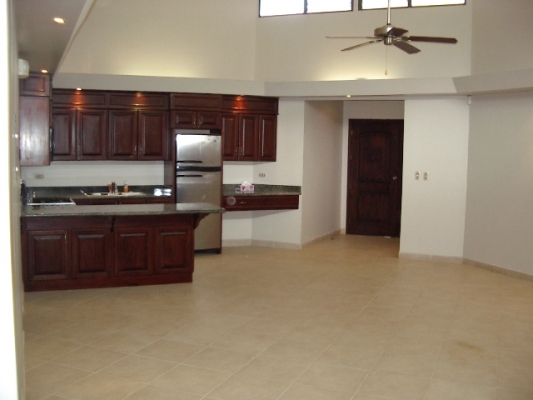 Read More
» NEWS FROM COSTA RICA
July 11, 2009
Where Is The Quick Pass Now?
(Inside Costa Rica) Several months ago the HSBC offered the "Quick Pass", a novel device (for Costa Rica) that would speed a driver through the toll stations of the autopista Próspero Fernández (San Jose - Caldera highway), saving 10 minutes or more at each passing.

Read
July 11, 2009
Honduras talks end without accord
(BBC) Two days of talks in Costa Rica aimed at ending the political crisis in Honduras have ended without agreement.

Read
July 10, 2009
Honduras mediation process at stalemate
(The Tico Times) Delegates leave Costa Rica, pledging to return again

Read
July 10, 2009
Gas prices and interest rates increase, value of colón decreases
(The Tico Times) It has been a tough 48 hours in the Costa Rican financial markets, as gas prices and the base interest rate have increased, while the value of the colón has fallen.

Read
July 09, 2009
Sabana - Escazú Road Ready by End of Month
(Inside Costa Rica) In less than three weeks the road work between Sabana Sur and Escazú should be completed and travel between San Jose and Escazú, will be much easier. At least that is the promise by the Ministerio de Obras Publicas y Transportes (MOPT).

Read
» OUR LIVES
Weather:
Normal weather --sunny mornings giving way to overcast skies followed by showers and then clearing in Santa Ana.
Cheese Festival--Turrialba:
On Sunday we went with our accountant and family along with Paul and Esther to Turrialba's Cheese Festival. It was a washout as soon as we got east of Cartago. On the other side of Turrialba in a rancher's field, over one way bridges, 100s and 100s of cars congregated. Traffic was a nightmare and we spent hours stuck in it. We decided to wait out the rain and the traffic by going to a local restaurant.... The food took forever, was mediocre, and some were served before others had even been asked for their selection. It was a mess. At one point while waiting in traffic there was a little excitement right next to us. It seems like a drunk, off duty policeman got mad at a driver in front of who who was blocked in traffic, called him a few rough names, and the fight was on....When he started to get the s.... beat out of him, he called on his officialdom....it did no good.......no one was routing for him..... When we got to the festival, a number of the cheese stalls were out of cheese but since I don't like CR cheese, it wasn't a big deal. Even though the event itself was a washout and so poorly organized it was laughable, it was a good experience and the conversation and company made the whole day fun.
ICE and Electrical Rate:
We received from ICE and delivered the electrical bills this week. The amounts had jumped up significantly....but the residents wanted to shoot the messenger. A number of times we had to calm people down and explain to them that we're not the bad guys.....we're just the mailman.... My own bill went up about 20% and at $120 mo. for evening lights and TV its ridiculous--one person phoned ICE and demanded a person come to check the meter... The Representative said that the company had been ordered to roll back the increase by 14% next month. Our common element electricity bill is now around $700 a month...up from around $450 18 mo. ago.
164 Colones: or 25 cents...
our Office Administrator's water was cut off by AyA!!! For some reason she owed them this and for some reason they couldn't or wouldn't add it to the next bill, and proceeded to cut off her water and insisted she pay a 5,000 colone reconnection charge. This is the same organization that has not been able to issue us a water permit for a year but is able to shut off someone's water for a $0.25! shortfall!!! Incredible!!
Budgie Bye Bye:
One of Lita's budgies flew away. While she insists someone stole it, I believe a much more likely scenario is that it got out of the cage while she was cleaning it and at some point, flew away, never to be seen nor heard from again. This isn't a bird she played with much but it is still a loss to her. I was, unfortunately, the bearer of bad news so.......
Rent Collection:
This week included the 7th of the month which is the last day's grace period to pay one's rent. While most people pay before this, many wait until the last day, and the usual same few pay later and beat us up about notifying them or about applying a penalty which is clearly stated in the lease. To this was added the high electricity rate, and various other discretionary expenses they have each incurred and we have duly noted and accounted for. Some need a 164 colone dose of reality...... This is also the week when quarterly disbursements of funds earned and held in trust by us is sent where directed. I doubt that many investors on the beach are receiving returns on their investments. We are continuing to maintain around a 95% occupancy on units we manage.
State of RE Market:
Paul bumped into a former tenant of Los Jardines. He works for a high pressure RE marketing company focusing on the Pacific coastal area. He said he had not sold a house since October. Jan seems to have a number of clients and according to his contacts, says there seems to be some renewed interest in RE -- at least in the Central Valley. I have heard that Avalon Country Club has a number of vacancies and are discounting rents substantially. Lately Jan has had two clients from the American Embassy and others are people moving here for business reasons.... some businesses are the result of the Free Trade agreement.
Land near the MegaSuper was graded several years ago and then abandoned. I saw surveyors there this past week. We'll just have to wait to see what develops. Signage will be the last thing to be placed on the site.
Time Out Tavern:
It is not yet open but they continue to work on it. In the meantime we go to Kiante's in Belen...great corvina (sea bass) and steaks....perhaps other things as well but that is what we and our friends have had and all have enjoyed their meal. It's a moderately priced Tico restaurant that does a good job. It doesn't replace The Time Out but........KFC, Quiznos, and Terryaki Surprise (?) had their grand opening Friday night; some people are rolling in their graves thinking this is the end of Santa Ana; some are waiting for McDonalds.... each to their own... none of these will replace Time Out Tavern.....
Brian, Lita, Hugo, irreverent Vicka, the pigeon toed parrot, and the newbies — Chico and Chica.
Brian C. Timmons, Newsletter Author
Residencias Los Jardines/Hacienda El Dorado - Developer
E-mail: brian@eldoradocostarica.com
For inquiries about availability of residences at Hacienda El Dorado or Residencias Los Jardines, contact:
Jan Kozak, Marketing Manager
Hacienda El Dorado
Rio Oro, Santa Ana
Costa Rica
Web: www.eldoradocostarica.com
E-mail: info@eldoradocostarica.com
MSN: jan.kozak.jr@hotmail.com
Skype: jan.kozak.jr
Tel (US) (+1) 647-477-5825
Cell: (+506) 8393-4666