The Dawn Brightens; Rentals; Friends


» NOTES
When I started Residencias Los Jardines, I started writing a weekly news letter —determined to tell all the good, bad, and the ugly. I knew some readers would be interested in the construction process. I expected others might be interested in the lifestyle of two people who had decided to live outside the box. For others, the adventures of lita, the parrot and the cat took on an entertainment saga all its own.

Residencias Los Jardines is finished. We periodically have resales and rental availability. Some readers may be interested in this information.

More and more, the content will be dominated by events of our new project, "El Dorado" for short. While the future is always uncertain, I again aim to tell it like it happens —the good, the bad, and the ugly, and that is what follows.

In an effort to make the format more interesting and visually appealing and to field inquiries re. El Dorado, the news letter is now being distributed by Jan Kozak, Marketing Manager, Hacienda El Dorado. I will remain the author.

Brian C. Timmons, Author
Residencias Los Jardines/Hacienda El Dorado - Developer
E-mail: brian@eldoradocostarica.com

NOTE: Hopefully the distribution problems we've experienced over the past month are behind us. We'll see.

YOU CAN ALSO VIEW THE COMPLETE VERSION ONLINE AT https://www.eldoradocostarica.com/English/Newsletter/index.php
» CONSTRUCTION LOG
SETENA: We have the final, signed agreement. This clears the way for many things as well as giving us the right to build a roadway over the quebrada to the black water treatment plan, a bridge over the stream, and a retaining wall which will be the back wall of the Maya Tower. We won't be doing this work right away but we have the permission to when we are ready.

Uso de Suelo--Land Use Permit: The amended survey has been stamped by the Muni. It is now in the hands of the National Registry where it is expected to be released on Wednesday. When released, it will be returned to the Muni along with a request for them to issue the Uso de Suelo....land use permit.....and they can now use the amended plans number which seemed to be the obstacle they had issue with...they wanted us to solve their problem. We did.

Well Water: We are still waiting but if the 15 day wait is accurate, we should be getting this at the end of this coming week or early the following week.

Timing: We now feel we will have all the documents in hand for application to INVU by around mid July. From then, we are advised that it normally takes four weeks.... We're getting closer, much closer.
Bamboo: it's growing..in three years it should screen out ugly backyards and the yellow (large) bamboo will begin to provide the security it is designed for.

Landscaping: We're keeping the weeds and brush cut back--this is not an abandoned project, delayed yes, but not abandoned. We've re-planted some of the ornamental, flowering trees I purchased to give them more room. In addition, we have moved some wall covering plants into position such that they can begin to do their job.
» RESIDENCIAS LOS JARDINES
Garden: I've struggled for a year to get the gardeners to willingly compost. This time I said do >>>>>> or I won't sign your checks. The work I wanted, got done. I think part of their reluctance had to do with lack of understanding.....composting is not part of their repertoire.......and they have to be coaxed into it, given lots of information multiple times, etc. It scares me to think of asking for something which is complex.....

Renters: We leased two units this week and showed another; we're awaiting an answer on the latter. Three people gave notice--end of work contract, marriage break up, and wanted a substantially larger house--people come, people go...life goes on......

Design Award Contest: I was contacted by a person in Britain to enter a development design competition. I've reviewed the criteria. We could do well on all except the 40% allocation for marketing.... We are sold out and never produced any hard copy or any substantial marketing campaign... we built and sold as we went along... the finished product sold the purchasers... we just made sure the RE agents knew about us. I'll have to think about it..... it could be good advertising but time and money in the application and I know that we will score very low in the marketing section......

Rentals:

121 -- Available--2 bedroom, furnished, two level $1,650 mo.
109 -- Available July 24 two bedroom, furnished, one level-- $1,550 mo.


For Sale:


109, two bedroom, one level, furnished, $214,900
111, two bedroom, one level, unfurnished, $210,000
107 close July 1--the new owner is in place.
Units for Sale/Lease: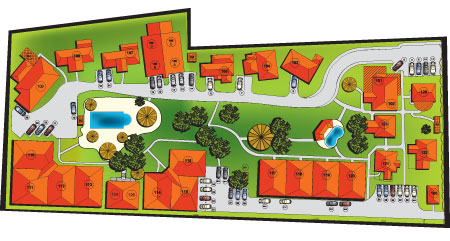 Unit #
109

--

For

Sale $214,900 - FURNISHED (Leased until July 24, 2009 - $1,550 pr month)


Total Area (Sq Ft):

1506

Total area (Sq M):

140

Bedrooms:

2

Bathrooms:

2

Floor(s):

1 Story

Type:

Detached

Furnished:

Yes

This single story home (1506 sf. + parking

for

one car) is detached, has two bedrooms, two bathrooms, home office, living room wall / entertainment center along with a built in office and a semi-private terrace. In addition, it has a vaulted ceiling in the "great" room and two skylights. The covered entrance way is suitable

for

two chairs located next to a covered garden area. Once through the impressive front door, you enter the "great room" which houses the kitchen, dining room, office and living room. Upon entering, there is a built in wooden hutch surfaced with granite—it matches all the built-in furniture in the great room. There is a clothes washer and dryer off the 2nd bedroom. It may also be used

for

storage.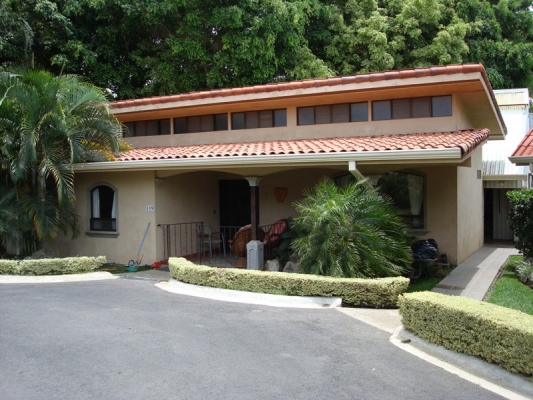 Read More
Unit

#

121

- For Rent - $1,650 FURNISHED


Total Area (Sq Ft):1423
Total Area (Sq M):131
Bedrooms:2
Bathrooms:2.5
Floor(s):2 Story
Type:Detached
Furnished:Yes


This two story, detached 1,423 sf home + parking for one car has two bedrooms, 2 ½ bathrooms and a 2nd. floor covered terrace.

The open railed wrought iron cement stair case leads to the 2nd. level where the master bedroom with en-suite master bathroom as well as 2nd. bedroom and en-suite bathroom are located. Also accessed from the 2nd. floor hallway is the covered terrace.

This is a very nicely furnished home with a good floor plan for those wanting two floors.

Unit #
111

--

For

Sale at $210,000 UNFURNISHED


Total Area (Sq Ft):

1738

Total area (Sq M):

161

Bedrooms:

2

Bathrooms:

2

Floor(s):

Single Floor

Type:

Attached

Furnished:

No
This corner home located in set of four homes, is very private. The entrance belies the 1,738 sf to be found on the other side of the entrance door. The short entrance hallway opens into a huge "
great room
" consisting of the kitchen, LR and DR. This room is truly of huge proportions including the 16' high vaulted ceiling. This vaulted ceiling has clear story windows
for
light and ventilation. Valance lighting surrounds the room and provides ambiance with its upward sighing lights as well as accent lighting with the recessed halogen lights. From the living room, a large sliding glass door leads onto a private covered terrace.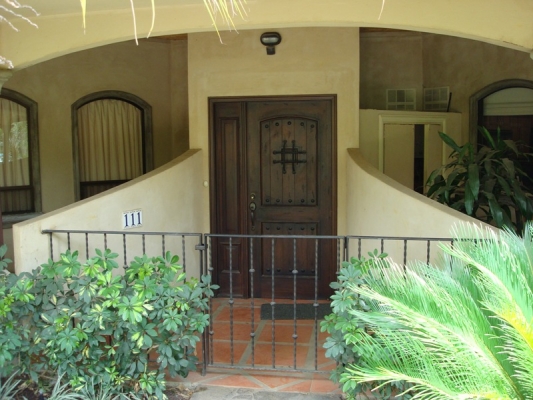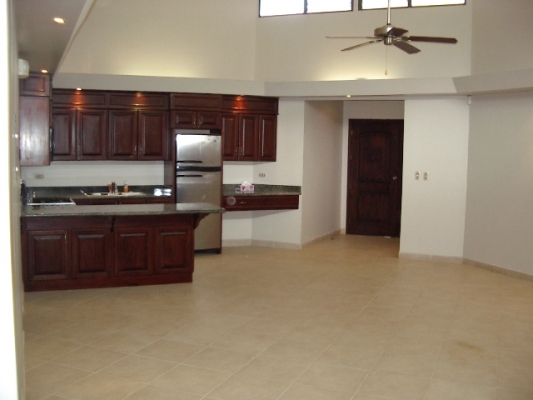 Read More
» NEWS FROM COSTA RICA
July 05, 2009
Honduras says ousted president cannot return
TEGUCIGALPA (Reuters) - Deposed Honduran President Manuel Zelaya will not be allowed to land in the country if he attempts to fly back a week after he was ousted by troops, the interim government said on Sunday.

Read
July 05, 2009
Costa Rican Health Minister Calls For Extreme Alert For AH1N1
(Inside Costa Rica) Following the confirmation of the third death from the AH1N1 flu virus in Costa Rica, health officials have intensified the alert.

Read
July 05, 2009
It's Sweater Time In Costa Rica
(Inside Costa Rica) Strong winds have been trashing the Central Valley since Friday, bringing with them cold air. And according to Rebecca Morera of the Instituto Meteorológico Nacional (IMN) - national weather service - they will be around for a day or two more.

Read
July 04, 2009
Map of the Week: Why Costa Rica is the happiest place
"Every society clings to a myth by which it lives. Ours is the myth of economic growth."

Read
July 03, 2009
Arias Considering Breaking Diplomatic Ties With Honduras
(Inside Costa Rica) Costa Rican president, Óscar Arias, said yesterday that the possibility of breaking diplomatic ties with Honduras if "constitutional order" is not restored in the near future. Arias said that the extreme measure would be to respect democracy and more so, Costa Rica would never recognize any de facto government.

Read
» OUR LIVES
Weather: Normal rain and sunshine... Plants and grass are happy...the new plantings have to root and grow in.

Friends: Our friends left. They enjoyed their two weeks here; the first vacation they've taken in 20 years. He has Parkinson's disease and has been battling it now for 9 years. She is nearing retirement. They are beginning to think about their options and now have some new ideas to try on. We partied a lot; we showed them areas of CR; they met a number of our friends; heard stories of "life" here; all the stories were entertaining and educational them....one resident in particular was in rare entertainment form most of the time. He has the ability to see humor in disasters and his cultural observations and self deprecating manner simply enhance the enjoyment of his stories. I guess I've become blase about Lita and the parrot...they found the relationship and play between them incredible; to me, it is still a source of wonder but guess I take it all in stride now. Terry will be leaving on another contract as well. It's always difficult saying goodbye to friends.

Brian, Lita, Hugo, irreverent Vicka, the pigeon toed parrot, and the newbies — Chico and Chica.

Brian C. Timmons, Newsletter Author
Residencias Los Jardines/Hacienda El Dorado - Developer
E-mail: brian@eldoradocostarica.com

For inquiries about availability of residences at Hacienda El Dorado or Residencias Los Jardines, contact:

Jan Kozak, Marketing Manager
Hacienda El Dorado
Rio Oro, Santa Ana
Costa Rica

Web: www.eldoradocostarica.com
E-mail: info@eldoradocostarica.com
MSN: jan.kozak.jr@hotmail.com
Skype: jan.kozak.jr

Tel (US) (+1) 647-477-5825
Cell: (+506) 8345 8018