Dawn of a New Day!!--SETENA + Dead DISH


» NOTES
When I started Residencias Los Jardines, I started writing a weekly news letter —determined to tell all the good, bad, and the ugly. I knew some readers would be interested in the construction process. I expected others might be interested in the lifestyle of two people who had decided to live outside the box. For others, the adventures of lita, the parrot and the cat took on an entertainment saga all its own.

Residencias Los Jardines is finished. We periodically have resales and rental availability. Some readers may be interested in this information.

More and more, the content will be dominated by events of our new project, "El Dorado" for short. While the future is always uncertain, I again aim to tell it like it happens —the good, the bad, and the ugly, and that is what follows.

In an effort to make the format more interesting and visually appealing and to field inquiries re. El Dorado, the news letter is now being distributed by Jan Kozak, Marketing Manager, Hacienda El Dorado. I will remain the author.

Brian C. Timmons, Author
Residencias Los Jardines/Hacienda El Dorado - Developer
E-mail: brian@eldoradocostarica.com

» CONSTRUCTION LOG
SETENA: We applied to this organization in October and expected their approval of our D1 request in January. A D1 is a low level environmental assessment of the effects of the proposed development. This application included lots and lots of studies and various information. It appears that this approval has now been given with a few added bonus--bridge over the stream, roadway over the quebrada, and a retaining wall. While we do not have to do this work immediately--good because it's the wrong season to be doing any of this work--we will not have to go for building permits--these works have already been approved.

Uso de Suelo--Land Use Permit: This is still not resolved but it is on it's way to being resolved. The surveyor submitted an amendment to the previous plan which was marked as per the official plan showing a road which does not nor never did exist. The amended version describes the area in question (not on our property) as a right of way with houses built on it. This was expected to be rejected by the national registry at which point it was taken to the Muni for them to stamp saying, yes, that's the way it is and that's what we want to see.... The survey would then be taken back to the national registry and submitted. It was expected that the Muni would then be able to issue the uso de suelo. This will take time but we are told that we will get the document required.

Well Water: All documentation for the well concession (right to use the water) from a year ago has been resubmitted to AyA. The consultant was told we could expect the approval in 15 days.

Conclusion: We now see light on the horizon. We aren't yet at the end of this process, we are nearing it and the pieces are falling into place. When we have the site plan approval from INVU, what next?

What's Next? We'll then begin to work on two things: The construction drawings for both the Ponce and Cortez buildings. This will take a while before we get it all pieced together. These will be the drawings which are required for construction permits. The second thing we'll start working on will be the condominium documentation. This work will have to be hired out to specialists.
» RESIDENCIAS LOS JARDINES
SSatellite Signal: We cut back the trees and branches but it doesn't seem to have affected the signal. We have the technician coming to check the system. However, this may be irrelevant because DISH seems to have scrambled the signal so fundamentally that the hackers may not be able to unscramble it. As of now, it seems that DISH enabled a 3G encryption feature in their proprietary descramblers that it is unlikely the hackers will ever make our equipment workable. Anyone want to buy a new 3m dish????

Comment--Renters: We've seen a lot of people lately who, for various reasons,--personal issues, business complications, marital issues, or simply just plain hidden agendas, have not honored their contracts. I think in some cases they had no intentions of doing so -- like the guy who signed a year lease and in 7 weeks had purchased a house and moved into it--my guess is that he figured it was cheaper to sign a lease, and walk than to stay in a hotel room. In virtually all cases, little or no notice is given. We hold their deposits for breach of contract but at best the owner only gets back the rental commission paid to the agent. In discussions with an agent, I'm told that other owners require two month's deposits and make it very clear that if they leave within 6 mo., they loose it all; if they leave after 6 mo but before the one year term, they loose one month's deposit. We may have to go in this direction for non-corporate leases. By using more discretion --like a prospective renter viewing a property with a beer in his hand is probably not going to work out. Having said that, every once in a while, we find a really great resident......we have one now who fits that description and they had a really bad experience with a previous landlord....

Last week I mentioned a company looking for 7 homes for their people moving here to build cell phone towers. Guess they were an advance team and are assessing the information they picked up. It seams they contacted numerous RE agents. We've had four agents (2--2 person teams) review Los Jardines. If the company does go with us, I'm sure there will be many issues re. commissions. I know three of the four agents but I don't think that will help in sorting things out--they will have to do that I believe. Anyway, we'll deal with that when and if.....

Rentals:

124 -- Leased
121 -- June 25 -- $1,650
111 -- Immediately -- unfurnished -- $1,350
109 -- July 24 -- $1,550

For Sale: 109 only.

107 is scheduled to close July 1. The paperwork has been signed and all has been agreed to.
Units for Sale/Lease: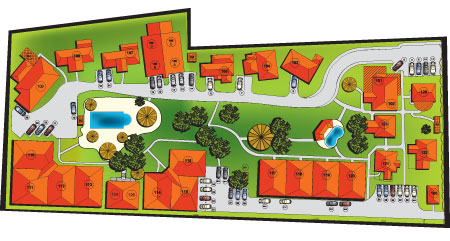 Unit #

109

--

For

Sale $214,900 - FURNISHED (Leased until July 24, 2009 - $1,550 pr month)

Total Area (Sq Ft):
1506
Total area (Sq M):
140
Bedrooms:
2
Bathrooms:
2
Floor(s):
1 Story
Type:
Detached
Furnished:
Yes
This single story home (1506 sf. + parking
for
one car) is detached, has two bedrooms, two bathrooms, home office, living room wall / entertainment center along with a built in office and a semi-private terrace. In addition, it has a vaulted ceiling in the "great" room and two skylights. The covered entrance way is suitable
for
two chairs located next to a covered garden area. Once through the impressive front door, you enter the "great room" which houses the kitchen, dining room, office and living room. Upon entering, there is a built in wooden hutch surfaced with granite—it matches all the built-in furniture in the great room. There is a clothes washer and dryer off the 2nd bedroom. It may also be used
for
storage.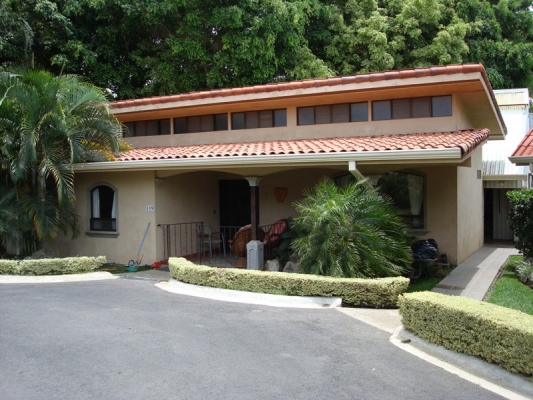 Read More
Unit

#

121

- For Rent - $1,650 - (Available June 25, 2009)

Total Area (Sq Ft):1423
Total Area (Sq M):131
Bedrooms:2
Bathrooms:2.5
Floor(s):2 Story
Type:Detached
Furnished:Yes

This two story, detached 1,423 sf home + parking for one car has two bedrooms, 2 ½ bathrooms and a 2nd. floor covered terrace.

The open railed wrought iron cement stair case leads to the 2nd. level where the master bedroom with en-suite master bathroom as well as 2nd. bedroom and en-suite bathroom are located. Also accessed from the 2nd. floor hallway is the covered terrace.

This is a very nicely furnished home with a good floor plan for those wanting two floors.

Unit #
111

--

For

Rent

at $1,250 pr Month UNFURNISHED


Total Area (Sq Ft):

1738

Total area (Sq M):

161

Bedrooms:

2

Bathrooms:

2

Floor(s):

Single Floor

Type:

Attached

Furnished:

No
This corner home located in set of four homes, is very private. The entrance belies the 1,738 sf to be found on the other side of the entrance door. The short entrance hallway opens into a huge "
great room
" consisting of the kitchen, LR and DR. This room is truly of huge proportions including the 16' high vaulted ceiling. This vaulted ceiling has clear story windows
for
light and ventilation. Valance lighting surrounds the room and provides ambiance with its upward sighing lights as well as accent lighting with the recessed halogen lights. From the living room, a large sliding glass door leads onto a private covered terrace.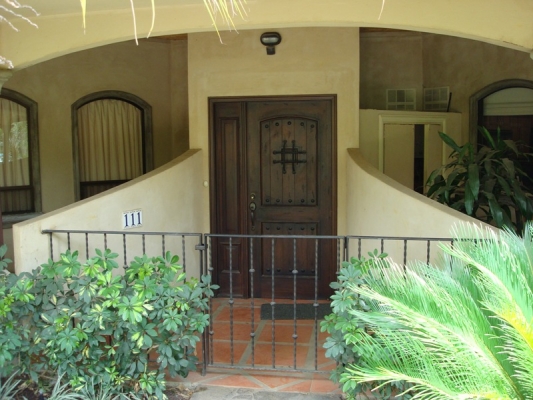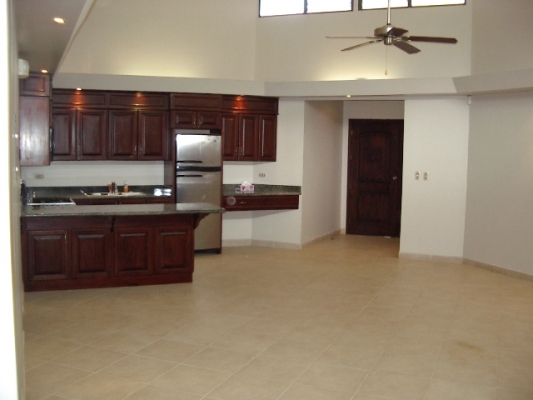 Read More
» NEWS FROM COSTA RICA
June 20, 2009
Colegio Humboldt races to be 1st carbon-free school in Costa Rica
(The Tico Times) The children who attend the Colegio Humboldt, a German school in the western San José district of Pavas, have a bright and sunny future ahead of them.

Read
June 20, 2009
Costa Rican cargo found full of sharks and cocaine
(The Tico Times/EFE) A shipping container holding 893 kilograms of cocaine stuffed inside frozen shark carcasses was originally loaded out of a Costa Rican port, authorities said.

Read
June 20, 2009
Costa Rica considers expanding rights of workers' unions
(The Tico Times) Steeped in an economic recession and watching the employment rate climb higher, Costa Rica's legislators find themselves in the midst of a debate that could dramatically change labor practices here.

Read
June 20, 2009
Georgia Tech To Open Logistics Center in Costa Rica
(Inside Costa Rica) The Georgia Institute of Technology on Aug. 20 will open a center in Costa Rica aimed at improving foreign trade by helping companies there get products to market faster and more efficiently.

Read
June 20, 2009
China, Costa Rica Make Progress On Free Trade Talks
(Inside Costa Rica) Chinese and Costa Rican commercial delegations said Wednesday that they were satisfied with the progress made through the third round of negotiations for a free trade agreement (FTA) between the two countries.

Read
June 20, 2009
Costa Rica To Lure American Tourists With Discounts
(Inside Costa Rica) The Instituto Costarricense de Turismo (ICT) - Costa Rican tourism board - is getting aggressive in attracting American tourists to Costa Rica, enticing "gringos" with discounts and bonuses for their visit.

Read
» OUR LIVES
Weather: Normal rain and sunshine... Plants and grass are happy...

Cheap Booze: more and more people have gone to L&L Licoria and are reaping the benefits. They return amazed at the prices. I did some calculations and determined that on my sampling of prices, we are saving from 30-50%. I'm also told that they do have gin, at least Tanquaray (C5,000 or $10)but who needs anything else.
Chinese Food: Wednesday I had a hunger for Chinese food and I got Lita salivating as well. We headed to a local take out place in Santa Ana------it's gone!!! Oh well, there's another place nearer us--we go--gone!!! Discouraged but not deterred, we remember a place in Sabana recommended by a friend.....rush hour traffic on the new autopista (still a problem with remaining construction in uncompleted exits..after a 30 min. struggle getting there....it's not open. Now thoroughly discouraged, we return to Pozos and decide to go to Kiante's in Belen---we start, traffic jamb...we return completely defeated and have a salad..... Some experiences are like that, even in paradise!!!!

Medical Procedure: This was so innocuous that it was a non-event in my life. I had been advised that the preparation was the worst part. It wasn't all that bad and the procedure itself--I don't remember a thing nor did I have any follow on issues. I'm clean and happy and have peace of mind for another 5 years.
Misc: The huge KFC is about to open. The Hilton "Indigo" hotel is now open. A Quiszons / Terryaki Experience restaurant opened. Several new, smaller commercial buildings are currently under construction--to become what we don't know. Median lighting is nearly completed on the new autopista and most of the lining is also completed. On Monday, there was a small, but enthusiastic group demonstrating against the C310 (US. $0.55) toll cost but that seems to have died down. Guests: We have guests arriving from Canada. We're looking forward to them and in showing off CR.
Brian, Lita, Hugo, irreverent Vicka, the pigeon toed parrot, and the newbies — Chico and Chica.
Brian C. Timmons, Newsletter Author
Residencias Los Jardines/Hacienda El Dorado - Developer
E-mail: brian@eldoradocostarica.com

For inquiries about availability of residences at Hacienda El Dorado or Residencias Los Jardines, contact:

Jan Kozak, Marketing Manager
Hacienda El Dorado
Rio Oro, Santa Ana
Costa Rica
Web: www.eldoradocostarica.com
E-mail: info@eldoradocostarica.com
MSN: jan.kozak.jr@hotmail.com
Skype: jan.kozak.jr
Tel (US) (+1) 647-477-5825
Cell: (+506) 8345 8018